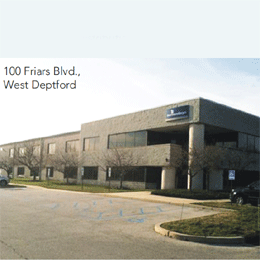 Biz in Brief
Cushman & Wakefield represented SK Realty Management on the sale of 100 Friars Blvd. for an undisclosed price to Exeter Property Group. The property includes a 180,000-square-foot warehouse/distribution facility strategically located on 12.7 acres in West Deptford. Prior to the sale, 100 Friars Blvd. was operated by a Fortune 20 global pharmaceutical distribution company.
For the third year in a row, Cape May County government has received a favorable audit report with no comments and no recommendations. The annual audit encompassed the 2015 calendar year, includes tests and reviews of all departments and compliance of state and federal financial practices. Results were announced at the July 12 Freeholder meeting.
Now in its fifth year, the half-acre organic farm at Stockton University has grown from being an experiment to hosting experiments. New Jersey's 9,000 farms generated about $1 billion in cash receipts last year, according to the state Department of Agriculture.
Camden County residents who need emergency help can now text 911 to get assistance under a new program that debuted this month. The communication center has taken 100 requests for 911 assistance from texts since March. The program was moved out of the testing phase and went live this month.
Markeim Chalmers represented the sale and purchase of a 10,465-square-foot retail site along with liquor license at 1503 Chapel Ave. in Cherry Hill. The property sold for $2.2 million.
AmeriHealth New Jersey recently announced their collaboration with Accolade. This partnership will transform health care for its members through access to Accolade personal health assistants providing concierge services tailored for their specific needs.
The University of Pennsylvania Health System has signed a non-binding letter of intent to partner with Princeton Healthcare System of Plainsboro, N.J.
The state of N.J. has incurred another $8 million in taxpayer debt due to Gov. Chris Christie's Bridgegate scandal. The state paid $8 million to law firm Gibson, Dunn & Crutcher to investigate the governor's involvement in the politically motivated lane closures on the George Washington Bridge.
With the help of Road Runners Club of Woodbury and the support of NJDOT, Woodbury has created 1.2 miles of new bike/pedestrian trails throughout the city that connect Woodbury's Stewart Lake Park, Frances Avenue Fields and Tatum Street.
This past June, the DVRPC Board approved $1,259,820 to six New Jersey projects in the form of Regional Trails Program grants. Projects that received funding are: Trenton Wellness Loop ($195,000), Delaware River Heritage Trail Gap ($110,000), Rancocas Creek Greenway ($300,000), Cooper River Trail, Pub Connector ($300,000), Gloucester Township Bike Path ($217,000) and Harrison Trail ($400,000).
The Philadelphia region's sole independent building firm, Wright Commissioning, has been published in national magazine College Planning & Management. The article was written by Will Wright and Assistant Vice President for Planning & Construction at Rowan University's Joe Monahan.
The Burlington County Regional Chamber of Commerce announced the creation of the TriBoro Chapter. Formerly known as the Cinnaminson Chapter, the TriBoro Chapter will consist of Cinnaminson, Palmyra and Riverton.
Camden County Sheriff G.L. "Whip" Wilson recently unveiled a new patrol vehicle at Cooper University Health Care. The vehicle is going to be used as a part of ongoing security at the Cooper Health Sciences Campus.
J. Mark Baiada has decided to donate his Moorestown company, Bayada, to a charitable foundation. The company is likely to sell for at least $1 billion and is the 10th largest home health agency according to a report done by Lexis-Nexis Risk Solutions last year.
Stockton University has been approved for a $22 million state higher education capital construction grant for their Atlantic City campus. The cost in total for the campus is $156 million.
President and CEO of Tower Investment, Bart Blatstein announced the reopening of Showboat Hotel in Atlantic City on July 8.
City of Woodbury's Amberdeen Street was renamed to honor former Councilwoman Gwendolyn Joyce Brown. The street is now known as "Gwendolyn J. Brown Way."
American Water Works Co. is expected to relocate its headquarters in a new building being constructed on the Camden waterfront. The five-story, 222,376 square-foot mixeduse building is expected to be completed in the second half of 2018.
Inspira Health Network was named a Most Wired hospital for the second time by results of the 18th Annual Health Care's Most Wired survey released by the American Hospital Association's Health Forum. Inspira was recognized for their use of technology to improve health care and to create a new dynamic in patient interactions.
Published (and copyrighted) in South Jersey Biz, Volume 6, Issue 7 (July, 2016).
For more info on South Jersey Biz, click here.
To subscribe to South Jersey Biz, click here.
To advertise in South Jersey Biz, click here.