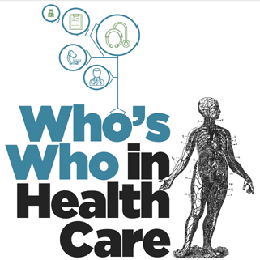 Who's Who in Health Care
South Jersey's health care sector has made significant strides over the past decade, putting our area on par to compete with cities like Philadelphia and New York. This month, we shine a spotlight on the nurses, doctors, administrators, researchers and more who are the driving force behind enhancing the scope of medicine and improving care for those who live and work here.
Dr. William F. Muhr, CEO, South Jersey Radiology Associates
Dr. Muhr, an expert in MRI and diagnostic radiology, has been CEO of South Jersey Radiology Associates since 2011, serving at the helm of an imaging provider with multiple locations across South Jersey—meaning more convenient care for residents who don't have to travel across the bridge.
SJRA's more than 40 radiologists hail from prestigious medical schools including Harvard, Penn, Hahnemann, UMDNJ, Duke and Georgetown. Muhr himself is a graduate of Lehigh University and Hahnemann University Medical School. Among SJRA's advancements is its Women's Center in Voorhees, which was the first to offer 3-D mammography in the state, detecting cancer at its earliest, most curable stage.
After taking on the leadership reins, Muhr oversaw the creation of a seven-member executive committee for SJRA.
What drew you to the health care field?
My mother told me I should be a doctor. Curiously enough, my interest in medicine came about from a strong interest in science I developed as a child when the space program was off and running. I had a better flare for chemistry than other sciences. That led me to pharmaceuticals and eventually radiology. I really enjoy the technology and have been fortunate enough to see it evolve to be on the forefront of diagnosis and management of just about every condition.
Emmanuel Frederick Ashong, MD, MPH, FAAP, director of medical education and medical director of the Osborn Family Health Center at Our Lady of Lourdes Medical Center
A Voorhees resident, Ashong joined Lourdes in 1991. Prior to that, Ashong worked as a pediatrician at Kings County Hospital in Brooklyn, New York, as well as in the Middle East. He has been the recipient of numerous awards, including the honorable 2010 March of Dimes' Born to Shine Award, which recognizes top physicians in the fields of maternal and child health. Ashong has also been the recipient of multiple teaching awards, including the University of Medicine and Dentistry of New Jersey (now Rowan University School of Osteopathic Medicine) Graduate Medical Education Award, its Golden Apple Award for Excellence in Teaching and Teacher of the Year Award.
What drew you to the health care field?
I was selected for the role of the person responsible for the "First Aid" box in my elementary school class. It gave me a sense of caring for other people who were hurting.
Gordon Baltuch, M.D., Ph.D., professor of neurosurgery and director of the Penn Center for Functional and Restorative Neurosurgery in the Perleman School of Medicine at the University of Pennsylvania
Baltuch is a practicing neurosurgeon with appointments at the Hospital of the University of Pennsylvania, Pennsylvania Hospital and Penn Medicine Cherry Hill.
He is also an active staff member of the Neurosurgery Section of Surgical Service at the Corporal Michael J. Crescenz Veteran Affairs Medical Center and serves as the associate director of the Parkinson's Disease Research, Education and Clinical Center of the Center as well.
His research interests include novel surgical strategies for the treatment of Parkinson's Disease, movement disorders and epilepsy. Baltuch is one of the most prolific deep brain stimulation surgeons in the world, and in 2015 he marked a personal and Penn milestone by performing his 1,000th procedure.
What drew you to the health care field?
I was attracted to medicine as my grandfather was a GP. His office was in his home. [The] living room and kitchen were overflow waiting areas. I spent a lot of time with him growing up in Montreal.
Margaret A. Belfield, BSN, MSN, chief operating officer of AtlantiCare Regional Medical Center, Inc.
Belfield has been chief operating officer of AtlantiCare Regional Medical Center since Nov. 30, 2009. She served as vice president and administrator of AtlantiCare Regional Medical Center's City Campus. She provided oversight for the building of the George F. Lynn Harmony Pavilion, the seven-story patient tower, Level II Trauma Center and Emergency Center completed in 2007. Belfield has also overseen the clinical operations of AtlantiCare's Special Care Center (SCC), which is an innovative care model in partnership with Unite HERE! Local 54 that manages the health of AtlantiCare staff and Local 54 members who have chronic health conditions. She previously served as chief nursing officer and interim chief operating officer of Hahnemann University Hospital-Tenet in Philadelphia.
What's the most significant change to the industry you've seen in the course of your career?
In general, the majority of hospitalized patients today are more critically ill and in the hospital for shorter periods of time. … Health care is more sensitive now to consumer choice, which further pushes healthcare systems to ensure value for the patient and family. Lastly, community hospitals and health systems now play a larger role in improving the health of the entire population served.
Andrea Bowers, M.D., Burlington County Orthopaedic Specialists, P.A.
Bowers earned her undergraduate and medical degrees from Vanderbilt University and completed her residency at the University of Pennsylvania and the Children's Hospital of Philadelphia. During her subsequent fellowship in sports medicine and shoulder surgery at the prestigious Hospital for Special Surgery in New York City, she received extensive sub-specialty training in arthroscopy and reconstruction of the shoulder, elbow, knee, and ankle, as well as cartilage restoration and advanced shoulder arthroplasty. Bowers has developed a special interest in issues pertinent to the female athlete, and serves as the head team physician for Rowan College at Burlington County.
What's the most significant change to the industry you've seen in the course of your career?
In the 15 years since I started my medical training, there has been a significant paradigm shift in orthopaedics. Rather than intervening to replace an injured or degenerative joint, there is a stronger focus on injury prevention and preservation of the joint.
Lisa B. Butler, BSN, MSN, APN, lead advanced practice nurse, Emergency Department/ Urgent Care Centers at Cooper University Health Care
Since joining Cooper in 2003, Butler has worked tirelessly to improve processes and enhance patient care. She recently directed the redesign of the Emergency Department Fast Track area, leading a multidisciplinary team to build consensus around best practices to improve efficiency and patient satisfaction. She was instrumental in establishing Cooper's Urgent Care Centers, and played a critical role in the establishment of Cooper's Emergency Medicine practice at Memorial Hospital of Salem County.
What's the most significant change to the industry you've seen in the course of your career?
Over the past 14 years, I have seen the utilization of Advanced Practice Nurses grow in all facets of health care, but most notably primary care. With the decrease in number of medical students enrolling in primary care programs, APNs have been recognized as autonomous providers that can fill this role.
Jennifer Caudle, D.O., Assistant Professor of family medicine at Rowan University-School of Osteopathic Medicine
Caudle is a board-certified family medicine physician and assistant professor in the department of family medicine at Rowan University-School of Osteopathic Medicine.
Prior to this, she was a faculty member in the Johns Hopkins University/Sinai Hospital Residency Program in Internal Medicine in Baltimore and an instructor of medicine at the Johns Hopkins University School of Medicine.
She is a regular on-air health expert for local and national news networks and she appears on FOX News, CNN, The Dr. Oz Show, CBS Philly 3 News, PBS and many others.
What's the most significant change to the industry you've seen in the course of your career?
I have experienced the transition from paper charting to electronic medical record systems. I have also seen physician requirements regarding medical documentation and utilization, change over the years. Finally, the advent of concepts such as the Patient Centered Medical Home and others have been big changes as well.
Sasha Cyrelson, PT, DPT, OCS, MCMT clinical Director of Professional Physical Therapy's clinic in Sicklerville
Cyrelson takes a holistic, hands-on, and proactive approach to her patients' treatment. She is passionate about helping her patients alleviate their pain and return to the activities they enjoy. Through working in the different units at Pennsylvania Hospital, her cross country experience, and working with a wide range of age groups, ailments and settings throughout her career, Cyrelson developed an evidence- based treatment approach combining manual therapy, appropriate exercises and patient education.
What drew you to the health care field?
I have always had an interest in body mechanics and I genuinely like people, so considering a career in the health care field was easy. As a competitive athlete and a ballet dancer, I learned first-hand how an injury can disrupt one's life and depress your spirit. However, this also taught me how effective and beneficial physical therapy can be in restoring one's health and enjoyment of life.
Thomas Dwyer, M.D., FAAOS, president and CEO, Premier Orthopaedic Associates
Dwyer specializes in orthopedic arthroscopic sports medicine, shoulder and knee surgery. His practice covers all areas of orthopedic medicine and he has a personal interest in sports medicine. He most commonly treats torn rotator cuff and labrum tears in the shoulder and ACL (anterior cruciate ligament) and mensicus tears in the knee. He is a master shoulder instructor in advanced surgical techniques and served as the chair of surgery at South Jersey Healthcare from 2008-2014.
What's the most significant change to the industry you've seen in the course of your career?
All aspects of surgery are trending toward minimally invasive and orthroscopic techniques and away from traditional open procedures. As for sports medicine, stem cell therapy holds significant promise for arthritic and injured joints.
Ryan Jensen, FACHE, chief executive officer of The Memorial Hospital of Salem County
Jensen is a fellow of the American College of Healthcare Executives. He earned his master's degree in health services administration from The George Washington University and his bachelor's degree from Brigham Young University.
With more than 12 years in hospital leadership, Jensen has held administrative positions at hospitals in California, Ohio, Texas, and most recently in Las Vegas, where he was chief operating officer of the 293-bed Desert Springs Hospital.
Jensen, a native of Monmouth County New Jersey, is happy to be back in the Garden State along with his wife Amy and four children.
What's your favorite way to spend off hours?
Spending time with my family is my No.1 favorite way to spend time away from work. Other than that, my wife and I are big college football fans (go BYU!) and I am an avid rugby enthusiast (having played in college and several club teams).
Alka Kohli, M.D., M.B.A., executive vice president and chief population health and clinical officer at Inspira Health Network
Kohli joined Inspira Health Network in May 2016. She leads the network in developing clinical strategies to improve population health, and enhance quality and the patient experience. Additionally, her focus includes reducing the cost of care for families across the region. Prior to joining Inspira, Kohli served as senior vice president and chief medical officer at Virtua. In previous roles she served as vice president of medical affairs, medical director of operations and as chief of the Department of Obstetrics and Gynecology. Kohli is board certified in obstetrics and gynecology and holds an executive master of business administration degree from St. Joseph's University.
What's the most significant change to the industry you've seen in the course of your career?
I would say the most significant change I've seen is the shift from "patient" to "consumer." Health care is late to the dance from the perspective of being consumer-focused. Traditionally, we have practiced from a provider's viewpoint. However, in today's world of choice and access we see more and more people seeking care that is convenient, quick and provides a great customer experience. … It is inspiring to see patients becoming empowered and taking a more active role in their health care.
Sean McMillan, D.O., director of orthopedic sports medicine, Lourdes Medical Center in Burlington
McMillan recently joined Professional Orthopedics at LMA as the director of orthopedic sports medicine. He completed his orthopedic sports medicine and arthroscopy fellowship at the University of Massachusetts during which he had a concentration in hip, shoulder and knee arthroscopy, as well as open shoulder surgery such as shoulder replacements. Prior to this he completed his internship training in the UMDNJ-SOM/Kennedy Health System and his orthopedic residency in the Long Island Jewish Health system through The Peninsula Hospital Consortium. During his time here, McMillan was chosen as the administrative chief resident. He was also awarded the New York Osteopathic Orthopedic Research Foundation Outstanding Orthopedic Resident Scholarship. He is also on the voluntary academic staff at the University of Medical and Dentistry of New Jersey-School of Osteopathic Medicine (UMDNJ-SOM) where he will be helping educate the orthopedic residents.
What's your favorite way to spend off hours?
My favorite way to spend my off-time is with my 4-year-old twins! They are everything that a celebration of life should be. Seeing the discovery of the world through their eyes is both exhilarating and inspirational. It recharges me and motivates me to work that much harder.
William Miller, D.O., Virapel
Miller is a board-certified internist with a specialty in pulmonary and critical care medicine and more than 35 years in clinical practice. Previously, Miller was medical director at Exuberan by Virtua until 2014 when he opened Virapel, a boutique practice dealing exclusively in the treatment of patients with menopause and andropause. Miller majored in premed and received his undergraduate degree in 1966. He received his medical degree in 1972, and completed his residency in internal medicine in 1975 and Fellowship in pulmonary and critical care in 1977. Miller specializes in bioidentical hormone replacement. He also served as president of the medical staff at Memorial Hospital of Burlington County.
What drew you to the health care field?
I have always enjoyed helping people throughout my medical career. When I learned about bioidentical hormone replacement therapy, I was especially excited about the science behind the medicine. I'm most grateful that the health care field has allowed me the opportunity to do both, as well as, allowing me to grow in my entrepreneur spirit.
Renee Patrice Bullock-Palmer, M.D., director, Women's Heart Center, director, Non-Invasive Cardiac Imaging, Deborah Heart and Lung Center
Palmer did her residency in internal medicine as well as her specialty training in cardiology at the State University of New York Downstate Medical Center College of Medicine, Brooklyn. She completed her advanced cardiac imaging training at St. Luke's Roosevelt Hospital, Center of Columbia University, New York. She is board certified in cardiovascular medicine, a diplomat of the Certification Board of Nuclear and Cardiovascular CT, a certified diplomat of the National Board of Echocardiography, and certified in internal medicine.
What's your favorite way to spend off hours?
In my off hours I enjoy spending time with my husband and my two young children going places and having fun. I also enjoy being active by doing boxing, kickboxing and calisthenics.
Dr. Michael Renzi, D.O., chief medical officer, Continuum Health Alliance
As chief medical officer for Continuum, Renzi constructs, implements and oversees the company's Population Health Management Service, including programs involving patient-centered medical care, health care information technology and shared savings reimbursement models. Certified by the American Board of Internal Medicine and a Fellow of the American College of Physicians, Renzi received the Laureate Award from the American College of Physicians in 2013, and was awarded the Volunteer Faculty of the Year Award in 2002 and 2003 by the University of Medicine and Dentistry of New Jersey (now Cooper Medical School of Rowan University).
What's the most significant change to the industry you've seen in the course of your career?
The beginning of the alignment of patient, provider and payer incentives. Finally, health care is attempting to deliver the best quality with the lowest overall costs of care.
Joan Roush, senior vice president of Outpatient Services at Bancroft NeuroRehab
Prior to her role with Bancroft, Roush was the owner and operator of Independence Rehab in Cherry Hill for more than 20 years. After earning her bachelor's degree from the University of Pittsburgh and a master's degree in exercise physiology from Temple University, Roush began her career in brain injury rehab at Moss Rehabilitation Hospital. She has served as director of inpatient rehabilitation services, and administrator of outpatient and residential programs at Mediplex Rehabilitation Hospital, a 60-bed inpatient facility dedicated to the rehabilitation of patients with severe neurological injuries and impairments.
In 1994 Roush opened Independence Rehab Services, PC, which became part of the Bancroft NeuroRehab network of care providers in 2016.
What's the most significant change to the industry you've seen in the course of your career?
In my field, I've seen a shift from providing services strictly in a facility setting to bringing rehabilitation services–even intensive rehab for neurological injuries–into the community. Quality, community-based rehabilitation can make a world of difference for patients re-entering the workforce and returning to full, meaningful lives post-injury.
Wardell Sanders, Esq., president, New Jersey Association of Health Plans
Since 2006, Sanders has served as the president of the state trade association that represents the major health insurers in New Jersey. Sanders is a recognized expert on health care policy, speaking to national and regional audiences and is a frequent commentator on TV. In 2014, Inside New Jersey and Star-Ledger writers named Sanders one of New Jersey's 100 most influential residents.
He served for 15 years in state government positions as the executive director of the New Jersey Individual Health Coverage Program/Small Employer Health Benefits Program Boards and as Deputy Attorney General.
Sanders is a 1991 graduate of the Villanova University School of Law, where he was an editor of the Villanova Environmental Law Journal and was the student commencement speaker.
What drew you to the health care field?
It wasn't so much that I was drawn to health care as I stumbled into it. I was working in the Attorney General's Office on auto insurance litigation in November of 1992 when then Governor Florio passed groundbreaking health care reforms. I asked to assist in representing the state in the implementation of those reform laws and haven't left health care since.
Dr. Robert Singer, M.D., Virtua Cardiology Group
Singer has been affiliated with Virtua for more than 20 years and is the lead physician of the Virtua Cardiology Group located in Voorhees. Singer is also a member of the Virtua Board of Trustees. Along with his certification from the American Board of Internal Medicine for Cardiovascular Disease, Singer is also certified in nuclear cardiology. He was the chief of cardiology at Virtua from 2003 until 2014 and is now the chairman of the Department of Medicine. He serves as president of the medical staff of Virtua South.
Since joining Virtua in 1993, Dr. Singer has served on numerous committees, including Virtua Medicine Performance Improvement Committee, the Medical Executive Committee, the Acute MI Task Force/Invasive/Non-Invasive Cardiology Committee, and the Cardiology Clinical Pathways Committee.
What's the most significant change to the industry you've seen in the course of your career?
I consider the changes that health care as a whole is going through right now to be the most significant change. The ideas of consumerism as well as value-based care are essential to the way we care for all of our populations.
May A. Thomas, M.D., founder, Thomas Partnered Health
Thomas is a health coach and a geriatric care educator. She graduated from Swarthmore College in 1976, Temple University School of Medicine in 1981, then completed her internship and residency in internal medicine at the Graduate Hospital affiliate of the University of Pennsylvania in 1984. She practiced a combination of academic and clinical internal medicine and geriatrics for 33 years mostly in the Philadelphia and South Jersey areas. She received integrative health coaching training and education with the Duke Integrative Medicine Health Coach program from 2014-2015. She has been featured on TV news, radio and internet. She has presented and lectured locally and nationally on topics of health and eldercare. Thomas can also be found on Facebook and LinkedIn.
What drew you to the health care field?
The love of science and the desire to help people inspired me to be a doctor since junior high school. After retiring from the practice of medicine I became a health coach because I saw that people need additional help to achieve their health goals that we as physicians advised and few could accomplish.
Anthony Wehbe, D.O., chief population health executive for Kennedy Health
Wehbe has been a member of Kennedy's medical staff since 2012. In his new leadership role–which he assumed in early 2016–Wehbe oversees all operations of the Kennedy Health Alliance (KHA), a network of primary and specialty care practices; as well as Kennedy Family Health Services, Kennedy Home Health Care, and the Kennedy Health Care Center (a Sewell-based long-term care facility with a sub-acute center). He continues to oversee the hospital-based Hospitalist and Perioperative Medicine programs. Wehbe's expanded role focuses on the attainment of positive clinical outcomes, along with enhancing the patient experience and reducing healthcare costs.
Wehbe is also a Kennedy University Hospital teaching attending physician for Rowan University School of Osteopathic Medicine (RowanSOM) students and residents.
What's the most significant change to the industry you've seen in the course of your career?
The drive toward population health has been the biggest change. We are moving from that "workshop mentality" of getting medical care when things are "broken," to preventive medicine and promoting wellness. The payment model is also shifting to the value of care we provide, rather than the volume of care.
Published (and copyrighted) in South Jersey Biz, Volume 6, Issue 6 (June, 2016).
For more info on South Jersey Biz, click here.
To subscribe to South Jersey Biz, click here.
To advertise in South Jersey Biz, click here.