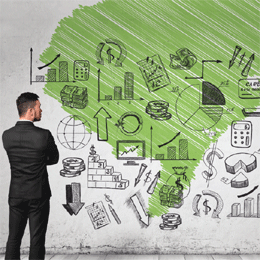 Mid-Year Economic Forecast
This January's national economic forecast for 2016 indicated that the country would see continued economic growth, and fortunately, that's exactly what financial and banking executives are seeing in South Jersey—despite challenges such as New Jersey's often oppressive tax and regulatory environment.
According to Thomas Kemly, president and CEO of Columbia Bank, the region's economic activity in 2016 has been similar to that of 2015, but with some slight improvements. South Jersey's economic growth could be attributed, in part, to commercial clients who have been expanding throughout the region—and Kemly says that Columbia Bank's loan activity has been especially strong over the past several months.
There has also been increased activity in the medical sector, as local companies invest in new equipment and make the move to larger facilities. "This year's economic forecast was for continued growth, and that seems to be occurring in most business areas," he asserts. However, not every industry has necessarily been on the upswing. For retail businesses, such as South Jersey's local malls, the pressures related to the increased online purchasing habits by consumers have been taking their toll, Kemly notes.
Still, some of the region's banking and financial executives are going so far as to describe the current economic marketplace as stable. "So far in 2016, it does seem like there's a bit more stability in the air," confirms Dave Hanrahan, president and CEO of Capital Bank of New Jersey. "At Capital Bank, we see business owners spending money—and borrowing money—a little more willingly than in previous years." The uptick in lending is primarily related to capital expenditures, plant expansion and supporting business growth, he notes. "Since so much of the economy in South Jersey is construction-related, and because regional construction activity seems pretty good right now, I feel positive about the balance of 2016," he predicts.
On the commercial side, Melissa S. Blanton, chair of the finance practice group for Schnader, agrees that there is a lot more money available than what businesses may have had access to in 2015. "We're a lot busier in the first half of 2016 than we've been for the past several years, … and the money is out there for businesses that are willing to go and get it," she asserts. "There are a lot of projects going on in South Jersey, and the banking competition in the region is stronger than we've seen in a long time." Indeed, major players like TD Bank, M&T Bank, Investors Bank, Columbia Bank and Republic Bank are all doing what they can to support the growth of local businesses. "These banks are also really focusing on getting more involved in their communities, and all the competition means that businesses have plenty of options when it comes to their financing needs."
James Igo, president and chief executive officer of Delanco Federal Savings Bank, agrees that while the economy has shown improvement and there's certainly reason to be optimistic, the South Jersey region may not necessarily be experiencing the growth that was forecasted in January. "It appears that the economy has improved slightly through the first half of 2016 …and this is probably the first time I could say that in the past seven or eight years," he says. "However, I do not think it has achieved what was expected coming into 2016. Most prognosticators expected it to be better." According to Igo, South Jersey's real estate market has been somewhat stagnant from a pricing stand point. "The activity seems to have picked up, but there are still so many properties that are vacant and in foreclosure … and we will not see much price appreciation until those properties are absorbed into the market," he explains.
"We are still struggling with a foreclosure rate that's higher than the national average, which dramatically decreases surrounding property values," Blanton confirms, noting that foreclosures tend to lead to more rental properties and a higher turnover of residents as opposed to the investments made by more permanent homeowners.
According to Harold G. Cohen, co-chair of the banking and financial services practice group at Dilworth Paxson LLP, abandoned sites in shopping centers and locations that previously housed office and retail facilities are being repositioned as hospital-owned urgent care centers and combined medical practice facilities. He also points out that "eds and meds" continue to grow and stimulate the South Jersey economy; colleges and universities are merging and expanding and charter schools continue to crop up throughout the region. "All of these construction projects provide opportunities for bank loans to the developers and contractors," he says. Several large corporate headquarters are relocating to Camden, and projects such as the 100,000-square-foot Amazon warehouse in Florence also suggest the trend will continue.
"However, many of these projects exist only because of government stimulus programs offered by the New Jersey Economic Development Authority and similar county programs, in which significant tax benefits are awarded to the developers and project owners," he explains. "These enticements are necessary in order to fuel those projects and often are the fundamental reason for the occurrence of these projects in this region as opposed to other states with far lower tax structures."
Unfortunately, he points out, when government agencies provide tax benefits to attract or maintain business in New Jersey—including those in South Jersey—to offset the sometimes stifling tax structure existing in the state, other New Jersey taxpaying businesses and individuals are expected to make up for the forgiven tax revenue. "Many of my bank clients tell me that the South Jersey economy is best understood as a layer cake that appears prettier than the less tasty hidden fillings," he says. "And, another nearly invisible indigestible filler in the South Jersey economic layer cake is the number of residential foreclosures and personal bankruptcies."
The websites for the sheriffs of Burlington, Camden and Gloucester counties show a combined total of 2,689 foreclosure sales currently listed; New Jersey is one of only three federal districts showing an increase in personal bankruptcies for 2016 over 2015. "It's certainly difficult to believe that the South Jersey economy is improving in light of those chilling statistics," Cohen adds. "The financial crisis in Atlantic City also appears as an impending eclipse that is likely to shadow the South Jersey economy well into the future."
Unfortunately, South Jersey's economy continues to be challenged by two problems that affect the entire state: a suffocating tax structure and often excessive governmental regulation. "The economy of South Jersey cannot dramatically improve until the government at all levels successfully cures our staggering tax and regulatory burdens," Cohen asserts. "The private investment sector must find ways to stimulate our regional economy. … Although only government can provide tax incentives to maintain or attract businesses in this region, private sector funding can provide meaningful alternatives, particularly when partnering with traditional bank credit facilities." As an example, Dilworth Paxson recently launched "The Exchange," which is an open market platform hosted by the firm: 13 leading venture capital and private equity firms collaborate to assess select investment opportunities in both emerging and growing companies in the region.
However, governmental programs like the Grow New Jersey Assistance Program are successfully helping to boost employment in struggling cities like Camden, as it motivates real estate investments in those areas and encourages companies to relocate corporate offices or build manufacturing facilities. "We are watching with great interest and are directly involved with financing in Camden, as we think there are significant opportunities for job growth as well as economic growth thanks to tax credits through the Grow NJ program … although it's going to take some time," explains Dave Mills, vice president and group manager for commercial banking at M&T Bank. "As companies announce plans to build in the city, it will only continue to improve the employment rate in Camden—but we are also seeing some collateral damage or negative impact to townships like Marlton and Cherry Hill that may lose significant employment in the next couple of years."
While the real restate market may be seeing improvements in select areas of South Jersey, the region as a whole has also seen other economic growth in recent months in terms of employment. According to Mills, the region has seen significant improvement in unemployment rates over the past year, with a decline from a 7.7 percent unemployment rate to 5.5 percent. Overall, the United States has a five percent unemployment rate. "If it had not been for the job loss in Atlantic City because of the layoffs in the gaming and casino industry, we would probably be right at that national five percent average," he asserts.
According to Mills, over the past year South Jersey has added some 20,000 new jobs in the private sector, with businesses in Camden, Burlington and Gloucester counties responsible for nearly 17,000 of those new jobs. Among the industries seeing the biggest increase in employment are construction and manufacturing, and as Atlantic City continues to focus on tourism-related industries like retail and hospitality and invests fewer dollars in gaming, the economic situation is the city may slowly start to bounce back. "In spite of the dramatic job loss from the casinos in Atlantic City, we're seeing employment growth and improved economic activity pretty much across the board in South Jersey," he concludes. "We're growing at a pace that's comparable or potentially even faster than the country as a whole."
Published (and copyrighted) in South Jersey Biz, Volume 6, Issue 6 (June, 2016).
For more info on South Jersey Biz, click here.
To subscribe to South Jersey Biz, click here.
To advertise in South Jersey Biz, click here.