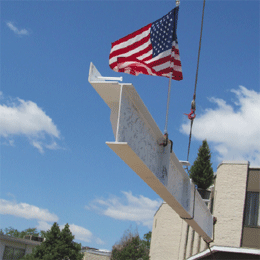 Opportunities in Reach
Centrally located, and close to Philadelphia and all of the major highways, Camden County businesses continue to expand and make it the place to be for many businesses.
So why is Camden County a great place for business right now? Mayor Jim Bilella of Berlin borough says, in addition to its location, it's the mind-set of the county as a whole. "The Camden County Freeholders and a lot of the municipalities recognize that being business-friendly is important to the economy of the region," says Bilella.
TD Bank South Jersey Market President Robert Curley agrees and says he is proud that his employer is a top 10 U.S. Bank that has its U.S. corporate headquarters right in Camden County.
"The county has done a great job keeping large companies like TD, Campbell Soup and Subaru here despite intense competition from other regions," says Curley. "Over time, the health care industry has evolved into a significant industry throughout Camden County and construction of hospitals, urgent care and outpatient centers remains very active."
Curley says as far as TD is concerned, their model of local leaders making local decisions gives them an advantage when it comes to supporting small, medium and large businesses throughout the county. "Working for a successful bank also affords us the opportunity to be very supportive of our local community via grants, sponsorships and volunteerism," says Curley.
EXPANSIONS AND NEW BUSINESS
Popular retail locations like the Cherry Hill Mall and Voorhees Town Center (formerly the Echelon Mall) have always been the go-to locations for shopping in Camden County, but last summer the Gloucester Premium Outlets opened in Gloucester Town ship. Not only did the opening give residents of the surrounding areas a new place to shop, but boosted the economic outlook of the county as well.
"The Gloucester Premium Outlets is the largest economic development project in the history of Gloucester Township," says Gloucester Township Mayor David R. Mayer. "It had tremendous economic impact on the entire South Jersey region, creating 400 construction jobs and over 600 permanent retail jobs. This project is a multi-million dollar ratable for both the township and Camden County."
In the health care system of Camden County, things are growing now more than ever.
"This fall, we will be consolidating and expanding our presence in Cherry Hill with our new facility," says Ronald Barg, MD, executive director of the Clinical Care Associates of the University of Pennsylvania. "We currently have four locations in Cherry Hill, consolidating to our new 150,000- square-foot facility on Route 70, renovating the vacant property that was previously the Syms Building.
"This will allow us to expand the services that we currently offer in South Jersey and also to add services such as radiation oncology and full-service radiology."
Barg says Camden County is an area from which Penn Medicine has historically drawn many patients. "Our expanded presence will allow us to better serve our patients who live or work in Camden County," says Barg. "We also have a significant number of Penn Medicine employees who live in Camden County. These employees and their families will benefit from having a larger Penn Medicine presence close to home."
President and CEO of Kennedy Health System Joe Devine says, "I think Camden County has become a much more economically focused, diversified county than it used to be. I think when I first started here, although the hospital industry was emerging, it was still relatively small, but at the same time there was a lot of small business. There was some big manufacturing but there were small businesses starting to percolate."
Devine says Kennedy is currently working on a big project at their Cherry Hill campus. "Kennedy acquired Cherry Hill in 1980 and honestly, it's been an integral part of who we are."
The Cherry Hill campus is currently undergoing an entire renovation and when complete, will represent a $100 million investment.
"Our first phase is a new medical specialty building which will be 102,000 square feet," says Devine. "We are building a brand new, beautiful 22,000-square-foot lobby atrium area that's going to be really nice looking, because I wanted it to look comparable to things that are being developed in Camden County. Whether it be the Cherry Hill Mall or the things that we are proud of that have really come about—it's going to look really good."
Kennedy is also building a 700-space parking garage that is nearly complete and a patient tower that will be six to seven stories high. Devine says they haven't defined the exact number of floors yet, but he hopes the project will begin by the end of 2017 or the beginning of 2018. "It's basically a replacement hospital for existing beds," says Devine.
"We opened a building on Laurel Oak Road. We have our Kennedy Health Alliance practice and we also are going to be putting some other types of specialty physicians in there," says Devine. "The building is half occupied at 30,000 square feet. The other piece of the building, which is in total [around] 30,000 square feet, will be occupied hopefully by the middle of next year."
On top of all of the expansions Kennedy Health is currently undergoing, they are also merging with Thomas Jefferson University. "A real growth strategy for South Jersey is us becoming part of Jefferson," says Devine. "When we finally merge we will actually develop a lot more initiatives in Camden County and provide more services here in the community."
CAMDEN CITY ON THE RISE
When the New Jersey Economic Opportunity Act of 2013 was passed, it provided incentives for economic growth in the City of Camden. Since that act was passed, Freeholder Director Louis Cappelli Jr. of the Camden County Freeholders says that it has paved the way for billions of dollars in private investment in the city.
Since then, more big businesses are deciding to pack up and call Camden City their home. Energy company Holtec International is currently building its world headquarters on the Camden waterfront.
"The decision of Holtec to base its world headquarters in Camden City on the waterfront is a game changer," says Cappelli. "That company will ultimately employ over 3,000 people."
Right now there are hundreds of construction jobs on the site of the new headquarters and Cappelli says Holtec has committed to training the residents of Camden City to work at its location. "Job creation is paramount to the recovery of Camden City," says Cappelli.
More recently, the Philadelphia 76ers have decided to call the City of Camden their home, creating lots of temporary construction jobs and permanent jobs as well. "I think the 76ers deal is very important due to the way Camden City is viewed," says Cappelli. "It's good to have the 76ers call Camden City their home."
Subaru is also calling Camden City home, Campbell Soup has expanded and Liberty Property Trust is about to embark on a $1 billion investment that will include offices, a hotel and residences on the Camden City waterfront," says Cappelli.
Cappelli says while there is a lot taking place in Camden right now, he believes there is more to come in the future economic growth of the city as it relates to the county as a whole.
"There's a wide variety of industries that are experiencing growth, creating jobs and creating economic opportunities in Camden County," says Cappelli.
WHAT BUSINESSES ARE SAYING
Local companies and officials tell us what they like about doing business in Camden County:
CENTURY 21 REILLY REALTORS
Charles Maimone Sr., Broker/Owner
"The market and sales projections for the future of Camden County are nothing but bright. Recovery has been steady. The real estate business in Camden County is alive and well. There is no better time to be in real estate sales than now. Our office production of sales has increased significantly over the last two years, and continues to do so on a daily basis."
SENTAURUS GROUP
Pete Bacote, Division Manager
"We have seen slow and steady growth in the county. I think that has been a direct reflection of networking and meeting so many businesses in the county. Everyone seems eager to want to help each other. It's great for the community and for business."
THE PROTOCALL GROUP
Roy Fazio, Partner & Executive Vice President
"[Camden County] is the hub of South Jersey. A lot of resources are available to us and it is a good location to recruit top candidates. Camden City has the opportunity to develop much like Baltimore and the Inner Harbor."
SUBARU OF AMERICA
Michael McHale, Director, Corporate Communications
"I would say that having been in Camden County for almost 50 years, we can say it's a great place to be based. Having committed our future to the area with a new headquarters in Camden City, we are excited to be part of this redevelopment. Our business has more than tripled its sales over the last seven years and we very much look forward to the future."
TRI-STATE ENGINEERING & SURVEYING, PC
Joseph Mancini, PE, PP, President & Owner
"We are very excited about the growth in Camden County right now and the opportunity for us as design professionals to be part of that. We have experienced growth every year since we started our firm and are projecting 2016 to be our best year again. We are looking forward to contributing to the capital improvement and redevelopment projects that are so important to the county's continued growth."
CAMDEN COUNTY COLLEGE
Maris Kukainis, Executive Director of Financial Administrative Services
"Camden County College has so much to offer to county residents and businesses, ranging from traditional academic classes to work placement training to engaging lectures, exhibits and performances. We fully expect to grow our presence in the county by tailoring our services and programming to the needs of the community."
ROWAN UNIVERSITY/RUTGERS–CAMDEN BOARD OF GOVERNORS
Kris Kolluri, Chief Executive Officer
"The establishment of a strong economic footprint is attributable to growth throughout the county. As we look forward, one major net positive contributor to this growth is Camden. Camden is at an inflection point. ... Businesses are relocating to the city in record numbers and the government is stable and financially secure. Just in the last three years, we have seen a commitment of over $2 billion in capital. Viewed holistically, Camden County is positioned to occupy an enviable position regionally, which will translate into stability, business attraction and growth."
Published (and copyrighted) in South Jersey Biz, Volume 6, Issue 6 (June, 2016).
For more info on South Jersey Biz, click here.
To subscribe to South Jersey Biz, click here.
To advertise in South Jersey Biz, click here.