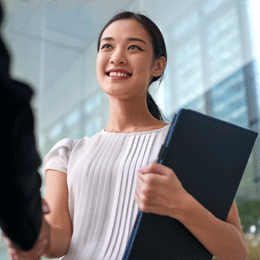 It Takes a Village
Innovative partnerships are changing the financial landscape of South Jersey as more and more public and private entities are entering into agreements that benefit all parties. These public-private partnerships are everywhere in the state and take on many different forms. Sometimes it's the public entity taking on the bulk of the costs associated and other times, it's the private entity.
Late last year, the city of Camden handed over operations of the majority of its water and sewer service to American Water, a publicly traded water and wastewater utility company.
Abbey Greenberg, a spokesperson for American Water, says it made sense for the company to bid on the opportunity, especially since it provides water service to a third of the city already.
The partnership just began Feb. 1, but Greenberg says so far, it's been a positive experience.
And in the future, Greenberg says, the company can partner with the city to improve infrastructure, which the city owns, improve water taste and save taxpayers' money.
Whatever the type of partnership, the benefit is multidimensional and in these certain cases in South Jersey, governmental groups, taxpayers, local businesses and even students are benefiting.
Incoming freshmen to the Rowan College at Gloucester County have been applying to take advantage of a unique partnership between the school, the county of Gloucester and local, private businesses that's finally coming to fruition after six years.
Prior to his election to the Gloucester County Freeholder Board, Lyman Barnes was in a meeting with Rowan President Ali Houshmand. The two talked plans about how students can access affordable higher education and whether there was a way that private companies could get students involved to meet both the needs of those businesses and to give real life work experience to students.
Last year, those talks became a reality. After Barnes presented the idea to Freeholder Director Robert Damminger and County Administrator Chad Bruner, the team realized they could utilize student help at the county level, offer private Gloucester County businesses help and students at RCGC could get their first two years of college paid for in a pilot public-private partnership.
By Aug. 1, the inaugural group of about 30 college students will be signed up for the program. These recent high school graduates—all at least 18 years of age and Gloucester County residents—will be interning in all different facets of county government, from the engineering department, to the improvement authority, call centers, the library system, finance department and more.
"If we have someone whose major is psychology," Barnes says, "they could work at senior services and social services and see what they want to learn in their vocational process as well as get an education. We really have a wide breadth of jobs."
And to make this happen and benefit the county, Barnes says all they had to do was "redirect some of the workflow process." It saves the county about $50,000, he says, and "these kids get training."
Private-sector companies involved donate $5,000 for the school year that goes to the college foundation, to pay for the students' tuition.
Lamatek, a manufacturer of adhesive and foam products based in West Deptford, is the first private business in this public-private partnership to accept student interns. Either one or two RCGC students in the internship program will be starting work soon in Lamatek's marketing department.
"We'd been wanting to work with the colleges for internships, but we didn't really know how to approach it," explains Laura Basara, Lamatek's vice president. "They are going to learn something and grow. It's a difficult time right now to hire skilled workers. This is a good way to give them an opportunity to work for a company and possibly a way for us to find a future employee, as well."
Even though the program is in its infancy, Barnes says he's already talking to other Gloucester County private companies that are interested in accepting student interns. After a recent county chamber meeting, Barnes says his phone was beeping like crazy with texts and emails from business owners in the audience.
"The response was overwhelming," he says. "It's a pretty altruistic approach from the business community. Private sector is actually going to want to be involved in this."
The internship process is a competitive one. Recent high school graduates had to apply for the program, write an essay, go through an interview process and attend workshops.
"It really is a nice concept for students," says Randee Davidson, the director for institutional advancement at RCGC who oversees the internship program. "They may get in and think this isn't exactly what they want to do. Maybe they do some sampling in some fields they really want to be in."
It's also about fostering local talent and keeping that talent here.
"You want to try to capture the students and keep them in our area," Davidson says. "You want them to stay here and become a strong workforce. With that work experience, they can move to the next level."
That was exactly the thinking of Harvey Kesselman, president at Stockton University, which is just one part of a multi-group public-private partnership involved in the Gateway Project in Atlantic City. Students are one entity benefiting from a new campus and student housing project going up at an undeveloped intersection in the city. Kesselman, a Stockton graduate himself, says the opportunities that will be afforded to students there will keep those graduates in the area, namely in Atlantic City, like so many Stockton graduates before them.
In what's being touted as the largest public- private partnership in the state of New Jersey, the Atlantic City Gateway Project is not only serving as a boon to struggling Atlantic City, but to all the partnerships involved, including employees of South Jersey Industries, home to South Jersey Gas.
Kesselman says that every great city has gone through a renaissance—and Atlantic City's is happening now.
"We have a responsibility to become an economic engineer of that region," Kesselman says. "We are not the panacea. We will not fix all wrongs. But we're investing in an area that has invested in us for more than 40 years."
When all is said and done, this $210 million project will boast about 675,000 square feet of infrastructure built on more than two blocks at the intersection of Atlantic and Albany Avenues in the Chelsea section of Atlantic City, according to Chris Paladino, president of the Atlantic City Development Corporation, the nonprofit organization coordinating the construction.
AC DevCo is modeled after the New Brunswick Development Corporation, a nonprofit that has worked to transform the Rutgers University campus and the town surrounding it.
The site of the former high school will be home to a 60,000-square-foot academic building for Stockton students. Space for administration, faculty and full-service food operations will also be featured.
Directly across the street, the first student housing project will be erected, which will be home to 540 undergraduate students in two-, three- and four-bedroom apartments.
"It's a learning/living experience," Paladino says, "so there are some classrooms where some courses will be taught."
Paladino says it's also the first building he's ever built with surfboard storage; the building will be just blocks from the beach.
A garage with more than 800 parking spots—with 600 reserved for Stockton students—is also being built. At the top of the garage, South Jersey Industries is constructing a new office building intended for South Jersey Gas, bringing with it 200 employees.
The garage will also be open to the public on weekends and for special events like concerts, the Miss America Pageant and the Atlantic City Airshow.
"We are really changing the dynamic of a major intersection of a city," Paladino says. "It really does change the rhythm of a neighborhood. Students do this better than anyone else. These people are going to run to the drug store, go get lunch, go out after work to have a cocktail. We're already seeing people making improvements to their stores. This project doesn't save Atlantic City but it creates a template for neighborhood revitalization."
The tax impact to Atlantic City is substantial too. The project will pay $1.5 million in property taxes, Paladino says.
In addition to the university buildings and garage, retail outlets will be setting up shop. Kesselman says there will be no issues with that part of the partnership. "Our issue isn't going to be filling it. It's going to be deciding who goes in."
Kesselman says the Gateway Project shows Stockton's incredibly long-term commitment to Atlantic City. "One of our goals is to be an anchor institution in Atlantic City," he says.
Published (and copyrighted) in South Jersey Biz, Volume 6, Issue 6 (June, 2016).
For more info on South Jersey Biz, click here.
To subscribe to South Jersey Biz, click here.
To advertise in South Jersey Biz, click here.