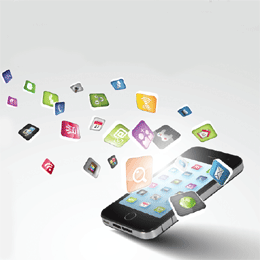 Homegrown Technology
Conrad Kramer, a 19-year-old Cherry Hill High School East alum and software developer, is the co-creator of the app, Workflow, which allows users to combine selected daily tasks on their phone—from ordering a pizza to getting an Uber to finding directions. It was named Apple's most innovative app of 2015.
South Jersey Biz
spoke with the young entrepreneur about his experience, advice for peers and what's next on the horizon.
How did the idea for the Workflow app come about?
In fall 2013, I was a senior in high school and was working on a lot of side projects when I was approached by my friend Ari on whether I wanted to work with him on the deskconnect app. He's someone I respect so I said yes.
There was a hackathon coming up in January 2014 at the University of Michigan. They paid for us to go and participate and we already knew two others, Nick and Verol. We started bouncing around ideas and one of them was the idea for Workflow, a powerful automation tool for iPhones. It was a 36-hour hackathon and we spent about three hours sleeping, so we spent 33 hours working really intensely and came up with a product we were pretty proud of. And we actually won first place and then all went back to school.
Then I heard that I had gotten into MIT and also [got] The Thiel Fellowship. … I decided to go with the fellowship as it was an amazing opportunity. Then we started making plans to move out to San Francisco and work on stuff full-time and concentrate on Workflow for the summer of 2014. We invited Nick and Verol to join us and the four of us worked on it through September. We ended up getting delayed by App Review for about three months and then launched in December.
When did your interest in software development begin?
I always had an interest in computers. My dad and I would build computers in the basement. I really got interested in programming when I was around 13. I got a book about it and struggled for a while, but eventually figured it out and just went from there.
Was your high school experience supportive?
At the time, there wasn't a computer science class, so I was kind of on my own. When I went to Cherry Hill East in my freshman year, they started a robotics club and I was one of the first members. I started to do programming for them. And then I also started a programming club with my friend and some other people and we sparked some interest. And because the interest in robotics and programming grew over time, I actually ended up starting a petition to the then director of curriculum [to start a computer science class]. And the first class started the year after I left, so I put some of those wheels in motion. Next year will be the first time the school offers an AP computer science class and this year, they offered an introduction to computer programming class.
What was it like founding a company at such a young age?
I think when starting any company, people are skeptical. It's a natural reaction. I don't think I encountered any opposition. Especially in California, they are a little more tolerant of young founders. In general, starting a company is pretty hard. Some people that jump into starting a company aren't completely prepared. I didn't go to business school, so I had to take my product knowledge and gained business knowledge as I continued.
What's next for your company?
We're actually growing. We hired someone who started in March and have another person who starts in May. So, we have a solid road map of what we want to do, the premise of which is making Workflow easier for the everyday user as well as making it more powerful.
What advice would you give to other entrepreneurs?
Just do it. Especially with software these days, it can be extremely time consuming to build a prototype, whether you're looking for someone to do it or building it yourself. … Build it, test it out and continue working on it until you have to choose between what you're doing currently and your side project. I think that's the ideal way to start a company, to only jump ship once you know there is actually something there.
Published (and copyrighted) in South Jersey Biz, Volume 6, Issue 4 (April, 2016).
For more info on South Jersey Biz, click here.
To subscribe to South Jersey Biz, click here.
To advertise in South Jersey Biz, click here.