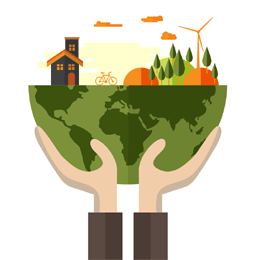 Keeping it Green
Markian Melnyk wants to inherit the wind.
Using a combination of public funds and private investment from such high-tech companies as Google, Melnyk, founder of Maryland-based Atlantic Grid Development LLC, wants to use the winds off the New Jersey Shore to the state's advantage.
"We want to create a highway for power," he says. "We want to take power from wind farms and use turbines to get it to residences and businesses around the state."
In a state that has some of the highest energy rates in the country, making it less expensive to light your way is something consumers can get behind, even if they'll have to wait a while for the savings, Melnyk says.
"Right now, using gas to produce electricity is considered cheap," he explains. "But what's considered cheap today can be expensive tomorrow. Doing this might not be initially cheaper, but it will benefit rate payers in the long run."
Known as the "Garden State" for its tomatoes, dairy farms, blueberries and cranberries, New Jersey has always been green on some level. But now, it's decided to put its efforts into renewable energy … and the reduced energy costs and jobs it can provide.
The NJ Clean program was the impetus for much of this new development. Created in 2003, the program, which is administered through the New Jersey Board of Public Utilities, is designed to promote the use of renewable energy sources by homes and businesses through the use of financial incentives including rebates, tax credits and utility financing.
According to a report issued by NJ Clean in February, the program has supported 43,893 renewable energy projects across the state and has produced 1,687.9 megawatts of renewable energy in the form of solar, wind, biomass and fuel cell projects.
Much of this is being driven by the need for efficiency and the cost savings that accompany it, according to Michael Sherman, president of Vanguard Building Solutions LLC. The Cherry Hill-based company designs and builds turn-key energy projects for commercial entities looking to cut their energy costs.
While solar and geothermal energy sources haven't replaced conventional energy such as oil and gas, the move to green energy has made his clients reconsider a few things, he reports.
"People aren't going away from their regular sources of energy, they're just trying to be more efficient," Sherman says. "For example, you use the same mechanical system to provide electricity to an LED light, but because it's more efficient, it reduces energy consumption and reduces costs. That's what companies are looking for."
In the name of efficiency, and spurred on by programs like NJ Clean, those who work in South Jersey's energy industry are looking for innovative ways to help their customers and have expanded their horizons as a result.
Just ask Bob Harriett, president of Harriett's Energy Solutions, a company that has called Medford's Main Street home for much of its 87 years. While it still maintains its traditional businesses of selling home heating oil and conventional heating and cooling systems to residents of Burlington, Camden and Ocean counties, Harriett has also expanded into the area of green energy, installing geo-thermal heating and cooling systems that use groundwater temperature to keep your home comfortable no matter the season.
While he doesn't do solar energy (Harriett's Energy Solutions refers solar energy customers to Moorestown-based Powell Energy and Solar for that), he believes that the future is bright for renewable energy in New Jersey because companies are venturing outside their comfort zones.
As an example, he points out an innovation in the energy sector that is the base of his family's business: heating oil.
"One of the big changes that has taken place is that there's a bio component in liquid fuels," Harriett says. "Soy-based biofuel products have been huge and because soy is plentiful, there's no negative impact on food supplies. There's a lot of cool stuff out there."
Another example of South Jersey's push toward green energy is the emergence of Gridless Power.
The Collingswood-based company, formed six years ago by a group of friends just out of college, has been taking its energy systems to aid first responders, light and power outdoor events and help with disasters like the Ebola crisis in Liberia and the Amtrak derailment in Northeast Philadelphia.
For first responders, fail safes like the ones Gridless Power provide offer a solution to a problem that, left unsolved, could keep these men and women from doing their jobs effectively without a lot of expense, says Patrick Murphy, president of Gridless Power.
"You never know when the next Hurricane Sandy is going to hit," Murphy says. "When those things happen, fuel isn't always available. One of the reasons that we sell to first responders is because this provides them with an energy redundancy. It makes sense and it makes people safer because the battery system can be charged with either an electrical outlet or the sun. There's a lot of value."
What is the future for green energy in New Jersey? To those who are involved in it now, it seems pretty bright.
"I really think that the future is in continued efficiency," Harriett says. "I think that we're going to continue to see strides in the solar and geothermal industry thanks to the NJ Clean tax credit. I also think that because there is a mandate for the percentage of biofuels to go up in liquid fuel, the future is mapped out for the petroleum industry."
And because new technology is coming out every day, Murphy says consumers will start to benefit. "I think the technology [for more green energy innovation] is already there," he says. "As more and more of this technology gets out there, it will cost less and become a bigger part of the market."
Published (and copyrighted) in South Jersey Biz, Volume 6, Issue 4 (April, 2016).
For more info on South Jersey Biz, click here.
To subscribe to South Jersey Biz, click here.
To advertise in South Jersey Biz, click here.