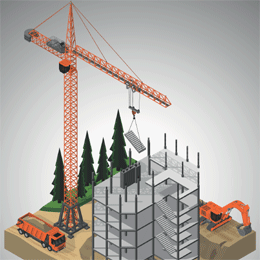 Reaching Far and Wide
Over the past several years, South Jersey has become home to both expansive commercial real estate developments and apartment complexes in addition to smaller rehabilitation projects—such as historical buildings and downtown areas—that have enhanced local communities and provided a much-needed boost to the region's economy.
Among the significant developments in the South Jersey region that were either recently completed or are currently under construction are the Kipp Cooper Norcross Academy in Camden, which opened last year, the Rohrer College of Business in Glassboro and the new Holtec Technology Campus being built in Camden.
"Each of these projects provides tremendous benefits to local residents, businesses and the overall local economy, and we are proud to play a role in bringing these projects to fruition," says Joe Jingoli, president and CEO of Joseph Jingoli & Son Inc., which served as the general contractor and/or construction manager for these developments. "These projects create jobs and increase educational opportunities for students, whether elementary school age in Camden, or in the higher education space at Rohrer's College of Business. All are part of the success story that is South Jersey."
Eagle Commercial Real Estate's Mullica Hill Commerce Center is also responsible for significant new developments in the South Jersey region. Strategically located on Route 322 at Tomlin Station Road along one of the fastest growing corridors in South Jersey, and situated between the New Jersey Turnpike and the Glassboro/Rowan expansion, the complex offers the opportunity to build either professional office space or flex space facilities on the three-to-four-acre parcels.
Groundbreaking will also occur on three additional construction projects over the next couple of months, including a 16,000-square-foot professional office building, 9,000-squarefoot medical office building, as well as the SpaceWorks Public Storage/ Business Suites Center within the Mullica Hill Commerce Center. "These construction projects will provide businesses located throughout the Southern New Jersey region the opportunity to expand their services into one of the fastest growing markets in Gloucester County," says Anthony Pustizzi, broker and owner of Eagle Commercial Real Estate. "They will also provide sorely needed employment related to various construction trades, additional employment opportunities to businesses expanding their services, and welcome ratables to the local government tax base."
Among other significant commercial developments, JG Petrucci Co. Inc. recently purchased land at the site of the former Logan Township Airport to develop a state-of-the-art distribution center. "I think South Jersey has really come into its own with the tremendous amount of economic development incentives that come with expansions in cities like Camden, but right now the economy is also lending itself to smaller projects," says Jim Petrucci, founder and president. "We haven't jumped on the bandwagon of 'go big or go home' because we're seeing really robust construction needs in smaller facilities, such as those for manufacturers, all throughout South Jersey."
Along with offering much-needed real estate for the region's businesses to grow, South Jersey is also welcoming additional housing space for residents. Conifer Realty LLC is currently in the completion stages of The Meadows, a 90-unit new apartment community in Atlantic City slated to be completed in May, which will offer a leasing preference for families that were impacted by Hurricane Sandy. "It's great for us to know that not only are we providing new apartments, but also helping to provide homes to families that were affected by Hurricane Sandy," says Sam Leone, regional vice president of development for Conifer.
Construction is also slated to begin this summer on a new, 80-unit community in Woolwich Township. And the firm recently began construction on Clayton Mill Run, a new 72-unit apartment community in Absecon, which should be completed early next year, as well as two new communities that will soon begin construction in Gloucester County. Camp Salute, to be located in Clayton, will offer 76 new apartments—19 of which will be set aside for disabled veterans—while the balance of the apartments will be leased with a preference for veterans. This community is being developed in partnership with People For People, a Gloucester County- based nonprofit that provides assistance and support to veterans. The community features will include a clubhouse as well as office space for People for People so that they can provide direct on-site services for the community. Construction is anticipated to begin this summer, with completion slated for mid- to late-2017.
"Each of our construction projects typically creates hundreds of temporary construction jobs. … And in order to finance and close on our projects, we hire architects, engineers, surveyors, attorneys and other professionals," Leone adds. "Our construction has a sizable positive impact on the local economy and business communities where we build."
In addition to increased local housing opportunities, Wohlsen Construction Company recently completed an assisted living and memory care facility for Artis Senior Living in Evesham, numerous renovations and additions to The Evergreens Retirement Community in Moorestown, a new continuing care retirement community for Brandywine Senior Living in Moorestown, and a Behavioral Health Center for Universal Health Services (UHS) in Westampton. The firm is breaking ground on a new assisted living facility in West Windsor for Artis Senior Living, and is working with a few developers on interior fit-out projects as well as planning for new developments in the higher education and health care sectors.
"We're committed to working with South Jersey-based subcontractors and serving the needs of the local economy by improving quality of life with our new facilities in senior living and health care," says Michael B. Berardi, senior vice president of Wohlsen. "New construction and the renovation of existing facilities produces jobs and benefits the local economy by helping draw other clients to the region and growing the local, state and regional economy."
Along with enriching the surrounding community, major construction projects also have the potential to generate millions of dollars in tax revenue each year, in addition to creating jobs for local residents. Sora Northeast Development, LLC has a potential project in Vineland that has been in the planning stages for three years now. America's Sports Resort is a tournament sports venue with on-site hotels and restaurants and other amenities that will cater to a national user base. The firm has been in discussions with potential tenants, funding sources and government entities at various levels. "It's estimated that this project may create up to 3,000 primary and secondary job opportunities for the region—and, when fully operational, the project should draw thousands of people to the area," explains Bruce Farrell, senior vice president of development and construction for Sora. "These types of developments not only generate a significant amount of revenue for both the business and the town, but can also positively impact other local businesses."
Although it's the goal of the project to capture a significant amount of the revenue generated from these visitors, it is anticipated that the project will only be able to capture a percentage of the potential income, Farrell concludes. "The balance of that potential income will be spent outside of the complex and will directly benefit the local hotels, restaurants and other businesses."
Other local firms are focused on maintaining and enhancing existing facilities. RYEBREAD (Regan Young England Butera: Referendums, Engineering, Architecture, Design) recently designed, documented, bid and administered multiple facility improvement projects for public schools in Pemberton, Ocean City, Southampton, Mount Holly, Pitman and Lindenwold. The firm will soon begin work on additions and renovations to the historic Relief Firehouse and the Eagle Foundry mixed-use compound, both located in Mount Holly. "These days, our public- and private-sector clients are being asked to do more with less. While sometimes a new building is called for, creating ROI is more often a matter of adaptation and expansion of existing resources," explains Regan Young, AIA, president of RYEBREAD. "These improvements can be justified via increased productivity and/or reduced operating and maintenance costs."
In many ways, Young notes, the local construction industry is still suffering from the effects of the economic downturn, which is why there may be a trend toward revitalizing existing facilities and structures. "During the economic downturn, we lost numerous professional firms and contractors. What's more, we lost a whole generation of architects, engineers and tradespersons that never entered the workforce," he says. "Now with the recovery, there are fewer experienced construction industry personnel to complete the work. This labor shortage is increasing costs, delays and quality problems. … So projects need to be more carefully managed than ever."
Looking ahead, South Jersey may continue seeing a lot of restoration and revitalization projects, such as in older or historical main street towns with smaller mom-and-pop restaurants and shops. "The days of the massive 300-unit communities may be coming to an end because the land just isn't always available," concludes Michael Paparone, owner of MJ Paparone Development Co., LLC. "But there are also a substantial amount of homeowners in the Shore area that still have not gotten back on their feet after Hurricane Sandy, so there is definitely a trend toward ongoing restoration."PhillyBiz.net | VOLUME 1 ISSUE 5 | PHILLY BIZ | 29
Published (and copyrighted) in South Jersey Biz, Volume 6, Issue 4 (April, 2016).
For more info on South Jersey Biz, click here.
To subscribe to South Jersey Biz, click here.
To advertise in South Jersey Biz, click here.