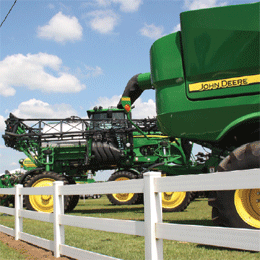 A New Era
There's something buzzing in the southwest corner of New Jersey—specifically over 300 square miles of bountiful farmland and rich historic sites, otherwise known as Salem County. The county's 15 municipalities are in the midst of a major revitalization and its 64,180 residents have banded together to make their community thrive.
A REVITALIZATION
While the recession might have done a number on the counties throughout the region, Salem County has remained stable and is continuing to flourish thanks to several new initiatives that are pumping innovation throughout Salem and its neighboring counties. Those programs include New Jersey Community Capital (NJCC)'s THRIVE South Jersey program, which has been implemented via the Pascale Sykes Foundation.
The goal behind the program is to expand and revitalize a four-county region's economic growth—Salem, Cumberland, Gloucester and Western Atlantic County—on both a local and regional scale. "It's to really spur economic activity to create employment opportunity for the residents and really try to create employment opportunities that have the potential to giving equal opportunity for advancement," explains program manager, Laura Wallick.
"The reason that it focuses on the four counties [is because] there was an analysis done and the four-county region was a region that was most distressed, however [they have] assets that can be built upon to really help revitalize the area. Our goal is to really help finance organizations, expand their operations that will then help create jobs for local residents."
Those assets, Wallick explains, include Salem's rich cultural history and open space. "It has potential to create more commerce through [the Port of Salem], they have some longstanding employers that are [crucial] to the region and organizations that are involved that are making it a destination," she says.
As a result, THRIVE has been working in tandem with Salem's nonprofit and volunteer-based organization, Stand Up For Salem, which aims to revitalize the downtown area in Salem City and now the Center of Salem neighborhood. "We're trying to help them put together some strategies of revitalizing the downtown and we've had discussions with other small business," says Wallick.
Chris Davenport, executive director of Stand Up For Salem, says the organization also works closely with the volunteer Main Street Committees, which has been "instrumental in basically saving our downtown during both the recent economic bad times and also the longer 50-year decline of industry and commerce in our county."
SMART GROWTH
With so many changes, Salem County has been able to uphold its close-knit hometown feel. But how does a County do that with such new growth? Freeholder Director of the Salem County Board of Chosen Freeholders, Julie Acton, explains municipalities and planning boards are using what's called "smart growth" as a means of expanding their county in a beneficial way.
"[We] make sure [growth] enhances our area and that it's something that complements this area," she explains. "So wineries and vineyards are business and they're agricultural. ... [They] complement the area here and take the natural resources and develop it.
"Along with that, our schools are very important to have that training," Acton adds. "We have a huge Future Farmers of America (FFA) [at vocational and high schools] to plant the seeds that farming is not just the basic farm anymore; agriculture means so much. It's such a wide range of different occupations for farmers now. They have mechanical milkers for cows and you have to know how to program [them], so it's not the old, typical farms like there was way back when."
That give-and-take is also prevalent at Salem Community College (SCC), which unfortunately saw a decline= in enrollment over the past decade, but is making strides to spark a change thanks to several new initiatives.
"SCC has been very active in the Dual Enrollment program, where students can take high school courses that demonstrate college rigor and get credit toward high school graduation and college enrollment," explains Dr. Michael Gorman, president of SCC.
"With the recent change of the SCC administration, outreach to the local high schools and their receptiveness has increased," Gorman adds. "The doors have opened and the dual credit relationships are evidence that the coalition of resources between SCC and the local high schools is growing."
ALL BUSINESS
Bad economic times have certainly had an effect on the county—specifically with small businesses and the industrial market. However, some companies have managed to think outside the box and adapt to the times.
"Most who have remained successful have done so by changing the way they do business: beefing up marketing efforts, adding online buying options and social media advertising as well as chamber involvement have kept our local businesses constantly in the minds of area residents," says Jennifer A. Jones, executive director of the Salem County Chamber of Commerce.
In fact, many new businesses have opened up in Salem County. "We have new businesses opening all the time, specifically we've had new country/primitive craft stores, flower shops, restaurants and other retail establishments open since the Recession," says Jones. "There is also a small batch distillery in the Elmer area that has just produced its first batch of whiskey."
Expansion in Salem's Gateway Business Park is also picking up, while some longstanding and new businesses expanded in the County. "[They include] the chemical company Siegfried USA, in Pennsville, Niblock's Pork Store [in Quinton], Mullica Hill Cold Storage and McLane Trucking," says Acton. "I note that because I think it's important to know that people are not only locating here, but they must be satisfied to expand their business."
The appeal in doing business in Salem County can also be chalked up to its location to major roadways including the New Jersey Turnpike and the 295 Corridor, its proximity to Philadelphia, Washington, D.C. and New York City, as well as its shallow international port with rail access.
"The Salem County Board of Chosen Freeholders has created an extensive plan for growth so we maintain our rural quality of life while allowing for business and residential growth along the 295 Corridor," explains Jones. "Two of the county's most recent successes are the Carneys Point Professional Office Park and Oldmans Township Industrial Parks."
Joe Delmar, the director of Nuclear Communications at PSEG Nuclear echoes those sentiments adding, "There's so much untapped potential. There's the corridor along 295 with an existing infrastructure that's just primed for growth."
As for longstanding businesses, Mannington Mills—one of the county's largest employers—has been in Salem for 100 years now and has seen much in terms of expansion. "Our business has grown tremendously in various different product categories," explains Chairman of the Board Keith Campbell.
"We have great people here in Salem County, people who have roots here, whose families have worked here for generations. Another pro is the beauty of the area we live in—it's rural and rich in history," he adds. "It's wonderful to be in a rural area in the middle of the northeastern hub, because you have easy access to cities like Philadelphia, Washington D.C., and New York."
HOMETOWN ROOTS
Aside from bolstering commerce efforts, Salem County has also been revamping its tourism efforts with its latest campaigns, Discover the Road Less Traveled and Salem County Weekends.
As Acton explains, they highlight the best the county has to offer, whether that be local shopping and antiques, farmers markets, the Cowtown Rodeo—the oldest weekly rodeo in the Country—the Arts in Bloom Festival, Pennsville's Wine Festival, the Nanticoke Lenni-Lenape Pow Wow, a bevy of bed and breakfasts, parades including those on Memorial Day, Fourth of July and Halloween or their wineries—including Auburn Road Vineyard & Winery, Monroeville Vineyard & Winery and Salem Oak Vineyards.
"I think residents welcome [these campaigns] and encourage it because I think their outlook is they can show off or showcase their area," Acton says. That's certainly echoed by local businesses, including Appel Farm Arts & Music Center. "This campaign reminds everyone that Salem County is a relaxing, picturesque location to visit, live and work," says director of external relations, Heather Yelle.
When it comes to agriculture and agritourism, Salem thrives. "We're the most preserved farmland in New Jersey," says Acton. "We're very proud of that because this state is very densely populated and it's a big accomplishment and it says a lot about what we stand for."
That pride is also something the community shares, as they continue to value their hometown and support its local businesses. "Everybody works together to keep the town moving forward … and frequent local businesses on a regular basis," explains Mayor Richard Barnhart of Pennsville, the largest municipality in the county. "I've lived here all my life. … I've been here for 63 years. It's a good place to grow up and bring your kids up."
Today, Salem County's hometown feel could be considered one of its biggest assets—something no economic climate can affect. "The people of Salem County take great pride in their towns and neighborhoods," says Steve Graham of Graham Communications, LLC. "They have a way of making visitors feel really welcomed."
Local companies and officials tell us what they like about doing business in Salem County:
The Memorial Hospital of Salem County
Ryan Jensen, FACHE, CEO
"With more than 500 employees, The Memorial Hospital of Salem County is among the top five employers in the county. Our hospital pumped approximately $27 million in payroll into the local community last year—dollars that our employees reinvested in local homes and spent in local businesses. ... As one of South Jersey's first hospitals, The Memorial Hospital of Salem County (founded in 1919) has deep roots in this community. Our staff knows our patients from years of caring for them. They are our friends and neighbors. We've cared for generations of families—grandfathers, mothers, children. Providing health care to Salem County residents is a privilege and honor that we take very seriously."
Barrett's Plantation House Bed & Breakfast
Craig and Gaynel Schneeman, owners
"We have just begun our fifth year as a bed and breakfast, and our business has grown each year. We possess a five-star rating on TripAdvisor. We feel very fortunate to be a business in Salem County [because of] the beauty of the county, the history of the county and the friendliness of the people who live here."
ERIC M. KRISE ELECTRICAL CONTRACTOR
Eric and Stephanie Krise, CEO and office manager
"Over the last six years our company has grown, as the county grows we continue to hire employees at an average of three mechanics per year. The growth is moving in the right direction but we are always excited to see more."
Delco Development, LLC
Meghan Lafferty, vice president of sales and revenue
"The best thing about doing business in Salem County is that, right now, there seems to be a current of growth and change in the business community. Businesses are thinking outside of the box and achieving more. Growth is strong right now in Salem County and the most exciting thing is that the growth is across industries that support Salem: utility, nuclear power, medical, agriculture, wine growers, tourism and manufacturing are all seeing positive change and movement forward."
Appel Farm Arts & Music Center
Heather Yelle, director of external relations
"It has been exciting to observe that over the last year, government and corporate support has positively benefited many businesses. ... So many wonderful initiatives have begun including the creation of the new marketing campaign entitled the Discover the Road Less Traveled, Salem County Weekends. Agricultural and artistic endeavors have partnered together to provide opportunities for residents and visitors alike to explore special weekends full of activities."
Mannington Mills
Keith Campbell, chairman of the board
"We have deep roots in this community. And we love our associates and families. That has been the condition for all 100 years. Mannington Mills does business with many local suppliers, from printing and delivery services to raw materials that go into the flooring products we make here in Salem. One of the things that's kind of unique about Salem County is that it's so small—the smallest population-wise in the whole state—and the people we do business with are our friends and neighbors. It's 'my dad grew up with your dad' ... things like that. You really don't find that anywhere."
Published (and copyrighted) in South Jersey Biz, Volume 6, Issue 4 (April, 2016).
For more info on South Jersey Biz, click here.
To subscribe to South Jersey Biz, click here.
To advertise in South Jersey Biz, click here.