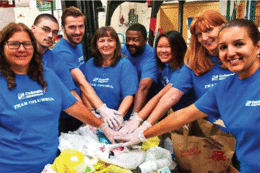 Live to Work
These South Jersey companies recognize that employees are a big part of the key to success and are going to great lengths to be sure they stick around. Whether it's through training programs, group activities, community involvement, office amenities or other initiatives, these organizations go above and beyond to make sure staff are happy, healthy and advancing in their careers.
American Asphalt
AAC has a 112-year legacy in the asphalt business, owns two plants in New Jersey, and operates its own asphalt lay-down and maintenance crews. AAC has had great success recruiting women to join their company, nurturing their talent and promoting from within. Today, some of the company's top roles are filled by women—many of whom never intended to have a career in construction, but now could imagine nothing else.
They also recently implemented a Leadership Academy for employees who show leadership qualities. Management chooses employees to attend the academy, where the employees' leadership skills are nurtured and amplified to allow promotion from within the company.
"At American Asphalt, we are all about relationships. Not just with customers and suppliers, but with our own people as well. That has led us to start and maintain a ministry committee whose purpose is to care for our own people, in times of need with financial gifts. Our paid-for marriage retreat weekends and employee assistance programs all care for the heart and soul of our team members. … And our 'Leadership Academy' is our in-house formal mentoring program helping future leaders rise to their potential. Is that not what we all want, to be cared for and appreciated for a job well done?" says Bob Brown, president.
"The average years of service for our employees is extremely high, which speaks volumes about our environment. Keeping people doesn't just happen by accident, it is the result of purposeful actions. … I have heard several comments from our team that they would not leave for twice as much money and I am certain that they are sincere," says Dave Sulkin, vice president of sales and marketing.
AmeriHealth New Jersey
AmeriHealth New Jersey is dedicated to enabling the people of New Jersey to improve their health and well-being while providing them access to affordable, quality care.
Perks offered to employees include bagel Mondays, discounted or free tickets to sports/recreational events, free biometric screenings, the ability to purchase flex vacation time and a "wellness wagon," which features healthy snacks to help associates boost their energy at work. Volunteerism is also a strong part of AmeriHealth New Jersey's culture. The company supports various organizations whose missions closely mirror its own and annually serves as the presenting sponsor for two races in which associates, along with family and friends, participate.
"While we continue to operate in an ever-changing industry there is one constant and that is our associates' dedication. From that dedication has stemmed a very unique culture—no matter what challenges we face, everyone is willing to go above and beyond their daily responsibilities to achieve success," says Mike Munoz, senior vice president, sales and marketing.
"One of the unique aspects of our company's culture is our associates' dedication to giving back to the local New Jersey communities we serve. … We know firsthand that devotion means a lot to our customers, the people of New Jersey—and it means a lot to us," says Ken Kobylowski, senior vice president, provider contracting and network operations.
"AmeriHealth New Jersey is filled with people who work hard, but know how to laugh. The culture is welcoming and supportive—everyone is willing to help at a drop of a dime," says Lauren D'Amico, provider partnership specialist.
Columbia Bank
Columbia Bank issues community grants to local charitable and community organizations, especially those promoting health and human services, affordable housing, community investment, economic development and financial literacy. It is a regular supporter of the Center of United Methodist Aid to the Community (CUMAC)'s feed-the-hungry program and was the recent recipient of a $40,000 donation representing the proceeds from its annual charity golf outing and a Columbia Bank Foundation grant of $33,000 used to purchase a much-needed commercial freezer. As part of a special corporate project, Team Columbia volunteers purchased and delivered $2,000 worth of bulk food items to CUMAC.
"At Columbia Bank, we created a unique corporate culture for our employees with opportunities to learn and grow, along with a supportive environment that provides rewards for outstanding customer and community service, encourages the sharing of ideas, creates a sense of pride and promotes sound health practices through wellness and healthy lifestyles. We also recognize that an enjoyable work environment is important," says Thomas Kemly, president and CEO.
"Even though Columbia Bank has hundreds of employees, everyone is treated as a family member. Besides all of the 'extras' we receive throughout the year—company outings, professional development opportunities and even a holiday turkey—what I like best is that we are always encouraged to volunteer our time to help others in our community," says Delores McGuire, Mount Laurel branch manager.
Community Treatment Solutions
Incorporated as a 501(c)(3) organization in 1990 to address the needs of children and youth who have been abused, neglected and/or abandoned by the adults in their lives, Community Treatment Solutions (CTS) is dedicated to serving the most at-risk youths in New Jersey. With administrative offices in Moorestown, it serves over 450 youths and their families a year in a variety of clinically intensive and specialized community-based services. Staff can take advantage of discount day care and enjoy food trucks and ice cream trucks at all staff meetings as well as a holiday luncheon, where the food is completely prepared and served to employees by executive staff. There is also a staff bowling tournament and annual summer picnic for employees and their families.
"We want employees who are committed to our mission of providing the best care possible, but at the same time, do not want employees who are consumed by their work, and we recognize they have families and interests outside the organization. … We have fun and allow ourselves to be silly and vulnerable," says CTS CEO Susan Buchwald.
"I love our mission and what we do. … I love the people I work with and that CTS is very family friendly and understands the importance of the work/life balance. They care about their employees and recognize the hard work that's being done by everyone," says Kara Carolla, a CTS employee.
Cooper University Health
Cooper University Hospital is a dynamic, integrated health care delivery system that provides comprehensive medical services to the residents of southern New Jersey. As the clinical campus of Cooper Medical School of Rowan University, the hospital is dedicated to medical education and research excellence. Cooper University Physicians, the teaching faculty of the medical school, maintains more than 100 offices at 38 locations throughout southern New Jersey and in Pennsylvania. It has committed to its employees by providing competitive rates and compensation, a comprehensive employee benefits programs, attractive working conditions, tuition reimbursement and ongoing professional development and an on-site concierge service, offering discounted tickets, errand running services, etc.
"Cooper University Health Care's commitment to providing extraordinary health care begins with our dedicated employees and physicians who demonstrate clinical and academic excellence every day and who are committed to our mission to serve, to heal and to educate. … In return, we offer our employees an opportunity to use and grow their talents as they care for our community, conduct research and teach and mentor our future health care professionals," says Beth Green, SPHR, PCC, senior vice president and chief human resources officer.
"What I love about working at Cooper the most is the people I work with. Simply put, they are amazing. … I also love the opportunity to experience and learn about the new and latest therapies and treatments available. The educational experience and opportunities are among the best around," says nurse Chris Thaler, CCU.
Friedman LLP
Headquartered in Manhattan with locations throughout New Jersey, Long Island, Philadelphia and Beijing, Friedman has been serving the accounting, tax and business consulting needs of public and private companies since 1924. The industry-focused practice features concentrated areas of expertise and understanding of the economic environment. Employees are offered in-house professional and sales training programs, work-from-home options, summer Fridays and employee appreciation events that include team activities and recreational events.
"We are extraordinarily proud to be awarded as a Best Place to Work in Southern New Jersey. … We are driven to offer flexibility, transparency and a dynamic environment where our people can grow. These traits will help us continue to recruit and retain top talent in a challenging professional services industry environment," says Chief Operating Officer Jeffrey Agranoff.
"[There are] many reasons I enjoy working for Friedman LLP. … There is room for growth and Friedman likes to promote from within for those that are dedicated to teamwork. The partners have an open door policy and are always available to discuss any questions or issues that may arise. Whether it's participating in an employee appreciation event or outing, or spending time with colleagues and friends in a recreational sports league, it's a great place to work," says Brad Slavinski, CPA, tax manager.
Garden State Discovery Museum
The Garden State Discovery Museum offers its employees a flexible schedule. They also feel that it is important to promote from within and have had several employees move up in the company to management positions. It takes many departments to run the museum and any employee can train in education, reservations, marketing, exhibits, accounting, customer service, retail and even a team for animals. Staff also get to see the smiles of the children that visit and no day is ever the same.
"The Garden State Discovery Museum is an amazing place to work if you are filled with whimsy and wonder. Every day is a new adventure in a dynamic and creative environment, making children and families smile. We specialize in making memories that last a lifetime," says Kelly Lyons, museum director.
"Before I was an employee I was a visitor to the museum and I was always intrigued with the employee camaraderie. … When I became an employee I was truly welcomed as part of the GSDM family. I look forward to my days at work not only because it is fulfilling to put smiles on the faces of our visitors but being a part of a fabulous team is gratifying," says Jennifer Cruz, reservations.
Hire Edge Logistics Personnel (HELP)
This commercial driver recruiting and placement firm is focused on achieving the highest level of service through sound business practices, quality of candidates, strict adherence to DOT and FMCSA compliance and superior customer service. Corporate and company culture is paramount to the success, growth and sustainability of any organization. HELP considers their employees the single greatest asset and foundation of the organizational architecture. This culture is built on the values of respect, integrity, honesty and teamwork, which allows its employees to flourish. Employees at HELP are empowered to lead by example, get involved in community action, volunteer at nonprofit charitable organizations and help create the vision they expect now and well into the future.
"With cooperation, ingenuity and work ethic, we can accomplish great deeds and overcome the most significant challenges facing us as people both personally and at work," says CEO James Davis.
"Working at Hire Edge feels like being part of a family. Team members enjoy and have fun doing their work. Each and every member is respected and their contribution into the company is considered important. Hire Edge is a company where you will be inspired, feel energized and be happy. The opportunity to work with such a diverse group of people has been invaluable to me," says JoAnna McCall, human resources.
Investors Bank
This independent, full-service community bank operates over 140 branches across New Jersey and New York. With more than $20 billion in assets, it serves a wide range of consumer, business, commercial real estate, nonprofit and local government customers. In addition, their Investors Foundation supports local and statewide organizations that enrich the quality of life in the communities they serve. In addition to traditional health and 401k benefits, employees can take advantage of on-site gyms in the corporate offices, employee stock ownership, more than 2,000 community activities, tuition reimbursement, flexible work options, a women's leadership forum and open communication with the CEO and senior executive management team.
"Investors Bank employees are our greatest asset. We know if we provide the tools and opportunities to achieve excellence, they will. The bank fosters a culture where our employees come to work, give us their best effort, and in turn, Investors will give them its best effort by investing in their careers. We want to give our employees the opportunity to become the best version of themselves," says Kevin Cummings, president and CEO.
"Investors Bank not only gives me the tools and opportunities to excel in my career, but the chance to make a difference in the community. The bank not only is fully supportive of its employees being involved with nonprofit organizations, but it ensures we have the opportunities to do so—to make a positive impact," says Carmine Pannullo, retail market manager.
Kennedy Health
Kennedy Health meets the community's health care needs at its hospital campuses in Cherry Hill, Stratford and Washington Township and at outpatient facilities and medical practices throughout Camden, Gloucester and Burlington counties. Kennedy has more than 4,600 associates and over 900 medical staff members. It is the primary teaching hospital of the Rowan University School of Osteopathic Medicine.
Its more than 4,600 employees are offered flexible benefits and programs, including flex spending account, tuition assistance, legal assistance, discounted auto and homeowner insurance, online education partnerships and employee reward and recognition programs.
They also celebrate Associate Appreciation Day each June.
"Kennedy Health takes pride in being considered an 'employer of choice' in South Jersey. We are focused on ensuring a positive work environment, a friendly, family-like culture, while providing our staff with opportunities for career growth. We also have many associates who have been with us for 25 years or more, which I believe is a true testament to how Kennedy's people feel about our organization," says President and CEO Joseph W. Devine
"Not only do managers care, but senior leadership is so involved and supportive of the bedside nursing staff as well. We really have a voice. … I knew my mom loved working at Kennedy and I hoped I would, too. I truly love being part of the team here. I'm proud to be part of an organization where it's all about giving our best to our patients," says Andrea Besaw, RN, a nurse in the Intensive Care Unit at Kennedy University Hospital in Washington Township.
Lauletta Birnbaum
This boutique South Jersey law firm with local, national and international practice has been in business for seven years. It features an innovative office with open spaces, casual dress code in the office, flexible hours, game tables, lounge area and kitchen.
There is a heavy focus on entrepreneurship, team building and the ability to rely on each other and work as a cohesive unit. Young attorneys are also offered an apprenticeship program which includes a two-year commitment from the company to provide training. Of eight lawyers who have gone through the program, six are still employed by the company.
"We had a dream to do something in a certain way and create a fun, entrepreneurial environment where young people could learn from seasoned lawyers at a practice and have fun while they're doing it. We're in the workplace so many hours of our lives, we feel it's important people are in an environment where they want to be. We want to make everyone here happy. If we can do that, then we present the best possible light to our clients and potential clients," says partner Lloyd Birnbaum.
"I look forward to coming to work every day. While we roll up our sleeves and work hard on sophisticated matters, there are also plenty of opportunities to unwind with coworkers and colleagues. ... We work hard but we also play hard—partners and associates alike. Also, many of the firm's partners left large law firms to obtain a better work/life balance and try to instill that quality of life value in associates like me," says Randy W. Ford, associate attorney.
Stark & Stark
For more than 80 years, Stark & Stark has been respected for its quality work, caring attitude toward its clients and support of the communities it serves. Giving back to their communities is a tradition that the law firm takes very seriously. Whether individually or collectively, members of the firm donate their time and resources for scores of community programs and philanthropic organizations. Many Stark & Stark attorneys and staff have been recognized for their contributions to the community and professional organizations such as: American Heart Association, Cara's Sweethearts, Court Appointed Special Advocates for Kids (CASA), One Simple Wish, Home Front, Millhill Child and Family Development Center, Dress for Success, Susan G. Komen Breast Cancer Foundation and Wounded Warrior Foundation.
"We have worked very hard to create a culture where our attorneys and staff want to come to work and enjoy working together. The fact that our average employee tenure is 12 years is a testament to the nurturing environment we have created for our attorneys and staff. Our employees typically stick around, and that's one of the keys to our success," says Bonnie Brenner, director of human resources.
"I've been with the firm for about seven months and I have no regrets. Not only have I benefitted from the strong reputation the firm has in the marketplace, but I've been able to connect with colleagues throughout the firm, and those connections can be invaluable. It's a really great firm to work for," says Kevin Falkenstein, associate attorney in the Marlton office.
Wells Fargo, Southern New Jersey
Wells Fargo's vision of financially successful customers is based on a simple premise: a belief that customers across all business segments can be better served, and save time and money, if they bring their financial services to one trusted provider that knows them well, provides reliable guidance and advice and can serve their full range of financial needs through a wide choice of products and services. Staff is offered comprehensive and competitive medical, dental and vision benefits, paid time off, commuter benefits, adoption and tuition reimbursement, scholarships for dependent children, and savings on financial products and services that are typically offered to its best customers.
"At Wells Fargo, we believe our team members are assets to be treasured, not expenses to be managed. We want every single one of our team members to be able to say: 'I chose the right company. I'm valued. I'm rewarded. I'm recognized. We work hard, and we have fun, too. I can improve my professional skills and reach my career goals here. I enjoy my work,'" says Brenda Ross-Dulan, Southern New Jersey region president.
YMCA of Burlington and Camden Counties
The YMCA of Burlington and Camden Counties is the premier family-oriented provider of fitness, gym, child care and camp facilities. The cause-driven, community-based, charitable nonprofit organization strengthens community through youth development, healthy living and social responsibility. Their goal is to nurture the potential of every child and teen, improve the community's health and well-being and give back and provide support to neighbors. All employees receive free membership to the YMCA of Burlington and Camden Counties. There are medical, dental and vision plans for full-time employees, a retirement plan with 8 percent company matching for those who qualify and a generous vacation allowance.
"As a life-long YMCA employee myself, I see first-hand why people choose to work at the Y. YMCA employees get the best of both worlds—an enriching career and an opportunity to make a difference in the lives of people," says Tim Kerrihard, president and chief executive officer.
"Working at the Y is not just a job, it allows me to serve a purpose. It's a place where employees are supported to grow and encouraged to use their passion to help fulfill the mission of the organization," says Corrien Green-Elmore, senior director of youth intervention.
Published (and copyrighted) in South Jersey Biz, Volume 6, Issue 4 (April, 2016).
For more info on South Jersey Biz, click here.
To subscribe to South Jersey Biz, click here.
To advertise in South Jersey Biz, click here.