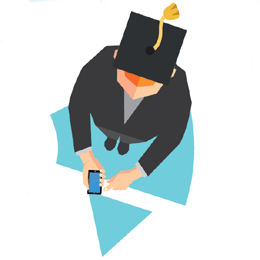 Educational Advancement
As South Jersey's business climate continues to change, the state's colleges and universities are keeping up with the demands of the marketplace by providing new and innovative programs to prepare students for success in the business world—and cultivate the next generation of business leaders.
"We're always developing new programs to keep a finger on the pulse of what jobs are available in the county and what employers are looking for," asserts Don Borden, executive vice president of Camden County College, which offers an array of certificate programs and other career-oriented programs. "We always have to keep close tabs on what jobs are available and the kind of training or experience that's required and adjust our programs to meet the needs of local businesses." The college focuses on integrating employable skills into all areas of study, such as managerial skills. "You'd be hard-pressed to choose a business that doesn't require at least some management skills from its employees, and as a community college we feel it's our responsibility to help students develop the skills they'll need to pursue any path they choose, whether it's transferring to a four-year school or entering the workforce."
In fact, many of the region's county colleges are launching programs to cater to both traditional and non-traditional students alike. Atlantic Cape Community College is increasing its presence in the world of Prior Learning Assessments (PLAs), which allow students to earn college credits for past life and work experience. "One of our biggest focuses is providing people who have a lot of experience with opportunities to earn college credit for that experience—and, hopefully, give them a running start when it comes to pursuing a degree," says Donna Vassallo, dean of career education for Atlantic Cape Community College.
Not only do students have an opportunity to create a portfolio and learn how to identify and market their skills, but they take exams that enable them to receive credit for past experience; for example, a mid-level casino manager may earn credit for hospitality courses that were completed earlier in his or her career. "Many folks in this region worked in the casino industry and through no fault of their own are finding themselves out of work. … So we've found a way to help them leverage their 20 or 30 years of work experience, identify the incredible skills they bring to the table and equate them into college credit so they can beef-up their résumé and get themselves back to work."
In addition to rolling out new courses and majors, universities like Rutgers-Camden are also doing their part to ensure that students have an equal opportunity to pursue success in the business world. Launched last fall, the university is offering a Bridging the Gap program to provide financial assistance to low-income families as well as unique scholarship programs for transfer students. Since many adult students struggle to strike a balance between school and work, the university offers compensation for their time spent working with local companies as an intern in their chosen field of study.
Rutgers-Camden is also combining its emphasis on internships and real-world work experience with career-focused majors and certifications to help students hit the ground running upon graduation. "One thing that's really clear is that just about every university is asking itself how well students are actually prepared for the marketplace—it's more important than ever in today's competitive and ever-changing business world," says Jaishankar Ganesh, dean of the Rutgers-Camden School of Business.
As market preparedness becomes more and more important, the business school also opened a Student Experience Center to help address obstacles that often stand in the way of students pursuing the education they need to become local business leaders. "It's a one-stop shop to help students address problems ranging from financial to academic to personal, as well as provide skills like résumé building or interviewing."
Technical institutions like New Jersey Institute of Technology (NJIT) are also doing their part to help prepare students for success in the business world. According to Atam Dhawan, vice provost for research at NJIT, one of the major challenges has been helping students learn how to translate their research and skills in innovation into leadership roles within the local business community. "We have to help students connect research and innovation to the marketplace, which we haven't done in a seamless manner before," he explains. "It's our goal to create opportunities beyond the classroom and help students work with external collaborators and business professionals within local corporations and industries."
As such, NJIT created an external advisory board; comprised of local business leaders ranging from industry vice presidents of both large and small corporations to entrepreneurs, angel investors and venture capitalists, the board views concept papers from teams of students in a range of disciplines. "They select the ideas that they feel might best address a market need and those students proceed to workshop their idea before presenting their proposal," he adds.
Proposals that are selected to move forward are assigned a faculty advisor and mentor (typically an angel investor) to develop a prototype and help walk students through the development of a business plan, and certain teams will even receive funding in order to take their innovation to the market. Some ideas that have already come out of this program are smart canes to help the visually impaired navigate better in the city and interactive apps for autistic children.
Many of the region's colleges and universities are also closely monitoring the skill sets that local businesses are expecting students to have once they begin that first internship or entry-level position and adjusting their programs accordingly. "One of our major goals is always to tie curriculum to careers," asserts Dr. Janice Warner, dean of the Georgian Court University School of Business and Digital Media. "We integrate industry into classes with faculty who always connect how students at both the undergraduate and graduate level may end up using the skills they're learning in the classroom in the business world." The university also organizes monthly career-focused panels for business students, whether it's marketing, sales or financial careers, or entrepreneurial workshops, and hosts a networking event with alumni and local professionals.
Georgian Court University has been rolling out new programs that address the needs of today's business world; a new program in social media marketing is now being offered at the undergraduate level. "We found out that when our marketing students were out there looking for jobs, it was a skill set that was almost always in demand," Warner explains. "So we combined efforts with our graphic design and digital communication programs to create a cross-disciplinary program that will help our students fulfill this need for businesses operating in today's marketplace."
Wilmington University is also striving to help students meet the demands of today's business marketplace, including a brand new bachelor's degree in business analytics as well as a certificate program. "The world is awash in data and we had no fundamental, foundational type of degree program to help students begin to interpret, understand and utilize the data that's available to them," explains Laurie Bick, director of PR for Wilmington University. Currently, the majority of the state's colleges and universities only offer masters or doctorate programs in data analytics, she notes.
"If you're a nonprofit organization or small business and you have a website or Facebook page but don't know how to leverage data from Google Analytics—and you can't afford to hire someone with a masters or doctorate degree—we feel this new program can provide students with an invaluable career step as they help the organization use the data to their best advantage to meet their goals and continue serving the community."
President of Rowan College at Burlington County Paul Drayton agrees that the ability to perform business analytics and social media marketing are becoming increasingly important for businesses hiring recent graduates. "These are two areas that are becoming critically important in terms of developing skill sets that enable students to hit the ground running when they graduate," he notes.
While the college is currently enhancing its programs in areas like data analytics and social media, among the college's most significant innovations is a new partnership with Rowan University. Beginning in fall 2017, a new bachelors in business administration will allow students to attend three years at the community college level and one at Rowan University. Rowan College at Gloucester County is also offering similar innovations to help make it more affordable for students to pursue higher education and careers in business.
"It's obviously something that will continue to grow and expand the number of potential business leaders of the future, but what we feel is really exciting is that a partnership with Rowan means that students can graduate with this degree for an affordable amount of money," Drayton concludes. "We're excited to combine a quality education with the ability to graduate with a business degree and not have extensive amounts of student debt."
Published (and copyrighted) in South Jersey Biz, Volume 6, Issue 3 (March, 2016).
For more info on South Jersey Biz, click here.
To subscribe to South Jersey Biz, click here.