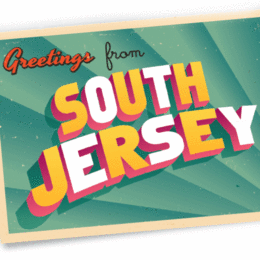 Visitors Welcome
South Jersey has a lot to offer. From the area's national parks, to historic sites in places like Mount Holly and Burlington in Burlington County, to wineries, outlets and amusement piers along the Jersey shore, there's no shortage of things to do in South Jersey.
"We have a lot of family-friendly activities available for tourists," says Meghan Lafferty, vice president of sales and revenue for the hotel division of Delco Development LLC.
Because hotel rooms in South Jersey are often less expensive than rooms in Philadelphia and New York, travelers sometimes get rooms in places like Mount Laurel and Cherry Hill because they're close enough to get to those two cities for activities, explains Lafferty, who is also the chair of the Burlington County Regional Chamber of Commerce's travel and tourism committee.
But getting tourists to view South Jersey as a destination and not just a hub has traditionally been hard, says Dian Wender, who is also on the travel and tourism committee for BCRCC.
"Officials have been trying for years to make South Jersey a tourist destination," Wender says. "It's hard to compete with Philadelphia."
Leveling that playing field a little is the mission of Visit South Jersey. Visit South Jersey is a non-profit that works with municipalities in Burlington, Gloucester, Salem and Camden counties and the Outer Coastal Plain Wine Region in South Jersey to promote this region and the wineries, craft breweries and distilleries within it.
So far, it's been working, says Devon Perry of Visit South Jersey. Total tourism went up 35 percent in the region in 2015, something that can be attributed to the breweries and wineries that are attracting people to the area, she explains.
"South Jersey has a unique blend of experiences that establish it as a destination in its own right," Perry says. "Our historic landmarks and downtowns, culinary, craft brewery and vineyard experiences, as well as local art and theater groups present an alternative to the crowded cities for which we share affection—but from which we stand as separate."
According to the 2015 Tourism Economics Report issued by the New Jersey Department of Travel and Tourism, the tourism industry and the businesses that are connected to it account for $37.3 billion of the state's economy, or 6.6 percent of the state's gross domestic product.
Tourism also accounts for 318,330 jobs in the state, including nearly 100 percent of all hotel jobs, according to the report.
Many of those jobs, at least in South Jersey, were located in Atlantic City. And the fact that they no longer are has caused some problems.
Earlier this month, New Jersey's State Assembly approved a bill that would take control of the city's financial functions, get rid of the city's collective bargaining agreements and put Atlantic City under state control.
Because you no longer have to travel to Atlantic City to hit the gambling tables, four of the city's casinos—the Showboat, the Trump Plaza Hotel and Casino, the Atlantic Club, and Revel AC—closed, forcing the city to diversify its economy, explains Earl Harvey, editor/publisher of The AC Times newspaper.
"Atlantic City is trying to develop the non-gaming side of its economy," Harvey says. "The new emphasis here is on more family-oriented entertainment. There's more of an emphasis on increasing the city's convention business."
Since there are more outlet shoppers than high rollers going into Atlantic City these days, rooms that casinos used to hold onto with both hands are now being released in hopes of filling them with conventioneers, explains Rummy Pandit, executive director of the Lloyd D. Levinson Institute of Gaming, Hospitality and Tourism at Stockton University.
"Casinos are adding non-gaming space and non-gaming revenue has risen from $1.2 billion of the city's economy to $1.5 billion," Pandit says. "The city is focusing more on retail and other non-gaming activities, and people seem to love it."
This summer, the Democratic National Convention is coming to Philadelphia. Because the bulk of the convention's activities are taking place at the Wells Fargo Center, it is hoped that some of the tourism dollars that will flow into Philadelphia might make their way across the bridge into Jersey.
But whether or not that happens this time around depends on a few factors. How much down time conventioneers get is a factor. Whether or not conventioneers are directed to South Jersey's venues will also be a factor.
But the success or failure of a municipality or attraction to get tourists to come and visit in the current tourism climate is going to depend a lot on location and marketing, says Steve Graham, principal at Graham Communications, a full-service communications and marketing firm.
Graham's most recent work can be seen in the VisitSalemCountyNJ.com site, which asks tourists to take the "road less traveled" and visit places like the Salem Oaks Winery and other activities.
Because it requires making an effort for tourists to make the visit to the region he's working with, Graham believes that the businesses themselves have to make an effort to illustrate why people should make the trip.
"If you're on a Boardwalk or somewhere along the highway, somewhere larger, you're going to do well because people are going to see you and come to you," Graham says. "If you're a smaller place, like Salem County, you have to make an effort to divert traffic to your attraction. If you just expect people to come to your venue, you're going to be disappointed."
With the efforts of local businesses and area tourism groups, South Jersey is making big strides in doing just that and is on track to continue attracting more and more tourists in the years to come.
Published (and copyrighted) in South Jersey Biz, Volume 6, Issue 3 (March, 2016).
For more info on South Jersey Biz, click here.
To subscribe to South Jersey Biz, click here.
To advertise in South Jersey Biz, click here.