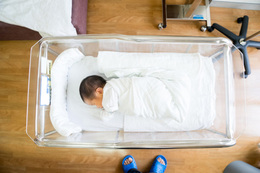 2016 Best of Health Care
South Jersey has been making big moves in medical advancement in the last decade. Whether it's in the form of expanding or improving services to area residents, educating the doctors and nurses of tomorrow or bringing groundbreaking research to the medical community at large, these professionals and partnerships are doing their part to ensure that our local health care sector is second to none.
emerging leaders
WILLIAM DIETER, PT, DPT, GCS DIRECTOR OF PHYSICAL THERAPY, CLINICAL SERVICES, FOX REHABILITATION
Dieter received his doctorate in physical therapy (DPT) from Thomas Jefferson University in 2011 and graduated summa cum laude as a member of the Alpha Eta Honor Society. He has been the director of PT clinical services at FOX Rehabilitation, overseeing the clinical practice of several hundred physical therapists, since 2014. He more recently became the director of the FOX geriatric residency in physical therapy, from which he graduated in 2013 and obtained his board certification in geriatric physical therapy. He has performed original research and presented on the topics of translational research and quality improvement in various settings.
What's the most rewarding part of your job?
Serving the older adult population is, without a doubt, the most rewarding part of my job. Our society is knowingly and unknowingly ageist, and therefore older adults do not have access to care that can greatly enhance their quality of life and independence. I have a unique opportunity to provide this directly through patient care and indirectly through collaboration with the leadership and highly skilled clinicians at FOX Rehabilitation that allow older adults to age in place.
LORI HERNDON, RN, BSN, MBA
PRESIDENT & CEO, ATLANTICARE REGIONAL MEDICAL CENTER (AS OF JULY 1, 2016)
Herndon is executive vice president, AtlantiCare, and president and CEO, Atlanti-Care Regional Medical Center (ARMC). In this role, she serves as the administrative and clinical leader for the delivery of care throughout the organization. Herndon is responsible for creating and implementing health care delivery strategy across the system in a way that meets customers' needs and delivers on the promise of great quality, experience and outcomes for the populations AtlantiCare serves.
What's the hardest part of your job?
Ensuring the most appropriate use of our resources as we strive to improve the health status of our communities is one of the biggest challenges we face. The transformation of health care is an exciting time for our industry, and AtlantiCare is committed to providing the right care in the right place at the right time as we continue to assess the needs of a complex and diverse community.
unsung heroes
LINDA COPPINGER
EXECUTIVE DIRECTOR SOUTH JERSEY AT ALZHEIMER'S ASSOCIATION, DELAWARE VALLEY CHAPTER
In her role at the Delaware Valley Chapter, Coppinger oversees functions of the South Jersey region, including advocacy and fundraising. Additionally, she writes grant proposals for the entire Delaware Valley Chapter. Previously, she was assistant executive director at the Girl Scouts of the South Jersey Pines, a large nonprofit agency covering Atlantic, Burlington, Cape May, Cumberland, Gloucester and Salem counties. She worked there since 1999 and worked one year prior to that at the Girl Scouts of Camden County.
What drew you to the health care field?
I have always worked in the nonprofit sector in a variety of agencies. In 2006, I was looking to move on from a position and answered an ad for my current position. I found the organization to be a good fit as I identified with its mission. It's been an incredible experience to be able to help families who are touched by dementia.
STACY LOSASSO
PATIENT CARE COORDINATOR, HEARTLAND HOSPICE
LoSasso started with Heartland Hospice in May 2012 as an RN case manager. Her hard work and extraordinary dedication to her patients led to her being promoted to her current position of patient care coordinator. LoSasso inspires all those who work with her with her positive outlook and strong principles in patient care. She also successfully balances being a mother of three: a son and two daughters.
Where do you see yourself in 10 years?
I am currently studying for my palliative care and hospice certification and look forward to what the future holds as I begin my journey toward my master's degree in health care administration or education this May. I am not quite sure where I want to be in 10 years, but the joy of nursing is that you can always reinvent yourself and there is always something new to learn.
KEIRSTON SHOEMAKER
ACTIVITIES DIRECTOR, CARDINAL VILLAGE
Shoemaker has worked at Cardinal Village for over eight years. She started as a certified nursing assistant, a certified medical assistant, nutritional care coordinator, assistant to the director of nursing and a little over two years ago the activities director. Shoemaker has taken the activities at Cardinal Village to a whole new level. This is not an easy task with a very limited budget. Not only does she personally meet each and every one of the 210-plus residents, she goes out of her way to spend time with them, get to know them and find out what their likes and dislikes are.
What's the hardest part of your job?
Finding activities that everyone can enjoy while keeping their abilities in mind and to maintain their independence and dignity while making their lives more enjoyable.
KELLY TISZKUS
ALUMNI RELATIONS COORDINATOR, SEABROOK HOUSE
Tiszkus positively influences patients of Seabrook House every day. Sober for five years, she is living proof that recovery is possible. This transfers into her work at Seabrook House. She provides critical aftercare and support to alumni and their loved ones by periodically following up during the first year of recovery. Tiszkus attends all alumni day events and outings, connecting with the alumni and providing encouragement. With her compassionate nature and determination to make a difference, she goes above and beyond to keep former patients on their journey of recovery.
What drew you to the health care field?
I myself was drawn to Seabrook House as this is where my own recovery began. Knowing what a difference people in treatment facilities can make was something I wanted to be a part of. I am passionate about recovery and the ability to change.
humanitarian
DR. DAVID CONDOLUCI
CHIEF PATIENT SAFETY & QUALITY OFFICER FOR KENNEDY UNIVERSITY HOSPITAL
Condoluci is a longtime member of the Kennedy University medical staff, a national expert and leading proponent in the fight against HIV/AIDS. The Early Intervention Program (EIP)—coordinated through Condoluci's medical practice, Garden State Infectious Diseases—has earned a far-reaching reputation for excellence, while offering a full complement of services that address the medical, social and spiritual needs of HIV/AIDS patients. Formerly chief of staff at Kennedy, Condoluci is a clinical professor of medicine at Rowan University MDNJSchool of Osteopathic Medicine.
What's the hardest part of your job?
Ensuring consistency through collaboration, so that every hospital patient receives the same standard of care.
partnerships
SALEM HEALTH AND WELLNESS FOUNDATION/ SOUTHERN NEWJERSEY PERINATAL COOPERATIVE
Founded in 2002 to promote health and wellness among residents of Salem County, the foundation has had a major impact on the rural and socio-economically challenged county. Brenda Goins and the Salem Health and Wellness Foundation use their unique personal history and position to engage local professionals and community members in problem-solving dialogue to address local health care challenges. The foundation serves as a beacon of hope and support for the community and consistently strives to bring new ideas, partners and innovative best practices to the traditionally undeserved area.
What drew you to the partnership?
At the Southern New Jersey Perinatal Cooperative, we believe strong partnerships among organizations are key to building a healthy region. The Salem County Health and Wellness Foundation exemplifies this principle and we are proud to be among the foundation's strategic partners.—Merle Weitz, director, special program initiatives
What's the hardest part of your job?
The nonprofit organizations in Salem County have a tough job providing the best services to as many residents as possible. The foundation believes it is important to partner with our organizations when we can, but we struggle to find partners who have the capacity to take on the hard work required to serve their constituents well.—Brenda L. Goins, executive director, Salem Health & Wellness Foundation
VIRTUA AND LITTLE KICKS SOCCER CORPORATION
Little Kicks Soccer, a mobile program located throughout New Jersey and Northeast Philadelphia, teaches children ages 18 months to 8 years old basic soccer skills through instructional clinics and organized games. Clinics are organized by five different age groups, the younger which encourages parent participation. The classes focus on developing motor skills, encouraging team spirit and instilling self-confidence in a non-competitive atmosphere that allows children to flourish physically, socially and emotionally.
What's the most rewarding part of this partnership?
The most rewarding part of the partnership is having the ability to collaborate with another group that shares the same values of health and wellness. As a result, we are able to reach more families and children with Virtua's mission to be well, get well and stay well. Using Little Kicks and soccer as a platform, we can educate parents and children about sports safety, injury prevention and the value of proper nutrition. —Paul Kasper, director of Virtua Sports Medicine Program
Where do you see the organization in 10 years?
Over the next 10 years, I have developed a comprehensive plan to not only expand on a multi-regional level, but to also continue to help children incorporate exercise as a part of their daily routine from a very young age.—Coach Steve Baselice, founder, Little Kicks Soccer
innovator
Jim CuCinotta
CEO, Halo Health International
Cucinotta started Halo Health International with Ellen Magenheim in 2010. Halo Health focuses on helping its friends and neighbors live healthier through the use of digital patient education platforms. These products broadcast customized, ad-free advice in waiting, exam and in-patient rooms as well as lobbies, cafeterias and more. Cucinotta has ample experience in leading sales, marketing, customer service, purchasing and operations departments.
What drew you to the health care field?
Personal experience. I have nine herniated discs in my back and when I was going through my journey, I wanted to learn more about how to manage my health and navigate the health system. There was no resource that did that at my time of need.
William M. Hasbun, M.D.
Hasbun is a board certified physician in both internal medicine and geriatrics and has been in practice for over 40 years. He is currently an attending physician at Our Lady of Lourdes Medical Center in Camden, specializing in internal medicine and geriatrics and continues to supervise medical residents and students there. He is the creator of The Omni Pro, which replaces 11 different necessary tools for the practicing physicians, medical students, nurse practitioners, physician assistants and even veterinarians.
Where do you see yourself in 10 years?
In 10 years, I hope to continue teaching the art of medicine and compassion to the new generation of physicians and that my Omni Pro will be part of their armamentarium to help them in their proficiency.
TOM PACEK
VICE PRESIDENT OF INFORMATION SYSTEMS AND CHIEF INFORMATION OFFICER, INSPIRA HEALTH NETWORK
Pacek is a certified healthcare information management professional, a member of the College of Healthcare Information Management Executives (CHIME), and a past president of the Delaware Valley Chapter of HIMSS. As VP and CIO at Inspira Health Network, Pacek leads the information systems, communications and bio-medical engineering departments and other strategic clinical and financial related imperatives. He has been a valuable contributor to health care in South Jersey for more than 32 years, having served primarily in information systems leadership roles.
What's the hardest part of your job?
The hardest part of the job is keeping up with the fast pace of change in health care. ...I am regularly challenged to find the next innovative technology that will advance Inspira's mission to our community. Of course all new technologies must be quickly vetted for ease of use, safety, security and value.
health care advocate
SUSAN DELANEY
DIRECTOR, GOVERNMENT AFFAIRS AND HEALTH POLICY, CORIELL INSTITUTE FORMEDICAL RESEARCH
The director of government affairs and health policy at Coriell Institute for Medical Research, Delaney is a graduate of the Fels School of Government at the University of Pennsylvania. She serves as Coriell's point-person on evolving legislation and policy relevant to the institute's research mission and commercial activities. Since joining Coriell in 2010, Delaney has directed her policy and advocacy agenda toward the wider adoption of clinical genomics.
What's the most rewarding part of your job?
We are seeing an inflection point in health care, where science and technology are intersecting with a host of important issues of access, cost and value. It is rewarding to play a role on behalf of Coriell Institute in shaping these important issues.
GENEROSA GRANA, M.D.
DIRECTOR OF MD ANDERSON CANCER CENTER AT COOPER
Grana is the director of the MD Anderson Cancer Center at Cooper and head of the division of hematology/medical oncology at Cooper University Hospital. She is professor of medicine at Cooper Medical School of Rowan University, adjunct professor of the division of cancer medicine at the University of Texas, MD Anderson Cancer Center, Houston, and adjunct assistant professor at the Coriell Institute for Medical Research in Camden.
What's the hardest part of your job?
The hardest part of my job is when the patient loses their battle to cancer. … Despite the tremendous sadness that comes with seeing a patient lose their battle, I am always humbled that the patient and family have allowed me to be a part of this journey and to be part of their lives at such a difficult time.
ROSEMARIE TIERNEY, CALA, RN, WCC
EXECUTIVE DIRECTOR, CAREONE AT EVESHAM ASSISTED LIVING
Tierney started her nursing career while working at West Jersey Health System in Camden (now Virtua). She began working with patients while in nursing school as a nurses aide and unit secretary on the medical/surgical floor 3A in 1989. Over her past 25 years in health care, she has provided care to patients in the hospital, home, sub-acute, long-term care, and assisted living settings. Tierney has been a mentor to many, and in management has worked in the role of director of nursing for more than 10 years of her career.
What drew you to the health care field?
My father—he was diagnosed at the age of 44 with cardiac disease. He participated in studies that have helped many people of all ages with cardiac disease related to arrhythmias. … I absorbed a lot during that time from reading a cardiac monitor to helping with his infusions once he was discharged home. He was my hero.
MARIANWISNYI, RN
WELLNESS DIRECTOR, BRANDYWINE SENIOR LIVING AT HADDONFIELD
As the current wellness director at Brandywine Senior Living at Haddonfield, Wisnyi operates on 21 years experience working in long-term care and assisted living. She has worked with patients who suffered stroke, traumatic brain injury, amputation and other life-changing incidents. Through it all, she values the lessons she's learned regarding the human spirit. Wisnyi was previously awarded the Pennsylvania Nursing Association Nurse of the Year in 1990.
What's the most rewarding part of your job?
It's so rewarding to work in an area of nursing where the goal, on a daily basis, is to provide care as needed, offer an environment that is homelike and engaging and doing this with my extended family every day. The residents are not defined by their lists of illnesses or diagnoses. They are parents, grandparents, aunts, uncles, brothers, sisters, neighbors and friends.
newcomer to watch
AFC DOCTORS EXPRESS
A state-of-the-art urgent care facility and superior team of physicians comprise this urgent care group with two locations in Sewell and Gloucester Township, with plans to open a third this summer. Their physicians have years of experience providing good, friendly service at a fraction of the cost of an emergency room visit. They accept all forms of insurance, including Medicaid, with a philosophy that all patients deserve access to quality care. They have a full lab, X-ray facilities, procedure rooms, triage and more.
What drew you to the health care field?
People are always in a hurry. …There's a maximum need for the business. … You can't go to the emergency room and get out in less than four hours and the typical cost is about $1,000. With us, you're in and out within an hour and the cost to the insurance company averages less than $150. And, our co-pay is probably 25-30 percent of emergency rooms. —Frank Lauletta & Sal Lopresti, Principles
Published (and copyrighted) in South Jersey Biz, Volume 6, Issue 3 (March, 2016).
For more info on South Jersey Biz, click here.
To subscribe to South Jersey Biz, click here.
To advertise in South Jersey Biz, click here.