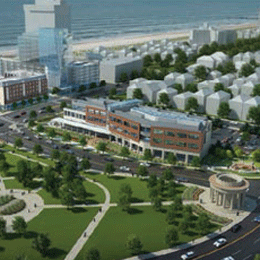 Banking on the Future
Stretching more than 566 square miles with 23 municipalities, Atlantic County has a stretch of beaches off the Atlantic Ocean, two colleges, casinos to boot and still has plans to improve and grow their existing business scene.
Why is Atlantic County a good place for business, you ask? Denise Hurlburt, supervisor and sales support of South Jersey Energy, a subsidiary of South Jersey Industries, puts it best.
"There are several organizations at the county level focused on providing resources to support existing businesses within the county or businesses looking to move into the county," she says. "The county also has land and commercial spaces available that compare favorably to other potential sites around the state. I think all of those things make Atlantic County a great place to start a business."
"A little over a year ago we retained AngelouEconomics to do an economic development strategy for the county," says Howard Kyle, chief of staff to County Executive Dennis Levinson. "It identified four targeted industries."
The four targeted industries the Atlantic County Economic Development Alliance will focus on are aerospace and aviation, life sciences, tourism and specialty manufacturing and entrepreneurial business services.
"Recommended as a first priority was the establishment of an economic development corporation to start working on the implementation of the strategy," says Kyle. "That corporation has been formed, and an interim board has been placed. We have a funding commitment locked in for five years, we are working on office space and very shortly will begin the process for searching for an executive director and we are working on expanding our membership."
CASINOS
Of course, Atlantic County is known for its casino industry in Atlantic City, which includes a total of eight casinos: Bally's, Borgata, Caesars, Golden Nugget, Harrah's, Resorts, Tropicana and Trump Taj Mahal.
"Atlantic City is the economic driver, for the most part, in Atlantic County," says Janet Garraty, owner of Go Jane News.
A lot of the Atlantic City casinos have plans for some major changes and facelifts to attract more visitors and drive up the tourism rates in the county.
"Currently, the growth of Atlantic County is largely dependent on the future of Atlantic City," says Hurlburt. "As the county diversifies its economy and creates jobs in other sectors outside of gaming, Atlantic County will not only be able to grow and thrive, but to provide more leisure opportunities for residents and visitors alike."
John Palmieri, executive director of the Casino Reinvestment Development Authority (CRDA), shed some light on the current and upcoming projects the casinos have underway that residents and visitors will be seeing in the near future.
The Golden Nugget Casino Hotel will be adding the Golden Nugget Villas property. This will be a redevelopment of unused space into two state-of-the-art, multi-purpose villas according to Palmieri.
"At nearly 2,400 square feet, each villa will serve as a meeting space for small groups and hospitality suites for conventions, and will be available for hotel guests on weekends," says Palmieri. "The project will be fully funded through $1.2 million of Investment Alternative Taxes (IATs) administered by CRDA, with a remaining amount of $3.3 million reimbursed through future IAT revenues, if available."
The Borgata Hotel Casino and Spa made changes in 2015 that included room and buffet renovations, and now they are making even bigger changes.
"The final phase of a previous renovation and expansion project includes expansion of the nightclub area into a state-of-the-art entertainment venue called, Premiere," says Palmieri.
Borgata also announced the redesign of their outdoor Festival Park concert venue into a resort day-time/nightlife pool area, Palmieri says. Other smaller additions are taking place including celebrity chef Michael Symon's debut of the new Italian eatery, Symon.
Steve Callender, general manager of Tropicana Casino and Resort, says the Tropicana is currently renovating their Havana Tower hotel rooms to a newly designed contemporary look with spa-inspired bathrooms, large walk-in showers and modern artwork.
"We are proud that just one year after a $50 million renovation, we are able to announce an additional $25 million," says Callender. "Last year we renovated our North Tower hotel rooms and casino, added AtlantiCare Life Center Fitness, as well as four new retailers and created our Multimedia light and sound show. This time around, our plans include renovation of the South Tower casino and high-limit gaming areas, the promotional area for our Trop Advantage members, hair salon and some additional retail space."
Bally's Atlantic City Hotel and Casino has a few new changes to include like the recently opened Boardwalk Saloon at Wild Wild West and May openings of the AC Snack Shack and Guy Fieri's Guy's Bar-B-Que.
"I can tell you that over the last few years, Borgata, as well as Harrah's, Golden Nugget, Tropicana and Resorts have all spent over $100 million on their property so rather than just being a casino, I think they really have become resorts," says Atlantic City Mayor Don Guardian. "They've added world-class spas, some of the hottest night clubs on the East Coast—they've added some fun dining and some fine dining, expanded the retail, and you really have a resort-feel when you go into one of these properties. And as a result, those properties are doing remarkably well."
STOCKTON UNIVERSITY
Located in Galloway Township, Stockton University—which received university status just last year—is expanding even more in Atlantic County with a campus in the works for Atlantic City.
The new campus is expected to break ground in the spring with a completion date anticipated sometime in 2018.
"The project will feature a 56,000- square-foot academic building, a residential housing complex for up to 500 students, an outdoor courtyard, 9,000 square feet of retail space along the Boardwalk and 5,000 square feet of retail space along Atlantic Avenue," says Palmieri. "The $125 million project is financed in part through a $17 million intergovernmental agreement between Stockton and CRDA."
University President Harvey Kesselman says the university is committed to being a part of Atlantic City's renaissance. "We have an ongoing collaboration with Philadelphia developer Bart Blatstein, who has a record of successful community redevelopment and who was involved in the purchase of the Showboat in Atlantic City. Our students will have internship opportunities at the hotel when it reopens," says Kesselman.
Kesselman says Stockton has strong partnerships with local, county and state governments, with Atlantic Cape Community College, and with businesses and civic organizations, all of which leverage the power of higher education for the greater economic good.
"In the fiscal year 2015 alone, Stockton realized $30 million from residents of Atlantic County in tuition, fees, room and board—and that doesn't count university-related spending in the area, such as the food and gas purchased by students, faculty and staff at area businesses, and home rentals and sales," says Kesselman.
"Our students have access to internships, part-time jobs and career counseling, and 87 percent of our 2015 graduates were either employed or in graduate school within six months of graduation."
OTHER NEW ADDITIONS
Stockton's new Atlantic City campus isn't the only new thing coming to that area. South Jersey Gas will also construct a facility right next door to the university's residential facility.
"[It] will feature a seven-story garage, a 72,000-square-foot headquarters for gas company personnel and 7,500 square feet of retail space," says Palmieri. The garage will be shared between South Jersey Gas and Stockton University.
As if Stockton wasn't helping to grow Atlantic County enough, they have another project on the horizon: "Plans for the Stockton Aviation Research & Technology Park also are underway near the FAA's William J. Hughes Technical Center, and could generate more than 2,000 high-paying jobs as more aviation-related businesses are attracted to the area," says Kesselman. "Stockton will be the lead agency in developing aviationrelated educational programs and research, many of these in partnership with other institutions."
With all of the recent and ongoing developments, it's clear to see that Atlantic City casinos are only the tip of the iceberg for the county.
Published (and copyrighted) in South Jersey Biz, Volume 6, Issue 2 (February, 2016).
For more info on South Jersey Biz, click here.
To subscribe to South Jersey Biz, click here.
To advertise in South Jersey Biz, click here.