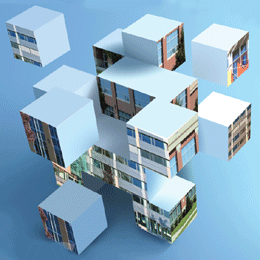 Building Blocks
When it comes to South Jersey's commercial real estate picture, Jeffrey Lucas, director of business development for Rose Commercial Real Estate in Marlton, hardly needs a scorecard. Lucas started out in local real estate in 1969. He knows it not only from a business perspective, but from government as well, having served as Cherry Hill's economic development director from 1994 to 1999.
Ask him about the area's appeal and he joyfully trots out his favorite tale, one about the time he showed a Kings Highway office building to an oil-company executive and the man's wife.
When the visitors from Connecticut saw, in their travels with Lucas, homes in Moorestown, Haddonfield and Cherry Hill, the VP's wife "fell in love with the homes. … She told me, 'Don't lose this house' she saw in Cherry Hill; I always use that story as a tool [to illustrate South Jersey's charm]."
"You can buy affordable homes in South Jersey," Lucas says, "compared with North Jersey. And large companies want space in South Jersey."
That's pretty much the story told by area real estate professionals across the board. They see 2016 as a year filled with residential growth, including housing for veterans and seniors; property re-use; expansion in the medical arena; restaurants; warehouses; and impact from ecommerce, the federal rate hike and uncertainties spurred by the presidential election.
In terms of Rose's plans, Lucas notes a new listing for a single-family home site once owned by the family of former Cherry Hill mayor John Gilmour, now targeted for 55- plus luxury housing; the former Baker Lanes in Cherry Hill, now targeted for use as a hotel, for which Taylor Wiseman & Taylor engineers did a concept layout; and a hotel-and-restaurant complex under construction at the intersection of Route 38 and I-295 in Mount Laurel, with a fall completion date.
Looking deeper into 2016, Lucas sees the senior-housing market coming back after a stretch when he says elderly residents couldn't sell their houses and says South Jersey's commercial real estate market "is good from a local standpoint; locals want to buy and own rather than rent [and] developers from North Jersey, from New York, come here, for better prices. They see a lot in the restaurant market, in the health care market."
Existing stock
A good example of the latter, Lucas says, is a 2015 Rose project involving a fully leased medical building on Haddon Avenue in Haddonfield involving investors from Connecticut.
Lucas says small business owners "are feeling more secure about the economy, and are buying existing buildings." One example is the ongoing transition, slated for completion in March, of a neighborhood-destination 150-seat bar-restaurant on the site of a former chain restaurant in Voorhees.
Lucas arranged the deal with Todd and Craig Bigley. Craig says that though he was initially puzzled when Lucas suggested he and Todd check out the site as a possible second business (the twins run Ott's tavern in Delran), he was game.
Lucas, Craig says, "has a good sense of what kind of area, demographics and location we want. It worked out well, and we are thrilled" with the Ritz Shopping Center location, which is near a movie theater in a town with a great reputation.
Such projects, which involve replacing existing enterprises rather than using open space are popular with town governments, including Cherry Hill's, where Mayor Chuck Cahn and Paul Stridick, director of community development, are fans of property re-use.
"We have protected our open space," says Cahn, who as a partner in a regional firm, CKS Real Estate Holdings, knows commercial real estate. "Environment is important to us. We don't take down trees, or natural lands, we are not developing open spaces or natural lands; we are re-using old properties."
"A rising tide lifts all boats," adds Stridick. "We work hard with property owners to take the downtrodden and find a better use."
The tide has been high: Stridick points to between 12 and 15 new businesses per month, 4,200 building permits annually, 17,500 building inspections per year, and in 2015 about $100 million in new construction with increases expected this year.
He points with pride to Penn Medicine's development of a new, two-story, 150,000-square-foot out-patient medical practice on Route 70, which started in 2015 at the former site of Syms department store; Kennedy Hospital's campus transformation, which, starting last year, included changes to its Cherry Hill hospital campus, with more space for specialty services, more green space, along with better access and parking options.
"Cherry Hill," stresses the mayor, "is open for business. For a real-estate environment, Cherry Hill is a great place to be. Positive things are happening, and we want to make sure they continue."
Cahn notes the township's $8 million in road improvements last year, along with improvements in the sewer system and pump station.
Cahn says, "[The town] used to be a shopping-center mecca, but medicine is a big part of things now," noting the Penn Medicine development. Efforts are also under way to convert the former Lockheed Martin building into a multi- specialty out-patient medical center for Cooper, with plans for just under 100,000 square feet. An application came in in February, with plans for it to go to the planning board in March.
Singing a slightly different tune is Kevin J. DiMedio, a partner in the Mount Laurel office of Reger, Rizzo & Darnall, which handles tax-and-dispute resolution, including real estate and land use.
DiMedio, whose firm had a busy year, says that through his involvement with real estate assessment appeals, he expects "renewed interest in older inventory of commercial and industrial space for owners looking for value."
That echoes the experience of the Cherry Hill officials who are pleased with the re-use trend. DiMedio, though, goes on to say that, as far as this year goes, South Jersey might see a rocky start with the markets and a cause for pause from the Fed rate hike late last year, upping its target funds rate from 0 to 0.25 percent, to 0.25 to 0.5 percent.
This year, DiMedio is "cautiously optimistic: A lot of people are going to give second and third looks before pursuing deals and acquisitions, due to interest rates and the economy so far."
Investing in industry
Marc R. Isdaner, senior managing director at Colliers International in Mount Laurel, sees good days ahead.
"Our industrial team expects to see continued activity at LogistiCenter at Logan (an 1,100-acre master-planned Class A business park over 5.5 million square feet of warehouse, distribution and manufacturing space, between New York and Washington, D.C.)," he says.
"Camden County continues to see the sale of user-purchased industrial buildings, and the projects we represent in Burlington County are also getting more traffic as the Central New Jersey market tightens and the turnpike-widening project has made travel to our markets easier."
Also this year: the Ruby Match Factory in Camden, which will be a state-of-the-art loft office building of 71,000 square feet and 3,500 square feet of restaurant space.
Looking to South Jersey's commercial real estate picture as a whole, Isdaner notes the trend of new industrial construction, with more than 3.6 million square feet of new development completed in 2015, with an additional 4 million underway for 2016 completion.
He also notes sustained strong demand for industrial buildings to purchase, as such municipalities as Camden and Pennsauken benefit from tax-incentive user purchases; Camden, he adds, "is having a major impact on the office market," with Subaru breaking ground at Knight's Crossing and Cooper Health relocating some of its operation from Cherry Hill to the L3 building.
"With Liberty Property Trust under agreement for the waterfront land," he adds, "Camden looks like the story of 2016 as well."
Residential and retail
Isdaner points to the growth of e-commerce providers; subscription food companies popping up, such as Green Chef and the medical office market.
"As practices get absorbed by the health systems or merge with one another," he says, "oftentimes they leave their old space behind for new options. Many of these vacancies are still on the market."
Jason M. Wolf, managing principal at Wolf Commercial Real Estate (WCRE) in Marlton, also looks back at the 120 properties sold or leased in 2015, and such innovations as an expanded blog-site network, with real-estate content, as well as a continued commitment to charitable involvement in the South Jersey community.
As for 2016, Wolf expects some uncertainty in area real estate spurred by the presidential election process and the stock market affecting consumer confidence, though, he says, "Even with some pockets of slowdown, overall, I see a positive tone."
Having been in the real-estate field for 21 years—the last four in his own business—Wolf is also upbeat about his team's zeal, which pushes him to work harder.
"Every day," he concludes, "you have to get out of your box and push forward and break through your ceilings."
Sam Leone, regional VP at Conifer Realty, looks back at 2015 for his firm's work in the transformation of the historic former Duffy School in Florence Township, into senior housing, fully occupied by November; and Meadow Lark Run, a family community in Cape May County.
He also notes Conifer's completion of a 90-unit development in Atlantic City that had been planned before Hurricane Sandy (2012), which changed flood elevation, leading to extensive redesign efforts, with a resulting cost-differential of more than a million dollars.
This year, he expects a June ground-breaking for Camp Salute in Clayton, consisting of 76 units marketed (though not entirely limited) to military veterans, including 19 with disabilities. The project benefited from $1.7 million in federal tax credits, awarded by the New Jersey Housing and Mortgage Finance Agency, and was conceived by People for People Foundation, a Gloucester County nonprofit.
James Whitesell, VP of leasing and marketing for Whitesell Construction Co. Inc., looks back at 2015 by recalling 9.3 million square feet of leases coming up at given times, including 2.3 million square feet, total leasing; 1.83 million square feet in renewals; 400,000 square feet in new tenant leases; and 300,000 square feet in expansion.
This year, Whitesell looks to tap into the northern Burlington County sub-market and says, for the South Jersey real estate market in general, existing buildings compete with new warehouses, and office product is coming back.
"Camden will again be an interesting market to compete for office product," he adds, "with the incentives now available there." He expects some commercial real-estate drivers this year to be e-commerce ("may work its way into some markets") and notes a need remains for small industrial warehouses.
Scott Mertz, president of NAI Mertz, a Mount Laurel real estate brokerage firm, calls warehousing and logistics South Jersey's sweet spot and backs that up with two big-box projects being built on spec in Northern Burlington County.
"State-of-the-art facilities with ample loading and high ceilings are in-demand among industrial users, and tenants from North and Central Jersey are taking notice that the areas around Exits 6 and 7 can offer the requirements and access they need at a reduced lease rate."
One, at 300 Bordentown-Hedding Road, is a 120,000-square-foot warehouse building under construction with an estimated delivery in the third quarter of 2016, in Central Crossing Business Park, offering immediate access to Exit 7 of the New Jersey Turnpike and I-295. The second one, at 400 Cedar Lane, is a 577,000-square-foot industrial facility at turnpike Exit 6, which Mertz says "has become a hot spot for distributors and manufacturers" as it offers access to both the Jersey and Pennsylvania turnpikes, as well as I-295.
Mertz's company recently sold the 76-acre site of the former Logan Township airport to developer J.G. Petrucci Company, which plans a large-scale industrial facility adjacent to Pureland Industrial Complex, a long-time destination for food manufacturers and distributors.
Mertz adds that e-commerce has become a driver in the demand for industrial space since expedited, even same-day, delivery, is becoming more widely expected.
Also on the horizon, he says, is the completion of a major dredging project to deepen the Delaware River, slated for completion next year, which "will allow the ports of Philadelphia and Camden to better compete for the increased cargo traffic and have a ripple effect through the supply chain" and possibly help spur warehousing demand throughout the Greater Philadelphia area.
These developments, Mertz concludes "will increase demand from energy-related firms for industrial space throughout Greater Philadelphia, including Southern New Jersey," while manufacturing firms needing natural gas or its related byproducts "will also be resurgent in the area."
As demand for medical, residential, industrial and mixed-use facilities continues to increase, we may see significant growth in South Jersey's commercial real estate sector in 2016.
Published (and copyrighted) in South Jersey Biz, Volume 6, Issue 2 (February, 2016).
For more info on South Jersey Biz, click here.
To subscribe to South Jersey Biz, click here.
To advertise in South Jersey Biz, click here.