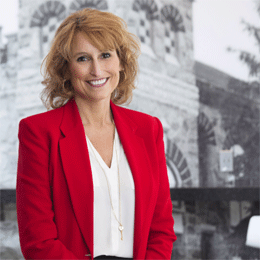 2016 Women to Watch
In 2016, it's almost hard to believe that there was a time in our history when women were not a part of the workforce. Today, it would be surprising to find a workplace that did not include female staff members. Indeed, our 2016 Women to Watch are active across a range of industries and positions, and they are making a significant impact on our area's economy. Here, we present a snapshot of their experience as well as insights on how the landscape has changed for female professionals and advice for other women on entering and conquering the field.
Michelle Shirey
Executive Director of the Gloucester County Workforce Development Board (WDB)
In her role as executive director, Shirey is responsible for the planning, organization, development and supervision of the Gloucester County WDB, partnering with government agencies, private organizations and business leaders to develop programs and deliver services that meet the needs of the local labor market in Gloucester County. She has assisted in the attraction of over 60 new companies and facilitated over $700 million in new investment for the county.
How has the professional landscape for women changed since you began working?
I started my career in the early 2000s at a very good time for women in business. Women are definitely taking a more front-and-center role now more than ever. Almost half the senior level executives in the companies I do business with are female, and in some industries women are starting to dominate corporate landscape. Talent is talent, and every company is always looking for good talent.
Jaime Auletto
Operations Manager, Auletto Caterers
In her role as operations manager, Auletto oversees daily operations of the facility, including the scheduling of events, payroll, marketing and event coordination. She has been working in the family business since she graduated James Madison University in 2003.
What advice would you give to young women entering the business arena today?
My advice to young women would be to go for it. Whatever you want—believe in yourself and go for it. You will not get unlimited chances so you have to be ready when the opportunities present themselves. Work hard to establish your priorities and this will help guide you in reaching your goals.
Roxanne DeHart
Vice President of Sales, foodwerx
As vice president of sales for foodwerx featuring Nicholas Caterers, DeHart utilizes her 20 years of business development and outside sales expertise to help clients experience the luxury catering and event production services her company provides. DeHart's many responsibilities include effectively promoting the brand's well-known, "WOW" factor for business networking, nonprofit, corporate and private events throughout the tri-state area.
What advice would you give to young women entering the business arena today?
The advice I would give young women entering the business arena today is to develop and maintain strong networks. Although we are able to make connections through social media, I have found a firm "Grip and Grin" goes a long way.
Ronda Abbruzzese
Vice President, Sales, Nexus Properties
As vice president of marketing and leasing, Abbruzzese is responsible for local business relationships, marketing and leasing of properties owned and operated by Nexus Properties, focusing on development in and around the Glassboro area. She previously served as business development director for the Borough of Glassboro and as economic development director for the City of Woodbury.
How has the professional landscape for women changed since you began working?
Although opportunities seem to be more present, I'm not convinced the landscape has changed all that much. It seems that women are not as present as they should be in the professional world. … We as women need to invest more time in other women and be mentors for the young women around us. Continuing to teach and mentor our youth, while sharing experiences, will aid in making a mark in changing the business landscape for women.
Meghan Lafferty
Vice President of Sales and Revenue, Delco Development
Lafferty is a homegrown South Jersey hospitality guru. Born and raised in Marlton, she found her love of traveling and adventure from family members. In her role at Delco Development, she is involved in sales, marketing, rates and revenues for their hotel complexes throughout N.J. She also sits on the board of directors for the Salem County Chamber of Commerce and chairs their ambassador/marketing committee.
What's the biggest misconception about women in the professional world?
Gone are the days of cliché cat fights in the boardroom. If anything, I see successful women helping and supporting each other even more now. These important relationships will grow and evolve as these women move into key positions within the business landscape.
Shannon Morgan-Leonen
Assistant Vice President, Branch Manager, Investors Bank
A graduate of Cumberland County College, Morgan-Leonen has more than 25 years of experience in the financial services industry and started working for Investors in May 2014. Her main responsibility is new business development while building relationships in the community, in addition to overseeing a staff of employees, managing the branch's daily operations, and ensuring customer satisfaction.
What advice would you give to young women entering the business arena today?
My advice to young women entering the business arena today would be not to stay comfortable in their current position, to learn how to be uncomfortable, create a five-year plan and stay focused to achieve it. Work on their plan for work, life and family.
Frances A. McElhill
Partner, Archer & Greiner, PC
McElhill has more than 29 years of experience representing education clients, and has served as chief outside counsel to several area colleges and universities, including the University of the Arts in Philadelphia. She has also served as chief outside counsel to various United States and international consortia of higher education clients. She has represented NJEDge.net, the statewide technology network infrastructure among all New Jersey public and private institutions of higher education.
What's the biggest misconception about women in the professional world?
The biggest misconception about women professionals is that we all are either the "B" word or unsophisticated and non-aggressive in business matters and negotiation skills. The reality is that professional women—just like their male counterparts—come in all levels of sophistication and temperament. So based on these levels, there will always be some women professionals that you and your company like to work with and some you do not.
Kimberly Nolan
Financial Services Officer, Columbia Bank
Nolan is a current resident of Deptford Township with her husband Tom and sons Tanner (11) and Tommy (20). She has been in the financial field for over 27 years with experience in banking, mortgages and investments. She has served as the financial services officer with Columbia Bank in Deptford since October 2005 and is a past winner of the Deptford Township Business Person of the Year award.
What's the biggest misconception about women in the professional world? I believe the biggest misconception about women is that you can't have it all; that women have to choose between family and a career. I believe that a lot of my success comes from being a wife and mother. There have been so many brave women that paved the way for me today that I hope to make a difference for the young women entering the professional world today.
Beth Paglione
Commercial Loan Officer, Capital Bank
A 1993 graduate of Millersville University with a BS in business administration, Paglione joined Capital Bank in January 2011 and works as a commercial lender out of Woodbury Heights. Prior to joining Capital Bank, she spent 18 years employed at The Bank, part of Fulton Financial Corp. She currently serves as a board member of the Gloucester County Boys and Girls Club.
What's the greatest challenge you've had to overcome in your career?
The balance of my career and family. I've worked hard to advance to my current position so it's been a delicate balancing act to manage that and quality time with my family. I strive to set a good example for my kids so that they see you can have success with your career and be there for them. It's important to teach kids the value of hard work and the importance of family time.
Orsula V. Knowlton
PharmD, MBA, President, CareKinesis
Knowlton is president of CareKinesis Inc. and Tabula Rasa HealthCare Inc., the parent organization. She is responsible for business development, marketing, strategy, quality, compliance and regulatory aspects of the organization. Prior to TRHC, Knowlton was vice president and chief marketing and strategy officer for excelleRx Inc. from start-up to servicing more than 85,000 hospice patients amongst 850 hospice clients in 49 states.
What's the biggest misconception about women in the professional world?
Perhaps, in general, that having a family is a limitation to the amount of responsibility that can be taken by women. My philosophy is, regardless of gender, to challenge people with responsibility until they push back.
Christine Robinson
Executive Director, Kingsway Learning Center
After 20 years of experience in public school education, Robinson transformed her passion for special education into a career with Kingsway Learning Center (KLC). During her time working in the public school realm, she acted as a strong advocate for students and staff in special education programs. Robinson joined KLC as the executive director in 2012 inspired by the organization's strong dedication toward individualized education for youth with special needs.
What advice would you give to young women entering the business arena today?
Probably the best advice I can give to a young woman today is to be an active listener. I think sometimes the mistake that younger women, and men too for that matter, make is that they try to immediately prove themselves so as to justify their inclusion in a process.
Laura Ruccolo
Co-Chair of Commercial Litigation, Capehart Scatchard
Ruccolo is an experienced hands-on litigator with over 20 years of experience. She focuses her practice on complex commercial litigation, including the defense of class action litigation. She represents small, medium and large companies, banks and financial institutions and professionals and counsels them in all aspects of their business, from reviewing, negotiating and drafting contracts in a wide variety of areas, addressing employment issues and compliance issues.
What's the greatest challenge you've had to overcome in your career?
Early on in my career I was the sole female partner in a small firm. I was paid less than some male associates, although I was a bigger producer. When I complained about pay equality, I was told that the male associates needed to make more money because they had to support their families. After more than a year of arguing the issue of pay equality, I ultimately left the firm and learned that actions speak louder than words. I did much better financially after leaving and I understand that my leaving finally made them realize that they had a real problem.
Brigette Satchell
Dean of Continuing Education, Rowan College at Gloucester County
Satchell has over 18 years of experience in adult literacy, professional development and workforce development. As an advocate for adult literacy and workforce development, Satchell is passionate about providing academic and career guidance to economically disadvantaged individuals so that they may find their path to success and independence. She currently serves as a member of the State Council for Adult Literacy Education Services.
What's the biggest misconception about women in the professional world?
One of the biggest misconceptions about women in the professional world is that we are often viewed as being the extremely competitive, critical bosses, who have zero interest in fostering the careers of fellow women—The Queen Bee Syndrome. However, now there are more women leaders in various industries serving as mentors and participating initiatives to assist women in the development of their skills to prepare for potential leadership opportunities.
Amrit Walia
Wealth Management Regional Managing Director, Wells Fargo
Walia has been regional managing director of South New Jersey at Wells Fargo Private Bank since October 2014. Prior to joining Wells Fargo & Co.'s wealth management unit, Walia was with The Hartford Financial Services Group Inc.'s Hartford Funds as head of the investment sales force and internal sales strategy.
What's the biggest misconception about women in the professional world?
There are many misconceptions about female professionals, but perhaps the biggest is that we are led by our emotions and that that takes away from our ability to be a strong and successful performer. From my perspective, women can be some of the most valuable contributors in an organization because they do indeed bring a level of sensitivity to the job. It is well documented that a high EQ can make all the difference in building strong personal connections with teammates and clients. Being able to balance logic with emotion and make decisions based on this critical and human combination makes for a more impactful professional.
Dr. Karen Magee-Sauer
Interim Dean, the College of Science and Mathematics, Rowan University
After serving as a post-doctoral fellow at the University of Delaware's Bartol Research Institute, Magee-Sauer joined the Rowan faculty as an assistant professor in 1989 and earned promotions to associate and full-time professor before being named department chair. During two sabbaticals, she conducted research as part of the NASA Goddard Space Flight Center Collaboration. She also was a visiting associate professor in the Department of Material Sciences-Engineering Physics at the University of Virginia.
How has the professional landscape for women changed since you began working?
For one thing, there are more women. Twenty-five years ago, I think there was a perception that women were hired to fill a quota. Rowan has many women on the faculty and in academic administration. Currently, 50 percent of the Deans at Rowan are women. While I think there are still challenges, I believe that future opportunities are wide open for women in academia.
Theresa DiVietro
Owner, Land Dimension Engineering Firm
DiVietro considers herself a concurrent serial entrepreneur—she consistently is running at least two businesses in real time, and at least three inside her head. Core to all of her entrepreneurial endeavors is the land use planning company, Land Dimensions, that she and her husband started at their kitchen table in 1979. Throughout its 37 years, Land Dimensions has grown its brand and reputation in the South Jersey region through the services it provides to their clients through their notable development and redevelopment projects within the community.
What advice would you give to young women entering the business arena today?
I would offer to young women the same as I have offered to my own three sons. It is not about what you do, but who you are. First, be a person that gives, and then recognize that everyone has their own skills and talents and abilities. Learn what yours are, and that what you have to offer is a part of a whole.
Elise Tretola
Chief Executive Officer, Founder Allies Inc.
Tretola has a diverse background, which includes advocating and supporting people with special needs for the past 17 years. In 1999, she joined Krystal Odell and started Allies Inc. Since then, Allies Inc. has enriched the lives of people with special needs by promoting their greater independence with dignity, respect and understanding. As chief operating officer Tretola enjoyed being active in all areas of the services they provide; residential, employment, transition, community integration, case management and recreation to name just a few. In October 2011, Tretola took on the role of CEO.
What advice would you give to young women entering the business arena today?
"Those who stand for nothing fall for anything." (Alexander Hamilton)—We should not be afraid to advocate for what we believe in. Trust in your instincts and hold to your ethics. In a competitive world these are hard things to do, but at the end of the day the most important thing is that you can look in the mirror and know you were true to yourself.
Lois Fazio-Weidhaas
Vice President and Partner, The Protocall Group
Fazio-Weidhaas has been with Protocall since 1976 and presents a strong commitment to customer service in all areas of the company. Her expertise is in call centers, direct hire professionals, administrative professional staffing, health care staffing, projects and recruitment outsourcing. She is also responsible for The Protocall Group's Homecare Division, "Protocare Home Healthcare" and provides direction and management, along with Protocare Home Healthcare's director of nursing.
What's the biggest misconception about women in the professional world?
My father, the founder of our company, who is 91 now, always told me you can do anything you want as long as you give it your best and work hard. A big misconception about women is that they are too sensitive and emotional. I feel we have a strong instinct for people and are sympathetic toward family/worklife balance, which gives employees the feeling that you really care about them, understand and want to help.
Bridget Wiese
Vice President, Community Bank Center Manager, Sun National Bank
Wiese's banking career started in 1992 as a part-time teller. She has had the opportunity for career growth throughout the past 24 years. Building strategic alliances and becoming a trusted advisor to her clients has contributed to her success. Promoting the Sun brand within the community has been key to her success in South Jersey.
What's the greatest challenge you've had to overcome in your career?
The greatest challenge that I have had to overcome in my career is developing teams of individuals at all experience levels. Coaching to build each team member's skill set to support them to grow and perform at their top potential, is my goal. Teamwork is the key to success.
Joccola Thomas
Director of Business Development, South Jersey Federal Credit Union
Thomas has more than 20 years of accomplished relationship management, business development and project management success in her career. For the past seven years, her role as director of business development with South Jersey Federal Credit Union has allowed her to build and cultivate lasting relationships with close to 600 businesses in the South Jersey region. Her primary focus is to build awareness about SJFCU and the premier products and services offered to its communities and businesses served.
How has the professional landscape for women changed since you began working?
The professional landscape for women has changed quite a bit since I've been in the industry. I find that more women have returned to the classroom to obtain the next degree in order to advance in their industry. Many have become entrepreneurs completely leaving the corporate world. … But most importantly I believe that there are more male leaders in place that believe in the power of women leadership and success.
Linda Marryott-Wiest
Manager, Maple Shade Business Association
As manager of the MSBA Marryott-Wiest has worked diligently to strengthen the business community and help businesses throughout the town. Her passion for Maple Shade shows in the many projects she has undertaken and the numerous committees she serves on. She is known for bringing the "Buy Local" program to Maple Shade several years ago. Along with her manager position, she also owns and operates her own invitation business and works alongside her husband Nelson in his consulting business.
What's the biggest misconception about women in the professional world?
I think the biggest misconception is that a woman cannot have a career and have a family. I believe every woman can certainly have it all, it just takes a lot of organization and patience.
Judith Krupnick
President, Cherry Hill Volvo
Krupnick started out as a special needs teacher before taking on the role of president of Cherry Hill Volvo, which made the Automotive News list of best dealerships to work for in 2012. That same year, she adopted two sons, now ages 4 and 6. She was also chosen as a Woman of Valor in our community in 2007.
How has the professional landscape for women changed since you began working?
Although there are many more women in the automotive field than when I was initially employed decades ago, only about four women owners represent Volvo at this time and of them I am, I believe, the only single woman. I find this neither an advantage nor a disadvantage. Owners of every business must be accountable to both their clients and to their employees. Everyone is a vital part of the business team. … The old adage that there is no "I" in team is so very true.
Andrea M. Russo, M.D.
Director, Electrophysiology and Arrhythmia Service, Cooper Heart Institute
Russo is professor of medicine at Cooper Medical School of Rowan University, director of electrophysiology and arrhythmia services and director of the CCEP Fellowship Program at Cooper University Hospital in Camden. She previously joined the faculty at the University of Pennsylvania School of Medicine in Philadelphia in 1997 and was director of the electrophysiology laboratory at Penn Presbyterian Medical Center and clinical associate professor of medicine at the University of Pennsylvania School of Medicine.
What advice would you give to young women entering the business arena today?
I would advise women to pick a career based on their true interests and work hard to achieve whatever goals they have. As we may often spend more time at work than at home, you need to enjoy what you are doing. Picking an exciting and challenging career is key in enjoying your job and avoiding boredom, while promoting personal and intellectual satisfaction.
Diane Ridgway
Business Development, Surety Title
Ridgway has over 40 years of experience in the real estate industry. She began her career as a real estate agent, selling residential and commercial properties. She then worked in property management and mortgage lending. She joined Surety Title Company LLC in June 2011 in her current position as a sales executive. Her diverse real estate background serves her and her clients well in the dynamic ever-changing real estate field.
How has the professional landscape for women changed since you began working?
I began my career in what was a male-dominated profession. The largest change that I have seen is the influx of women as full-time professionals in all aspects of the real estate industry
Published (and copyrighted) in South Jersey Biz, Volume 6, Issue 2 (February, 2016).
For more info on South Jersey Biz, click here.
To subscribe to South Jersey Biz, click here.
To advertise in South Jersey Biz, click here.