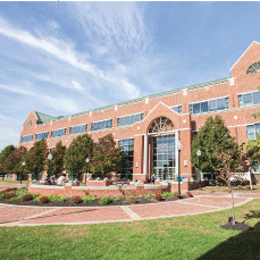 Opportunity Awaits
An area that isn't crowded, but has diverse neighborhoods, Northern Burlington County ranges between small city living and a country lifestyle.
Attracting families because of the area's close proximity to activities like going to the Shore, seeing a show in Philadelphia, shopping around neighboring towns and more are enhancing the quality of life and ultimately making the area a good place to do business.
"This shop has been here a little over 13 years," says Doug Palmieri, a past president of the Downtown Bordentown Business Association and owner of The Old Book Shop of Bordentown.
"Since the economic crisis, we found that Bordentown itself was not nearly as impacted by the big crisis and subsequent recession as some of the other places."
"Between the winter of 2010 and the spring of 2011, we saw six businesses open in Bordentown," says Palmieri.
"Over the past decade, the County has embraced controlled growth via downtown revitalization, traditional neighborhood planning, form based codes, and smart streets," says Regan Young, president of Regan Young England Butera: Referendums, Engineering, Architecture, Design (RYEBREAD). "This is improving our quality of life, while reducing congestion and our carbon footprint."
THE APPEAL
If you're looking to do business in Northern Burlington County, Mark Remsa, director of the Burlington County Economic Development and Regional Planning Department under the Burlington County Bridge Commission says many of the communities are all business-friendly as they are cooperative and try to work with businesses to get them into their community.
"All of Burlington County is a good place [for business] because the freeholders do keep in check the county tax rate (as best as possible)," says Remsa. "They keep that at one of the lowest in the state of New Jersey."
But that's not the only appeal business owners may have when looking to do business in Northern Burlington County.
"If you look at the northern end of Burlington County, there is a great deal of new development taking place in many townships. From Burlington Township to Bordentown Township and Bordentown City, new development is taking hold and making our communities more diverse and economically stronger," says Mayor Craig H. Wilkie of Florence Township. "Take Bordentown City for example, the resurgence of restaurants along Farnsworth Avenue is great and it benefits everyone who works and lives in our area."
Northern Burlington County has an array of transportation access. From the New Jersey Turnpike to bridges to Pennsylvania, there is a route to get you where you need to go.
"The transportation infrastructure is always a positive asset for business executives when they are considering locating to northern Burlington County town," says Wilkie. "And the transportation infrastructure continues to improve over time."
CREATING OPPORTUNITIES
The Rowan College at Burlington County (RCBC) has partnered with Rowan University to offer a four-year bachelor's degree for only $25,000 through the 3-plus-1 program. Students in the 3-plus-1 program will attend RCBC for three years and finish with their final year at Rowan University.
"Rowan College at Burlington County [has] really taken significant strides to be more accessible and to adapt and be of service to the community in a number of ways," says Anna Payanzo Cotton, vice president of Workforce Development and Lifelong Learning at RCBC. "To become more affordable, to meet students where they are by locating onto a campus that is in higher demand and consolidating services at the Mount Laurel location."
Payanzo Cotton says the county library system, economic development and regional planning office, and the county institute of technology are all critical partners in oversight of the institute and in participation and program development.
"So we now have comprehensive, cohesive, accessible services across the spectrum of access no matter what core institution you're coming from or where you are in the county or what your business represents— we are working to develop solutions that are responsive and adaptable to your needs," says Payanzo Cotton. "And that is much more comprehensive and holistic as a system-wide and county-wide approach than it ever has been."
The Burlington County Library System has recently created the Lean Venture Series program which consists of facilitated workshops that offer new entrepreneurs, existing businesses and nonprofits a novel approach to managing their business or organization, says Ranjna Das, director of the Burlington County Library System.
"While many area organizations offer startup programs, this Lean Startup model is brand new to the South Jersey region," says Das. "The Burlington County Library System is positioned to offer this series of workshops with access to SCORE mentors and speakers on related topics.
"We have also launched an online community using the Meetup platform to keep the entrepreneurial community aware of and engaged with our offerings."
Das says the partnership enables organizations to work together to improve regional economic development activity by bringing to the table their own unique talents and resources.
"We are proud of our inclusion in Arizona State University's Entrepreneurship Outreach Network, which provided the framework for this program," says Das. "ASU began partnering with public libraries in their immediate geographic area to take advantage of this popular public community resource and has begun broadening its impact by involving libraries throughout the nation."
WHAT'S NEXT
On the horizon are some changes for the Burlington Center Mall. Estimated to begin early this year, the mall will go through a de-malling process. This will take the now enclosed mall and add features like restaurants, open spaces and outdoor shopping to give new uses and revitalize the already existing property.
Moonbeam Capital Investments LLC is investing millions to the de-mall process to transform the Burlington Center Mall into The Marketplace at Burlington. The space will increase the gross leasable space to about 1.2 million square feet.
In addition to the de-malling, there are two land parcels owned by J.S. Hovnanian & Sons that are being marketed by NAI Mertz as primarily light industrial and flex development opportunities.
Elbow Lane, consisting of about 34.5 buildable acres, and Terri Lane, consisting of about nine buildable acres, are both available within planned mix-use complexes that can feature destination shopping, business parks and residential communities says NAI Mertz.
Both of the land parcels are located in Burlington Township and are only a short distance from the Burlington Center Mall.
"Exit 4 (New Jersey Turnpike) has the best access to Philadelphia and Exit 6 has a direct connection to the Pennsylvania Turnpike. As the in-between exit, Exit 5, where these land parcels are located, has struggled to carve out an identity for itself," says Julie Kronfeld, sales associate at NAI Mertz. "A marquee development that would bolster the amenities in the area would help to make the area marketable to prospective office and industrial tenants."
Vice President of NAI Mertz, Jonathan Klear says the NJ Turnpike's Exit 5 and I 295 area has significant acreage available for development. "With the potential redevelopment of the mall and Virtua's proposed new campus, a subsequent surge in office and industrial development will be on the horizon. The area also has a good work force pool, as well as excellent road systems."
Published (and copyrighted) in South Jersey Biz, Volume 6, Issue 1 (January, 2016).
For more info on South Jersey Biz, click here.
To subscribe to South Jersey Biz, click here.
To advertise in South Jersey Biz, click here.