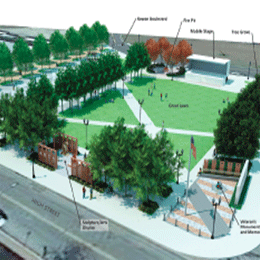 A Good Investment
As Glassboro continues to undergo one of the state's largest municipal redevelopments with their $350-million, 26-acre Rowan Boulevard redevelopment project, residents and Rowan University students can expect more changes and additions to their community.
"We have a large economic engine with Rowan being here in Glassboro and expanding into Harrison Township and Mantua on the other side of Route 322 and that provides a lot of economic stimulus and opportunity for people from an education standpoint, from a job stand- point," says Glassboro Administrator Joseph Brigandi Jr.
NEW BUSINESS
Rowan University continues to expand and as it does, well-known businesses are taking notice and finding themselves a spot in the Glassboro community—right on Rowan Boulevard.
On Nov. 9, Inspira Health Network, partnering with Cooper University Health Care, opened the doors to its new $1.9-million, multi-specialty health care center located within 200 Rowan Boulevard across from the Barnes & Noble bookstore.
"We've been in this process for three years," says John DiAngelo, president and CEO of Inspira Health Net- work. "We were talking to the Glassboro folks—Joe Brigandi—trying to find out what they were looking at and we were impressed by the university and the borough leadership were sort of committed to creating a new avenue and mixed-use development.
"As we looked at it, we thought that health care services would be a natural fit because they were also planning residential and re- tail offerings."
The center was originally planned to have been 10,000 square feet, but considering the needs of the community and students at Rowan, DiAngelo says the number kept expanding and the center is now 27,500 square feet.
Offering primary care, urgent care, orthopedics, physical therapy and medical imaging, the center also includes a new Behavior Wellness Center that is powered by psychiatrists from the Rowan University School of Osteopathic Medicine.
"So far, it has been opened since the 9th [of November] and the first day we had 29 patients walk in the door, which was more than anticipated, and now, we are seeing somewhere in the neighborhood of 50-60 percent are students," says DiAngelo.
?"We were willing to invest in that plan and in the vision that both Rowan had and the town had," says DiAngelo. "We think it was a good investment."
Following the opening of the health care center, the South Jersey Federal Credit Union (SJFCU) celebrated its grand opening of a new branch office at 202 Rowan Boulevard with a ribbon cutting ceremony on Dec. 4.
"It was very nice and the place looks great and I think they are go- ing to do well there," says Brigandi about the ceremony. "Even though they haven't had a physical location in Glassboro, they have been a great community partner for us for years. They actually come to us every year and say, 'We want to help get involved in the community, how can we help out, what types of events or activities can we sponsor.'"
The opening marks the SJFCU's seventh branch of its not-for-profit financial cooperative. "They are a great community partner, so it is a great fit for them to open up one of their branch offices right here in Glassboro," Brigandi adds.
Another new business opening will be located in the mixed-use building at 220 Rowan Boulevard for Philadelphia's popular restaurant, Tony Luke's. Glassboro can expect to be eating cheesesteaks, roast pork and chicken cutlet sandwiches sometime in January. "I think it's a great thing," says Brigandi of the future open- ing. "It's a Philadelphia and South Jersey institution and it will be a nice fit in the community."
A DEVELOPING CONTRIBUTION
Nexus Properties of Lawrenceville's Chief Operating Officer/Chief Financial Officer Dante Germano is happy to contribute to the town where he grew up. Responsible for building the Enterprise Center and the park- ing garage on Rowan Boulevard, Nexus also developed the mixed-use building at 220 Rowan Boulevard.
"I grew up in Glassboro and was a proud graduate of Glassboro High School way back in 1977. My father owned a business next to Angelo's Diner and several of my uncles owned businesses downtown: Elite Bakery on High Street, the jewelry store on Ellis Street and the barber shop on Main Street," says Germano. "So, for me, it was very exciting to be a part of the redevelopment of a down- town I spent a lot of time in as a child."
Germano says the partnership between both the borough and Rowan and their joint visions for a new, vibrant town made Nexus realize they had an opportunity to get involved. "It is rare that you get the opportunity to get involved in such a collaborative project that makes such a significant impact on a community," he says. "Personally, it has given me great pleasure to come back to the town I grew up in and have such great childhood memories, and contribute to its renaissance."
IN THE WORKS
It may look like Glassboro officials and Rowan have a lot on their plate right now, but in order to draw people and businesses into the area, they are always thinking about what else can be done. "We are currently working on the design of the final two phases of the Rowan Boulevard development and are look- ing to break ground on the next phase in March," says Germano.
"In addition, we acquired the remaining townhouse lots on Poplar Street, just a block away from Rowan Boulevard this year," Germano adds. "We are working on some new, exciting designs and should have the town- houses available for sale next summer or fall."
Nexus is also responsible for redevelop- ing the location of the old Roxy Theater that was torn down in November 2013. "The first floor will be restaurant space and three small theaters, the second floor is part of something the university is looking at for the communications radio/TV/film department, and a couple floors are going to be housing for students," says Vice President of Marketing & Leasing for Nexus, Ronda Abbruzzese.
The university is also seeing growth at the moment. "Right now we are getting ready for a topping-off ceremony on the 16th [of December] for our College of Business building where we will have a ceremony to install the last girder," says Vice President of University Relations Joe Cardona. The building will open in December 2016 and the College of Engineering build- ing that is being constructed right now will open in January 2017.
Glassboro Town Square park is also set to start construction in spring 2016. The park will be located in the empty space in the middle of Rowan Boulevard, Main Street and High Street. It will include a new Glassboro Veteran's Memorial, Arts Garden, a fire pit and stage area. Brigandi says they hope the square will be completed by summer 2016 so Glassboro can hold events and activities then and in the fall.
The borough plans to focus on the exist- ing downtown business district. Brigandi says they are seeing what they can do to help re- vitalize the existing downtown on High Street. "We will put a lot of time and effort into that over the next six months to a year with start- ing to work on a potential project there or is- suing new ones," says Brigandi.
Brigandi wants people to know that they are still the same Glassboro they were before the redevelopments began. He says, "Even though we have changed a lot and are growing a lot, we are still a relatively small and mid-size town with a home-town feel."
Published (and copyrighted) in South Jersey Biz, Volume 5, Issue 12 (December, 2015).
For more info on South Jersey Biz, click here.
To subscribe to South Jersey Biz, click here.
To advertise in South Jersey Biz, click here.