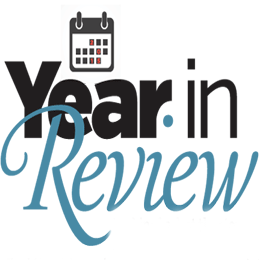 Year in Review
The end of the year is always a good time to reflect on the previous months' activities. As we look back at the stories featured in South Jersey Biz, it's clear that a gradual economic recovery, government incentives and innovative ideas are making our area an increasingly attractive place to do business.
It's also evident that this is the result of a widespread effort. Individuals like those featured in our Top CFOs, Women to Watch, 20 Under 40, Power 50, Executives and Entrepreneurs of the Year are working hard to make sure South Jersey is poised to take advantage of opportunities.
Innovative companies in industries like health care, manufacturing, real estate, construction, technology and education are expanding and bringing more jobs to the area. And, the community's neighborhoods and towns continue to provide an endless array of resources to residents and incentives to businesses.
The stories we presented to our readers in 2015 paint a bright picture for the future of South Jersey's economy.
JANUARY
Our first issue of 2015 offered a glimpse into the career and life of 10 CFOs with the financial wherewithal to help their companies continue to grow. In addition, we looked at how some local business leaders seized the opportunity to succeed in their field and ways in which South Jersey professionals can plan for retirement and succession. At the start of a new year, we also asked industry leaders across a range of sectors for their predictions for the local economy in 2015.
FEBRUARY
South Jersey Biz's annual Women to Watch list always yields some compelling stories. From finance to philanthropy, marketing, health care and more, we got to take a peek into the success stories of 25 female professionals making an impact in their respective fields. We also looked at the upcoming commercial real estate projects and plans, including significant developments in Camden as a result of the NJ Economic Opportunity Act, which brought construction projects from Subaru, Holtec, Cooper Hospital, Lockheed Martin and the Philadelphia 76ers to name a few.
MARCH
The booming health care business in South Jersey has made big strides over the last decade, putting the industry in a position to be far more competitive and allowing area residents to get the care they need closer to home. This month, our Best of Health Care feature recognized some people and organizations in this sector helping to drive it forward. We also examined the ways in which colleges and universities are preparing students for the future in a post-Recession economy where many graduates are struggling to find jobs. For those already out in the field, we outlined a few approaches to securing new business.
APRIL
After a few difficult years, our area has seen an increased demand for both residential and commercial real estate. South Jersey builders have risen to the challenge and spoke with us about the outlook for the local building and construction sector. Also, in honor of Earth Month, we put the spotlight on area businesses that are going green, many of which have gained a stronger position in the market, more invested customers, savings to their bottom line and reduced carbon footprints.
May
If you subscribe to the adage, "Youth is wasted on the young," our 20 Under 40 list may have caused you to reconsider. We received a record number of online nominations this year, which highlighted the accomplishments of the next generation of South Jersey professionals bringing positive changes to the economic landscape. Regardless of your age or that of your business, there's bound to come a time when your organization will need some legal guidance. Our second annual list of Best Attorneys in Business uncovered the legal minds in South Jersey to help you navigate the many laws and regulations impacting your business across 31 categories.
JUNE
South Jersey's proximity to major metropolitan areas, wide array of resources and community support make it a great place for people looking to do big things. This is particularly evident in the field of health care. The 25 men and women featured in our Who's Who in Health Care list are readily improving care and access for local residents. In this issue, we also spoke with the area's top financial professionals to get a mid-year look at the state of the economy, which hasn't recovered as quickly as some predicted, but has slowly and steadily gained ground. Perhaps that's due, in part, to the growing Millennial population. For this issue, we also presented some suggestions on ways your company can attract today's young, tech-savvy talent.
JULY
This month marked a few firsts for South Jersey Biz. Our first Power 50 list detailed the most influential business men and women in the South Jersey area. From government, finance, education and more, these professionals aren't afraid to take risks and set goals high. We also presented our first ever Book of Lists, an extensive resource in which we compiled pertinent information for local companies providing all the services your business needs from accounting to savings and loans. In addition, we presented hiring tips for area manufacturers at a time when talent is increasingly hard to find and the importance of knowing how your social media presence might impact your professional life.
AUGUST
Our annual Best of Biz is compiled through months of research, discussion and consideration. Broken down into Readers' and Editors' picks, the list provides information on 100 of the best South Jersey businesses ready to help you on the road to success. We also took a look at developments in Glassboro, an area undergoing one of the state's largest municipal redevelopments driven in large part by the expansion of Rowan University and the borough's downtown district. Here, we started the story, but developments have continued to happen at such a fast pace, we're revisiting Glassboro in this month's issue.
SEPTEMBER
What does it take to succeed as an entrepreneur in 2015: ingenuity, passion, persistence, flexibility? We spoke with 23 professionals who are helping to grow the regional economy in a variety of ways. The stories of this year's Outstanding Entrepreneurs suggest a combination of these traits and a personal touch may be the key. This month we also looked at South Jersey's shifting health care landscape. From the growth of urgent care centers to the ongoing impact of the Affordable Care Act and the influence of new technology, the area's hospitals are re-examining the ways in which patient care is delivered across the state.
OCTOBER
Our annual money issue focuses on financial matters facing South Jersey business owners. We spoke with local industry leaders to get a sense of the state of commercial lending in our area as well as glean some insight into what the future may have in store. This month also featured our 2015 Small Business Awards. There's no denying small businesses have a big impact—the sector accounted for the creation of 64 percent of new jobs between 1993 and 2011—and face unique challenges as they compete with larger organizations. We highlight 24 of the area's small businesses that are not just surviving, but thriving.
NOVEMBER
South Jersey's business community is a multifaceted landscape composed of industries of all types, but the people working behind the scenes are the ones responsible for the projects and initiatives driving our economy forward. The 25 men and women who made up our Executives of the Year list are truly making an impact and their stories are as varied as the community itself. While there are countless businesses large and small shaping the economic landscape, not all of them are in it for the money. This month, we also highlighted 14 nonprofit organizations working to ensure area residents get access to the services they need. And, because businesses of every kind need to be aware of the impact of changing regulations, we spoke with human resource professionals about the potential impact of proposed changes to the Fair Labor Standards Act.
LISTS
Published (and copyrighted) in South Jersey Biz, Volume 5, Issue 12 (December, 2015).
For more info on South Jersey Biz, click here.
To subscribe to South Jersey Biz, click here.
To advertise in South Jersey Biz, click here.