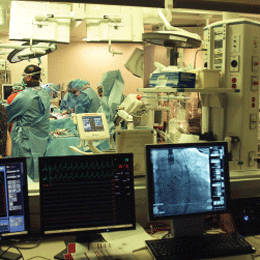 Stuart Michaelson
Health care innovation strikes a vibrant chord across South Jersey as 2015 hustles into 2016, one ringing with clarity and energy that make the complex—sometimes frightening—concepts of cardiology, cancer, liver disease, Parkinson's disease, infection, as well as dental and family challenges, seem less daunting.
THE HEART OF THE MATTER
At South Jersey Cardiology, Dr. Barry E. Shapiro touts the Medtronic MyCareLink patient-monitor system and the Reveal LINQ insertable wireless cardiac monitor. MyCare is a remote system allowing home monitoring for such devices as Reveal, pacemakers and defibrillators.
Shapiro says it uses wireless technology to transmit data, and, since they started using it this summer, it helped, for instance, in one patient who needed a pacemaker, plus a stroke patient.
MyCare cuts routine office visit time and reduces emergency room (ER) visits, as remotely monitored heart-failure patients are 35 percent less likely to visit ERs. Shapiro says the benefit of home-monitoring is that patients with infrequent symptoms are monitored by a small bedside device while asleep, with symptoms recorded and sent to a central station for analysis.
"[Home-monitoring] is the way things are going to go in the future," Shapiro says. "It is good for patients. There is more information, quickly. Normally, you see a patient every three months, and with [home-monitoring] you get information immediately."
At Deborah Heart and Lung Center,Dr. William Hirsch, cardiology department chair, cites CardioMEMS implants; transcatheter aortic valve replacements (TAVRs); and the Watchman left atrial appendage closure device as major advancements. CardioMEMS are miniaturized wireless monitoring sensors to help manage advanced-heart-failure patients, including those unable to have defibrillators or pacemakers. They monitor fluid balance and send digital measurements to Deborah.
TAVR use for severe aortic stenosis (narrowing of the aortic valve opening) involves a balloon catheter in the femoral artery (in the groin), guided into the heart, rather than standard open-heart surgery. Hirsch says it is used for higher-risk patients, "evaluated on a case-by-case basis" who may have shortness of breath, lightheadedness or heart murmurs.
Recovery time from a TAVR procedure can be as little as one to two weeks compared with traditional procedures, which fits Deborah's mission, Hirsch says, of "providing the highest level of care for those with heart diseases or who worry, because of family history, that they may have heart disease."
Deborah's Watchman use began in July. Designed to prevent migration of blood clots forming in the left atrial appendage (LAA) that cause stroke in atrial fibrillation, says Hirsch, "[The device] is cutting-edge tech for those who can't take blood thinners. … Statistics show that after a year (with the Watchman) 99 percent of patients don't need blood thinners."
The device has also been used about 30 times at Cooper University Hospital since spring, says Dr. Phillip Koren, institute associate chief medical officer for ambulatory services, interim co-director, and clinical outreach director. Its use has "gone remarkably well," says Koren. "Patients are usually out of the hospital in a day; our doctors were pleasantly surprised at how user-friendly this breakthrough technology is."
Late this year, Cooper also started the use of the Evera MRI-com patible ICD, a full-body MRI ICD (implantable cardioverter defibrillator featuring patient comfort and shockreduction. They can be used for MRI scans on any part of the body without positioning restrictions, so patients depending on life-saving ICDs have access to MRI scans.
As hundreds of thousands of people with ICDs can't get MRIs because of the magnet ("an Achilles' heel in the technology," says Koren), it's a significant breakthrough for patients. Cooper is also taking part in the cardiovascular outcomes assessment of the MitraClip percutaneous therapy for heart failure patients with functional mitral regurgitation (COAPT) trial, to assess the effectiveness of a minimally invasive, catheter-based procedure that uses a clip to repair the leakage. "A leaky valve," Koren says, "usually means an operation."
A CURE FOR CANCER
Two area facilities—Larchmont Medical Imaging,with offices in Medford, Moorestown, Mount Laurel, Willingboro and Virtua Memorial Hospital, and Virtua-Penn Medicine Alliance at Virtua Memorial Hospital—spotlight cancer-related innovations.
Treatments for breast and prostate cancers are a Larchmont focus. Dr. Andrew Zeiberg, a diagnostic radiology doctor, backs the use of 3D mammograms (breast tomosynthesis) since June, first in Mount Laurel but now at all locations. Zeiberg says 3D images allow multiple images, making tomosynthesis more sensitive and specific than two-dimensional mammograms. Since one criticism of mammograms is that the false-positive rate is too high, he says 3D makes a difference.
"As (2D) patients often come back for biopsies," he says, "there is more stress and aggravation. Multiple studies show that tomosynthesis cuts the callback rate by 30 to 40 percent." 3D is more accurate at finding underlying mass and especially effective in examining dense breasts "to tell if there is a focal mass," Zeiberg says. "We are, overall, calling fewer patients back and are detecting more invasive cancers, those that can spread."
He calls 3D "a less unpleasant process" than 2D that doesn't involve repositioning and, vitally, more cancers are likely to be found from 180 to 200 images, for instance, than four: "It provides better detection of cancer through a full spectrum of breast imaging and breast care."
Improved prostate cancer detection is offered at Larchmont through a biopsy program partnership started in September with Delaware Valley Urology in Mount Laurel. Dr. Douglas S. Berkman, a Delaware Valley urology oncologist, is involved with targeted magnetic resonance (MR) ultrasound fusion prostate biopsies. These, as opposed to standard extended-sextant ultrasound-guided biopsies, yield increased detection of high-risk prostate cancer and decreased detection of low-risk.
Berkman says, "[The fusion process] helps make for an improved diagnosis of clinically significant prostate cancer. The problem is that there are aggressive prostate cancers that shorten lives and those that might not need treatment, in an older guy."
He adds, "A guy at 50 with a slow cancer needs treatment, while in a 75-year-old who might not be alive in eight years we won't treat it; we might monitor it. We want to find out more of the higher-risk cancers, and targeted biopsies are unlikely to target non-aggressive cancers, as they would look normal [during this process]."
COMING TOGETHER
Improvements continue for the Virtua health care system, which this fall allied with Penn Medicine for easier advanced care access for cancer and neuroscience programs, with Penn doctors performing surgery at Virtua Memorial Hospital in Mount Holly. The alliance affects Penn Medicine services including bone marrow transplants, advanced hematology and second opinions.
The neuroscience collaboration includes treatment and diagnoses of stroke, Parkinson's disease, brain injury and dementia. This helps cut duplication of resources, increases efficiencies and decreases costs.
Praise for the new alliance comes from Stephanie Fendrick, senior vice president of strategic partnerships and service line strategy at Virtua, and Mike Kotzen, executive vice president for population health management.
Fendrick says, "Penn was the right choice," given its national recognition in neuroscience and cancer—the latter a growing demographic concern. "We have a population in South Jersey that is aging," she says. "We expect to see more cancer patients over the next 10 years on an outpatient basis, and we will see more cancer survivors. Our partnership is focused on taking care of more patients."
Patients won't have to add unnecessary travel to their worries thanks to the plan for Penn doctors to perform surgeries locally, and, Kotzen notes, post-procedure patients can access Virtua services in New Jersey: "We share a commitment to bring quality care to patients in their communities."
Some alliance changes are in place: The Washington Township Virtua cancer program is staffed by a Penn radiation oncologist, with changes over the next 15 months, including plans for Penn medical staff in Mount Holly.
Another notable alliance is a collaboration between Our Lady of Lourdes Medical Center and Thomas Jefferson University Hospital's Division of Gastroenterology and Hepatology for expanded liver disease services. In addition to liver transplants, expanded hepatology services include in-patient care of those with acute and chronic advanced liver disease, cirrhosis, management of hepatitis B and C and evaluation and treatment of liver masses.
Dr. Manish Thapar, Lourdes' transplant hepatology medical director, says liver transplants are only done in New Jersey in Newark, and at Lourdes in Camden. He explains that while Lourdes has offered liver transplants since 2010, the program was inactive for seven months this year due to staffing issues. It is back in business, as a transplant was performed over Thanksgiving weekend.
TREATING SERIOUS ILLNESSES
Another serious health challenge, Parkinson's disease, is in the crosshairs of an area researcher, Dr. Robert Nagele, director of the Biomarker Discovery Center at Rowan University's New Jersey Institute for Successful Aging and co-founder of Durin Technologies Inc.
A study involving nearly 400 subjects by Rowan and Durin researchers identified a panel of blood borne autoantibodies that act as potential biomarkers to detect early-stage Parkinson's disease with an overall accuracy of 87.9 percent (94.1 percent sensitivity and 85.5 percent specificity), and an accuracy rate of 97.5 percent in differentiating between early and mild-moderate stages of the disease.
They also reported that the test demonstrated similar accuracy in distinguishing Parkinson's from Alzheimer's disease (97 percent), multiple sclerosis (96.3 percent) and breast cancer (97.5 percent). The study, completed in 2014 and published this year, was partly funded by the Michael J. Fox Foundation for Parkinson's Research. It shows that an accurate, inexpensive (about $100) and relatively non-invasive test for early-stage Parkinson's could help spur earlier treatments.
The research (next steps for which include replication of findings, more funding, and, ultimately, Food and Drug Administration approval) could make it possible to determine different stages of Parkinson's, rate of progression and response to therapies.
Nagele expects the test to be "taken when a patient goes for an annual physical each year after 55 or so, and if there is a positive score, that means something is brewing that you are not aware of yet, you are not showing symptoms, and it could be Parkinson's. And anytime you treat a disease at an early stage, the better [the] chance to stop it in its tracks."
Another notable health care initiative is Kennedy Health's prevention program for sepsis, a potentially life-threatening complication of infection. Marianne Kraemer, RN, chief nursing officer at Kennedy University Hospital, Stratford and chair of Kennedy's sepsis committee, and Dr. Cindy M. Hou, Kennedy's infection control officer, discussed the program, through which sepsis incidence and mortality rates have dropped far below the state average of 30 percent.
As sepsis comes in three progressively worse forms—sepsis, severe sepsis and sepsis shock—Kraemer stresses, "early recognition saves lives" and that "septic shock comes from waiting too long."
As for the work of Kennedy's committee, which first convened in 2012 and in 2014 zeroed in on sepsis on in-patient units after finding success in emergency and intensive-care units, Hou says, "there is always work to be done." Next year, that means community programs to educate the public to stay sepsis-free.
IMPROVING PATIENT CARE
Public education and involvement are also on officials' minds at Nemours Children's Health System, as Kim Parkinson, site-operations director for Nemours DuPont Pediatrics, helms the Family Advisory Council (FAC) for that facility, where ground was broken this year.
One of nine Nemours FACs (others include those for cardiology, oncology and weight management), the Deptford FAC started this year, targeting such benefits as assistance in caring for children whose siblings are receiving medical care so parents can focus on their ailing children.
Community outreach is a vital aspect, with such aspects as attending events like Deptford Day. "The value of the council," Parkinson says, "is that families know what is best for them and their children. Without FACs, you develop without feedback, and any care you give is presumptive. You'd get it wrong as often as you'd get it right."
Getting it right applies no less to dentistry, for which, like everything else in health care, technology keeps drawing medical staffers and patients into a fastpaced future. For Brian Rule, clinical and technology director at TeamDental in Swedesboro, that means such devices as the Velscope and the Cerec Omnicam.
The hand-held Velscope helps dentists and hygienists assess patients for early detection of abnormal tissue, essential, says Rule, because "oral cancer that is detected early can be treated and possibly cured." When discovered early, survival rates are as high as 82 percent.
The Cerec Omnicam, Rule says, is used for digital scans for crowns and bridges. He trains the practice's two dentists in its use, for which he says "they learn it quickly."
And, with all these innovations, the picture keeps changing ... for the better.
Published (and copyrighted) in South Jersey Biz, Volume 5, Issue 12 (December, 2015).
For more info on South Jersey Biz, click here.
To subscribe to South Jersey Biz, click here.
To advertise in South Jersey Biz, click here.