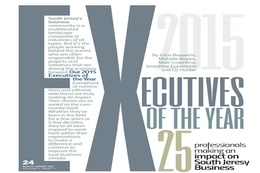 Executives of the Year 2015
South Jersey's business community is a multifaceted landscape composed of industries of all types. But it's the people working behind the scenes who are often responsible for the projects and initiatives that are driving the economy forward. Our 2015 Executives of the Year (comprised of nominations and editorial selections) are truly making an impact. Their stories are as varied as the community itself. Whether they've been in the field for a few years or a few decades, they've all been inspired to work hard within their organizations to make a difference and continue to improve the local business climate.
ANGELA VENTI
Assistant Vice President, Investors Bank
Angela Venti has been on the forefront of business development for more than 20 years, working across various industries and successfully entering new markets and aligning new concepts for leading merchandisers. Her experience includes work with Bailey, Banks and Biddle, Lexus, Toyota and Nordstrom before being hired by Beneficial Bank to launch their new "Campus Concept" branch in Cherry Hill.
Q&A
How did you first start in the industry?
I was working in a car dealership as a sales manager and the dealership was suddenly sold. Unfortunately, I had not yet read, Who Moved My Cheese? Banking is very similar to the car business because it is about finding the right product and service for each person. Everything is about the relationship I have with my customers.
How many years have you been working in the field?
I started in customer service and sales in 1986. I started in banking in 2009.
What inspires you?
I am energized by my interactions with people. I love hearing the stories of how they got where they are today. I love when people start feeling comfortable enough to start talking from the heart and not the head.
CATHERINE ALLEN
Financial Advisor, M Financial Planning
With over 28 years of experience in the financial industry, Catherine Allen is deeply compassionate and is driven to educate and empower people to make informed decisions in their financial lives. She previously served as partner and vice president of Renaissance Wealth Management Group, a financial advisor at Merrill Lynch, a senior financial planning consultant at Fidelity Investments and a vice president at Wachovia Securities.
Q&A
How many years have you been working in the field?
Thirty years. What I love about this field is that you're constantly learning—every day is a new opportunity to improve my knowledge base and relationships.
What inspires you?
What inspires me is helping my clients thrive on financial freedom. I do that by discovering what their passions are and enabling them so they can do what they love in life.
What do you consider to be your greatest accomplishment??
I strive to reach my greatest accomplishment every day by making a difference in people's lives whether it's my clients, my friends and family, or people that I meet through networking and speaking engagements. If I can help inspire someone to create and control their own destiny, then that is my greatest accomplishment until I can do it for someone else. It's a journey that is motivating and rewarding.
JUNE DEPONTE SERNAK
Executive Director of the American Red Cross
June DePonte Sernak is the executive director for the Camden and Burlington County chapters of the American Red Cross. She has worked in corporate telecommunications for 25 years with MCI and Sprint in sales and marketing. Dedicated to nonprofit missions, she served on the board of directors for ArtReach for 15 years as well as working on various events committees with NPOs such as Image & Attitude.
Q&A
How did you first start in the industry?
I was on the board of ArtReach for 15 years and saw the need in our local communities. When Superstorm Sandy hit, our church supported local efforts at a shelter and I saw firsthand the Red Cross mission in action. Our local disaster volunteer manager mentioned this would be a great fit for me and recommended me for the position.
How many years have you been working in the field?
I've been with the Red Cross for almost two years with over 25 years in volunteering and philanthropy in the community.?
What inspires you??
I'm inspired by our military personnel that do so much for our community on a daily basis. We have a Red Cross House on the Joint Base MDL and provide various services including the communications technologies to link service members with their families wherever they are in the world. It's truly inspirational to see their commitment and to be able to support them locally.
DANIEL SULPIZIO
Senior Vice President of ParkeBank
Daniel Sulpizio serves as senior vice president, director-retail banking and security officer of Parke Bancorp Inc. He is also the president of Gloucester County Habitat for Humanity and president of the South Jersey Bankers Security Associates. His retail banking experience spans more than 30 years and includes consumer and commercial lending, sales and marketing and government banking.
Q&A
How many years have you been working in the field?
Celebrating 30 years and counting, not always doing the same thing of course.
What inspires you?
That's easy. Professionally, I thrive on serving the community. I believe I have a responsibility to be a good citizen and so does ParkeBank. It has become a passion. My role as president of the board of Gloucester County Habitat for Humanity is very inspiring. Sometimes in life we take so much for granted, something as basic as homeownership. Personally, it's my family. My wife and daughter are the most important part of my life.
What's your favorite way to unwind?
With a cold beer in my hand, barefoot in the sand. Whether it's a Caribbean Island (my first choice) or in Ocean City, I trade in my dress shoes as often as I can for bare feet or flip flops, put on my headphones and listen to Jimmy Buffett.
MICHAEL VERTOLLI
President and CEO, ComTec USA
In his role with ComTec, Michael Vertolli oversees all technical and administrative services while enhancing business de- velopment. His exceptional strategic and analytical talents inspire unparalleled dedication and focus throughout the organization. He encourages the ComTec Family to achieve their highest potential either via personal conversations, team meetings, staff luncheons or via email with business operations and customer service tips. The work environment is positive and progressing, thanks to his leadership.
Q&A
How did you first start in the industry?
Working as a technician installing cell phones in the early '90s gave me business contacts and the technical knowhow of cabling and telecom. I graduated high school and had a large book of business contacts that were in need of on-site technology support. I reached out offering service and was well received. By the time I was 20 years old, I had six full-time employees and 100 active clients.
How many years have you been working in the field?
Celebrating 25 years, from 1990 to 2015.
What inspires you?
I am inspired by people who face adversity and have all the reasons to give up and make excuses but instead, find ways to accomplish the unbelievable.
CARMEN TIERNO
Senior Director, New Jersey American Water
Carmen Tierno joined American Water in 1997 and quickly ascended to increasingly challenging leadership positions from engineering to customer relations and finance. He currently serves as New Jersey American Water's senior director of Southwest operations, and is responsible for safety, production, transmission and distribution, field customer service, meter reading as well as the overall performance of operations in Burlington, Camden, Cumberland, Gloucester and Salem counties.
Q&A
How did you first start in the industry?
I began my career in the water industry at the Philadelphia Water Department in 1991. I started in their testing lab- oratory, ensuring that the materials used for construction met standards and specifications.?
How many years have you been working in the field?
I have been working in the water industry field for 25 years.?
What inspires you??
I am inspired by the diversity of the people I work with and their commitment to delivering the most vital product to our customers.
CHARLIE FUSCO
CEO, Synergixx LLC
Charlie Fusco started her first direct response marketing company at age 24. She regularly creates jobs and creatively devises new revenue streams for her Sewell- based company, Synergixx, LLC, and her clients' businesses, thriving in a field that is constantly changing. Her firm produces large-scale infomercials, places local and national media, arranges celebrity endorsements, social media marketing and operates a call center.
Q&A
How many years have you been working in the field?
This June will be 21 years.
What do you consider to be your greatest accomplishment??
My greatest accomplishment in the world has not occurred yet (kids aside). My greatest contribution is about legacy. I'm working on making everything I do in life about the legacy I leave my kids and those I can impact in the world. I want my greatest accomplishment to be about more than just my life. ... It will be about the collective lives that my actions have impacted in the most positive of ways.?
What's your favorite way to unwind??
Great people, great food and great wine. Staying up to see the sunrise—even with work the next day—because the people around the table are so funny, I don't want to go to sleep.
BRIAN C. KLAUS
President, Surety Title Company
What started as a sales position for Brian C. Klaus in 1994 has grown into a career as president of Surety. Since earning the title in 2005 he has worked to expand the title company's visibility on a national platform, all while growing their revenue stream into new branches of business. In his free time, Klaus works with the national nonprofit Martin Luther King Jr. Child Development Centers and also supports Haddonfield youth athletics.
Q&A
How many years have you been working in the field??
Twenty-two years?
What inspires you?
Helping others achieve and feel good.
What's your favorite way to unwind?
Playing golf.
KEVIN M. O'DOWD, Esq.
Senior Executive Vice President, Chief Administrative Officer, Cooper University Health Care
As senior executive vice president and chief administrative officer, Kevin M. O'Dowd is responsible for business and organizational development at Cooper University Health Care, as well as the partnership with MD Anderson Cooper and AmeriHealth New Jersey. He oversees several departments, including marketing, public affairs, human resources and corporate real estate and development. He previously held cabinet positions for Gov. Chris Christie and was his chief of staff from 2012-2014.
Q&A
How did you first start in the industry??
I began working in this industry as a Deputy Attorney General representing the New Jersey Department of Health. As the son of a nurse, I was drawn to health care from an early age.?
How many years have you been working in the field??
Over the past 18 years, I've worked for the federal and state government in health care compliance, regulatory enforcement and health care policy. I am a relative newcomer to the health care delivery side, having joined Cooper University Health Care in December of 2014.
What's your favorite way to unwind??
Sleep. I have a 4-year-old child and a 10-week-old child. Sleeping is the only downtime in my life.
MELISSA O'NEILL WALCZAK
Chief Executive Officer, YMCA of Gloucester County
Melissa O'Neill Walczak's career with the YMCA has evolved over 22 years from that of an aerobics instructor to the CEO of the YMCA of Gloucester County. Through her experience managing programs, day-to-day operations, membership experiences and building awareness, in just two years Walczak has transformed the once-struggling YMCA into something of which the community can be proud. She believes no one should be turned away and remains focused on providing programs that promote healthy living and social responsibility.
Q&A
How did you get started in the industry?
I have worked for a YMCA since college. I started as an aerobics instructor and wellness coach at the Princeton YMCA. After graduating college, I was offered the physical director position with the Hamilton Area YMCA (managing all youth and adult programs). I was fortunate to advance at the Hamilton Area YMCA in membership, development and operations for over 15 years. Those experiences prepared me for a position at the Gateway Family YMCA in Elizabeth as chief communication and advancement officer from 2008-2013. In 2013 the opportunity to come to the YMCA of Gloucester County as chief executive officer was offered and I accepted.
How many years have you been working in the field?
Over 22 years
What is your favorite way to unwind?
I grew up in Monmouth County, and the beach is my place to go year round to regroup, refocus and redirect as needed. I also enjoy travel and watching my son play whatever sport he is involved in at the time.
PAUL DRAYTON
President, Rowan College at Burlington County
Paul Drayton is Burlington County College's fifth president and within months of his March 2015 appointment, he made a historic agreement with Rowan University, which gives students the pathway to a $30,000 degree in Burlington County. Since then, the institution—now known as Rowan College at Burlington County—continues to flourish with plans for a brand new student center to break ground in early 2016.
Q&A
How did you first start in the industry??
I come from a family of educators and education was part of my growing up. When I was attending law school at Villanova University, I was a teacher at my former high school, John F. Kennedy High School in Willingboro.?
How many years have you been working in the field??
I would say between 10 and 12 years.?
What inspires you??
The students. They're dealing with different challenges that will prepare them for later in life [and their] desire and drive to still keep going ... is what keeps me excited about being the president and hopeful for the future.
DR. ANTHONY DIFABIO
President and Chief Executive Officer, Robins' Nest Inc.
As CEO of Robins' Nest Inc. since 2007, Dr. Anthony DiFabio has aided in the growth of the not-for-profit organization, which now provides nearly 60 human and social service programs to 10,000 residents throughout the South Jersey area. DiFabio also serves on countless boards including the New Jersey Association of Mental Health and Addiction Agencies, New Jersey Alliance for Children, Youth and Families, Nonprofit Development Center of Southern New Jersey, South Jersey Federal Credit Union and the Gloucester County Chamber of Commerce.
Q&A
How did you first start in the industry?
From a very early age, I knew that I wanted to be in the business of helping others and my parents were the perfect mentors. I learned about the business side of the equation by observing my father who was a small business owner [and] the compassionate care and heal- ing side through my mother who is an incredibly talented clinician.
How many years have you been working in the field??
Scary to admit, but I have been working in the human and social services field for over 20 years.?
What do you consider to be your greatest accomplishment??
Being able to live my life knowing that the mission, vision and values that define who I am as a family man, professional and community leader all intersect.
RHONDA FELD Esq.
Shareholder, Sherman Silverstein
A shareholder and member of Sherman Silverstein's management committee, Rhonda Feld is a leader in the field of real estate law, focusing on acquisitions, sales, development and leasing, among others. Her clients include nationally and regionally significant real estate owners, developers and investors. Feld's expertise and skill have garnered her an AV Preeminent Rating from Martindale-Hubbell Peer Review—the highest possible rating in both legal ability and ethical standards.
Q&A
How did you first start in the industry?
I spent my first couple of years in practice as a commercial litigator in a firm in Roseland. When I returned to my South Jersey roots a few years later, I changed my practice area to real estate and land use and never looked back—with respect to both where and what I chose to practice. Now, three decades later, I still really enjoy helping clients achieve their goals every single day.
How many years have you been working in the field?
I can hardly believe that I am now in my 31st year of practice but I love the fact that I still learn something new almost every day.?
What's your favorite way to unwind??
Travel and exercise. They're the two things that allow me to escape and forget about all my "to-do" lists, even if only for a short time.
BILL CORNELIUS
Vice President and Senior Commercial Lender, M&T Banker
Bill Cornelius serves as vice president and senior commercial lender at M&T Banker's Woodland Falls Corporate Center in Cherry Hill. Prior to earning his certification from Bucknell School of Banking, he received a bachelor's degree in science from Widener University, as well as a teacher's degree. Cornelius was also the senior relationship manager, business banker and banking officer at PNC Bank in South Jersey.
Q&A
How did you first start in the industry??
I started in the financial services industry in 1990 with Chemical Bank. However, [I] had all intent to become a school teacher [and] at the impressionable age of 22, I saw several of my friends going into the financial services industry and having a lot of personal success—the rest is history.?
How many years have you been working in the field??
I've been in the field at least 25 years, including the past 14 years serving middle market companies in southern New Jersey.?
What do you consider to be your greatest accomplishment??
Being a good husband and a good dad. ... What else is there, right?
VINCENT MAIONE
President, Atlantic City Electric Region, Pepco Holdings
Since joining Atlantic City Electric in 1984, Vincent Maione has worked his way up from the marketing department to president of Atlantic City Electric, overseeing a division that services two million South Jersey customers. A Hammonton resident, Maione stays connected to his roots and volunteers his time with the nonprofit Choose New Jersey and serves on the New Jersey Italian American Heritage Commission, while also serving as an executive advisor for Rowan University's Rohrer College of Business.
Q&A
How many years have you been working in the field?
I've been with the company for 31 years; started in 1984. You don't hear that a lot, especially now. When I started with the company people had extremely long longevity.
What inspires you?
When I see our employees and our leaders provide superior customer service for our customers. When I see that and can help instill that in our employees. This is a complicated industry, so helping the customer and letting them understand what is going on, when we can help our customers along, inspires me to continue to be a responsible organization that cares about the customer and the environment.
What's your favorite way to unwind?
I enjoy cooking and baking for my family and friends. Cooking is always very relaxing; you take a lot of care and you have to have passion to be a good cook. I'm Italian, so I make a lot of Italian food.
CHARLES M. LEWIS
Senior Vice President of Development, Conifer, N.J. and Pa.
Charles M. Lewis got his start as a lawyer for the Philadelphia Housing Development Corporation before becoming senior vice president of Pennrose Properties out of Philadelphia. He joined Conifer in 2007, and has since been the driving force behind projects that have been awarded the New Jersey Governor's Excellence in Housing Award, the New Jersey State Historic Preservation Award and the Environmental Protection Agency's Quality Award, among others.
Q&A
How did you first start in the industry?
I was working for the city as a lawyer and I wanted to get back into the private sector, and the development side seemed a lot more exciting. As an attorney you live with the deal at closing, but there's so much more happening in development.
How many years have you been working in the field?
Thirty-two years
What inspires you?
A lot of it is my colleagues. I work with a lot of bright, energetic, young people. They keep me on my toes and ask me some really fascinating questions. I feel a certain responsibility and I love to see them grow.
MICHAEL MCHALE
Director of Corporate Communications, Subaru of America
The auto industry has always been prevalent in Michael McHale's 20-year career, which started with Land Rover, then took him to MINI USA, BMW of North America and eventually Cherry Hill's Subaru of America. Since joining the company in 2007, sales have tripled, and McHale was recently honored by Automotive News'—an inter- national automotive news website—title of All Star for 2015.
Q&A
How did you first start in the industry?
I began as an engineer at Land Rover in the UK in 1980. I was 15 years old! I've worked in a number of fields over the years, also at MINI and BMW in North Jersey, but my professional 'home' now is in communications.?
How many years have you been working in the field?
Approaching 20 years
What's your favorite way to unwind?
I love walking my dog with my family around South Jersey and of course, the Shore.
CATHERINE DUNCKER
N.J. Regional Brand Manager, Andrews Federal Credit Union
Catherine "Maree" Duncker has been working in the financial services sector for over three decades, and she's currently helping clients reach their financial goals at Andrews Federal Credit. Prior to her promotion, Duncker served as the Joint Base McGuire-Dix-Lakehurst branch manager for 19 years.
Q&A
How did you first start in the industry?
As a young Air Force wife stationed in England, I worked as a teller at the Bank on RAF Lakenheath.?
How many years have you been working in the field?
I began my professional career in financial services more than 36 years ago.?
What inspires you??
My desire to want to see people realize their financial goals and dreams is what inspired me then, and continues to fuel my professional fire today.
KEVIN HERMAN
Owner, Senior Helpers
Kevin Herman, MSPT, resides in the heart of South Jersey in Mullica Hill. After building his business to be the top producing Senior Helpers Franchise in the nation, he acquired the Cherry Hill office in 2013 and in the past 12 months he has also acquired Senior Helpers of Manchester and Senior Helpers of Exton, Pa.
Q&A
How did you first start in the industry??
I am a physical therapist and provided homecare services to seniors for over 10 years. The need for specialized quality caregiver services became very apparent. This led me to start Senior Helpers.?
How many years have you been working in the field?
With seniors, over 20 years. With Senior Helpers, eight years.?
What do you consider to be your greatest accomplishment??
We worked with a 102-year-old client who had a goal of returning to her hometown in the South for a family reunion. She had just been hospitalized for a heart surgery and was weak and unable to go. The general belief of her family and physician was that she would be unable to recover and achieve this. We put a plan in place to help her accomplish this. Helping her achieve her wish was amazing.
WILLIAM HANKOWSY
President & CEO, Liberty Property Trust
William P. Hankowsky is chairman, president and chief executive officer of Liberty Property Trust, which plans to construct a $1 billion iconic skyline along the Delaware River in Camden that aims to become an integral component to the city's revitalization.
Prior to joining Liberty, Hankowsky served in a number of private-sector and public-service roles as well as creating the Camden, New Jersey Community and Economic Development Agency and serving as its director for eight years.
Q&A
How did you first start in the industry??
My start was as director of community development for the city of Camden. I had been working for the city as an intern while I studied at the Wharton School when I was offered the position.?
How many years have you been working in the field?
Forty years
What's your favorite way to unwind?
Mostly reading and time with my family. I am working on my golf game, but it's probably more frustrating than relaxing at this point!
RUSSELL F. LEO
CEO/President Transportation Group, RLS Logistics
RLS Logistics, a third-generation family-run company, serves the frozen and refrigerated food industry by providing temperature-controlled logistics solutions, including transportation, warehousing, packaging and distribution. Russell F. Leo has been involved in various aspects of the family business since childhood, eventually working his way up to his cur- rent position, which he's held for the last 15 years.
Q&A
How did you first start in the industry??
RLS Logistics is a family-owned and operated business. I worked part-time from when I was 8 years old until college, and then full-time once I graduated.?
How many years have you been working in the field?
Part-time for 14 years, full-time for 19 years.
What inspires you?
Knowing how hard the previous generations have worked inspires me to do the same for the next generation.
CHARLES J. CARAMANNA
Principal, GREYHAWK
A licensed professional engineer in New Jersey, Charles J. Caramanna has over 30 years of experience in managing all aspects of construction projects, from the field level through the executive level. In 2002 he joined GREYHAWK, an award-winning firm that provides comprehensive construction consulting services.
Q&A
How many years have you been working in the field?
I've been in the field of engineering, construction management and program management continuously for the past 32 years.
What inspires you?
Professionally, I try to emulate my father, who was superintendent of schools for 30 years and a real "people person." On a more personal level, my wife is my inspiration. No matter what the situation, she always knows the right thing to do.?
What's your favorite way to unwind??
Riding my bike and smoking a cigar—not at the same time.
JONATHAN DEL RE
CEO, Lacas Coffee Co.
Lacas Coffee, which started in Philadelphia in the 1920s and moved to Pennsauken in 1997, has a long history of success in the region and beyond. Jonathan Del Re became majority owner and CEO in 2012.
Q&A
How did you first start in the industry??
I bought a majority stake in Lacas Coffee Company in mid-2012. It was a third-generation family company and one of the three owners was retiring. The situation created a great opportunity for me, as I was looking for a career change.
How many years have you been working in the field??
I've been in the coffee industry about three-and- a-half years.?
What inspires you??
I am inspired by people who are committed to and passionate about what they do—regardless of their field. In this regard, I am inspired by our team at Lacas Coffee Company and the things we've been able to achieve in the past three-plus years.
JASON WOLF
Managing Principal, Wolf Commercial Real Estate (WCRE)
In 2012, Jason Wolf founded Wolf Commercial Real Estate (WCRE). He built WCRE on the foundation of quality service, expertise and a commitment to customer relationships. Wolf's vision has shaped WCRE to operate with a true team mentality, working together as a strategic partner invested in their clients' success.
Q&A
How did you first start in the industry??
My entire life since childhood has been centered around the commercial real estate industry. ...My father convinced me that my entrepreneurial inclination, interest in real estate, ability to create and people skills would lead me to success in commercial real estate.
How many years have you been working in the field?
Twenty-one years
What inspires you?
I'm inspired watching our entire WCRE team and the people around me grow and learn something new daily. Our team has a unique style and approach. They inspire me daily to keep growing and get out of my comfort zone.
DAVID STEVENS
President/CEO, OPEX Corporation
OPEX Corporation, headquartered in Moorestown, is a global technology leader in high-speed mailroom automation, document imaging and material handling, and has provided performance-enhancing workflow solutions to thousands of organizations for 40 years. David Stevens assumed leadership in April 2011 and is responsible for setting the strategic direction and ensuring that the company's values are implemented at every level of the organization.
Q&A
How did you first start in the industry??
OPEX Corporation is a family-owned business. My parents, Al and Joanna Stevens, purchased the struggling little start-up company when I was 15 years old.?
How many years have you been working in the field?
In September we celebrated 40 years as a leading New Jersey manufacturer.
What do you consider to be your greatest accomplishment??
Although it may sound silly, I think my greatest accomplishment is getting out of the way and letting others do what they were hired to do. It is always tempting to believe that the results are due to something great that I have done, but the truth is that the OPEX family of employees is tremendously gifted and has in no small part contributed greatly to our success over the last 40 years. Hiring great people and letting them excel at their passion, I believe, is my greatest accomplishment.
Published (and copyrighted) in South Jersey Biz, Volume 5, Issue 11 (November, 2015).
For more info on South Jersey Biz, click here.
To subscribe to South Jersey Biz, click here.
To advertise in South Jersey Biz, click here.