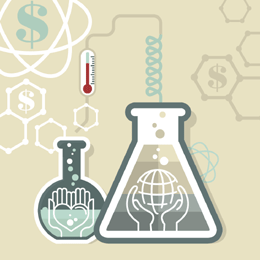 Catalysts For Change
While there are countless businesses, large and small, shaping the South Jersey landscape, not all of them are in it for the money. Local nonprofits have a big impact, ensuring the area's residents get access to services that enable them to maintain a healthy quality of life and participate as active members of the community. These organizations work in a variety of ways to make sure everyone in our area has a chance not just to survive, but to thrive.
ArtPride New Jersey Foundation
The ArtPride New Jersey Foundation based out of Burlington was incorporated in 1996 as the educational arm of ArtPride New Jersey Inc., an independent organization representing the arts community to the state legislature, and presents a unified voice on matters of importance to the arts community. The ArtPride New Jersey Foundation's work focuses outside of arts-related legislation to more broadly promote the value of the arts to New Jersey's quality of life, education and economic vitality.
"ArtPride fights for the future of New Jersey, and to ensure that the arts play a vital role in that future," says Adam Perle, president and CEO. "Our communities are being transformed through the arts, and we work to preserve arts funding and develop policies that invest in the arts so that our state can continue to thrive. We know that the arts make a difference—not just to the visual artists and the performers, but to the small business owners and to restaurateurs. The arts matter."
432 High St., Burlington
(609) 479-3377, ArtPrideNJ.com
Volunteers of America Delaware Valley
Founded in 1896 and located in Collingswood, Volunteers of America Delaware Valley Inc. operates 44 separate programs serving people who are experiencing homelessness, seeking permanent housing, struggling with addictive behavior, coping with chronic mental illness and developmental disabilities, returning to society from the criminal justice system and dealing with domestic violence. President and CEO, Daniel Lombardo says, "We are privileged to be able to give hope to the most vulnerable in our community. Each year we serve 13,000 people in need, including homeless families and veterans, and assist them in bettering their situation and changing their lives. Our staff does an amazing job of empowering people to reach their full potential."
235 White Horse Pike, Collingswood
(856) 854-4660, VOADV.org
The Volunteer Center of South Jersey
Formerly known as the Volunteer Center of Gloucester County, the Volunteer Center of South Jersey (VCSJ) was established as a private, independent 501(c)(3) nonprofit organization in 1996 with support from the United Way of Gloucester County and the Board of Chosen Freeholders. VCSJ promotes volunteerism in the region and connects both individuals and businesses with opportunities to serve. The center also achieves its mission by creating best practice tools and by offering educational, consulting and other support services to help its nonprofit partners grow and serve the community.
"VCSJ has recently taken a step to get back to our roots and do what we do best, connecting volunteers with opportunities," says Executive Director Michele Epifani. "We are happy to be focusing on initiatives to provide South Jersey with 'quality' community service experiences."
1400 Tanyard Road, Sewell
(856) 415-9084, SJVolunteers.org
Moorestown Ecumenical Neighborhood Development (MEND)
A Faith-based, community housing development organization, MEND was incorporated as a New Jersey nonprofit corporation in July 1969. The group develops, builds, owns and manages affordable rental housing for low- and moderate-income households in South Jersey.
President and CEO Matthew Reilly explains, "MEND's 46 year-old mission is the development, construction and management of rental housing for low- and moderate-income individuals and families, including the elderly, the handicapped, those with special needs and military veterans. MEND provides a decent, safe, affordable apartment to call 'Home, Sweet Home' for our brothers and sisters who do not make enough money to pay for the market-rate rental housing that is available [to them]."
99 East Second St., Moorestown
(856) 722-7070, MendInc.org
Oaks Integrated Care
Formerly Twin Oaks, Oaks Integrated Care is a private, nonprofit organization dedicated to improving the quality of life for vulnerable adults, children and families throughout New Jersey. The agency name reflects the qualities of the mighty oak, which has deep roots, many branches and as a work of nature, continues to grow and reach the highest heights. They focus on integrated care to treat the whole person to achieve both mental and physical wellness.
Bob Pekar, Oaks Integrated Care CEO, shares, "Each day we work with adults learning to manage a mental illness or developmental disability, families struggling to put food on the table and children coping with the trauma of abuse. This would not be possible without the support from our community that we receive throughout the year. Whether it's by volunteering, making a donation or simply advocating on our behalf, we are always grateful."
770 Woodlane Road, Mount Holly
(609) 267-5928, OaksIntCare.org
Legacy Treatment Services
With over 200 years of experience serving New Jersey's most vulnerable and at-risk children, youth, adults and families, Legacy Treatment Services (a merger of The Children's Home and The Drenk Center), serves as a resource for residential, behavioral and mental health needs.
"Our mission … is to change the behavioral health and social service outcomes for people of all ages from surviving to thriving. [It] is mindful and purposeful," says Roy Leitstein, the group's CEO. "The aim is not to simply help those that struggle with a mental health or behavioral health issue—we want those people that we are fortunate enough to work with to truly better their lives."
1289 Route 38, Suite 203, Hainesport
(609) 267-5656, LegacyTreatment.org
Boys and Girls Club of Gloucester County
The Boys and Girls Club's mission is to enable all young people, especially those who need them most, to reach their full potential as productive, caring, responsible citizens. They provide children a safe place to learn and grow, ongoing relationships with caring, adult professionals, life-enhancing programs and character development experiences. Programs include education and career preparation, character and leadership, health and lifestyle skills, sports, fitness, recreation and the arts.
"We measure our success through our steadfast commitment to keep every child safe that enters through our doors. We measure it through the impact we have on their lives. We measure it by the opportunities that they may not have received if our doors were not open to them," says Theresa DiVietro, president of the board of directors. "And, we measure it by the professional staff who engage the kids every day of the school week, and throughout the summer at our camp programs."
2 Center St., P.O. Box 742, Glassboro
(856) 881-6084, GCBC.org
Camden County Women's Center Outreach and Support
The Camden County Women's Center (CCWC) is dedicated to assisting survivors of domestic violence build violence-free lives, and to reduce domestic violence through community education initiatives. Their services are provided to residents without regard to race, ethnicity, sexual orientation, age, gender, color, creed or disability.
"At Camden County Women's Center, we strive to provide survivors of domestic violence with the tools they need to live safely and securely, while focusing on their personal life story as one of empowerment," explains Program Director Nancy Hutchinson. "In 2014, we advocated for the rights of over 3,000 women, men and children who experienced violence in the home through our many programs. ... All of our services are free and confidential and available to residents of Camden County."
311 Market St., Camden
(856) 963-5668, CamdenCountyWomensCenter.org
Pascale Sykes Foundation
The Pascale Sykes Foundation supports a select number of innovative, flexible, holistic, long-range programs that promote the integrity, independence and well-being of the intergenerational family unit. The foundation focuses on programs targeting low-income families with at least one actual or potential wage earner and those involving open, voluntary enrollment.
"Pascale Sykes Foundation supports the integrity, independence and well-being of working low-income families, with focus on Atlantic, Cumberland, Salem and Gloucester counties, an area named New Jersey's Heartland. The area has much to offer families, businesses and vacationers," says Frances P. Sykes, president.
Pascale Sykes Foundation, 80 South Main Road, Suite 114, Vineland
(856) 213-5068, PascaleSykesFoundation.com
Junior Achievement of New Jersey
This nonprofit organization, headquartered in Princeton, empowers young people in New Jersey communities to own their economic success, plan for their future, and make smart academic and economic choices. Junior Achievement of New Jersey (JANJ) programs provide relevant, hands-on experiences that give students from kindergarten through high school knowledge and skills in financial literacy, work readiness and entrepreneurship. Each program comes at no cost to students or their schools and is delivered by dedicated corporate and community volunteers.
"JANJ is proud to be a key connector between the business and education communities," says President Catherine Milone."Together these powerful and dynamic partnerships are helping to shape the future of New Jersey by empowering our young people to own their economic success and be career-ready starting as young as kindergarten."
4365 Route 1 S., Suite 201, Princeton
(609) 419-0404, JANJ.org
Habitat for Humanity
Habitat for Humanity builds because they believe that everyone, everywhere, should have a healthy, affordable place to call home. More than building homes, their goal is to build communities, build hope and build the opportunity for families to help themselves.
"Our mission is to provide affordable housing to families in need, provide an abundance of volunteer opportunities for people to give back, and revitalize our communities. I see amazing things happen every day thanks to the countless supporters who donate, volunteer and advocate," says Lori Leonard, executive director of the Burlington Chapter. "I believe that each day we go to work at Habitat and do what we do, we are one step closer to a world where everyone has a decent, affordable place to live.'
Gloucester County Executive Director Anthony Isabella agrees. "There is a critical need for affordable housing in our area and we are able to meet that need while helping families. Our partner families receive a hand up, not a hand out as they become homeowners and active community members. Everyone affiliated with GCHFH puts their heart into the homes we build and it is our hope, through the support of donors, to continue to grow our mission."
Burlington County Affiliate
530 Route 38, Maple Shade
(856) 439-6717, HabitatBCNJ.org
Gloucester County Affiliate
425 S. Broadway, Pitman
(856) 256-9400, GC-Habitat.org
The Food Bank of South Jersey
The Food Bank of South Jersey and its network of 200-plus food pantries and meal kitchens have been here since 1985, providing prepared meals and groceries to people in need with a focus on families, children and senior citizens. CEO Val Traore says, "It is especially gratifying to be recognized as one of South Jersey's outstanding nonprofit organizations as we mark our 30th year of operation. We share this distinction with our loyal network of supporters—the thousands of individuals and businesses whose generosity and volunteerism enable us to successfully execute our mission of helping the food-insecure among us."
1501 John Tipton Blvd., Pennsauken
(856)662-4884, FoodBankSJ.org
New Jersey Community Capital
Founded in 1987 as the Community Loan Fund of New Jersey Inc. (CLF), New Jersey Community Capital is a nonprofit lender designed to meet the capital needs of Jersey-based affordable housing developers. Its THRIVE South Jersey initiative deploys flexible, affordable capital and technical assistance to generate quality jobs and improve economic opportunities across a four-county area in South Jersey, including Cumberland, Gloucester, Salem, and western Atlantic counties.
"South Jersey has many unique assets which we are thrilled to build upon through the opportunities offered by THRIVE South Jersey," says President Wayne T. Meyer. "This new initiative offers flexible financing products and partnership assistance to create quality jobs and improve economic development in Cumberland, Gloucester, Salem and western Atlantic counties."
900 Route 168, Suite D-4, Turnersville
(732) 640-2061, NewJerseyCommunityCapital.org
Published (and copyrighted) in South Jersey Biz, Volume 5, Issue 11 (November, 2015).
For more info on South Jersey Biz, click here.
To subscribe to South Jersey Biz, click here.
To advertise in South Jersey Biz, click here.