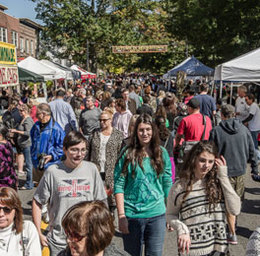 A Place to Call Home
For Moorestown companies large and small, the community connection has made this township an important piece of the business puzzle.
Moorestown has long been known for its quaint, quiet Main Street: An avenue taken straight from the movies, with cozy mom-and-pop restaurants and family-owned boutiques that have been around for decades.
But look beyond those small businesses and you'll find a township committed to growth, with a community-driven business model that is helping privately owned boutiques thrive while also bringing in larger businesses year after year. In the last year alone, national retailer Destination Maternity relocated its corporate headquarters from Philadelphia to Strawbridge Drive in Moorestown. Just a few miles from the iconic Main Street sits Lockheed Martin, the booming international corporation employing thousands across the globe and expanding into the community even more in the next few years.
How does Moorestown do it? "We're doing everything we can to be business friendly," says Moorestown Mayor Victoria Napolitano. "We really recognize the importance of staying out of the business' way, and doing everything we can to make things easier for them."
Business-friendly government
A focus on staying out of the way has made Moorestown easy to get a start in, and subsequently appealing for businesses of all sizes.
"We have seen a lot of positive things for businesses in town. We've had a few large businesses relocate to Moorestown, and those employees are thrilled to be coming into Moorestown," says Napolitano. "We spent a lot of time looking at construction permitting processes; [and] we've invested in new software that will allow us to move our permit process online."
"It's pretty evident that Moorestown works to be more business-friendly, to streamline the zoning and planning process," says Rhonda Feld, shareholder with Sherman Silverstein, the largest law firm in the township. "I do a lot of planning and zoning work and appear in front of the planning and zoning boards often, and it's a very welcoming message."
"It's been a very easy town to grow in," agrees Tina Durbano, co-owner of DJ's Available Sound and Light, which has been working in Moorestown for 24 years. "The business regulations and township make it very business oriented and business friendly."
The growth is glowingly obvious in one of the biggest recent expansions: the Moorestown Mall. With four new restaurants and a bar in the works—with liquor licenses to boot—and a new Boutique Row, the mall has rebranded and is taking steps in the right direction. "This isn't a fashion destination, it's an arts and culture mall that matches the feel of the Moorestown community," says Jessica McClintock, marketing manager for the Moorestown Mall. "We are leasing like crazy. We are very in tune to our community and have Boutique Row, which has stores that really hone in on the creative options that are available in the Greater Philadelphia area."
Round-the-clock networking
A key to Moorestown's rounded success is its collection of business organizations, including two rotary clubs and the Moorestown Business Association. The three organizations, along with the Burlington County Regional Chamber of Commerce, have created an open line of communication in the township that has helped solidify the small-town feel by creating a space for businesspeople of all sizes to succeed.
"In addition to holding our meetings there we have roughly 300 members of our business association," says Don Powell, president of the Moorestown Business Association and owner of Powell Energy & Solar. "About 80 percent are Moorestown businesses, and the other 20 percent that are out-of-town often provide necessary or useful services to Moorestown. We have a fairly good representation of the business community, be it our shopping areas or larger companies. We do as much as we can to assist the businesses and bring people to town and to the area with the hopes of enhancing their business."
The Moorestown Business Association (MBA) meets out of the Moorestown Community House on Main Street, and also holds seven annual events for the township, with an eighth being added in 2016. Those events include the annual Halloween Parade, Candlelight Night and the well-known Moorestown Day in June.
"One of our primary missions is to bring people to the businesses and the shopping districts," says Powell. "We do a really good job of supporting our local businesses and bringing people to town. We have a very active board of directors and we hold monthly membership meetings to try and get the word out to people as much as possible."
The addition of a breakfast and lunch rotary club—both also run out of the Community House—give businesspeople the option to fit networking into their schedule. "We have approximately 60 members living in the community or doing business in the community, covering all walks and shapes of lives," says Scott Aschoff, president of the Moorestown Rotary Breakfast Club. "We have attorneys, bankers, manufacturers, doctors; every piece of the community is represented there.
If you need a local connection or advice there is someone there to help you locally. You can solve every problem right here in Moorestown."
Connection through philanthropy
As Moorestown business continues to thrive, so too do the philanthropic efforts of local organizations like the Moorestown Community House. The Victorian-style brick space is a monument to the philanthropy that has grown the community, built in the 1920s through individual donations and a large personal donation matched by Moorestown's Eldridge Johnson.
"We continue to exist in part between the participation of Moorestown individuals and businesses. The Community House is the image of Moorestown, and it's a great way for new businesses to network and get [their] name out," says Brad Kenney, executive director of the Moorestown Community House. "Every dollar that people give to the Community House goes to support the businesses and nonprofits in the community."
The Community House is in the midst of a restoration campaign, having raised $857,000 of their $2 million goal, with funds covering everything from new air conditioning and a stunning new porcelain floor—designed to appeal to their budding wedding business—to slate roof repairs and fixes on their brick pathways.
The Rotary Breakfast Club has pledged $10,000 over the next five years to help with renovations, but that isn't where the community's philanthropic efforts end. Just ask Matthew Riley, president of MEND Inc., an affordable housing development organization that has been pioneering their efforts in Moorestown since 1978, almost 10 years before the Fair Housing Act was passed in the New Jersey Legislature.
"The first 240 units that MEND acquired or built were all done here in Moorestown, done in cooperation with Moorestown and as part of Moorestown's co-obligations," says Riley. "It's my impression that MEND's ability to expand into the region—to have two-thirds of our portfolio outside Moorestown—is due in part to the fact other towns in the region find out what we've been doing in Moorestown for such a long time."
The Breakfast Rotary Club works closely with MEND to help residents in the lower income housing units across the township receive resources, including an annual backpack drive for students. "One of the benefits of our family housing in Moorestown is that these children can go to really nice schools," says Riley. "In addition to providing affordable housing—so people have a fighting chance to pay their rent and pay for food and medical expenses—the children can get a great education. And the town supports that: Every year the Moorestown Breakfast Rotary calls us up in July or August and finds out how many school-aged children we have in Moorestown. We give them the numbers and every year the Breakfast Rotary delivers backpacks full of notebooks, pens and school supplies. They make that donation to us and we pass it through to our tenants. It's one of the most popular things that we do here at MEND. That's a nice blend of local businesses helping the kids in our affordable housing and benefiting the schools."
It's a connection that continues to make the business-resident relationship so strong in a community that has become so well known for their hometown feel.
"If every rotary club in the district and in the state can give backpacks to students in need, you've put a smile on that kids face," says Aschoff. "We don't know where the next president is coming from, and we are making it possible for them to grow and for them to enjoy school and advance their futures in Moorestown."
Published (and copyrighted) in South Jersey Biz, Volume 5, Issue 10 (October, 2015).
For more info on South Jersey Biz, click here.
To subscribe to South Jersey Biz, click here.
To advertise in South Jersey Biz, click here. What Businesses Are Saying Local entrepreneurs and executives explain the importance of the Moorestown business community. The Moorestown Mall Jessica McClintock, Marketing Manager "Being here in Moorestown, the town itself is fairly historical. We kind of are a landmark, and people didn't want to give up on us. The surrounding retail centers are evolving and we're really accessible. Our focus is reminding people that we're open, we're new and we're waiting for them." LaVan Law Julie LaVan, Shareholder "For me the location is ideal. If I need to get anywhere I can hop on any major highway and get somewhere. … [And] there are two Moorestown Rotary Clubs—the breakfast and lunch club. So you can pick and choose what works for you. That's really a great feature if you want to do business in Moorestown. It allows you to fit that meeting into your personal schedule." Powell Energy & Solar Donald Powell, Founder and President "Moorestown has a great population of people who are intelligent, resourceful and also environmentally friendly, [and] does a great job in being environmentally resourceful. A great number of people are willing to participate and go out of their way to support environmental concerns. There's a great deal of awareness, and people are willing to put their money where their mouth is when it comes to being environmentally sensitive." Sherman Silverstein Rhonda Feld, Shareholder "All of the people that you come in contact with, and the pride that Moorestown takes in its community, is clear. Moorestown has always been able to attract great residents, and with the welcoming business attitude it's drawing in more business." Thomas/Boyd Communications Pam Boyd, Co-Founder and President "We get the benefit of the small-town feel; we can take a nice walk down Main Street or just clear our heads in town. We support the local community and enjoy the new restaurants that opened up at the Moorestown Mall. But along with the small-town feel we are provided with easy access to major roadways." Moorestown Visiting Nurses and Hospice Kim Plasket, Director of Public Communications "We've been part of the community since 1904, and it's a community that is supportive of organizations like ours. It is a community that supports our business. We have all sorts of folks in the community helping to raise funds including restaurants and mom and pops. The vendors are very supportive and we try to keep our business close to home as much as we can." PowerBack Rehabilitation Darya Slipchenko, Senior Director of Admissions "Our competitors also have a very good reputation in the community, so being able to offer a unique product through our company has been very valuable. It's great that we're here because it also offers job availability to the community, and our relationship with the community is so strong. The location is great—we even have a lot of business coming in from Pennsylvania." PNC Bank Hala Al-Shawaf, Vice President & Bank Manager "PNC—with its longtime branch presence on Main Street in Moorestown—has lent that air of stability and warmth and community spirit to the Main Street business district, and we look forward to continuing that." DJ's Available Sound and Light Tina Durbano, Co-owner "Certainly the residents are wonderful—for our type of business it's important to have very friendly residents, and they have been very receptive to that. [And the Moorestown Business Association] really supports its members. It's a great way to get our name out in the community and do business. MEND Inc. Matthew Riley, President "It's a great town and we have great relationships in the town, and that makes doing our job so much easier. It's a great place to be and it's a feather in Moorestown's cap that we're here. That Moorestown was truly out in the front of the housing discussion before anyone else in the state said something."