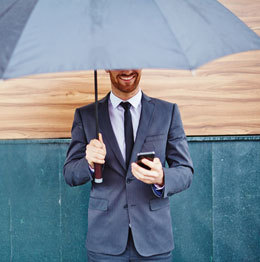 Outstanding Entrepreneurs
In today's changing business climate, what does it take to succeed as an entrepreneur: ingenuity, passion, persistence, flexibility? The stories of the 2015 Outstanding Entrepreneurs—compiled by nominations and editor consensus—suggest a combination of these traits, along with a personal touch, may be the key.
Dan Murray
Founder, Unmanned Sensing Systems, LLC
Murray, a Medford native and Moorestown Friends School graduate, sits at the helm of Unmanned Sensing Systems, LLC, one of only three businesses in New Jersey cleared by the Federal Aviation Administration to fly unmanned aerial vehicles—also known as drones—for commercial purposes. The 27-year-old founded the year-old company after a long career in the tech industry—beginning at around age 12, helping to fix family friends' computers and electronics, then at age 15, when he was formerly employed in IT for a South Jersey-based defense contractor. Murray then went on to found two tech-based businesses: Netgrade, a network engineering firm in Mount Laurel, and Unmanned Sensing Systems, which uses drone-based imaging to help the agriculture industry collect and process metrics for their crops. We can't wait to see what he takes on next.
When did you know you had found success?
When work stopped feeling like work. I truly enjoy what I do every day—it's never boring. … When you're surrounded by people who enjoy what they do (and are exceptionally good at it), the idea of "going to work" is a pretty fun prospect; and success is contagious.
Colleen Bevenour
Founder, Synchron8
With more than two decades of consulting experience, Bevenour, founder of Synchron8, knows what factors can positively impact a business and its results. This entrepreneur works with Fortune 500 companies on their strategy development, helping their leaders successfully implement these strategies, keeping in mind factors that could get in the way of success. She shares that entrepreneurial spirit with others in that community, serving as executive director and chairman of the programming committee for the Entrepreneur's Forum at Southern New Jersey. She's also the director of programming at Incutate Incubator; and a member of the Gloucester County Chamber of Commerce Education Committee. She also somehow finds time to volunteer with Choices of the Heart in Washington Township. She's also co-author of INSIGHTS TO ACTION: A Field Guide for Identifying and Solving the Most Common Problems that Derail Organizations.
Where do you hope to be in 10 years?
In 2025, I'm sure the world will look very different. From the standpoint of work, I'd like to have another book published and be enjoying the success of consultants I have apprenticed to carry the vision of Synchron8 and the Institute for Strategy Realization forward.
Hannelore Fineman
Executive Vice President and Founding Partner, eMaint Enterprises, LLC
As a founding partner—and senior leadership team member—of eMaint Enterprises, an entrepreneurial software company and market leader in on-demand, SaaS-based Computerized Maintenance Management Software (CMMS), Fineman helped grow the company's subscriber base from just a handful of users in 2000 to more than 4,000 customers, 35,000 users across 55 countries and a more than 90 percent retention rate. This entrepreneur helps customers utilize eMaint's CMMS solutions to solve their business challenges, and is responsible for managing national accounts. She lives in Philadelphia with her husband of 22 years, Andrew, and their daughter, Michaela, and also serves on the finance and development committees of Frankford Friends School in Philadelphia.
If you could start over in a new profession, what would it be?
It's not about starting over, but about giving back and helping [others] to be successful through education and mentoring. I would like to take my passion for education and the opportunity to mentor those in business to reach their highest potential in their professional goals. Volunteering at my daughter's school allows me to share as well as give back my professional experiences to help grow and sustain this important educational institution.
Lisa Carney
Owner, Lisa Carney Retail Agency
After a successful run in the 1980s as an energy auditor, Carney decided it was time for a change and entered the insurance industry in 1992. She's been an insurance professional ever since, and in 2013 she opened the Lisa Carney Retail Agency LLC, a Farmers Insurance Agency. Emphasizing a hometown feel in her Woodbury office, Carney and her associates offer life, personal lines and commercial lines of insurance to individuals, nonprofit agencies and private businesses. Carney is also involved in many charitable organizations, including the United Way, and is active with the Gloucester County Chamber of Commerce.
When did you know you had found success?
The first time that I found success was years ago when my company offered me a management position. I was the only energy auditor to be offered this position at the time, and it was a huge step for me personally. … When my first insurance customer came to me and told me that I had changed their lives with the protection I had recommended for them, that was amazing. To me, success has never been about the money—it has always been about the people we touch whose lives are changed for the better.
Teal Jefferis
Founder and President of Jefferis Engineering Associates
Jefferis has spent more than two decades as a principal and design engineer for firms based in South Jersey, focusing on civil engineering and land development services throughout the Northeast. In the late 1990s, he was a founding partner of a multi-discipline firm, and after helping the company grow quickly and establish multiple offices, he sought a return to more personalized services. So he left the partnership and founded Jefferis Engineering Associates (JEA) in 2004. JEA specializes in sensible and cost-effective solutions for a number of clients, including local municipalities, schools and private businesses. A married father of three, Jefferis volunteers on his school board, as a coach and with the Boy Scouts of America.
If you could start over in a new profession, what would it be?
I would likely start a winery or distillery. Consumer demand for these products remains steady through the cycles of the economy, and southern New Jersey offers all of the necessary resources. Also, I enjoy a good glass of wine.
Steve Selfridge
President, SOC
Selfridge directs a team of more than 5,000 highly trained professionals as president of SOC, a leading provider of security and critical infrastructure support solutions to the United States government and select commercial clients. In his 37-year career of establishing and growing multi-million dollar businesses, Selfridge has worked across six continents in competitive industries, and SOC has continued to expand its global presence under his leadership. Yet he also maintains an active role in South Jersey, as the Rutgers University-Camden graduate serves on the leadership council of the Rutgers School of Business and is the chair of the foundation board at Lourdes Hospital.
If you could start over in a new profession, what would it be?
I love what we do at SOC in protecting and supporting some of the most important national security missions around the world, so it would be tough for me to choose another profession. However, my wife and two children are dedicated contributors to education. Teachers are unsung heroes and we need more investments made in education to attract and retain influential leaders. They have an immeasurable and lasting impact on our children's lives.
Terrance Ruf and Yazan Barqawi
Co-founders, Higher Hospitality
With years of hotel management experience under their belt, Ruf, Barqawi and the team at Higher Hospitality—based out of the South Jersey Technology Park on Rowan University's campus—have committed their company to finding more affordable and sustainable technology options for the local hospitality industry. Focusing on their innovation app, Inn Control, the co-owners have worked to make the area's hotels—like Courtyard by Marriott in Glassboro—more communicable through the use of iPad technology and more clear control modules.
If you could start over in a new profession, what would it be?
Terrance Ruf: If I could start over I would become a biomedical engineer. That profession will be in high demand as personalized medicine becomes increasingly routine.
Yazan Barqawi: I wish the iPhone would have come out a few years sooner. I would have fully immersed myself in development and management of information systems. It is clearly the future.
Dave Suleski
Founder, TechStarters
With five years under its belt, Suleski's TechStarters has grown into one of South Jersey's most reliable IT management, cloud support and Web management companies, thanks largely to Suleski's commitment to service. Working with the Southern New Jersey, Burlington County Regional and Camden County Regional chambers of commerce, as well as the Moorestown Business Association, Suleski and TechStarters have become synonymous with Web security and tech solutions.
When did you know you had found success?
As the founder of TechStarters, I don't think I'll ever be complacent or feel like I've found success. A day does not go by that I'm satisfied, there is always more I feel I can do for the company and our clients. I feel very fortunate with the success I've had, and I know this is just the beginning.
Tina Wright
President, Woodbury Nissan
In 2012, women-owned car dealerships made up just two percent of all U.S. dealerships, according to Coastal Northwest Marketing Research. President Tina Wright took over the Woodbury Nissan dealership when her husband passed away unexpectedly nine years ago and continues to lead a thriving business today. After 39 years in business, Woodbury was named one of the top 50 Nissan dealers worldwide in 2015. Wright says the staff is dedicated to making the car-buying process fun and financially viable at the same time. Her measure of success isn't based on the number of cars sold, but on the volume of repeat customers with which they have built longstanding relationships.
Where do you hope to be in 10 years?
In 10 years, I would like my daughter to be running the show, carrying on the family business with several additional dealerships throughout the region.
Frank Lauletta and Lloyd Birnbaum
Co-founders, Lauletta Birnbaum
Lauletta Birnbaum is a nimble, 20-attorney boutique law firm with high-level engagement and an eye on value consciousness. The firm represents both private and public companies in various industries, including many in the complex fields of software data and high technology. They also partnered with Rowan University to found the business incubator, Incutate and formed mentor alliances with high-tech business incubators such as Rowan University's Center for Innovation & Entrepreneurship. Through this program, Incutate provides legal, business and strategic guidance to start-up and emerging growth technology-based businesses in the region.
Lloyd previously served on the Board of the Philadelphia Diversity Law Group (PDLG) and was the deputy director of diversity during his tenure as partner at Reed Smith, where he created programs, lectured at local and national conferences, and mentored attorneys and students from diverse backgrounds.
If you could start over in a new profession, what would it be?
Lloyd Birnbaum: Hands down, I would be playing in the NBA!
Lisa Joswick
Founder & Managing Director, blackbook, LLC
Blackbook is an educational bookkeeping and business management service firm focused on keeping its clients' books in the black. Their goal is to make managing finances— the often overlooked portion of running a business, says Joswick—easier through educating, implementing and providing results. "Our mission is to exceed your expectations by providing high quality services at affordable pricing," says Joswick. "As a service-based company, providing value is their No. 1 priority." Joswick measures her success by client feedback. "When one of my clients told me that, for the first time since she opened her business, she wasn't worried about having enough cash in the bank to cover her payroll the following week, it was clear to me that blackbook had provided value, and found success." Her dream is to eventually grow blackbook into a company that people all over will trust and turn to for making the financial part of their lives easier.
If you could start over in a new profession, what would it be?
Definitely software engineering. Since I've worked in venture capital firms for the majority of my career, I've been fortunate to see firsthand how some of the most successful technology companies we all know today have grown from a small, unknown company looking for capital to a multi-million dollar valued corporation that is changing people's lives. It amazes me every time.
Rob Richardson
Owner & Founder, Allied Document Solutions & Services
Allied Document Solutions and Services is an imaging and printing company established in 1994. It is one of only 50 U.S. dealers that is an HP Authorized Managed Print Services Partner. The result: programs that truly differentiate its service when it comes to management around the imaging and printing of clients. The goal for this Gloucester County company is simply to be a trusted resource providing full accountability to its clients. Richardson credits some of the company's success to the core personnel team they've established. Richardson also serves as East Region president of the BTA Business Technology Association and national board, HP Partner Advisory Council.
Where do you hope to be in 10 years?
Ideally, we will be in a position where what, how and where people print will be coupled with solutions around document capture, workflow and management. Although I do not expect to see a completely paperless society anytime soon, I do see an opportunity for growth in the document management sector. At the same time, with continued development within our team, I expect to be in a much better position to be a true CEO, while empowering those critical to our operation.
Devon Perry
Founder, Kings Hall
This local woman has a heart for entrepreneurship. Perry is the co-founder of Kings Hall, a coworking campus of area entrepreneurs in historic Haddonfield. But she's also had some startup success herself, as the Drexel Women in Business co-found­er, co-founder of ShareURmeal.com—a hunger relief website—and co-founder of GoBYO.com, an online restaurant database with a focus on wine ratings. A mother of three young children, Perry has also lent her talents to the American Red Cross and the United Way.
Located in the heart of downtown Haddonfield, Kings Hall aims to be the region's headquarters for entrepreneurs and a hub for small business growth, offering solutions for today's mobile workforce. The coworking space appeals to small businesses, independent consultants and individuals whose employers grant them work location flexibility.
When did you know you had found success?
I don't think entrepreneurs/business owners ever really feel like, "Ahhh, we've found success, now we can relax," especially not in the first year. We push forward, watch the Kings Hall community grow and collaborate, and constantly learn. When we saw our vision alive in the halls with members stopping each other to ask about their new business ventures, that was a sign. We believe we found the sweet spot of a need in the community, [and] matched the need with something we can provide and provide well.
Joanne Stokes
Founder & President, Stokes Creative Group Inc.
Stokes Creative Group Inc., has operated as a certified, woman-owned business and full-service marketing firm for 30 years.
The company provides the transportation and A/E/C industries with services in public and educational outreach, communications, video production, photography, website design and development and graphic support to increase project awareness and visibility. In 2013, they expanded operations with new offices in Baltimore and Florida with plans for continued growth in the next few years.
Where do you hope to be in 10 years?
On a beach in the Caribbean islands.
Robert Gray
President, Gray Trucking
Gray Trucking has been a transportation solutions supplier of time critical services that include same-day delivery, dedicated trucking, warehousing and third-party logistics for nearly 60 years. Its mission is to provide the highest level of service, utilizing late model equipment of varying sizes and lengths, driven by a fleet of skilled professional drivers, all managed by a customer focused operations staff. This mentality is what enabled it to win bids from Fortune 500 companies in its early days, while competing against significantly larger competitors who were industry leaders at the time. Gray says the result was an instant revenue increase of 25 percent, which launched them on a growth curve.
If you could start over in a new profession, what would it be?
I hold a captain's license, and sport fishing has been a hobby for most of my life. Operating a charter boat business would be appealing to me. Unlike my current business, you have the opportunity to prospect, catch and celebrate your success all in one day, while you still have the "thrill of the hunt," the competition and the camaraderie of the crew.
Regan Young
Founder, RYEBREAD Architects
Young, AIA/PP and founding principal of RYEBREAD Architects believes South Jersey towns need intelligent transport systems, workspaces that foster education and enterprise, public spaces with a sense of community, homes that provide comfort and rejuvenation, and safe and secure civic institutions. The group incorporates landscaping and site planning to structures to the land, along with clever lighting, graphics, mechanical systems and interior design to enhance a building's livability.
He founded the firm with the goal of creating buildings, interiors and communities that are more safe, productive, healthy, distinctive and efficient. He sites a collaborative effort with the right colleagues, consultants, officials and contractors as one key to the company's success.
When did you know you had found success?
I see the success of my firm when the students and staff enter one of our projects on the first day of school.
William Hoffman
President and Owner, Hoffman Exterminating Co. Inc.
Hoffman's Exterminating has been family owned and operated since 1990 and has become a local leader in pest control services. Hoffman says the group is committed to providing customers with exceptional service and solving their problems and attributes much of their success to word-of-mouth reviews from clients.
His vision for the future of the company is for it to be a preferred professional pest control company in the South Jersey, Eastern Pa., Delaware and Maryland areas, by 2025; not just for existing and future clients, but for its staff.
If you could start over in a new profession, what would it be?
If I started all over again, I would want to be a business coach or teacher. Over 75 percent of our employees have never done this work as a career before, and teaching and coaching them has been the highlight of my career.
Todd B. Bavol
President and CEO, Integrity Staffing Solutions
Integrity Staffing Solutions was launched by industry veterans Todd Bavol and Sean Montgomery to fill a need for program innovation and creativity in the temporary and direct hire employment sector in 1997. They specialize in temporary and customized staffing models that facilitate the growth of careers, communities and companies. Within five years, the company was ranked the second fastest growing private company in America by Inc. magazine.
Today, the company serves thousands of clients in Arizona, Connecticut, Delaware, Florida, Kentucky, Maryland, New York, Nevada, New Jersey, Ohio and Pennsylvania. Their elite Employment Law Certified team is renowned for its success in protecting clients from costly co-employment issues. Bavol says their goal is to be the vendor of choice in each of their markets.
When did you know you had found success?
When two temporary employees walked into our office and showed me a picture of the new home they were able to buy based on the job we placed them in two years earlier. One of our key core values is to advocate for our associates' success. It's why we started the business and it's why we continue to love our work.
John Murabito
President, Re Business Solutions
Re Online began in 1988 as a modest typewriter ribbon company, operating from a Philadelphia basement, using the top of a washer and dryer as workspace to fill shipping orders. In 2002, they moved into a 15,000-square-foot facility and have continued to expand. For three consecutive years, it has been recognized as one of Philadelphia's 100 fastest growing companies and ranked sixth out of 25 in Southern New Jersey. In 2014, the company celebrated over 25 years in business. President John Murabito says the family-owned business' relationships with companies like Hewlett Packard, Xerox, Lexmark, Oki and Samsung enables them to provide customers with service that is focused individually on their customers needs and bring them the best products at the best prices.
If you could start over in a new profession, what would it be?
NFL starting quarterback.
Sid Brown
Chief Executive Officer, NFI
Founded in 1932 as National Hauling, NFI has evolved from an ordinary trucking company to one of the largest privately held third-party logistics companies in the country. Brown and his brothers Ike and Jeff have been involved since the '80s, growing the company through acquisitions and strategic partnerships. NFI employs more than 8,000 people in the U.S. and Canada and revenues have surpassed $1.2 billion. Outside of NFI, Brown—who holds an MBA from Harvard—serves as chairman of the board of directors of Sun National Bank, and is a board member of J&J Snack Foods and FS Energy and Power Fund. He also sits on the board of trustees of The Cooper Health System.
If you could start over in a new profession, what would it be?
If I could start over in a new profession, it would be the coach of a Division I college basketball team.
Jim Auletto
Owner, Auletto Caterers
Auletto Caterers, now run by its founders' son, was established as a small family diner in 1945 in Camden—its first catering event was a local church's communion breakfast—and has become one of South Jersey's most well-known catering facilities for special occasions, weddings, banquets and corp­orate events. Auletto has been in the business full-time since 1971, taking over the reins from his father 25 years ago. During that time, Auletto's has upgraded its lakeside property as well as expanded into hosting corporate meetings, seminars and luncheons for the likes of Nest International, Rowan University and Inspira Health Network. With the help of his daughter Jaime, who manages the front office, Auletto says he takes pride in owning a family-run business.
When did you know you had found success?
While the business is successful, I don't think you can ever be 100 percent content. I'm proud of our success, but every day I'm still thinking about how I can move it forward. You really can't get too comfortable.
Published (and copyrighted) in South Jersey Biz, Volume 5, Issue 9 (September, 2015).
For more info on South Jersey Biz, click here.
To subscribe to South Jersey Biz, click here.
To advertise in South Jersey Biz, click here.