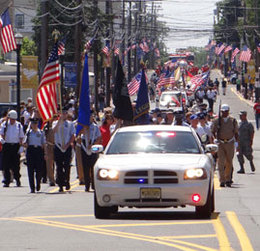 Looking Forward
Whether you call it Monroe Township or Williamstown, one thing is clear: This area is poised for growth.
These days, you may not recognize Monroe Township if you were to drive through it. Once a sleepy Gloucester County town stuck in the shadow of its booming neighbor, Washington Township, Monroe Township—or Williamstown, depending on who you ask—has quickly emerged as an up-and-coming business center. And with plenty on the horizon, it seems like things are only looking up.
Remaking Main Street and more
This year brought a host of changes to Monroe Township, including a new mayor in Daniel Teefy. Formerly a councilman, Teefy has approached 2015 with business in mind, specifically focusing on building up the southern section of the Black Horse Pike corridor and focusing on Williamstown's Main Street.
"Everybody around us is revitalizing their Main Streets and we haven't been committed to that," says Teefy. "So we want to bring the business back and make it a community type environment."
The new developments could mean a whole new business future in Monroe Township, and local companies are ready to adapt. "The downtown [Main Street] project—once people get wind of that— will definitely help rejuvenate the town," says Shannon Morgan-Leonen, assistant vice president and branch manager of Investors Bank. "We are surrounded by major highways, which helps out of town visitors as well as our residents get to where they are going quickly. There are influencers that want to move this town forward, and less people that want things to stay the same."
And there is room to grow, with plans moving forward on both large projects. "The goal is to see if there is some way that we could potentially extend the redevelopment zones," explains councilman Cody Miller. Miller says they have worked with redevelopment attorneys Maley & Associates—who have helped jumpstart Main Streets like Haddonfield and Glassboro—to help inspire big change.
"If we could partner with a developer and have them build it or take it on by a case-by-case basis, we could really see things start to move quickly."
Home sweet home
Anticipating big moves and big business has also led to a spike in Monroe Township's real estate scene. "There's been an increase in ownership. The housing market is really turning around and people are starting to buy again," says Morgan-Leonen. "People are buying within their means, and I think what has happened is that Monroe Township is a township that fell off the radar. Now we have business owners like me that … want good things to happen. Now people are coming back, and starting to recognize the name more and more."
Morgan-Leonen says that growth has led to some healthy competition, with businesses growing locally to feed the growing population. "We're very competitive in the market area as of right now," she says. "We have products offered that are going to benefit within the next year or two years to fit the changing community.
We're very innovative and are always changing our marketing campaigns and are always bringing new ideas to the table."
"I certainly see us growing more residentially," says Teefy. "We have 14 housing developments in final approval. I see those being able to substantiate in town. We're No. 1 in South Jersey for home ownership value. Our homes average $200,000 and our growth has continued over the last 10 years. It's one of the best places in the area to [own] a home."
That residential growth would be nothing without commercial incentives, which is why Miller stresses the promise of incoming business. "Our residential has skyrocketed, and we have not been at the capacity for large residential or commercial space. But the conversation has changed," he says. "Look at all the opportunities and the growth; that reflects on the new opportunities for job growth.
It's a combination of both, but any person who has a commercial draw, I recommend coming to Monroe Township because we have the space and the opportunity for growth."
A bright future
One of the biggest perks for new business is the new Williamstown Chamber of Commerce, coming to fruition in 2016. "We are in the process of picking the board of directors and chairman of the board," explains Katherine Falcone, president of the SOS Group as well as the chamber. "I have a mission to bring the local businesses together to further economic development in Williamstown."
It's that business-to-business communication that truly sets Monroe Township apart and makes it a promising place to work.
"Just within my area, there have been five businesses that have opened up. ... New businesses could really survive if they knew of all of their resources," says Morgan-Leonen. "Whether it's the emerging chamber, or the Williamstown Sunrise Rotary, the Economic Committee or organizations; getting involved with those organizations can make such a difference."
"My great, great grandfather came off of a boat from Sicily and he farmed in Williamstown. I have the photos of what it used to look like. Our mindset and mentality as a township have changed," says Miller. "We used to not want commercial, we wanted to be a small community. Now people understand and realize that we are poised for growth, and that's what's most exciting. We are ready to move forward and become the booming and bustling community that we have the potential to become."
What Businesses Are Saying
Monroe Township companies share what they love about business in the community.
ShopRite of Williamstown, Zallie Supermarkets Inc.
Lori Martucci, catering coordinator
The new mayor has a lot of passion in his community. He brings a lot to the town and so do the businesspeople in Williamstown. All the changes that are coming are such a plus; and I do see businesses getting excited to call Williamstown home. People used to want to keep it a small town, but now people are receptive to new business and are focusing on Main Street itself. There is a lot of development, which is a plus to the businesses.
Giuliana Zallie, promotions, customer service and sampling coordinator
People are excited to work harder because the town is getting better and better. They're very passionate about that. We do anything we can do to help out Williamstown; we have a carnival we hosted, we support the Williamstown High School football team, and we help with donations in the town. We're always there for the community, and I think they know that. Our management team is very close with the customers and understands the community's wants and needs.
SOS Group
Katherine Falcone, president
We have a Main Street downtown, which is conducive to that hometown feel, while having a major highway like the Black Horse Pike run through our town, which is great for visibility for people headed south to the Shore. Everyone knows each other and has the same purpose in town to make our town better. Our town slogan is "Come Grow with Us," and we invite everyone to see this opportunity. Investor's Bank
Shannon F. Morgan-Leonen, assistant vice president and branch manager
There is a bright future for Monroe Township, not only for the small business but for all businesses. The Economic Committee is proactive in the community, they are readily accessible, [and] this is a major factor in moving any town forward. People are investing in the small businesses in this community, shopping local, and helping our neighbors. This is the outlook of people that live here, or do business here, they want people to say, 'I know where Monroe Township is located. This town is up and coming.'
Published (and copyrighted) in South Jersey Biz, Volume 5, Issue 9 (September, 2015).
For more info on South Jersey Biz, click here.
To subscribe to South Jersey Biz, click here.
To advertise in South Jersey Biz, click here.