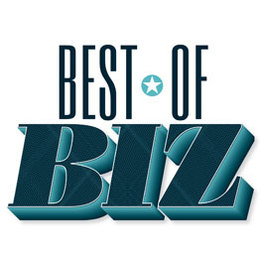 Best of Biz 2015
100 of the best in South Jersey Business
Our annual Best of Biz list is not one we take lightly. Through months of research, discussion and consideration of online nominations, we carefully compile our Editors' and Readers' Lists in an effort to present to you, our readers, the businesses we feel are truly the best in their fields. It's not an easy job, but it's one we look forward to each year, as a chance to highlight those businesses that have found a way to excel.
We hope you find the list helpful, and we hope you know that when you're finding your way on the road to success, these businesses will be right there ready to help. Without further ado, we present to you our 2015 Best of Biz.
BEST OF BIZ: EDITORS' PICKS
Accounting
The Alloy Silverstein Group
Cherry Hill, (856) 667-4100, AlloySilverstein.com
Previous Best of Biz Winner in 2012, 2013 and 2014
The Alloy Silverstein Group prides itself in having three separate companies under one roof, keeping their headquarters close to their hearts in South Jersey, and working with clients—not just for them—to provide accounting and tax services that extend beyond what's necessary during just tax season.
Did you know? The firm was recently honored with the Business Partner Award in celebration of Rutgers School of Business–Camden's 25th anniversary.
Managing Shareholder and Officer Reynold P. Cicalese says: "We play for the 'home team.' Being headquartered in South Jersey, all of our business decisions effect our personal communities and relationships. We are active in giving back to the communities in our own backyard, which are where most of our clients live and operate their businesses."
Bookkeeping
Business Accounting Systems, PC
West Deptford, (856) 853-5422 ext. 17, BAS-PC.com
First Time Best of Biz Winner
BAS—which also specializes in payroll, accounting and tax services—has become a leading name in the tri-state area for its dedication to small and independently owned businesses and their finances.
Did you know? Business Accounting Systems has more than 44 years of bookkeeping experience—experience that customers have come to fully appreciate.
Vice President L. Scott Elwell says: "We are dedicated to providing responsive service and organized, straightforward information. Our staff of experienced professionals works proactively to get the answers our clients want. We recognize the value of a personal hands-on approach to doing business and earning clients for life."
Bank: Online
TD Bank
Multiple locations, (888) 751-9000, TDBank.com
Previous Best of Biz Winner in 2012, 2013 and 2014
Headquartered in Cherry Hill, TD Bank is one of the top 10 largest banks in the country. Their customer-centric model fuels their success thanks to dedicated relationship managers who work to analyze needs and make recommendations.
Did you know? More than 5,000 of the bank's 26,000 U.S. employees work in the South Jersey market.
South Jersey Market President Rob Curley says: "We dis¬tinguish ourselves as a commercial bank by pairing a well-capitalized global financial institution with legendary service provided by local market teams managing local relationships. We say we are a group of local lenders making local loans, because all lending decisions are made by and in the market."
Commercial Landscaping
Young's Landscape Management Inc.
Moorestown, Lumberton, (609) 654-5441, YoungsLandscape.com
First Time Best of Biz Winner
This landscaping company strikes a unique balance between offering the resources of a larger company, while also providing the client attention to detail one would expect if the owner himself was on every site.
Did you know? Young's staff of specialized technicians undergoes in-house training, while also attending external educational opportunities, and is well-versed in everything from chemical applications to design to hardscape and landscape installations to winter services.
General Manager and Landscape Industry Certified Manager Joe Ehrenreich, CLP, says: "You must take care of the client by providing quality and value, your staff by providing personal growth and the company by planning for the future."
Education: Online
Thomas Edison State College
Trenton, (888) 442-8372, TESC.edu
First Time Best of Biz Winner
Thomas Edison State College offers associate, bachelor's and master's degrees in more than 100 areas of study and is geared toward working adults, who attend school part-time while handling their professional and personal responsibilities.
Did you know? Thomas Edison State College has enjoyed a strong relationship with the United States military for more than 30 years, and has programs with each branch of the armed services to provide unique educational opportunities to enlisted personnel.
Dean of the School of Business and Management Dr. Michael Williams says: "In today's global environment, there are many professionals who are becoming more entrepreneurial and looking for accelerated, career-focused graduate business programs that can help them advance. Like all of our programs, our accelerated MBA employs a practitioner-oriented model and is designed around the unique needs of working adults. Students can complete the program in approximately 15 months without sacrificing their professional and personal responsibilities."
Engineering Firm
Bohler Engineering
Mount Laurel, (856) 930-4000, BohlerEngineering.com
First Time Best of Biz Winner
Over the past 30 years, Bohler Engineering has grown from a home office in New Jersey to 20 offices spanning the East Coast. The company goes above and beyond what is typically expected from a consultant, taking the time to understand their clients' business and consistently delivering the highest quality product and service in the industry.
Did you know? Bohler has designed multiple award-winning corporate campuses that have helped keep companies such as Church & Dwight, Bayer, BASF and Dress Barn, as well as their employees, in New Jersey.
Lead Principal for the Mount Laurel office Keith B. Cahill, PE, says: "At Bohler, we carefully enter new markets where there is an existing client need and a strong opportunity for growth. With the opening of our Mount Laurel office, we've been able to better serve our existing clients, while expanding our services to meet the increasing development activity in the southern portion of the state. This new opportunity affords us the ability to better integrate into the community that we have been serving for years. "
Financial Services
Strategic Wealth Planners, LLC
Marlton, (856) 298-4660, SWPlanners.com
First Time Best of Biz Winner
In business for 26 years, Strategic Wealth Planners is an independent financial planning firm offering a variety of financial services, including retirement planning, annuities, life insurance and estate planning.
Did you know? Their commitment to handling each client's financial needs with a personal approach, making sure the advice best suits their needs, sets them apart.
Founder Rick Clifford, CFP, says: "The most important quality of a successful CFP is caring about your clients and understanding their needs. You need a balanced approach with knowledge and service."
Insurance Firm/Broker
AJM Insurance
Mount Laurel, (856) 795-4020, AJMInsurance.com
Previous Best of Biz Winner in 2014
Founded in 1944, AJM Insurance provides quality insurance products through a proactive approach, persistence and professionalism, is one of the largest insurance agencies in Southern New Jersey and is part of AssuredPartners Inc.
Did you know? President Tony Mahon is dedicated to community involvement and weaves into his life the activities that come with it. Among his many pursuits, in the summer of 2013, Mahon created a series of free summer Youth Football and Cheer Clinics. To date, more than 1,000 boys and girls have participated in these free clinics.
President Tony Mahon says: "The proximity to three major metropolitan hubs while still being able to escape to the country and the beach for a dose of sanity makes doing business in South Jersey a winning solution on many fronts. Spending time working with clients in the top of their profession located in the urban areas while being able to spend time with my family creates an unbeatable combination few areas can offer in New Jersey or even the United States. And then there's the tomatoes…"
Insurance: Workers' Compensation
NJM Insurance Group
Locations in Hammonton, Parsippany and West Trenton, (800) 232-6600, NJM.com
Previous Best of Biz Winner 2011, 2012, 2013 and 2014
NJM was founded in 1913 with a single purpose—to serve its policyholders, guided by the principles of service, integrity and financial stewardship. True to that mission, NJM has returned nearly $5.7 billion in dividends to policyholders—not stockholders—since 1918. Today, NJM is New Jersey's largest carrier of workers' compensation, insuring more than 16,000 Garden State businesses.
Did you know? NJM's Hammonton office, which opened in 2010, was designed with an eye toward environmental sustainability. For example, the grounds are landscaped exclusively with plant species native to the Pinelands, and rainwater is collected off the roof and from seven retention basins on the property, going into irrigation tanks to water plants throughout the site.
President and CEO Bernard M. "Bernie" Flynn says: "Insurance isn't a commodity, it's a commitment. It's a promise to be there for your policyholders when they need you the most. To be successful, you have to honor this commitment, and that is what we strive to do every day at NJM."
Law Firm: Employment/Labor
Archer & Greiner, PC
Haddonfield, (856) 795-2121, ArcherLaw.com
Previous Best of Biz Winner in 2012
Originally headquartered in Camden, Archer & Greiner moved to Haddonfield in 1973, and in an effort to meet the needs of its growing client base, opened three additional offices in New Jersey and Delaware, with the possibility of more not out of the question.
Did you know? The attorneys and staff at Archer & Greiner are proud of their commitment to their communities, and they participate in many civic and charitable activities throughout the year.
Meetings: Hotel
The Hotel ML
Mount Laurel, (856) 234-7300, TheHotelML.com
Previous Best of Biz Winner in 2012 and 2013
The Hotel ML is the only full service, independently branded hotel in Mount Laurel, and offers more than 14,000 square feet of event and meeting space.
Did you know? The Hotel ML is attached to CoCo Key, a 55,000-square-foot indoor water resort.
General Manager Jason Dowd says: "We are proud members and contributors of the South Jersey community. Whether you are attending a meeting or holding an event, the team here is dedicated to creating loyalty and exceeding expectations. We aim to provide every guest with a seamless and memorable experience complemented by our devotion to service at a competitive rate."
Staffing Firm
The Protocall Group
Cherry Hill, (856) 667-7500, ProtocallGroup.com
Previous Best of Biz Winner in 2012
Family-owned and operated for 50 years, revenue for The Protocall Group has increased 50 percent in the last three years and the top managers have over 200 years combined experience and industry knowledge.
Did you know? Protocall owns and manages a national staffing association that focuses on sharing best practices amongst non-competing companies.
Co-owner Roy Fazio says: "There is no science to making a company successful in the staffing field … It takes hard work and persistency to get new clients, and once you get them, always make sure you exceed expectations. Having people as your product/service is a challenge, it is not only getting the top 20 percent of skilled workers, but matching behavior with the client's company culture, and many times it gets down to matching the personality of the supervisor, with your staffing employee."
Telecommunications
USAPhone
Cherry Hill, (856) 761-1000, USAPhone.com
Previous Best of Biz Winner in 2014
USAPhone is a Cherry Hill-based communications installation, service and consulting firm founded in 1981, providing hosted, VoIP phone systems to businesses throughout the United States.
Did you know? USAPhone provides remote monitoring so they can respond to an issue before the customer even knows there is a problem, regardless if the problem is on the local area network or wide area network.
President and General Manager Gregory Gutos says: "One thing I have learned along the way is the importance of good business relationships and working with people you can trust."
Actuarial Services
Friedman, LLP
Marlton, (856) 830-1600,
FriedmanLLP.com
Architecture/Design: Commercial
Regan Young England Butera (RYEBREAD)
Mount Holly, (609) 265-2652
RYEBREAD.com
Architecture: Engineering
PS&S
Cherry Hill, (856) 583-2650
PSAndS.com
Automotive: Corporate Fleets/Leasing
ACE Ford Woodbury
Woodbury, (856) 845-6600
AceFord.com
Bank: Business
Columbia Bank
Multiple Locations, (800) 522-4167,
ColumbiaBankOnline.com
Bank: Customer Service
Wells Fargo
Multiple locations, (800) 359-3557
WellsFargo.com
Caterer
Sensational Host
Maple Shade, (856) 667-5005,
SensationalHost.com
Cloud Computing Firm
Tierpoint Pennsylvania, LLC
Philadelphia, (215) 218-1980
TierPoint.com
Collections
Quality Asset Recovery, LLC
Gibbsboro, (856) 925-1010
QARCollect.com
Commercial Lender
M & T Bank
Cherry Hill, (856) 330-8006
MTB.com
Conference Center
DoubleTree Suites Mount Laurel
Mount Laurel, (856) 778-8999
DoubleTree3.Hilton.com
Construction
Whitesell Construction Company Inc.
Delran, (856) 764-2600,
WhitesellCo.com
Courier Service
Road Runner Courier Service
Haddonfield, (856) 428-7500
RoadRunnerCourierService.com
Credit Union
Andrews Federal Credit Union
Locations in Mount Laurel and Burlington, (800) 487-5500
AndrewsFCU.org
Education: Cooperative
Rowan College at Gloucester County
Sewell, (856) 468-5000
RCGC.edu
Education: Corporate Training
Camden County College
Blackwood, (856) 374-4908
CamdenCC.edu/CorporateTraining
Employee Benefits
National Employee Management Resources
Marlton, (856) 642-9500,
SimplifyingHR.com
Environmental Engineering
Golder Associates
Mount Laurel, (856) 793-2005
Golder.com/us
Environmental Services/ Management
TTI Environmental
Moorestown, (856) 840-8800
TTIEnvInc.com
Executive Coaching
Sheri Desaretz, Looking Forward Coaching
Cherry Hill, (856) 261-7650
LookingForwardCoaching.com
Financial Planning
SHM Financial
Collingswood, Lakewood, Voorhees, (866) 665-6875,
SHMFinancial.com
Full Service Marketing Agency
Idea Lab Digital, LLC
Moorestown, (856) 642-0007
IdeaLabDigital.com
Golf Course for Business
Medford Village Country Club
Medford, (856) 654-7541
MedfordVillage.com
Green Initiatives Partner
Hutchinson Mechanical Services
Cherry Hill, (866) 954-7333
HutchBiz.com
Insurance: Commercial
Farmers Insurance
Cherry Hill, (856) 356-1700
FarmersSouthJersey.com
Insurance: Health
AmeriHealth New Jersey
(855) 832-2009
AmeriHealthNJ.com
IT Support
Comcast Business
Multiple locations, (855) 414-1152,
Business.Comcast.com
Law Firm: Banking/Finance
Brown & Connery
Camden, (856) 365-5100; Westmont, (856) 854-8900; Woodbury, (856) 812-8900
BrownConnery.com
Law Firm: Corporate
Mattioni, Ltd.
Swedesboro, (856) 241-9779
Mattioni.com
Mailing Services
Colortec Printing and Mailing
West Berlin, (856) 767-0108
ColorTecOnline.com
Managed Services IT
Praxis Data Systems Inc.
Gibbsboro, (856) 679-2256
PraxisNet.com
Merchant Services
Envoy Business Advocate
Cherry Hill, (856) 577-3360
EnvoyBusinessAdvocate.com
Office Equipment Sales
Re Business Solutions
Cherry Hill, (800) 533-9949
ReOnline.com
Payroll Provider
CASA Payroll Services
Egg Harbor Township, (609) 383-0677
CASAPayroll.com
Property Management: Commercial
The Bloom Organization
Mount Laurel, (856) 778-0300
BloomOrganization.com
Real Estate: Commercial Real Estate Brokerage
Colliers International
Mount Laurel, (856) 234-9300
Colliers.com/MountLaurel
Real Estate Developer: Commercial
Nexus Properties
Lawrenceville, (609) 396-6800
NexusProperties.com
Search Engine Optimization (SEO)
Commexis
Haddonfield, (856) 520-8218
Commexis.com
Signage
Signarama Deptford
Deptford, (856) 853-8099
Signarama-Deptford.com
Transport: Freight
Transense, LLC
Turnersville, (856) 217-9776
TransenseLLC.com
BEST OF BIZ: READERS' PICKS
Caterer
foodwerx
Cherry Hill, Philadelphia and Princeton, (856) 231-8886, foodwerx.com
First Time Best of Biz Winner
Foodwerx is known for adding wow factor to their menus thanks to owner Nick Wall's culinary imagination. Think charcuterie hanging suspended from a rack as just one example of their eye-
opening presentations of high-quality food. Did you know? Started in 1998, foodwerx began as a foodservice provider for real estate developers and property management companies before expanding to catering and five corporate locations today.
Operations Manager Alyssa Raymond says: "Our business has always grown by word of mouth; the fact that we were recognized by our clients has helped us step back and realize the impact we have on the community."
Bank: Business
Investors Bank
Multiple locations, (855) 422-6548, MyInvestorsBank.com
First Time Best of Biz Winner
Despite experiencing plenty of growth, Investors still conducts their business like a community bank, meaning they can compete with larger financial institutions without losing that friendly, hands-on approach to customer service.
Did you know? Investors prides itself on their four core values, or what they call the Four C's: cooperation, character, community and commitment.
Assistant Vice President Angela Venti says: "A good financial institution should always do what is right for each and every customer, making sure they get the right products and great value to meet their everyday needs, as well as long-term goals. But this is not enough—financial institutions must see themselves as part of a larger community, and should strive to do everything they can to improve the community."
Construction Management
New Road Construction Management Company
Cherry Hill, (856) 424-8888, NewRoadConstruction.com
First Time Best of Biz Winner
A registered New Jersey small business that offers tailored support services for owners involved in capital construction programs, New Road's experience, direct involvement and commitment of senior management with each of its clients sets them apart in the industry.
Did you know? On projects where New Road performs full service project management, the company has a record of keeping change orders to less than 1 percent of the budget, saving their clients money.
Principal Chuck Romanoli, CCM, says: "Our success can primarily be attributed to our reputation and commitment to our client's needs. We have been in business for 35 years and have earned a solid reputation for integrity and successful projects. ... As a result of our tenure in the business, we have a breadth of experience and have a wealth of lessons learned that we bring to the benefit of our clients and our projects."
Education: MBA Program
Rutgers University—Camden
Camden, (856) 225-1766, Camden.Rutgers.edu
Previous Best of Biz Winner in 2011, 2012 and 2014
The MBA program at Rutgers-Camden is designed to develop innovative leaders and critical thinkers that employers are looking for in today's marketplace. The program is fully credited by AACSB International and offers flexibility for working professionals with evening and weekend classes.
Did you know? Every spring, the Rutgers MBA program offers a course that includes a study trip to South Africa during spring break. The course counts as a three-credit management or marketing elective.
Dean of the Rutgers School of Business–Camden Dr. Jaishankar Ganesh says: "A Rutgers MBA from the Rutgers School of Business–Camden prepares students to enter the professional world as a leader. Rutgers MBA graduates will have the expertise needed to deliver results and positively impact the business landscape. Lessons learned in Rutgers' curriculum will be immediately applied to real-world business scenarios and include management capabilities to lead a team and corporation."
Event Planning
Aloft Mount Laurel
Mount Laurel, (856) 234-1880, AloftMountLaurel.com
Previous Best of Biz Winner in 2014
Event planning runs the gamut from small corporate board meetings to large weddings, and Aloft Mount Laurel has the functional space to manage all of them.
Did you know? Meeting rooms at Aloft have a modern décor and enhanced technology, including ceiling mounted projectors and drop down screens, and the hotel's team of group, executive meetings and social events managers are dedicated to making every event successful.
Vice President of Sales and Revenue for Delco Development Meghan Lafferty says: "[By] listening to each client's 'wishes and wants,' we are able to ensure that they are not getting a cookie-cutter meeting or event experience, but something that truly captures what they were trying to achieve."
Law Firm: Business Litigation
McDowell Posternock Apell & Detrick, PC
Browns Mills, Maple Shade and Moorestown, (866) 879-8855, MPadLaw.com
First Time Best of Biz Winner
When you want practical, realistic and experienced business legal advice, turn to McDowell Posternock Apell & Detrick, PC. With a proven track record of success, their attorneys have been serving South Jersey business owners and leaders for more than 35 years.
Did you know? Whether you need legal counsel to proactively resolve business disputes; create or update contracts or shareholder agreements; manage real estate deals and land use issues; develop estate plans that incorporate the complexities of your business; or in the event of a downturn, manage restructuring through Chapter 13 bankruptcy, their attorneys are here to help.
Litigation Practice Lead and Managing Shareholder Dan Posternock, Esq., says: "The client's objectives and goals are the most important aspect of our legal work. While we are experienced litigators and fully capable of success in court, we always stay grounded in first and foremost meeting our clients' goals."
Multimedia Production
GCV Productions, LLC
Laurel Springs, (856) 504-3025, GCVisual.com
First Time Best of Biz Winner
GCV is a company that prides itself on creating the highest quality videos for its clients. The staff at GCV has a passion for what they do and simply put, they care. Whether a client is looking for a television commercial, trade show video or a corporate web video, they enjoy developing new ideas that will engage the audience.
Did you know? World of Warcraft was once installed on every workstation at GCV for a company game night.
Creative Director/Founding Partner Rob Damiano Jr. says: "We try to always stay on top of what the newest trends are in video and design and use technology that can both achieve this look and feel while keeping our clients' budgets in mind."
Real Estate: Commercial Real Estate Brokerage
Wolf Commercial Real Estate (WCRE)
Marlton, (856) 857-6300, WolfCRE.com
Previous Best of Biz Winner in 2013
Since opening its doors in early 2012, WCRE has grown into a commercial real estate market leader. It has evolved into a team of 12 professionals entrusted with 3.5 million square feet of office, medical, retail, industrial space and land in southern New Jersey and the Philadelphia region.
Did you know? The firm is also a leader in charitable giving through its Community Commitment program, in which a portion of commissions earned is donated to a charity chosen by WCRE's clients.
Managing Principal Jason Wolf says: "Success in our business, or any business, is driven by a combination of knowledge, passion, a sincere commitment to building lasting relationships with your clients and dedication to improving your community."
Restaurant for Meetings
Catelli Duo
Voorhees, (856) 751-6069, CatelliDuo.com
First Time Best of Biz Winner
Located in Voorhees Town Center, Catelli Duo caters to the casual dinner meeting and larger business gathering-alike. Tech-savvy and ready to please, the restaurant has audio and visual components available as well as seating options to fit all needs.
Did you know? Whether it's a pharmaceutical representative highlighting the latest breakthroughs or an investment firm presenting to possible investors, Catelli Duo works with every host to make sure their event is a success.
Operations Manager John Polizzi says: "'The answer is yes. Now what's the question?' That's pretty much our motto."
Travel Agency
Cruise Planners
Medford, (609) 654-2738, CruiseVoyagers.com
First Time Best of Biz Winner
Cruise Planners has a tremendous reputation for quality, service and very competitive pricing for all your travel needs.
Did you know? Cruise Planners travel agents work with every type of travel vendor—from cruise ships to hotels to tour operators—and will work with you to see if you have any recommendations.
Cruise and Travel Consultant Joel Scholtz says: "I love the South Jersey business community and I am a member of four South Jersey Chamber of Commerce groups and three local business associations. ... Through an ongoing and time-consuming process of familiarization, continuing education and customer feedback, I am your travel expert."
Accounting
Haefele Flanagan
Maple Shade, (856) 722-5300
HFCO.com
Architecture/Design: Commercial
The Bannett Group, Ltd.
Cherry Hill, (856) 751-8800
TheBannettGroup.com
Auditing
Baker Tilly
Cherry Hill, (856) 330-8100
BakerTilly.com
Bank: Community
Sun National Bank
Multiple locations, (800) 786-9066
SunNationalBank.com
Bank: Customer Service
PNC Bank
Multiple locations, (888) 762-2265
PNC.com
Benefits Consultant
Saratoga Benefit Services
Moorestown, (856) 642-2949
SaratogaBenefits.com
Collections
C&H Collection Services
Cherry Hill, (800) 308-4357 (HELP)
CHCollects.com
Commercial Lender
Republic Bank
Locations in Berlin, Cherry Hill, Glassboro, Haddonfield, Marlton and Voorhees, (888) 875-2265
MyRepublicBank.com
Computer Services/Data Security Consultant
TBS Automation Systems
Maple Shade, (856) 424-3247
TBSAutomation.com
Credit Union
Credit Union of New Jersey
Locations in Willingboro, Trenton, and Ewing Township, (609) 538-4061
CUNJ.org
Daycare
The Learning Experience
Cherry Hill, (856) 662-6002
CherryHill.TLEChildcare.com
Education: Higher Education
Rowan University
Glassboro, (856) 256-4000
Rowan.edu
Education: Online
Rowan College at Burlington County
Mount Laurel, (856) 222-9311
RCBC.edu
Energy Consultants
Regional Resources Energy Group, LLC
Voorhees, (856) 528-2399,
RegionalResources.com
Engineering Firm
TriState Engineering & Surveying
Blackwood, (856) 677-8742
TriStateCivil.com
Executive Coaching
Diane Allen, Strategic Leadership Academy LLC
Mount Laurel, (609) 206-0990
StrategicLeadershipAcademy.com
Financial Services
Masso-Torrence Wealth Management Inc.
Marlton, (800) 989-8699
MassoTorrence.com
Full Service Marketing Agency
Burlington Press
Burlington, (609) 387-0030
BurlingtonPress.com
Golf Course for Business
Woodcrest Country Club
Cherry Hill, (856) 428-1243
WoodcrestCountryClub.com
Graphic Design
Katgraphic, LLC
Marlton, (856) 983-2732,
Katgraphic.com
Human Resources Consultant
AH (Association Headquarters)
Mount Laurel, (856) 439-0500
AHRedChair.com
Insurance Firm/Broker
ABCO Insurance Agency Inc.
Cherry Hill, (856) 488-5333
ABCOInsuranceAgency.com
Insurance: Commercial
Hardenbergh Insurance Group
Marlton, (856) 489-9100
HardenberghIns.com
Insurance: Supplemental Health
Kaminer Financial Group, Ltd.
Cherry Hill, (856) 216-0200
KFGLtd.com
IT Support
DLC Technology
Marlton, (856) 983-2001
DLCTechnology.com
Janitorial Services
Phillips Janitorial Services Inc.
Mullica Hill, (856) 417-3006
PhillipsJanitorialSvs.com
Law Firm: Corporate
Florio Perrucci Steinhardt & Fader, LLC
Cherry Hill, (856) 853-5530
FPSFLawFirm.com
Law Firm: Employment/Labor
Bochetto & Lentz, PC
Cherry Hill, (856) 722-9595
BochettoAndLentz.com
Law Firm: Transportation
Capehart Scatchard
Mount Laurel, (856) 234-6800
Capehart.com
Meetings: Hotel
Courtyard by Marriott Glassboro Rowan University
Glassboro, (856) 881-0048
Marriott.com/PHLGB
Office Supplies
Office Depot
Multiple locations in South Jersey, (800) 463-3768
OfficeDepot.com
Printer
Bellia Print and Design
Glassboro, (856) 582-4004; Woodbury, (856) 845-2234
BelliaPrinting.com
Real Estate Developer: Commercial
Delco Development
Willingboro, (856) 234-5151
DelcoDevelopment.com
Telecommunications
Telecorp Inc.
Woodbury, (856) 384-6000
TelecorpInc.com
Training Provider
Merle Margolese Presents
Runnemede, (856) 939-4450
MMPresents.com
Transport: Truck Leasing
ASL Transportation Group
Williamstown, (800) 220-3103
ASLTrans.com
Web Design
B Two Design
Mount Laurel, (856) 273-5774
BTwoDesign.net
Published (and copyrighted) in South Jersey Biz, Volume 5, Issue 8 (August, 2015).
For more info on South Jersey Biz, click here.
To subscribe to South Jersey Biz, click here.
To advertise in South Jersey Biz, click here.