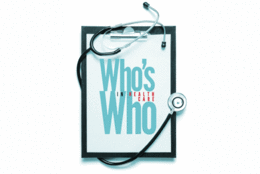 Who's Who In Health Care
Professionals in a variety of fields have found success in South Jersey in recent years. Its accessibility to major metropolitan areas, numerous resources and support from its communities make it a great place for people looking to do big things. Nowhere is this more apparent than in the health care field, where people looking to improve the health and wellness of others have taken advantage of all South Jersey has to offer and done some pretty amazing things.
We had the opportunity to speak to a few of these movers and shakers for our Who's Who in Health Care list, and we hope you are as impressed as we are by all they've accomplished in their careers so far. From a rehabilitation doctor who started his own practice that is now over 800-clinicians strong to the president of a company looking to improve the lines of communication between hospitals and physicians, the 25 men and women we spoke to have all helped us to realize it's a great time for health care in South Jersey, and we can't wait to see what's to come.
Cori McMahon, Psy D
Director of Behavioral Medicine, MD Anderson Cancer Center at Cooper
McMahon has worked in a variety of settings in the mental health field, including a college counseling center, community mental health organizations in both child/adolescent and adult services, and in a psychiatric crisis response center. She has been at Cooper University Hospital for almost eight years, primarily focused on the MD Anderson Cancer Center at Cooper and, more recently, in the department of Infectious Diseases' Early Intervention Program. McMahon's team and the MD Anderson Cancer Center at Cooper recently partnered with Polaris Health Directions in Wayne, Pa., to conduct a research study utilizing the Apple Watch with breast cancer patients to determine how this technology can be leveraged to improve patient care.
On South Jersey as a health care hub: "[South Jersey] offers excellent care in a very accessible manner. We are fortunate to be located closely to two major cities, have an incredibly dense and diverse population, and are able to draw very competitive physicians, nurses and other medical staff members who want to be able to deliver world-class care in a supportive, approachable environment. "
Richard T. Jermyn, DO
Associate Professor and Chair of the Department of Rehabilitation Medicine and Director of the Neuromusculoskeletal Institute at RowanSOM; Director of Comprehensive Pain Center at Garden State Infectious Diseases
Board-certified by the American Board of Physical Medicine and Rehabilitation, Jermyn specializes in pain management, with research interests focusing on HIV pain, fibromyalgia, cancer pain, peripheral neuropathy and headaches. He has taken the lead on investigating numerous clinical trials and has authored several scholarly journal articles and textbook chapters. Jermyn was awarded the Partners Against Pain Award for Excellence in the field of pain management from the American Osteopathic Foundation, and has been inducted into the Kennedy Health System Gold Humanism Honor Society. Jermyn, the child of a single parent, was raised in North Philadelphia, an experience he says has influenced him as a person, educator and physician. His mother, who died young, gifted him with a medal that he carries with him always. "[It says:] 'Never forget where you came from,'" he says. "The medal keeps me grounded."
Hope for the future: "I long for the day that I do not have to worry about the patients' insurance coverage. I long for the day that insurance companies stop dictating what the patient needs instead of letting the physician make those decisions. My wish for the future is that all patients will be treated equally regardless of their insurance, race, culture, sex, age, sexual identity or sexual orientation. Disparities in health care are huge and that needs to change."
Peggy Cossette-Bauer, RN, BS, WCC
Community Outreach Coordinator, Lourdes Health System
Since Cossette-Bauer joined Lourdes in 1989, she has worn many hats, including nurse supervisor, administrative coordinator, clinical director and director of medical/surgical patient floors. She has been responsible for patient care, orienting new nurses, staff scheduling, coordinating arrangements for patient transfers and transports. She also has served as a patient advocate, and is a presence in her community, stressing the importance of preventative care and practicing a healthy lifestyle. A cancer survivor, she joined the Relay for Life organizing committee in 2002 and has been active in the annual fundraiser ever since.
Greatest lesson learned: "To treat every patient like a family member. That way, you give them the best care you can. Being a clinician means it's about the patient, not the paper."
James M. Bonner, DO, FACOEP, FACEP
Medical Staff President, Inspira Medical Center Woodbury
Earlier this year, Bonner was elected president of the 550-member medical staff for Inspira Medical Center Woodbury. Board-certified in emergency medicine, Bonner has served as the medical director of Inspira Woodbury's department of emergency medicine since 1998. He received his medical degree from Philadelphia College of Osteopathic Medicine and joined Inspira Woodbury in 1988. He is a fellow of the American Osteopathic Board of Emergency Physicians and the American College of Emergency Physicians. In 2012 he received the Distinguished Citizen award from the Southern New Jersey Council of the Boy Scouts of America and in 2008 he was honored by the Delaware Valley Stroke Council as Physician of the Year in recognition for his work in developing the hospital's stroke program.
On South Jersey as a health care hub: "It's exciting to be part of Inspira, to provide health care that was previously only available in the city, right here in our hometowns. We don't have to leave our communities to receive our health care."
Sherlyn Accorsi
Manager, Business Development & Quality Assurance for the Division of Vascular and Endovascular Surgery, Cooper University Health Care
Accorsi joined Cooper almost four years ago with 22 years of marketing experience. In her position with Cooper, she handles the marketing and advertising components of the vascular surgery program, managing their social media accounts and hosting screening events and educational programs in the community. Accorsi also works with the vascular surgeons to publish an annual magazine, Vascular Vitality, for the sole purpose of educating and creating awareness of vascular disease. She says she hopes to continue to help contribute to Cooper's growth as it expands into the South Jersey market, and to "continue to leverage my creative career so that I can educate people and create more awareness about vascular disease."
Item she can't leave home without: "My phone. It is my lifeline."
Michael S. Kotzen
Executive Vice President for Population Health Management, Virtua
Prior to his current role, Kotzen served as vice president and chief operating officer of Virtua Voorhees, where he oversaw the construction of the current Virtua Voorhees Hospital, which opened in 2011. He supported Virtua's mission for a world-class patient experience through the operation of the hospital inpatient, outpatient, emergency services, and community outreach, and directed plans that expanded women's and children's health, oncology and surgical services.
Kotzen's career began at Virtua West Jersey Hospital Voorhees in 1992 as assistant to the executive director, where he implemented an information system. He has held many diverse roles in the organization, from financial analyst to director of contract services. As assistant vice president he achieved the integration of all radiology services. In 2001, he was appointed vice president and CEO and in 2002 received the American College of Healthcare Executives Early Career Healthcare Executives Award for his leadership and commitment to health care and South Jersey.
In his current role, Kotzen is responsible for the entire continuum of care process at Virtua, including hospitals, ambulatory, long-term and sub-acute care.
Greatest lesson learned: "With every passing year, the health care industry has become increasingly customer service oriented. Whereas historically health care was designed around the providers of care, it now places a greater emphasis on the patient's well-being, including the role of family members and the continuum of care."
Lynn McGrath, MD
Vice President of Medical Affairs, Deborah Heart and Lung Center
A cardiac surgeon at Deborah Heart and Lung Center since 1985, McGrath has served as chair of the department of cardiac surgery, director of the Deborah Research Institute, chair of the Deborah Medical Staff, vice president for medical affairs, and director of the Children of the World Pediatric Cardiac Surgical Program. While McGrath has a number of accolades to his name—performing more than 12,000 cardiac surgical procedures, authoring over 200 research papers, book chapters and abstracts and garnering more than 20 top doctor awards—for him, his life's calling is simply a matter of the heart.
Greatest lesson learned: "The keys to clinical success in cardiac surgery are to be organized, foster self-discipline and develop a superb team. Here's another: The meaning of life can be summed up in one easy phrase—devotion to your family."
Tammy Feuer
CEO, HealthSouth
Feuer, a 25-year veteran of Lourdes Health System, took the helm of HealthSouth Rehabilitation Hospital of Vineland in 2008—and she's been busy ever since. During her time at HealthSouth, she has grown the hospital's size from 34 to 40 beds, twice received the President's Circle Award—given only to the top 10 percent of performing hospitals in HealthSouth—and even developed affiliations with colleges and universities, securing 30 interns annually. A speech therapist by training, Feuer is a member of the New Jersey Hospital Association Rehabilitation Advisory Committee, serves on the National Advisory Council for the Uniform Data System for Medical Rehabilitation, and is a former surveyor for the Commission on Accreditation of Rehabilitation Facilities and a survey coordinator for The Joint Commission.
Hope for the future: "For continued initiatives to promote wellness and prevention, along with an increase in access to services locally in Southern New Jersey to build a healthier community. "
Madeline Bell
President and CEO, Children's Hospital of Philadelphia
Running a top-ranked children's hospital in the United States isn't easy. But Bell excels in the role. A native of the Philadelphia area, she began her career as a nurse in pediatrics and since joining CHOP in 1995, has taken on many different challenges, including developing an ambulatory network, which includes home care, physician practice acquisition and community hospital partnerships, the expansion of a 4-million-square-foot main campus, the implementation of electronic health records and the development of various clinical and family-centered care programs. From 2007 to 2015, she was COO of CHOP, managing more than 12,000 employees for the $2-billion-a-year health system. She also serves on many boards, including the University City District, the Schuylkill River Development Corporation, the Delaware Valley Healthcare Council, The Health Alliance and the Children's Hospital Association, among others.
Item she can't leave home without: "Unfortunately, it would be my iPhone. I literally cannot function without it."
Stephen K. Klasko, MD, MBA
President and CEO, Thomas Jefferson University and Jefferson Health System
Known for his unique background in academic and administrative medicine, health care business management and an entrepreneurial spirit, Klasko brought his talents to Jefferson in 2013 when he came home to Pennsylvania following a stint at the University of South Florida. Klasko is passionate about health care and information technology and has helped to unify Jefferson's academic and clinical missions through a merger with Abington Health last year. Jefferson now includes six colleges, five hospitals, the Sidney Kimmel Cancer Center and 13 outpatient and urgent care centers, with a strong presence in South Jersey. Klasko is looking to continue shaping Jefferson's future based on innovative methods, personalized care and strategic partnerships.
Item he can't leave home without: "My sneakers and my Spotify playlist. Music pushes my creativity and decreases stress. Running allows me to let my mind relax and roam. Together, they represent the most relaxing part of my day."
Jo Surpin
President, Applied Medical Software Inc.
Throughout her career, Surpin has been an innovator in the areas of health care finance and reimbursement practices, and that work continues at AMS. The Collingswood-based company is a national leader in the pioneering "gainsharing" initiative, which improves health care and reduces costs through better coordination and collaboration among hospitals and physicians. Surpin is responsible for the overall direction of the firm's activities and is actively involved in all projects. She also frequently writes and lectures about planning, reimbursement and aligning hospital and physician incentives. On South Jersey as a health care hub: "There is great access to academic medical centers, research, health care institutions and industry, which all support one another and attract good people, so growth and concentration in the area is inevitable."
Annette C. Reboli, MD
Vice Dean and Professor of Medicine, Cooper Medical School of Rowan University
As the Vice Dean of Cooper Medical School of Rowan University, Reboli oversees both undergraduate and graduate medical education and the development of hospital and ambulatory affiliations for the medical school. Board certified in internal medicine and infectious diseases, she has authored or co-authored more than 150 peer-reviewed papers, book chapters and abstracts. Her main research interests lie in candidemia and forms of invasive candidiasis, for which she has garnered over $5 million in research support. She is a past recipient of the Robert Wood Johnson Medical Dean's Research Award in the faculty-clinical sciences category. Reboli also serves on the Candida Infections Guidelines Committee of the Infectious Diseases Society of America.
Hope for the future: "Health care that will be high-quality, accessible and affordable for all, and a physician work force that is diverse, compassionate and well-prepared to meet the needs of our citizens and communities."
Lisa Morina
Vice President of Marketing and External Affairs, Kennedy Health System
A lifelong South Jersey resident, Morina has always found it important to be an active member of her community. Since joining Kennedy's leadership team in 2013, she has used that mentality to build and strengthen the multi-hospital organization's relationships with a wide variety of external leaders in the area. Morina—who earned a bachelor's degree in communications from Rowan University and a master's degree in organizational leadership from Cabrini College—also plays a major role in Kennedy's strategic marketing. She was recently appointed chair of the board of directors of the Gloucester County Chamber of Commerce and is chairperson of the South Jersey Tech Park at Rowan. Item she can't leave home without: "My car keys. It's a long walk to work, especially in high heels."
Valerie Fulton, RN, MSN, APN-BC, WCC
Director of Continence and Wound Management, Bridan Healthcare
An advanced practice nurse practitioner, Fulton has more than 20 years of education and clinical services expertise and provides continence and wound management services for geriatric patients in long-term care, assisted living and independent facilities. She helps those patients to regain control of bowel and bladder function—and get their independence back—through expert assessment, evidence-based practices and care plan guidance. Fulton is often overwhelmed by the heartfelt responses she receives from the patients she has treated.
On South Jersey as a health care hub: "The population within South Jersey is filled with baby boomers who continue to rely on our health care systems for their medical needs. Many of the top research hospitals and health care systems are located in this area, which makes for an excellent combination."
Paul Marchetto, MD
Orthopedic Surgeon, The Rothman Institute
Whether treating a professional athlete or a weekend warrior, Marchetto has earned a national reputation in the field of sports medicine. An associate professor of orthopedic surgery at Thomas Jefferson University, he specializes in arthroscopic surgery of the knee and shoulder. Marchetto has used his expertise to treat members of the Philadelphia Eagles as the assistant team physician for more than 10 years. He has also served as the assistant orthopedic surgeon for the Philadelphia Flyers and the head team physician for the athletic teams at Drexel University and Rutgers-Camden. Marchetto has co-authored numerous articles and research papers in his field and lectures nationally and internationally.
Hope for the future: "I hope that research continues to be one of the mainstays of our health care system. With the many demands placed on the physician, it is becoming more difficult to dedicate the time needed to help advance our specialty. In orthopedics, with the increasing number of baby boomers suffering with arthritis, it is our hope to understand the complexities of cartilage regeneration and to have the ability to grow new cartilage and restore the affected joint instead of replacing it."
Tim Fox, PT, DPT, GCS
CEO and Founder, Fox Rehabilitation
Fox started his practice 16 years ago with the mission statement: "To believe in the strength of people." Today, his practice is 800 clinicians strong in nine states, and Fox Rehabilitation has helped thousands of people find their strength. In fact, his FOX Optimal Living program, which is helping older adults in senior living facilities get back to optimal function, has helped reduce falls up to 70 percent in facilities using the program. The program was recognized with an Assisted Living Federation of America Best of the Best award last year, and as a nationally recognized advocate of physical therapy's value in improving older adults' function, safety and quality of life, Fox himself has received several awards for his work.
Item he can't leave home without: "My laminated picture of one of my patients. Her name is Florence and she is 94 years old. We changed her life when all others gave up on her and judged her because she was 'old.' They discriminated against her. It was ageism. I will not stand for that. I want my legacy to be recognized as a man who fought for the rights of older adults. A vibrant life is indeed possible with the correct interventions when properly dosed. Ask yourself right now: Where do you want to be when you are 94 years old; failing and frail or functioning and having fun?"
Susan McGinley, MSN, CRNP
Chief Transformation Officer, Continuum Health Alliance
As CTO, McGinley works with a team of physicians, nurses and other specialists to provide a more streamlined, focused and affordable form of health care. With the help of modern technology and programs that are making it easier and faster to get results, McGinley works with hundreds of the area's providers to give a more clear and focused look at population health management.
Prior to joining Continuum, McGinley served 17 years with the University of Pennsylvania, a valuable experience that she says gave her the tools to succeed in her position now. "I am grateful for all of the training and mentoring I've had along the way," she says. "[My time] in university medicine was very meaningful in my life. I could not have gotten here without it."
Greatest lesson learned: "I've never lost faith in the individual person or patient. Change is hard, and people don't like to face their own mortality. When you accept that, you can take a step back and take baby steps along the way."
Paul N. Bryman, DO, FACOI, AGSF, CMD
Medical Director, Heartland Hospice; Primary Care Provider, Rowan University School of Osteopathic Medicine
Bryman has played various roles in South Jersey medicine, including medical director of Heartland Hospice for the last two years, where he works closely with families and patients to tackle the sensitive and emotional world of end-of-life care. Bryman also works with Rowan University's School of Osteopathic Medicine, educating the future generation on the importance of geriatric medicine and hospice palliative medicine.
His passion for hospice is undeniable, and because of that he has become not only an expert, but an advocate for his practice. "When other doctors say there's nothing more we can do, hospice and palliative medicine says there's always more we can do," says Bryman. "Providing comfort, care and support to patients and their families is a calling that those of us who work in hospice have."
Hope for the future: "That we train doctors to understand the needs of the elderly, and that we address end-of-life care in the frail and elderly appropriately, by caring for them. All too often, the medical system doesn't address properly the medical, social and spiritual needs of the elderly who are at or near the end of their life."
Kim Parkinson, MSN, RN
Site Operations Director, Nemours DuPont Pediatrics
The future of medicine in South Jersey is looking brighter than ever, and it takes real talent to help drive it forward. Talent like Parkinson, who is currently serving as site operations director for Nemours' future Deptford location. With a summer 2016 projected opening, Parkinson has focused her sights on the $45 million, 65,000-square-foot space since taking her newest position in 2014, but has almost 30 years of clinical and operational nursing experience to her name.
And with Nemours continuing to grow as a pediatric provider in South Jersey, the Sicklerville resident will move forward post-construction to work with families in the community she calls home. Greatest lesson learned: "Never assume you know or understand what wellness or optimal health means to someone else. Always listen to the patient and their family. Slow down and take the time to explore what they want from their encounter with you and what their health care goals are. We could create a treatment plan that includes the newest science but if it doesn't work within a family's belief system, it will fail. It is critical to take the time to understand exactly what a family expects and then work to meet those expectations."
Polina Karmazin, MD
Medical Director, Virtua Center for Integrative Medicine
Karmazin has over 30 years of clinical experience in family medicine, incorporating Chinese medicine, homeopathy, biopuncture and homotoxicology to care for her patients. She is board certified in integrative medicine and specializes in the management of acute and chronic pain using biopuncture. As the medical director of the Virtua Center for Integrative Medicine, Karmazin treats a wide range of conditions including common cold, asthma, IBS, urological problems and women's health issues—without the side effects of conventional medications. She hopes that complementary medicine will continue to gain recognition as a partner to conventional medicine. "Integrating multiple modalities allows clinicians to deliver the most comprehensive care possible while reducing the risk of harmful side effects," Karmazin says.
Item she can't leave home without: "There are two homeopathic remedies that I always pack in my suitcase when I travel: Arnica for bumps, bruises and sore muscles, and Oscillococcinum for the prevention and treatment of the common cold."
Lori Udell
Sewell Administrator, Advanced Subacute Rehabilitation Center
Rehabilitation is never an easy task to tackle, but for most residents it can shape their entire future. So having someone on hand with the commitment to care like Udell makes all the difference. Udell works side-by-side with rehabilitating patients to make sure their recovery and healing process runs smoothly, putting residents first and ensuring they get back to enjoying life to its fullest. It's her team spirit and dedication to the patient that makes her one of the leading administrators in the area. "It's a very small health care world and we need to work together," says Udell. "Excellence in care is our bottom line and we're dedicated to ensuring that each individual receives that care."
On South Jersey as a health care hub: "I believe there's incentive to drive and thrive between the country's top universities, and to be on the cutting edge of technology."
Mary DeSimone
Certified Home Health Aid, Cardinal Village
Health care is a business built around personal matters, and having someone with a caring, personal touch can completely change the experience for patients and their families. DeSimone has helped hundreds of senior citizens in her 18 years with Cardinal Village, making a real impact on the lives of dementia residents under her care.
DeSimone—a mother whose daughter has followed in her footsteps at Cardinal Village—goes beyond medicine to reach dementia residents, working with them to tackle life's challenges, like showering and getting ready for the day. "Mary is the best caregiver I have had the pleasure to work with," says Cardinal Village director of nursing Trish Bronsky. "She always goes above and beyond for each resident, never slacks or has a bad day."
Hope for the future: "That all people have access to good quality health care that really is affordable."
Constance M. Giampaolo
Hospital Chaplain and Spiritual Care Director, Lourdes Medical Center of Burlington County
Giampaolo's role at Lourdes Medical Center at Burlington County is one that is often overlooked, but much appreciated by many patients. As the hospital chaplain and spiritual care director, she provides direct spiritual care to patients of all religious traditions, as well as those who have no faith group, and she journeys with patients through illness, transition and end of life. She also conducts spiritually focused programs for her colleagues at Lourdes, is the faith community nurse coordinator, serves as a member and facilitator of the hospital Bioethics Committee, and is actively involved in community outreach for the medical center.
Hope for the future: "My hope is that people remember how important their health is. If you don't have your health, then what do you have? I also hope that more people try to be of service to others."
David P. Tilton
President and CEO, AtlantiCare
As president and CEO of AtlantiCare, Tilton has worked his way up through the ranks within the health care organization. He joined the company in 1987 as administrator of AtlantiCare Regional Medical Center's Mainland Campus, and in 1993, was named president of both ARMC campuses. An instrumental part of ARMC's quality advancement and the development of AtlantiCare as a regional health system, Tilton was named AtlantiCare's executive vice president and CEO in 2005, and shortly after, president and CEO in 2007. He also serves on the board of the health research & educational trust and the regional policy board of the AHA.
Item he can't leave home without: "A goodbye kiss from my wife."
Ronald B. Barg, MD, FACP, FCPP
Executive Director of Clinical Care Associates (CCA), University of Pennsylvania Health System
Barg has held his current post as executive director of Clinical Care Associates (CCA) of the University of Pennsylvania Health System since 2005, and prior to this, he served in a variety of administrative roles within Penn Medicine, including Senior Medical Director of CCA, Regional Medical Director of CCA, Interim Chief Medical Officer-Phoenixville Hospital and Chair of the Cardiovascular Service Line. Certified in both internal medicine and geriatrics, Barg is also a member of the Pennsylvania Council of the American College of Physicians and the Pennsylvania Medical Society CEO Leadership Council, chairing the Workgroup on Primary Care Physician Manpower Shortage in Pennsylvania. A graduate of University of Pennsylvania, Barg is active in medical student education at Penn's School of Medicine and oversees medical students regularly at a student-run free clinic in West Philadelphia.
Greatest lesson learned: "Patients value high quality care close to home, delivered in an integrated fashion that can be accessed at convenient times. Locations that combine primary care, specialty care and ancillary services are highly valued by patients."
Published (and copyrighted) in South Jersey Biz, Volume 5, Issue 6 (June, 2015).
For more info on South Jersey Biz, click here.
To subscribe to South Jersey Biz, click here.
To advertise in South Jersey Biz, click here.