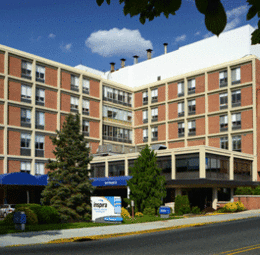 Making Things Happen
Opportunity abounds in the city of Woodbury.
Settled in 1683 and incorporated in 1854, Gloucester County's Woodbury is not a young city. In fact, it is said to be one of the oldest "small cities" in the United States. Its age, though celebrated, has presented some difficulties over the years, but with a new administration and a new economic development director, the city is seeing a light at the end of the tunnel.
"Woodbury is a long-standing historical community, and people appreciate it for being that," says Randi Woerner, Woodbury's director of economic development.
"Most of our promotions we do are around the history of Woodbury. There's a lot of family history here, and there are beautiful parks and wonderful amenities. We fit a lot into only two square miles. But we struggle like any small town. There are 24 municipalities in Gloucester County—how do you make each one a destination? "You have to find your niche," she continues. "We're right on Route 45, right off 295.
Twenty-five thousand cars go through our city every day. But it's an older city, and some of our buildings are older. Businesses have to work with the city and the county and the state to find ways to make improvements to their buildings and for people to make investments in the city."
It is the city's willingness to work with its businesses, and its efforts to bring new businesses into the city, that have been major contributing factors to Woodbury's resurgence. In fact, Woerner notes that over 30 new businesses have opened in Woodbury over the past two years, and major investments are being made throughout the town.
Investments
A major player contributing to Woodbury's transformation is developer William Burris Jr., and Burris Construction Co., who purchased the former Woodbury Country Club, which had been vacant since 2009 when its members filed for bankruptcy. Burris' plans for the land include a rehabilitation center, residential development and land intended for a park, which was donated back to the city. Groundbreaking for the project began last year.
"He made several million dollars worth of investments and will continue to do so by complementing the medical landscaping here, [which is anchored by Inspira Medical Network]," says Woerner.
Developer Kevin Kavanaugh and RPM Development Group also rehabbed a vacant historic structure in Woodbury's downtown into something positive and beneficial for the city with a $14 million investment that includes apartments and retail space. The city also recently named Sora Northeast the city's master redeveloper for the business district in the city's north end redevelopment area. Sora NE's proposed plans for the area call for two five-story buildings with over 100,000 square feet of office space and 20,000 square feet of lobby and retail space on the first floor.
Other businesses have also opted to move into other vacant buildings—Aldi and Rite Aid are two businesses that have opted to relocate within the city while there are plans to move Woodbury's police force into a rehabbed historic building as well—and new businesses are opening store fronts.
Most recently, an emergency care facility, two restaurants and a coffee shop have been put on the books. Mayor Bill Volk is heartened by these developments, and hopeful other businesses will take note. "Bringing just one business into the city is a win for everybody," he says. "If folks show interest, we open up our arms and say, 'Why don't you tell us what you need. I'm sure we have a property that will fit your needs.'"
John Campbell, executive director of the Greater Woodbury Chamber of Commerce, agrees, and believes there is plenty of opportunity for businesses looking for a place to settle down in Woodbury.
"What I see for the future of Woodbury is, I try and look at one of the largest industries in town—just like in Glassboro with Rowan, and they built around Rowan—and our largest employer is Inspira, and I look at Woodbury as a large area for health care," he says. "I believe that could be part of the growth in Woodbury. They're going to be growing, and it's important the city and Inspira work together and find out what they need, since they have 2,000 employees.
"I also see the legal community in Woodbury," he continues. "Woodbury is the county seat, so there are a lot of lawyers here, and there are a lot of things they need. Cleaners and restaurants, for example."
Outreach
Admittedly, as is the case for many cities, for every new business moving into town, there is another that is wavering, but Woodbury is making a concerted effort to help those businesses as well. In fact, urban revitalization nonprofit Main Street Woodbury, together with the city, has been working to let businesses know that they're not alone in their goals to succeed.
"A lot of the small businesses in town don't have a business plan, so we try to give them advice on that type of thing," says Mary Carter, executive director of Main Street Woodbury. "It can be tough without a good business plan to make it in any town."
Carter says they also try to let businesses know what kind of loans and funding may be available and to encourage them to take advantage of any kind of assistance they can.
It is this kind of support that Andrew Bellia, manager of Bellia Print & Design, says his family has come to appreciate about doing business in Woodbury. "A couple of the things we like about having our business located in Woodbury is the very active community base that is interested in the success of the town, a local chamber of commerce that supports the growth of all new and existing Woodbury area business and a local government that promotes the improvement of the town."
Stephen DeFeo, Esq., of Brown & Connery, LLP, a law firm that has had offices in Woodbury for over 70 years, says his firm has also been able to achieve its business goals in Woodbury. "Our goal has been to better serve longtime clients and strengthen our relationships in Woodbury and surrounding communities," he says.
"Our firm is pleased to have successfully accomplished these goals and have the opportunity to support our clients and the community through a variety of events, programs and organizations. We look forward to the city introducing and implementing development plans and initiatives for existing and new businesses so that Woodbury can reach its potential as a thriving business district."
Though Woodbury has entertained its share of ups and downs, Woerner calls the city a "diamond in the rough," and Carter believes it will have a strong future. "The atmosphere here is optimistic," she says.
Published (and copyrighted) in South Jersey Biz, Volume 5, Issue 5 (May, 2015).
For more info on South Jersey Biz, click here.
To subscribe to South Jersey Biz, click here.
To advertise in South Jersey Biz, click here.