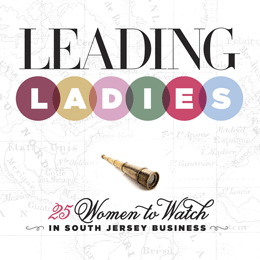 Leading Ladies
25 Women to Watch in South Jersey Business
This year's Women to Watch are quite simply that—women to keep your eye on, because they're doing big things in South Jersey. Leaders in philanthropy, finance, marketing, health care and beyond, these 25 women all have their own unique success stories, and are undoubtedly making their mark in their respective fields. And success in the business world doesn't have to mean sacrificing dedication to family and the community. These women to watch are proof of that; showing that you really can have it all.
Sheila Harris-Adams
As director of business development at Parts Life, Inc., a defense contractor, Harris-Adams draws upon more than 28 years of experience in business development, operations, management, human resources, project management, and sales and marketing to stay on top. She's filled many roles, from Director of Sales and Marketing to Regional Director of Human Resources to the CEO of a multi-million dollar corporation. But she still finds time for other roles, serving on the board of several non-profit organizations, being a member of several local chambers of commerce—even PTA president.
Who do you feel is the most inspiring woman in business today? Arianna Huffington is one of the most inspiring women in business today. While knowledge of business is important, I also draw personal inspiration from many sources, but a favorite author is Maya Angelou.
What is the biggest obstacle to being a woman in business? The glass ceiling still exists. While it's subtle and transparent, it remains a barrier that can prevent women from moving up the corporate ladder. Women cannot let that stop or deter them from their goals. Whether it's a drill, a hammer, or dynamite, we have the ability to shatter through that ceiling. Once we have a seat at the table, we must understand our value, speak our piece, and empower other women so that we can create our own (boys) club.
What can't you live without? My faith. "Faith is taking the first step even when you don't see the whole staircase." – Dr. Martin Luther King Jr.
Tricia Pilone
As President of Insurance Services of the Voorhees-based CPI Companies, Pilone has truly become a pioneer in the field, leading the planning and execution of custom insurance products for brokers and other clients around the globe. She also helped launch a new brand of CPI, PolicyAudits.com, and will help with a complete overhaul of the CPI brand, which will officially become PolicyAudits.com later this year. Pilone is also a champion for breast cancer awareness, as two of her three tight-knit sisters have battled the disease; and she and her family have participated in a University of Pennsylvania study to help find a genetic link in breast cancer.
Who do you feel is the most inspiring woman in business today? As a fellow businesswoman, I am so inspired by Shark Tank's Barbara Corcoran. She started out selling New York apartments with a thousand-dollar investment and created a real estate empire. I relate to the hard work, obstacles and difficulty she faced creating something from nothing—from scratch—in an industry dominated by men.
What is the biggest obstacle to being a woman in business? It is still very difficult for women to be recognized as equals, especially in the financial services industry. However, I am encouraged and amazed by the strength of the women I know and meet in my industry. If each woman recognized her own true value and potential, together we could close the gap sooner than later. We have made some great strides in cracking the glass ceiling, but it has yet to be shattered.
What was your biggest splurge when you felt you had "made it?" I tend to splurge on vacations. Happiness is working hard and playing hard. Everyone needs to recharge to endure the daily stresses of life.
Elaine M. Damm
As CEO of ACCU Staffing Services in Cherry Hill, Damm sits at the helm of a second generation, family-owned and operated company. In her role, Damm oversees daily management of ACCU's Sales and Operations, personally hires and trains all new personnel, and even finds time to chair events in Camden for Our Lady of Lourdes Hospital, March of Dimes, and the American Heart Association.
What is the biggest obstacle to being a woman in business? From an early age my parents taught me that most obstacles are really opportunities. You must "seize those opportunities." For me, that type of attitude has given me the perspective to view opportunities and obstacles as gender neutral.
What was your big¬gest splurge when you felt you had "made it?" Purchasing a home in Moorestown was a big moment for me. I had been raised in Moorestown and wanted the same opportunities for my son as I had growing up, so when that opportunity became available, I felt great satisfaction!
Catherine B. Allen
A certified financial planner with M Financial Planning Services, Allen's specialty is working with women in transition—divorcées, widows, and those reentering the workforce. Allen draws upon her 30 years of experience in the finance industry to fulfill her passion to change the finance conversation for women. Last year, Allen was awarded The Women's Choice Award for Financial Advisors; she is the President of South Jersey Women in Business, and a member of NAWBO, the Society of Finance Service Professionals and the Financial Planning Association.
What is the biggest obstacle to being a woman in business? In my business, only one in 10 financial advisors are women. In the early years of my career it was a challenge to be taken seriously and respected.
What was your big¬gest splurge when you felt you had "made it?" When I truly feel like I've made it, I will go into Nordstrom, buy something without looking at the price tag, and then drive home in my red Jaguar Coupe.
Tracie Young
Currently Chief Risk Officer and Senior Vice President of Republic Bank, Young knows what it takes to work your way to the top. In fact, this senior-level executive began her career as a bank teller. Young, who has held her position at Republic Bank since 2010, also played the roles of Chief Compliance Officer, Internal Audit Director and Senior Vice President of Harleysville National Corp., and was a 16-year employee of Harleysville National Bank and Trust as Director of Internal Audit and Director of Risk Management.
Who do you feel is the most inspiring woman in business today? When I began my career at Republic Bank five years ago, our CEO Harry Madonna gave me a book by Facebook COO Sheryl Sandberg called Lean In, about being a willing and active participant in the leadership of your job. My leadership style differs from Sandberg's, but she taught me the importance of knowing when to "lean in" and when to empower your employees to make the right decision.
What can't you live without? Simply put: the country. I'm a true country girl but when I say "country," I don't just mean the land—I mean everything that comes with it. This includes gardening, landscaping and even riding ATVs, but especially my family and the times that we cherish together. I've recently become a grandmother and we are proud to have five generations of family together right now.
Audrey J. Sherrick
As a CPA and partner at Friedman LLP, Sherrick uses her three decades of experience in public accounting—with specialization in auditing and accounting—to stay on top in her field. Sherrick's many auditing clients include hotels, construction contractors, condominium and homeowner associations, health organizations, 401(k) plans, and various not-for-profit organizations, especially those in the arts and humanities, animal welfare organizations and human service areas.
What is the biggest obstacle to being a woman in business? The biggest obstacle to women in business today is still that of managing a family and the work/life balancing act. Thankfully, the "glass ceiling" has largely been broken, and women are respected today in most business settings in this country.
What do you think is a habit of a successful woman in business? A willingness to embrace change and continued learning.
Lori Leonard
Leonard became the Executive Director of the Burlington County Habitat for Humanity two years ago, and since then, the organization is flourishing. Case in point: The offices were moved from a location in the industrial area of Cinnaminson to a new facility on Route 38 in Maple Shade, translating into more visibility and a better location for the ReStore—and increased success for Habitat's mission, to provide homeownership opportunities for individuals and families with low and moderate incomes. Prior to her time with Habitat, Leonard was the Student Assistance Coordinator for the Sterling High School District, did community development for Livengrin Foundation and Fairmount Institute and the Director of Employee Assistance for Resorts Casino. She is also an Executive Board Member of the Lenape Turf Initiative, a Trustee for Dominic's House and the founder of Mount Laurel Boys Lacrosse.
Biggest obstacle to being a woman in business today: Our mission is building affordable homes in the community. More so than with most businesses, I need to fit into the male dominant world of construction. While my pink Timberlands and bedazzled hard hat may raise a few eyebrows, the respect comes when I can speak intelligently about building a house. Sexism still abounds—confronting it allows women to squash it in its tracks.
What was your biggest splurge when you felt you had "made it?" This is not a phony response but I love to give gifts. I am grateful for what I have and get the greatest joy in giving back. When I have extra money I try to surprise people in need with a generous act (a complete Christmas for a family of five, paying off a friend's medical debt). I would be remiss, however, if I led you to believe that I didn't indulge in manicures and highlights regularly!
Lisa A. Dutterer
As Chief Administrator Officer for Kennedy University Hospital Cherry Hill, Dutterer is truly a woman to watch. In addition to providing leadership and oversight for day-to-day operations at the Cherry Hill location, she is also in the midst of guiding the health care complex through a major $55 million transformation project that will modernize the hospital and ambulatory locations over the coming years. Did we mention she's also the mother of three young children? Among her other accolades, Dutterer is a member of the American College of Healthcare Executives and has 20 years of health care experience.
Who do you feel is the most inspiring woman in business today? Mika Brzezinski—I am a loyal MSNBC viewer and enjoy watching Morning Joe. I admire Mika's candor, her support of women in business, her ability to openly state her position/viewpoint, and her willingness to discuss challenging issues.
What was your biggest success to date? The daily opportunity and ability to impact the outcomes of the communities we serve in health care. I have a passion for quality, service-driven community health care. I firmly believe in the ease of access for all those we serve. As a health care leader with a background in rehab, I appreciate and value the importance of teamwork.
What do you think is a habit of a successful woman in business? Building high- performance teams in a culture of accountability through the development of managers and staff. Investing time in others, supporting their career aspirations, listening to their ideas, demonstrating compassion and caring. Making that "human connection" builds success, not only for the business, but most importantly for the individuals who truly make a difference every day in the lives of those we serve.
Jennifer Acey Einhorn
As general manager of the Philadelphia data center team for TierPoint, a cloud computing provider, Acey Einhorn oversees all sales, marketing and overall customer satisfaction in that marketplace. She has also held positions at Recovery Networks (now KeepItSafe), where she helped cement a recognizable presence for the company, and several other positions within the telecom industry. Acey Einhorn is a member of Omicron Delta Kappa National Leadership Fraternity and Phi Mu Women's Fraternity, is on the advisory board for LimeBox Networks—a telephony solutions provider—and finds time in her busy schedule to be active in several charitable organizations.
What was your biggest success and biggest failure to date? This is difficult for me to answer. I look at my career as a series of individual successes and failures. I view every day as a new opportunity for success and I try to learn from failure and move on.
What was your biggest splurge when you felt you had "made it?" No big splurges for me yet; although I have my eye on an eight-day hike through Tuscany. For me, success is a journey and not a destination. I will feel as though I have "made it" when I am able to focus more of my time on giving back to others—something I suspect I will accomplish as I grow closer to retirement.
Yasmeen S. Khaleel
Khaleel, an attorney and shareholder at Capehart Scatchard, is the co-chair of the firm's Health Care and Dental Practice, as well as the Business and Tax Department. Khaleel focuses her practice on representing individuals, business owners, medical, dental and other professionals in estate planning, estate and trust administration, business succession planning and transactional and tax planning. But her experience doesn't stop there: Khaleel is the president of the Estate and Financial Planning Council of Southern New Jersey, is on the board of directors for the Animal Welfare Association, a committee member of the Samaritan Hospice and Health Care Planned Giving Committee and sits on the board of directors for Asian Indian Professionals, Inc.
What was your biggest success and biggest failure to date? My biggest success was joining a team like Capehart. Having a team as skilled and diverse as the professionals of Capehart allows me to ensure the best possible service for my clients. I am honestly not haunted by failures or regrets. I have certainly questioned some choices through the course of my career but questions do not rise to the level of failure.
What was your biggest splurge when you felt you had "made it?" Let's just say it involved a Disney Cruise with my family and carats (not carrots!)
Dr. Monica J. Scott
Scott, owner and founder of Doctor Physical Therapy in Woodbury, opened her practice just two years ago, but has been working in the field of physical therapy since 1992. Scott is committed to providing the local community with highly specialized and personal care in the areas of pelvic health issues for both men and women. She also is involved with several volunteer and local community organizations, such as Dancing with the Gloucester County Stars, which benefits mothers and children who are homeless, displaced and domestic violence victims. Scott is also slated to receive her Women's Health Clinical Specialist designation, awarded to only 200-plus clinicians in the country from the America Physical Therapy Association since 2009.
What is the biggest obstacle to being a woman in business? I am a woman and a minority at that. There are a limited number of mentors who have forged the path and are willing to help you along the way.
What do you think is a habit of a successful woman in business? Plan, evaluate the plan, revise, implement and adjust to the current outcome, then start over with a revised plan.
Suzanne Zammit
Zammit sees firsthand what it takes to develop a small business, as she is currently the director of the Camden CoLab, a co-working, incubator and accelerator community. As director, Zammit works to attract, develop and retain new companies with an emphasis on the technology, education, defense and medical fields, providing the resources and mentoring a startup needs to succeed. If that weren't enough, she is also president of the New Jersey Business Incubation Network and supports The American Cancer Society and the American Heart Association.
Who do you feel is the most inspiring woman in business today? For me, Katherine Graham, CEO of the Washington Post, defined true success when she said, "To love what you do and feel that it matters. How could anything be more fun?"
What was your biggest success to date? Raising my two daughters. They have become two beautiful, successful, kind, compassionate women who know who they are and where they are going.
Jennifer G. Laver
As partner at Weber Gallagher, Laver defends self-insured employers, insurance companies, and third-party administrators in compensation and general liability matters in New Jersey. Laver, based in the Mount Laurel office, also has experience with conciliation and mediation. But she still finds time to give back outside the office, serving on the Board of Advisors for the Markeim Arts Center in Haddonfield and on the host committee for the Pink Roses Teal Magnolias Brunch that benefits the Cooper Cancer Institute.
What is the biggest obstacle to being a woman in business? Striking the balance between work and family is very difficult and technology has not made it easier because we are always accessible and on call. We want to have professional success and we want our children and family to get our complete attention, too. It's an old expression, but sometimes there really aren't enough hours in the day.
What was your biggest splurge when you felt you had "made it?" My biggest splurge and most satisfying splurge was when we bought our house.
What do you think is a habit of a successful woman in business? I think a habit of successful women in business is trying to get all the facts necessary to achieve a goal and asking questions when you do not have the answers. Whether you are in law, medicine, media, education or business you need to have all the information before you can proceed.
Brenda Ross-Dulan
Ross-Dulan is the Executive Vice President and Regional President for Wells Fargo's Southern New Jersey Region and is responsible for 150 locations, and a staggering $12 billion in deposits. While she is the highest-ranking employee at that location, her repertoire stretches far beyond her professional success. Ross-Dulan sits on the board of NJTV, the Coopers Ferry Community Development Corporation, the Princeton Regional Chamber of Commerce, and the Chamber of Commerce Southern New Jersey. She also serves as national spokesperson for Wells Fargo's African American Business Services program, and has received the Martin Luther King Jr. Economic Justice Award.
Who do you feel is the most inspiring woman in business today? I would say Oprah Winfrey. She has been one of the most inspiring women in business for a long time for me, because I appreciate her commitment to excellence in her craft, her vision and the courage with which she runs her business. I like the idea that she believes in authenticity and that we are at our best when we are our true selves.
What was your biggest success to date? Your biggest failure? My biggest success to date has been moving from California to the East Coast and being part of the largest merger in the financial services history. I came in as a region president from California and was charged with leading a team in a New Jersey market to help convert that [region] to Wells Fargo. Additionally, I was responsible for helping to integrate the brand and culture of Wells Fargo; engaging the hearts of team members with the vision and values of the company, and running the business. And [my team] really ran the business successfully to become one of the top performing regions companywide. All while balancing the joy and challenges of having two kids—one in high school and the other in college.
My biggest failure would be an instance where I lose sight of the need to always be authentic and vulnerable. For me that's really important because I do believe that I am at my best when I am open and you can really see the 'real me'… that's when I have the biggest impact on others.
When I am not that, I think I fail to live up to my true mission and purpose in life.
Janet A. Garraty
A former newspaper reporter and insurance fraud investigator, Garraty is now the CEO and founder of Go Jane Enterprises, publisher of Go Jane News, an online magazine featuring positive and informative local, South Jersey content. Garraty has also been influential in growing the Gloucester County Chamber of Commerce's Faces of Business Program, is the chair of the Atlantic County Advisory Commission on Women, and was recently named to the steering committee for the Economic Development Action Plan for Atlantic County.
What can't you live without: I would not want to live in a world without peanut butter. But if I had to pick a gadget, I would have to go with my cell phone.
Habit of a successful woman in business: Working a growth mindset. Ignore the party-pooper voice in your head. Envision, study and put forth a can-do mindset, then set actionable goals that will propel your success rather than derail your efforts.
Cindy Cipriani
This woman to watch has made it her mission to help others move past difficult times in their lives. Cipriani, founder of Clear Path by Cindy, can count many titles among her repertoire: Certified grief recovery specialist, award-winning, million- dollar salesperson, speaker, retreat leader and author of Moving Past the Death of a Loved One. But perhaps what is most important is how she overcame her own struggles in life—abuse and post traumatic stress disorder—to turn things around, develop a "clear path" to recovery, and ultimately, help so many South Jerseyans.
Who do you feel is the most inspiring woman in business today? Women who balance their passion with their families. Locally, Eileen Cardile, MS, RN, CNA, of Inspira Medical Center Woodbury inspires me, because she not only has a great passion for her work and family but also takes the time to encourage younger women to aspire to their dreams.
What was your biggest splurge when you felt you had "made it"? A motorcycle and a small diamond necklace.
Annette Festa
Festa started her career in the insurance industry in 1992, working for a medium-sized firm in central New Jersey, then a regional employee benefits agency. In 2000, Festa started Progressive Benefits Solutions and hasn't looked back since. Today, Festa serves as president of the firm, which specializes in offering corporate and individual clients a competitive platform of benefits and services, as well as personal service. Festa is also active in the National Association of Health Underwriters, has participated in the association's Capitol Conference in Washington, D.C. and was recently certified under the National Association Health Underwriters Patient Protection and Affordable Care Act.
What can't you live without? Family, running and yoga.
What do you think is a habit of a successful woman in business? Developing strategic business relationships.
Linda M. Smith
Smith brings more than 20 years of experience in branding, marketing and advertising to her role as Senior Director of Marketing & Communications for Continuum Health Alliance. Smith works tirelessly to provide a strategic direction for all external and internal promotional efforts at Continuum. Previously, Smith owned her own marketing consulting firm, and was also a Senior VP/Partner at The STAR Group.
What can't you live without? My family, The Wall Street Journal, my morning Starbucks and my iPhone.
What was your biggest splurge when you felt you had "made it?" Dinner at Le Bec Fin
What do you think is a habit of a successful woman in business? Two things come to mind, which apply to men and women: Be happy in all endeavors and mentor young people. I believe that bringing joy to each day is one of the most important aspect of how life unfolds. Mentoring young people, who have so much to contribute, empowers a bright future.
June A. Sernak
As Executive Director for the Camden, Burlington and Gloucester County Chapters of the American Red Cross, Sernak is someone you want in your corner in the case of an emergency or disaster. Sernak takes the lead in the Red Cross' supporting efforts in disaster services, blood services, SAF—Service to the Armed Forces and volunteer services. She was also recently named an Honorary Commander for the 87th Airwing at Joint Base McGuire-Dix-Lakehurst, can count 25 years of telecommunications experience among her repertoire, and has also served on the board of directors for ArtReach for 15 years.
What is the biggest obstacle to being a woman in business? The biggest obstacle to being a woman in business is apologizing for being a woman in business. Many of us grew up in a generation where our roles at home are polar opposite of the role in the board room. We should value our education, accomplishments and worth and not underestimate the power of confidence. It's also our job to embrace other women and enable them to find their "inner bling." We all have something that makes us shine.
What was your biggest success and biggest failure to date? My biggest success to date was learning to prioritize my family life and career so I never felt like I missed anything. I chose positions that gave me flexibility and allowed me to participate in school activities and volunteer while establishing a successful career. I also always tried to include my family in work activities and business trips to get them engaged with projects that were important to me. My biggest failure was chasing money early in my career. I measured success and happiness by sales goals and missed opportunities to work in areas I would have enjoyed and thrived. When I became more confident in my career choices, I was more content and ultimately promotions and success followed.
Dr. Anita Chopra
Chopra has devoted her life to improving the quality of life for older adults and training others so they can do the same. She is the Director of the NJ Institute for Successful Aging at Rowan University School of Osteopathic Medicine and the William G. Rohrer Endowed Chair of Geriatrics and Gerontology at the medical school. Chopra is a board-certified internist and geriatrician, certified medical director for long-term care and a Fellow of the American College of Physicians and the American Geriatrics Society. She's also the director of the New Jersey Geriatric Education Center and director of a fellowship in Geriatric Medicine, Dentistry, and Psychiatry, and has served on the Board of Directors of the Delaware Valley Alzheimer's Association, N.J. Medical Directors Association, N.J. Geriatric Society, Camden County Chapter of the American Red Cross and several Advisory Committees to the N.J. Department of Health and Senior Services.
What was your biggest success and biggest failure to date? My biggest success has been to work with a group of very talented individuals who bring different perspectives but share commitment to a common goal. My biggest failure perhaps has been not investing enough time in networking. I tend to spend more time doing than networking.
What do you think is a habit of a successful woman in business? Have a strong sense of purpose and a strong reason for doing what you do every day.
Devon Perry
This local woman to watch has a heart for entrepreneurship. Perry is the co-founder of Kings Hall, a co-working campus of area entrepreneurs in historic Haddonfield. But she's also had some startup success herself, as the Drexel Women in Business co-founder, co-founder of ShareURmeal.com—a hunger relief website, and co-founder of GoBYO.com, an online restaurant database with a focus on wine ratings. A mother of three young children, Perry has also lent her talents to the American Red Cross and the United Way.
What is the biggest obstacle to being a woman in business? Rather than identifying obstacles to being a woman in business, I would say that one of my greatest challenges is learning to balance exhaustion with excitement. As an entrepreneur and a parent of three young children, I seem to have boundless energy when it comes to evolving business developments. But such excitement and creative thinking tends to contribute to sleepless nights.
What was your biggest success to date? One of my biggest successes to date was connecting Google and the American Red Cross to develop "Google People Search." It was extremely rewarding to know that I was instrumental in helping connect loved ones in the aftermath of Hurricane Katrina and coordinating Red Cross OnDemand.
Rachel E. Licausi
Licausi, an attorney at Flaster/Greenberg PC, truly does it all. Not only has Licausi established herself as a rising legal star in South Jersey, working on high profile litigation matters, complex business disputes and family law matters, she's also involved in the Camden County Bar Association, is the co-founder of the Camden County Bar Association's Lobster Bake, which benefits LARC School Scholarship Fund, is a co-chairperson of the Burlington County Regional Chamber of Commerce's Women in Business Committee—and is a mother of two to boot.
What was your biggest success to date? My biggest success was winning a federal jury trial months after returning from maternity leave.
What was your biggest splurge when you felt you had "made it?" I became a member at a local spa and started regular yoga classes. I've learned that these practices really help with stress both at work and at home.
Kelly A. Raso
Raso is well-representing women in the field of accounting, as she currently is one of three women partners at Alloy Silverstein. Over her career, Raso has provided top-notch tax and advisory services to clients across South Jersey—including real estate developers, services industries and professional practices. But that's not all. In 2013, Raso became President of the Greater Hammonton Chamber of Commerce.
What was your biggest success and biggest failure to date? Success—Becoming an associate partner with the firm. Failure—Too many to list. Success always starts with failure. It is the basis for growth and character building.
What do you think is a habit of a successful woman in business? Organization and planning. Start early in the morning with exercise to feel energized and alert. Plan your day with a to-do list. Manage your email. Manage interruptions. Plan ahead to stay organized.
Kristine Robinson
As director of marketing for HFM Investment Advisors, Robinson uses her marketing expertise to help make working with her firm a pleasant experience from start to finish. Among her many duties, Robinson works to maintain the brand's integrity, continually improve the client experience, offer monthly investor education for both clients and community, and create appreciation events for clients. Previously, she worked for two top-five advertising agencies in New York City and Philadelphia, and even finds time for charitable and non-profit work.
Who do you feel is the most inspiring woman in business today? Working moms who manage to climb the corporate ladder and still get dinner on the table.
What is the biggest obstacle to being a woman in business? If you've positioned yourself in a great company that empowers all employees there are no obstacles.
Christina Del Duca
Del Duca, VP of Wolf Commercial Real Estate, brings 15 years of tenant, landlord and property management experience to the table, with a specialization in office, investment, medical and retail and industrial properties in both the South Jersey and Philadelphia areas.
What is the big¬gest obstacle to being a woman in business? Standing out in a male-dominated industry. When I was younger, I felt it was difficult to be taken seriously sometimes.
What was your biggest failure to date? I don't think of a specific event as my biggest failure, but I have always tried to use bad experiences as opportunities for learning and growth. If I didn't learn from the bad times, that would truly be failing.
What do you think is a habit of a successful woman in business? Being in the moment, both at work and at home. It's a difficult balance, but I try to fully commit to the situation I am in, whether that's with my colleagues and clients or with my family. It's important to keep your focus.
Published (and copyrighted) in South Jersey Biz, Volume 5, Issue 2 (February, 2015).
For more info on South Jersey Biz, click here.
To subscribe to South Jersey Biz, click here.
To advertise in South Jersey Biz, click here.