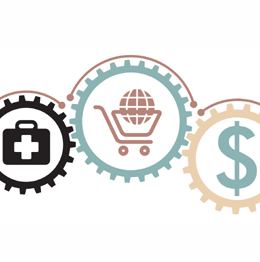 Building a Brighter Future
New projects, plans giving South Jersey's commercial real estate market a big boost.
The commercial real estate industry is reportedly on more solid footing and may even be poised for growth this year, experts say. Last year there was a pretty equal mix of buyers and sellers in the marketplace and a lot of healthy activity. As we delve further into 2015, that activity seems likely to continue, with lending potentially picking up pace as well. We spoke to a number of sources in commercial real estate, development, and construction to get a sense of what lies ahead and what we can learn from the year past.
A Glance Backwards
Looking back, 2014 was a good year for the commercial real estate market as it continued to gain traction and distance itself from the recession. On average, the office vacancy rate declined, national industrial availability declined, and the retail availability rate dropped. The latter took one of the hardest hits following the recession but has seen an increased pace of growth.
"In general, the steady recovery from the economic downturn gained momentum in 2014," says Fred Meyer, SIOR, director of corporate services for the commercial real estate agency NAI Mertz, headquartered in Mount Laurel. "We saw increases in both sales volume and leasing activity. The larger warehouse deals took place in the Burlington/Florence market due to real estate tax abatements and other incentives."
Incentives were definitely on the radar in 2014. Bruce Farrell, senior VP of development and construction for Sora Northeast, LLC, a real estate development firm in Sewell, agrees the increase in real estate activity last year was very likely due to some of the incentive programs that were put in place. "It seemed that there were a lot of good projects and a lot of investors and lenders wanted to get involved," he adds. "But there was still a good bit of hesitation."
Fred Berlinsky, Esq., president of the commercial real estate firm Markeim Chalmers, Inc., in Cherry Hill says that in general, 2014 was an active year in commercial real estate, with an increase in investment sales. "The key to these transactions was high occupancy rate and good tenant mix," Berlinsky says. "However, the savior of the past seven years has and continues to be medical deals. Sales and leasing in the medical and medical-related industries control the flow of deals in South Jersey."
There's no doubt that the medical space continued to be a huge trend in 2014 and will certainly continue into 2015. South Jersey has become a prime locale for medical institutions to either make their home or to expand their existing location.
"Hospitals are aggressively looking to grow," says Farrell. "Urgent Care facilities seem to be popping up everywhere. Health care and universities seem to be working together more and more, creating demand for facilities. And full-service senior living facilities seem to be strong as well. The overall health care industry seems to be changing how they do business, which is a good thing for economic development."
Looking Ahead
As 2015 moves forward, there is a lot of optimism about an even stronger year in the commercial real estate market. Marc R. Isdaner, senior vice president and principal of brokerage and industrial for Colliers International, a commercial real estate firm in Mouth Laurel, says that 2015 is already shaping up to be a very active year.
"We are going to see additional companies moving from neighboring states," he says. "Destination Maternity will be moving its warehouse operations from Philadelphia to Burlington and Five Below will be shifting its distribution center from Delaware to Salem County."
Isdaner also reports other new development projects underway, including Burlington Coat Factory and WW Grainger, which have buildings under construction. "On the speculative side, Dermody Properties has 171,600 square feet under construction at LogistiCenter in Gloucester County and Clarion Partners is preparing pads for two speculative buildings in Burlington," Isdaner adds. "Interest in these projects has been very high and developers are securing approvals for additional sites in Burlington and Gloucester counties."
Of course, how the year truly progresses may have a lot to do with whether banks start lending more, says Berlinsky. Lending uncertainty lingered in 2014. But he says there are "deals to be made" and financing will be imperative in order for them to be successful.
Farrell says he anticipates that the hesitation on the part of lenders will subside as 2015 moves along. That could have a tremendous impact on the market. "With easier funding, projects that were shelved will be restarted as people try to get low interest rates before they begin to fade," Farrell surmises. "As more and more pent-up projects come online, funding will come easier and this snowball effect will further help to strengthen the economy."
Looking ahead, the areas that have already fared well—namely the medical space—will likely see continued growth as this year goes on. Trish Harrington, director of business development for LF Driscoll Company, LLC, construction services provider, believes there is no doubt 2015 will see continued growth in distribution centers and health care outpatient facilities. "Higher Ed projects will also continue to move and many will even start their construction in 2015 including the Rowan School of Business and Engineering and the Rutgers-Camden Nursing School," Harrington adds.
Hot, Hot, Hot
Of all the areas in South Jersey, the experts agree that Camden is truly a hotbed right now. The tax incentives available through the NJ Economic Incentives Act (also known as Grow NJ) are driving continued development in the region.
"Due to the Economic Incentives Act, the number of major firms planting a flag in Camden is truly amazing," says Harrington. "Subaru, Holtec, Cooper Hospital, Lockheed Martin, and the [Philadelphia] 76ers are just a few who will have construction projects moving forward in 2015 in the city of Camden."
Meyer agrees. "No place is hotter than Camden right now," he says. "Camden has become the epicenter of activity related to the GROW NJ program. In the third and fourth quarters of 2014, major relocation announcements were coming monthly, if not weekly. And the next phase of Camden's economic revitalization will be a surge of new construction."
Among those notable construction projects also mentioned by Harrington, Meyer adds that a new ShopRite is being planned for Admiral Wilson Boulevard. This will be Camden's first major supermarket in 30 years.
But Isdaner points out that the lack of available buildings and developable ground for warehousing and manufacturing companies in Camden is also helping Pennsauken to see additional companies receiving tax incentives and purchasing buildings.
"The other most active areas in South Jersey are Northern Burlington County—specifically Burlington, Florence, and Bordentown townships, which are development hot spots," Isdaner adds. "This is also true for Logan Township in Gloucester County and Oldmans Township in Salem County."
With all of this commercial growth, Isdaner also predicts potential job growth. "When new buildings are being built, it means more construction jobs," he says. "When buildings are being purchased, it means there is renovation work for contractors, IT, and telecommunications work; new furniture systems being purchased, and usually more jobs for these expanding companies."
Of course, Isdaner says, it leaves one to ponder the question: "Does a better economy help the real estate market or does a growing real estate market help the economy?"
He says the likely answer is that it just may be a little of both. Either way, it seems to be a lot of good news coming down the pipeline for South Jersey.
Published (and copyrighted) in South Jersey Biz, Volume 5, Issue 2 (February, 2015).
For more info on South Jersey Biz, click here.
To subscribe to South Jersey Biz, click here.
To advertise in South Jersey Biz, click here.