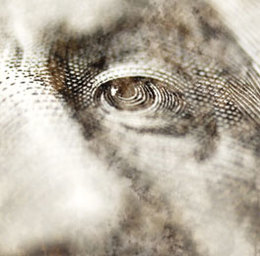 Looking Ahead
Local industry leaders give us their predictions on what 2015 has in store for the South Jersey business world.
In an attempt to gain a firmer grasp on the ever-changing business landscape, South Jersey Biz reached out to area executives from varying industries to get their take on what the next 12 months will hold. Here are their business forecasts and predictions for what lies ahead—both the good and the bad.
Banking 2015, The Year of Evolution
Bill Shipp
Vice President of Business Development, Business Banking and Healthcare Finance, Wells Fargo Bank N.A.
Six years after the economic crisis, banks are gaining traction and will no longer be sitting on the sidelines with a "wait and see" attitude. They have added competition and continued regulatory reform. I see there to be refinement in five key areas. In response to addressing these issues, many banking institutions are beginning to take more of a proactive approach in improving the customer experience and efforts toward improvement in balance sheet efficiency.
Competition/Credit
Competition for credit is fierce, and businesses seeking credit have many options. Customers will continue to look to find a financial advisor that truly looks out for their well-being. Better informed, more discerning customers will demand more value out of their banking relationships.
• The economy is gradually im­proving, and as result more small businesses are in position to obtain credit—in general, they have healthier balance sheets and cash flow.
• The number of small businesses (businesses with less than $2 million in annual revenue) applying for credit has increased, in particular for business credit cards.
• Loan approval rates for small businesses are close to more normal rate of approvals. And loan losses and delinquencies have declined significantly.
• Despite a better environment and more optimism for the future, many business owners are still waiting to invest in their businesses and holding cash. They may have healthier balance sheets and cash flow, yet they're looking for more sales growth and a specific need before making capital investments and obtaining financing to invest in their businesses.
• More economic improvement is needed to change this trend. As soon as they start seeing opportunities to grow, owners of healthier businesses in stronger industries will be more confident to pursue financing and in position to get approved for credit.
Cyber Security
The annual cost of total cyber fraud is estimated at $375 billion. It is crucial that banks continue to invest in strengthening their online and mobile banking platforms. Security of online systems and the supporting framework by businesses will be looked at more closely.
Technology and Innovation
The growing demand for innovations and technology will result in greater improvements to the entire digital experience. This ultimately creates an improved customer experience.
Compliance and Risk Management
New regulations and the added cost of maintaining compliance will continue to challenge the profitability of bank business models.
Customer Demands
Businesses are demanding greater transparency, personalized products and enhanced customer experience. Banks are beginning to place greater emphasis on improving the customer experience.
Bankers who actively listen to the challenges and needs of the customer and respond with solutions in a cost-effective and timely matter will prevail.
Small Business Forecast
L. Scott Elwell, MST, EA
Vice President, Business Accounting Systems, PC
With the holiday season in the rear– view mirror, our clients are looking for some insight into 2015. A new year brings change, a fresh outlook and possibly some uncertainty.
It's been a belief that small business drives the U.S. recovery, and nothing proves that more than a recent blog by the SBA, which pointed out that of the 10.9 million jobs added since the recession of 2008, 7.9 million were from startups and small business (businesses with sales of $10 million or less). They also pointed out that for 15 straight quarters small business has accounted for 80 percent of the job gains in any given quarter.
Those are impressive numbers but how about you? A majority of our clients haven't had the same positive numbers this past year. They have concerns over the economy, consumer confidence, the tax code and health care and its pending regulations. There is hope that a leadership shift in Senate will have a significant, positive impact on small business. The new Congress is expected to be in a stronger position to overrule some of the increased regulations that will create additional paperwork and expense to the small business sector.
Even with a positive change in Congress comes a challenge as it relates to navigating the rules and regulations that will remain. Our firm will be ramping up our strategic counsel beyond tax preparation and accounting to provide more services required by the small business person throughout these changing times. The key area in our opinion will be providing proactive business advice. That coupled with technology consulting and business mentoring are areas small business will need the most in the upcoming year.
Most indicators are of a positive nature; we are leaning that way, and the few glimmers of hope this past year will keep us fighting. If you are one of the lucky ones to have survived this recession so far remember not to forget to keep your company technology sound and, probably most important, keep your marketing plan in place: it may need to be tweaked but it still needs to be.
Mergers and Acquisitions—What can We Expect?
Robert Beach President, Procision Business Brokers & Procision Commercial Realty
For many entrepreneurs, the past year was one of improving promise and for some, it represented a welcomed return to growth and stability. In the mergers and acquisitions industry (M&A), 2014 boasted a strong year for business transactions. As reported by BizBuySell, a leading industry website, during the third and fourth quarters of 2014, business sales volume was up some 18 percent and 12 percent respectively over the year before. Quarter three in 2014 was the highest performing third quarter since the organization began tracking sales in 2007.
As we begin 2015, many of the same favorable factors exist, and conditions are lining up for a very active business transaction environment. There are converging forces and market dynamics that will fuel a continuance of last year's positive M&A environment, including:
• Growing confidence in overall business environment
• Improved financial performance & cash flow
• Enhanced business valuations
• Favorable interest rate environment
• Strong buyer interest & significant cash to invest
Additionally, demographic shifts and wealth turnover may play a considerable role in the coming year. During the recent economic downturn, many baby boomers had delayed selling, and ultimately retirement, due to the reduced profitability of their business and the poor business valuations that resulted. However, conditions have improved dramatically and it is anticipated that senior business owners will contribute as a major driver in this year's resurgent M&A marketplace.
As evident in the International Business Brokers Association 2014 mid-year report, baby boomers made up 64 percent of all sell-side clients in the M&A industry. With the favorable conditions outlined above and with some 70 million boomers expected to retire in the near future, this year looks to be quite favorable for buyers and sellers alike. For those that have put off selling, conditions in 2015 may be ideal for pulling the trigger and maximizing their exit opportunity.
Investing in the Future
Ron Caputo
Vice President/Senior Fiduciary Advisor, Wilmington Trust N.A.
Our 2015 public finance investment outlook for South Jersey is cautiously optimistic. Burlington, Camden and Gloucester county businesses and industries should benefit from a gradually accelerating economy. The U.S. is in the middle of an elongated financial cycle with a below-average risk of recession, although global economic weakness creates unusually high uncertainty. Employment gains, declining unemployment and low interest rates, inflation and energy prices should support moderate economic growth, leading to improving credit quality at the local level.
New Jersey's high cost of living and doing business may drive away some businesses, but South Jersey will continue to benefit from high income levels and a diverse economy. Philadelphia will remain a stable anchor for South Jersey suburban counties. Growth in the city's education and healthcare sectors will continue to counteract long-term industrial decline. Mayor Nutter has been a good financial steward, but the city's political direction is uncertain after his term ends in 2015.
As the economy improves, South Jersey's flat housing market should gain some momentum. Although employment is below pre-Great Recession levels in nearly all South Jersey counties, recent job growth in Cape May and Salem counties has been good. South Jersey's gaming sector will continue to contract but its transportation and warehousing sector will strengthen. Atlantic City will be hard-pressed to recover from four casino closures driven by competition from online gambling and new casinos in neighboring states, especially Pennsylvania. Otherwise, the Jersey Shore should have a good summer as personal income recovers and gas prices come down.
A major threat is the state's poor financial condition, especially its high unfunded pension liabilities. New Jersey's ratings are now near the bottom of all states. Although sales and income tax revenues are improving, one-time measures to balance the state's budget will continue to hurt its credit. New Jersey adopted pension reforms in 2011 but probably did not go far enough. Further reforms are needed. Fortunately, the state's fiscal problems have not hurt the credit of South Jersey's stronger counties, towns and school districts so far, and we expect general improvement in 2015.
Published (and copyrighted) in South Jersey Biz, Volume 5, Issue 1 (January, 2015).
For more info on South Jersey Biz, click here.
To subscribe to South Jersey Biz, click here.
To advertise in South Jersey Biz, click here.