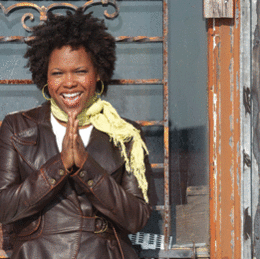 Close of Biz: It's Only Natural
A Rowan University professor is making waves in the hair care industry with a line of products that are receiving attention from women around the world.
Generally the first products that come to mind when discussing hair care for black women are chemical relaxers. But the game has changed recently, as sales of relaxers have fallen, and more women are finally beginning to embrace the natural look of their hair.
This opened the door for Candace Kelley, a five-time Emmy nominated broadcast journalist and college professor, to establish her own line of all-natural hair care products that she calls Curl Prep. From Kelley's kitchen in August 2009, she began testing with ingredients to craft personalized hair products for her own use after discovering that the market just didn't have what she was looking for.
"A lot of hair care products have Shea butter as the base of them. So I would come home and I would play with it; I would melt it, I would whip it, and I would mix it," explains Kelley. "I cook, and if you know what butter does when it melts and it firms back up, there are a lot of things with food that you could use with making products."
Her experiments in the kitchen, combined with plenty of outside research, helped her create several all-natural concoctions to use in her own day-to-day. But when others began asking how she maintained those buoyant curls, marketing the line of hair products became a no brainer.
"It fell into my lap because there was a time where a lot of black women were not wearing their hair without relaxers," says Kelley, a graduate of Howard University and Seton Hall Law School. "So when it became more popular, I was already doing it. There would be a lot of times where I'd be on TV with hair that was curlier and kinkier looking, so people started to ask me where I get my products."
"I told them…I make a lot of my products and I have been for years, and they started asking me, 'Why don't you sell them?' And there really was no good reason, so I decided to say, 'Well, why don't I sell them? Let me look into it.' And that's how it all came about."
Using natural, good-for-you elements like coconut oil, jojoba and almond oil, the Curl Prep line grew to include a pre-wash curl definer, paraben-free shampoo, conditioners and the signature "Sweet Buttah," meant to create bouncy twists of hair. An accompanying publication called Coif Cuisine, sold in 11 locations in New Jersey, teaches women how to care for their hair using ingredients from the pantry (like a healthy avocado and yogurt mask).
The company is now growing at a respectable rate, stocked in four Whole Foods locations in New Jersey with more to come, and a series of traveling speaking and networking events draw crowds from New Jersey on up to Connecticut. Kelley says she now receives product inquiries from all around the world, including locations as far as Nigeria. "It's really expansive," says Kelley. "It's not just America; all over the place women are coming out of relaxers."
Kelley's entrepreneurial spirit reaches beyond just her line of hair products; she's authored three books on hair care, appeared as a co-writer and executive producer of the play "Supernatural," and is editor-in-chief of Journey Magazine, which focuses on natural hair care as well as holistic living. In addition to the business, Kelley is the host of a "League of the Extraordinary," a weekly talkshow on 89.7 WGLS-FM and teaches several journalism courses at Rowan University.
The growth of her business is as much about Kelley's ability to create as it is about a changing market. Less than 20 years ago, it may have been difficult to get Curl Prep off the ground, she says, because most black women preferred to hide their natural look and it wasn't common in the workplace to see women with curly or kinky hair until recently.
"I remember in 1995, I was working at Court TV and I was actually doing on-camera work there. Someone said my hair was 'inappropriate for the workplace.' I will never forget that. For me, because I've been wearing my hair natural for so long, I didn't understand.
"You have a whole lot of women who for years were relaxing their hair to look more mainstream in the workplace when these job opportunities came about who are now looking at the effects of chemicals on their hair after all these years and it's not good. We're talking broken edges, weak hair, hair that is just dead," she explains. "They're just smarter about picking their products."
Kelley also sees pop culture as an influence on the recent decline of relaxers.
"You have a lot people who embrace all different types of non-mainstream looks, and that makes it a lot more comfortable for women.
"What I've learned is that the natural hair line is a jumping point for me to do a lot of things that I've always wanted to do creatively," she says. "It has been fun, I must say."
Published (and copyrighted) in South Jersey Biz, Volume 2, Issue 11 (November, 2012).
For more info on South Jersey Biz, click here.
To subscribe to South Jersey Biz, click here.
To advertise in South Jersey Biz, click here.