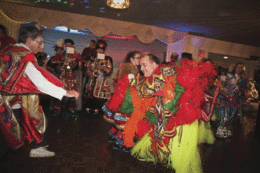 South Jersey's Best Places to Work
The 40 or more hours a week that you spend at the office may be more "awake time" than you spend almost anywhere else. Doesn't that make it important that it's a great place to be? We certainly think so, which is why we set out to find the best places to work in South Jersey. Between beneficial perks like the ability to work from home and educational opportunities, to fun quirks like an office arcade and trivia contests, our readers helped us find some pretty amazing offices.
Here are the companies that made the cut for the 10 South Jersey Biz Best Places to Work.
Advanced Benefit Advisors, Inc. (ABA)
Cherry Hill
As a boutique employee benefits consulting firm, ABA really knows the importance of offering benefits and perks to engage employees. The company helps other companies in all facets of the employee benefits process, including the development of wellness strategies. So it only makes sense they employ some of those same tactics within their own organization.
"We've developed wellness strategies that have included paid lunches, regular visits from a wellness coach that did individual counseling sessions, and a company-sponsored walk," says Jill Goldstone, chief operating officer. "Recently, we bought pedometers to give away at meetings to help our employees become more engaged in a healthy lifestyle."
Goldstone says the company provides a good blend of keeping things fun—they have a Wii they break out for lunches or special events—and hard work. ABA also emphasizes the importance of work-life balance. "We give one day a quarter for employees to get involved with a cause such as a walk or a volunteer effort," says Goldstone. "We're an engaged company and we want to show our support for our employees. That's helped build a camaraderie that makes it a great place to work."
Radwell International, Inc.
Lumberton
Brian Radwell, president and CEO of Radwell International, Inc., knows hard work pays off. That's because, as a teenager, he helped support his family when times were tough by working two jobs while also completing high school. Now, as the owner of a company that services automakers, chemical plants, municipalities, amusement parks and more by repairing industrial, electrical and electronic control devices, Radwell lives by the mantra that "failure is not an option." Sounds serious—and it is. But the company headquarters in Lumberton also knows how to have a good time. "We work hard at providing an environment that fosters professional and personal growth," says Michael Vostenak, senior director of human resources. "But we want it to be a place that's fun to work so people enjoy coming every day."
The latter is easy to do with free arcade games (known as the "R"cade) in the company's cafeteria. And every afternoon, the company encourages a break known as the "Social Five," during which music is pumped through the sound system. Also done daily is a trivia question in which the correct responder receives an easy 20 bucks. That may not sound like much, but in more than five years of doing it, Radwell has given out $25,000 in fast cash for employees.
Charitable giving is also infused within the company's values and Radwell not only gives to many local and national organizations, but also hosts a regular blood drive and encourages employees to save a life by donating a pint. There are regular company outings, holiday gatherings and an annual "Bring Your Child to Work Day" in which every child participating receives a $25 paycheck at the end of the workday.
Vostenak says these are all ways the company shows employees how much they value their hard work. It's paying off all around. Employees are happy and business is strong. "In an economy where so many companies are cutting back, we've pushed forward at a rapid pace," says Vostenak. "Sales are up 22 percent over last year. We work hard—but we play hard, too."
Virtua
Locations include hospitals in Voorhees, Marlton, Berlin and Mt. Holly
South Jersey's largest health care provider takes its commitment to wellness seriously, and that commitment is not only for patients, but also for employees. "What better way to care for our employees than to keep them healthy?" asks Richard P. Miller, Virtua's CEO. "We really encourage our people to take good care of themselves."
That encouragement is backed up by support. Virtua promotes a tobacco-free workplace and offers a smoking cessation program for employees trying to quit. That means access to the medication Chantix with no co-pay. In fact, Virtua offers no co-pay for employees on any medication for a chronic disease condition. "In this economy, people are making choices with their income and may avoid getting their medication so they can use that money in other needy places," says Miller. "But we want to make sure our employees are able to get their medications filled."
The wellness program also includes weight loss through Weight Watchers and discounted access to the organization's two fitness centers. (A third one is coming within a year or so.)
In addition, Virtua offers educational opportunities for professional growth including tuition assistance. "Education is really important to us," says Miller. "We want our people to be able to get their bachelor's or advanced degrees."
On top of a comprehensive benefits package, the organization also offers child care, hospital discounts, flexible schedules and many other perks that help keep employees healthy and happy.
Wegmans
Cherry Hill and Mount Laurel
Joseph Sofia, Wegmans senior vice president and New Jersey division manager, says the company's mantra of "Eat Well, Live Well" is constantly demonstrated. Several years ago when he and a bunch of other athletic employees were participating in a triathlon, Wegmans paid for their entry fees and had Wegmans team jerseys made. Sofia says it's obvious to employees that the company cares about their health and well-being. There are year-round Wegmans sports leagues that encourage employees to stay healthy while having fun. Employees can even get discounts for joining a local gym.
Wegmans also offers a very comprehensive benefits package that goes beyond medical and dental, and includes unique perks like adoption assistance for families and a scholarship program that encourages employees to further their education. But Sofia says that in his 21 years with the company, it's been the fact that the company has remained family-owned that has made the culture so great. "It's a special place," he says. "The Wegman family comes to the stores several times a year and treats us like part of their family. And they encourage us to treat each other that way. That's created a very unique culture that is driven around values. It's a place where employees enjoy coming to work."
Conigent
Haddonfield
This technology consulting firm focuses on enabling business transformation by moving companies to cloud-based systems. It's cutting-edge business, and Lucille Wurtz, customer relationship management director, says that's one of many reasons it's such an exciting place to work. But it's also the company's commitment to giving back that she says stands out. Conigent's unique 1:1:1 philanthropy model means giving 1 percent time (employees get four paid days off per year to volunteer their time); 1 percent service (Conigent offers free consulting services to nonprofits); and 1 percent profits (the company donates one percent of profits to support community outreach initiatives, education, technology and employee-inspired volunteer projects) to those in need.
"A lot of companies talk about this kind of thing but don't necessarily follow through," says Wurtz, who has volunteered with the Alice Paul Institute as well as Habitat for Humanity. "Conigent's philanthropic efforts have been a key differentiator for myself and many of the employees. Our next venture is the Cathedral Kitchen in Camden."
Wurtz says the laid-back atmosphere is also appreciated. There's no formal dress code. The company founder and President Ameet Shah has become known to wear sandals around the office. "The atmosphere is conducive to an open dialogue and nurtures the creative approach," says Wurtz. "It's not uptight or rigid. Still, I have to say, I've never seen people work as hard as I have here."
Atlantic City Electric
Atlantic City, Millville, Egg Harbor Township and Turnersville
A subsidiary of Pepco Holdings, Inc., Atlantic City Electric is a regulated electric utility that provides transmission and distribution services for 547,000 homes and businesses in South Jersey. Dolly Richards, senior customer care specialist, who has been with the company for two decades, says it's also one of the region's best places to work.
The comprehensive benefits package includes medical, dental and vision, as well as a 401(k) and tuition assistance. The company also promotes employee health with wellness activities as well as $100 per year toward a gym membership.
"We also have an employee referral program where employees can receive up to $1,000 just for referring someone who is hired by the company and completes 30 consecutive work days," says Richards. "When the new hire reaches their first anniversary, the referring employee receives an additional $1,000."
On top of great perks and benefits, the company also shows their concern for the local community by encouraging volunteerism. Richards says as a result, many employees are active within the community. "There is a VIP Program which hosts an annual event where employees are recognized for their service," she adds. "And each year, the company actively participates in matching funds donated by employees to the United Way. Employees are encouraged to give and receive rewards for doing so."
WebiMax
Mount Laurel
Started in 2008 as a search engine optimization (SEO) firm with just four employees, the company has grown to 150 personnel, and revenue is projected to hit $15 million this year. How has there been so much success, so quickly? Kenneth C.
Wisnefski, founder and CEO, believes it's because employees like coming to work and, in turn, perform at their highest level.
One thing WebiMax employees like is the casual environment. Frankie Gambino, web designer and developer, says, "You're just as likely to catch a football on your way in as you are to get called into a meeting about implementing your ideas."
Danielle Hopley, vice president of operations, who was one of the first four employees, says that office "pits" (everyone sits in teams and the area is called a "pit") are decorated year round. "We've done outings, offered massages in the office, and each year we invite the local day care center to bring the kids over for trick or treat," she adds.
While there's plenty of fun going on, everyone works hard, as well, and Wisnefski rewards those efforts. When teams surpass their monthly goals, he buys the whole office lunch or gives the top-performing team an early out on a Friday afternoon. The company also pays 100 percent of employee benefits. "This includes medical, dental and vision," says Wisnefski. "Not many other firms do this, but I offer it because it reinforces my commitment to our employees. We do holiday parties in the winter and summer and employees are given three weeks PTO each year plus three work-from-home days in the winter. This is in case there is inclement weather and the office is open; an employee may feel uncomfortable driving to work."
But Hopley says it's the team environment and "open-door policy" that really make WebiMax exceptional. "A lot of companies preach that—but we live it."
vir tú Spa
Sewell
Perhaps what sets vir tú Spa apart from others is the belief that spa is not so much about luxury as it is about wellness. That philosophy is likely tied to the spa's link with the Virtua Health System, but Tracy Weiss, general manager, says it's something they really take to heart. "We believe that a spa trip helps people to take better care of themselves," she says. "Those same values are embraced for employees. Their health is important, too, and we love that we have use of Virtua's health and fitness center. We go there together."
Employees say it's a combination of great staff and great management that makes vir tú stand out. "After six years in this industry, I have found a home with a team who feels like family," says esthetician Kimberly McGrady. "Everyone is heard and accommodated."
That includes flexible scheduling. "This is a service business and not one where you can work from home, but I understand that our employees still have things that come up and require them to call out," she says. "I go above and beyond to accommodate these kinds of requests and, because we've become such a family, it's always easy to find someone to fill in."
Cornerstone Bank
Headquartered in Mount Laurel
George Matteo Jr., chairman of the board, president, and CEO of Cornerstone Bank, founded the bank in 1999 while still practicing law. Applying some things he'd learned from working at a large law firm, Matteo created a workplace that people enjoy—and in turn, they work hard. There are regular outings to professional sports games or bowling. And it's obvious that Cornerstone also cares about employees' health.
Every Friday, an optional "heart walk" is held at the corporate center where employees meet in the lobby and walk together for good health. "It was suggested by an employee who lost a parent to heart disease," says Donna J. McDermott, senior vice president and human resources director. "We start in the spring and we end the season by participating in the American Heart Association fall walk at Cooper River [Park]."
Matteo says these types of things are important since he believes Cornerstone's most valuable asset is its employees. "That's an often-used cliché, but we do these types of things to show our employees we really mean it," he says.
In addition to outings, employee appreciation is shown through recognition dinners and an internal "Corkboard"—a communication tool in which special occasions like birthdays, birth announcements and anniversaries are shared electronically. The bank also offers a benefits package that is competitive with larger institutions, as well as a tuition reimbursement program. "That's something I'm very proud of and an opportunity many of our employees have taken advantage of," says Matteo. "Just this past spring, two of our employees received their bachelor's degrees and told me it wouldn't have been possible without tuition assistance. That's pretty special to me."
Wawa
160 operating stores in South Jersey
Wawa has a history in New Jersey that goes back more than 200 years. In fact, the family that founded Wawa got their start in South Jersey before moving to Pennsylvania. Today, Wawa has grown to more than 575 locations—253 of which are in the Garden State, employing 8,000 people. What keeps Wawa growing is a workplace where employees report feeling like "family."
One thing employees love is the culture of ownership. The Employee Stock Ownership Program (accounting for 29 percent) allows them to take an actual stake in the company. "We educate our employees to think like an owner and they understand that they reap the benefits when we do well as an organization," says Stephanie Capaccio, manager of people development.
Wawa has also been investing in a wellness plan, understanding that time and money may keep employees from good health practices. Wawa is working to eliminate those barriers by doing biometric screenings onsite, testing for things like cholesterol and blood pressure levels—all on the company's dollar. "We've also held wellness events that reach the employees' whole family and promote healthy nutrition ideas," says Lori Bruce, Wawa public relations manager. "And we've helped offset the cost of gym memberships for employees."
A competitive benefits package, tuition reimbursement, loan forgiveness and employee recognition all round out the reasons why Wawa is a great place to work. The latter ranges from "Goose Bumps" for associates (points given out that can be redeemed in the company store) to the "President's Club" for managers, which recognizes the top 20 percent of management and sends them and a guest on a retreat to locales like Puerto Rico or South Florida. "It's reasons like these that, in an industry with a high turnover rate, we have one that's relatively low and we're proud that number continues to decline," says Bruce. "Employees are here for the long haul."
Published (and copyrighted) in South Jersey Biz, Volume 1, Issue 11 (November, 2011).
For more info on South Jersey Biz, click here.
To subscribe to South Jersey Biz, click here.
To advertise in South Jersey Biz, click here.