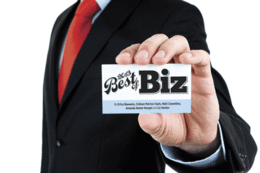 2013 Best of Biz
A record-breaking amount of nominations for our third annual Best of Biz contest has resulted in our largest list yet of the top names in South Jersey business. You voted—and we heard you loud and clear. Here, we present 90 organizations, both readers' and editors' picks, in dozens of categories—from the mainstays every business owner needs like the most-trusted names in banking, insurance and computer services, to more specific services such as daycare, event planning and executive coaching.
EDITORS' PICKS
Featured Picks
AUDITING
Gold Gerstein Group, LLC
A lot of Gold Gerstein Group's clients are third-generation customers, which, if you ask Partner Stanton L. Meltzer, speaks volumes. "We've kept them because of the work we've done and, obviously, they've been satisfied."
Gold Gerstein Group, the result of a merger between Gocial Gerstein, LLC and Gold Meltzer, LLC, has grown significantly since Meltzer joined his father-in-law's business in 1961. What was a staff of three accountants is now 16 partners strong with a staff of about 35, offering services out of their Moorestown and Voorhees offices from general to forensic accounting, business valuation to pension administration and more. Their reach extends from Maryland to New York, and the company is also one of 125 firms part of Integra International, which extends their services globally.
One of the keys to their success is education. Says Meltzer, who has taught numerous courses on taxation, business valuations and litigation support, as well as chaired 16 conferences for the American Institute of Certified Public Accountants, "When you teach accountants, you'd better be at the top of the knowledge cycle. It keeps us sharp and it gives our firm a tremendous reputation through the industry."
Locations in Moorestown and Voorhees, (856) 727-0100 or (856) 770-1400, G3CPA.com
CREDIT UNION:
Andrews Federal Credit Union
Andrews Federal Credit Union began in 1948 at Camp Springs Army Air Field (currently Joint Base Andrews) in Maryland and has grown to more than $900 million in assets serving more than 105,000 civilian and military personnel around the world.
Locally, there are branches in Burlington, Mount Laurel and Joint Base McGuire/Dix/Lakehurst—and you don't have to be in the military to join as the credit union is open to employer groups and individuals. "We are a part of the community we serve from our active duty, reserve guard, and retired military to the residents who make South Jersey their home," says Maree Duncker, Andrews Federal Joint Base McGuire/Dix/Lakehurst branch manager.
The credit union had one of its best performing years in 2012 by adding nearly 7,000 new members and more than doubling its loan portfolio. Plans this year include releasing their SmartSuite of products: SmartConnect (online banking), SmartPay (online bill pay) and SmartCall (automated telephone banking). Additionally, the credit union will introduce SmartMobile to make managing money even easier.
Locations in Burlington, Joint Base McGuire-Dix-Lakehurst and Mount Laurel, (800) 487-5500, AndrewsFCU.org
MEETINGS — HOTEL:
Hotel ML
With top-notch facilities, food and entertainment options and an ideal location, The Hotel ML in Mount Laurel has established itself as the spot in South Jersey for your business meeting. It's no wonder, then, that companies continue to come back time and time again.
"The service is so important, and our rates are very competitive," says Jeff Marshall, director of sales and marketing. "We take really good care of the client, and the best compliment we can get is that we have a lot of repeat customers."
The Hotel ML has 20 meeting room combinations and 14,000 square feet of meeting and banquet space, with plans to add even more space this fall. There is also an audio-visual company on the property, and for those clients that need to stay overnight, there are 281 guest rooms, the Coco Key Water Resort for families and Talia's Restaurant and Bar.
"We can do a meeting for five or 500," Marshall says. "We ensure that whatever the event is, the experience is seamless and memorable."
915 Route 73, Mount Laurel, (856) 234-7300, TheHotelML.com
EDUCATION — ONLINE EXECUTIVE EDUCATION:
Rutgers ¬– Camden
If scheduling lectures at your convenience, taking tests when you feel ready and benefiting from one-on-one interaction with an adviser sound like your idea of school, then it might be time to look into online education. And the Rutgers – Camden School of Business Executive Education program should be at the top of your list when selecting a school.
Rutgers has been offering online certificates for more than 10 years, and currently has more than 30 different certificate options to choose from. The most popular include project management, human resources and accounting/finance.
The program is ideal for professionals looking to advance in their field, switch careers, or start their own business.
"A lot of programs out there that provide online certificates are just that—they're very singular in focus and you just take a series of online courses," says Ray Compari, director of executive education at Rutgers. "I'm not a strong believer that that's the best method of learning, particularly for an adult. The interaction with an adviser really has tremendous value. You can interact with them and get guidance and oversight."
(856) 225-6685, ExecEd.Rutgers.edu
TELECOMMUNICATIONS:
Xtel Communications, Inc.
A facilities-based telecommunications company with a corporate office in Marlton, Xtel Communications provides voice, Internet, data and cloud services to the enterprise, education and government market sectors.
The company, which will celebrate its 20th anniversary in 2014, is on track to increase revenue by 20 percent in 2013, which is directly attributed to their successful Ethernet product line and hosted PBX services, according to Brian Flynn, vice president of operations.
"As we move into 2014, we plan to continue seeing significant growth in these two areas," Flynn says. "We'll also be adding data storage and disaster recovery services to our cloud offerings in the near future, which will complement our Ethernet services very well. A key initiative in 2014 will be creating substantial value for our customers by adding cloud services they can access through Xtel provided Ethernet circuits."
401 Route 73 N., Marlton, (856) 596-4000, Xtel.net
ACCOUNTING:
Alloy Silverstein Group
900 N. Kings Highway, Cherry Hill, (856) 667-4100; 165 N. White Horse Pike, Hammonton, (609) 561-1555, AlloySilverstein.com
ADVERTISING AGENCY:
Haven Media & Marketing
515 Grove St., Haddon Heights, (856) 323-8433, HavenMedia.net
AUTOMOTIVE (COMMERCIAL/CORPORATE FLEETS):
Pellegrino Chevrolet
1000 Gateway Blvd., Westville, (856) 603-3651, PellegrinoChevrolet.com
BANK — BUSINESS:
Wells Fargo
150 locations in South Jersey, (800) 359-3557, WellsFargo.com
BANK — COMMERCIAL LENDER:
Capital Bank
Locations in Vineland, Hammonton and Woodbury Heights, (856) 690-1234, CapitalBankNJ.com
BANK — COMMUNITY BANK:
First Bank
Locations in Ewing, Hamilton, Lawrence and Williamstown, (877) 821-BANK, FirstBankNJ.com
BANK — CUSTOMER SERVICE:
Franklin Bank
Locations in Franklinville, Ocean View, Pennsville, Salem, Woodstown and Woolwich, (856) 769-4400, FranklinSavingsBank.com
BANK — FULL SERVICE:
Beneficial Bank
25 locations in South Jersey, (888) 742-5272, TheBeneficial.com
COLLECTIONS:
C&H Collection Services
3 Executive Campus, 2nd Floor, Cherry Hill, (800) 308-4357, CHCollects.com
COMMERCIAL LANDSCAPING:
Eric's Landscaping
528 Moorestown-Mount Laurel Road, Mount Laurel, (856) 231-0444, EricsNursery.com
COMPUTER SERVICES:
DLC Technology Solutions, Inc.
775 Route 70 E., Building F-160, Marlton, (856) 983-2001, DLCTechnology.com
CONSTRUCTION:
Whitesell Construction
1 Underwood Court, Delran, (856) 764-2600, WhitesellCo.com
CONSTRUCTION MANAGEMENT:
GREYHAWK
224 Strawbridge Drive, Suite 100, Moorestown, (856) 772-1800, Greyhawk.com
EDUCATION — COOPERATIVE:
Drexel University at Burlington County College
500 College Circle, TEC 104, Mount Laurel, 1 (888) 644-3795, Drexel.edu/BCC
FINANCIAL SERVICES:
Masso-Torrence Wealth Management, Inc.
8003 Lincoln Drive W. Suite G, Marlton, (856) 988-6664, MassoTorrence.com
FULL-SERVICE MARKETING AGENCY:
Thomas/Boyd Communications
117 N. Church St., Moorestown, (856) 642-6226, ThomasBoyd.com
INSURANCE — HEALTH:
AmeriHealth NJ
(609) 662-2400, AmeriHealthNJ.com
JANITORIAL SERVICES:
ABMC
P.O. Box 474, Medford, (800) USA-1234, AMBC1234.com
LAW FIRM — CORPORATE:
Capehart Scatchard
8000 Midlantic Drive, Suite 300S, Mount Laurel, (856) 234-6800, Capehart.com
LAW FIRM — FAMILY:
Graziano & Flynn, P.C.
1040 N. Kings Highway, Suite 650, Cherry Hill, (856) 324-4386, Family-Law-GrazianoLaw.com
MECHANICAL SERVICES:
Hutchinson Mechanical Services
621 Chapel Ave., Cherry Hill, (866) 953-8728, HutchBiz.com
MEETINGS — CONFERENCE CENTER:
Crowne Plaza Philadelphia – Cherry Hill
2349 W. Marlton Pike, Cherry Hill, (877) 227-6963, CrownePlaza.com/CherryHillNJ
PUBLIC RELATIONS:
Anne Klein Communications
1000 Atrium Way, Suite 102, Mount Laurel, (856) 866-0411, AnneKleinCG.com
REAL ESTATE BROKER (COMMERCIAL):
Wolf Commercial Real Estate (WCRE)
Laurel Oak Corporate Center,1010 Haddonfield-Berlin Road, Suite 404, Voorhees, (856) 857-6300, WolfCRE.com
TITLE COMPANY:
Surety Title Company, LLC
1 E. Stow Road, Suite 100, Marlton, (856) 988-8900, Surety-Title.com
READERS' PICKS
Featured Picks
CATERER:
Sensational Host Caterers
Sensational Host Caterers, a second-generation business based in Maple Shade, started out as a small retail outlet in Delran 32 years ago and has grown into one of the Delaware Valley's leading caterers. The company offers their services for everything from your child's Bat Mitzvah or wedding to a business luncheon, grand opening or fundraiser. But it's the love of the industry itself that President/CEO Henry Gosik says has led to its success.
"Part of it is the instant gratification from the clients," he explains. "It's mostly all celebratory events. Everyone's celebrating something and we get to be part of their family history."
Sensational Host holds between 25-40 events a week. To maintain their growth, ongoing staff training is a priority. The company is planning on a significant expansion in the next two years, including a new facility that can seat 650 and will include cooking classes and a full-time sommelier to help clients with menu choices. "We invest in our employees, which gives us a superior product culinary wise and service wise," Gosik says.
3030 Route 73 N., Maple Shade, 1 (888) 215-7388, SensationalHost.com
COMPUTER SERVICES:
Ancero
"Ancero takes pride in being a full-service provider of technology products and services to businesses of all sizes," says Ancero's Executive Director Robert Hogg. Since 1996, the Mount Laurel-based company has been helping large and small businesses with managed services, VOIP, data and cloud-computing solutions across the Delaware Valley. Ancero has also played an integral role in assisting medical organizations with secure data center solutions that will keep the system running even if disaster hits.
"We strive to deliver outstanding value through our full-service approach and exceptional attention to each client's individual needs. In every aspect of our performance, we focus on serving the needs of those who entrust us with their business," Hogg adds.
In 2013, Ancero plans to expand its role as an AT&T Partner Exchange Platinum Solution Provider. It will bundle services with AT&T to provide customized choices for customers that will help manage everything from servers in the cloud to end-user devices.
1001 Briggs Road, Suite 220, Mount Laurel, (856) 210-5800, Ancero.com
CONSTRUCTION:
KAVI Construction
This general contractor and commercial construction firm, headquartered in Berlin, says its success can be attributed to the personal relationships it develops with clients. "We consider our clients to be like family, and we treat them as such," says Wendy Chambers, director of business development. "When a customer calls, we know their first name and their spouse's name. It's the attention to detail that sets us apart."
In 2006, KAVI Construction was formed with one basic principle that has been at the forefront of its business: "A strong team with a common goal and prosperous leadership will always achieve the highest levels of excellence." Projects are managed by an accomplished staff with more than 30 years of commercial building experience, and adherence to budget and safety standards is a priority. "We believe in making the construction process less stressful for the owner," says Chambers. "We're truly honored to be recognized among the Best of Biz and we're looking forward to keeping our clients happy and growing our South Jersey presence."
50 Egg Harbor Road, Suite 16, Berlin, (856) 767-2491, KAVIConstruction.com
ENERGY CONSULTANTS:
South Jersey Energy Solutions
South Jersey Energy Solutions, which is part of South Jersey Industries, operates a number of subsidiaries that provide customers with environmentally friendly energy solutions that help control energy costs. According to Dan Lockwood, manager of public relations, these subsidiaries provide total energy management services to commercial and industrial facilities, operate on-site energy projects such as thermal facilities, as well as natural gas storage and transportation to wholesale customers. In terms of renewable energy projects, the subsidiary Marina Energy, which specializes in solar energy, recently completed expansive solar arrays for several New Jersey businesses, including Fed Ex and L'Oreal.
"It is an honor to be recognized as one of the 2013 Best of Biz and to be included among such impressive companies recognized in the region," says Lockwood. "Awards like this remind us of why we are in business; it's about our commitment to our customers and the needs of those we serve. We enjoy finding cost-effective solutions for all types of energy needs, and are committed to providing great service now and in the future."
1 N. White Horse Pike, Hammonton, (609) 568-9028, SJIndustries.com
INSURANCE — HEALTH:
Horizon Blue Cross Blue Shield of New Jersey
Horizon Blue Cross Blue Shield of New Jersey has grown from an insurance provider to a medical institution in our state. As the oldest and largest health insurer, the company has provided health insurance benefits to the area for more than 80 years.
Currently with around 3.6 million customers, it's been a busy summer for Horizon Blue Cross Blue Shield of New Jersey, which welcomed a new vice president and chief medical officer, Dr. Mark Calderon, this month. The company spent the last few months reaching into communities around South Jersey, as well as keeping up with health care reform updates and news.
And Blue Cross isn't taking the reform lightly, preparing its clients with detailed information on everything from improved benefits to women's preventive care. It's the extra outreach that's helped them grow to become one of the most well-known names in health care in New Jersey, as well as in the country today.
1 (800) 784-6222, HorizonBlue.com
LAW FIRM — BANKING/FINANCE:
Weir & Partners, LLP
When it comes to this law firm, partner John C. Eastlack Jr. credits the years of experience shared among their partners and attorneys for their success and prestige in the field.
Eastlack is one of 13 partners at the firm who, along with managing partner Walter Weir Jr. and several associates, provide a full range of services from aviation to real estate. But it's their expertise in the financial industry that retains clients including major banks and mortgage companies who rely on them for a variety of financial transactions, acquisitions and more.
"What we're able to do is that we can get the best out of all the attorneys who have been with the firm for a year up to Walter Weir the founder. We're able to make sure that the attorneys gain experience handling very complex matters right from the beginning."
Weir & Partners looks forward to providing more of what's given them their standout reputation. "I think the firm is focused on continuing to do what we do well, which is to continue to serve our clients well," says Eastlack.
457 Haddonfield Road, Suite 420, Cherry Hill, (856) 662-1018, WeirPartners.com
OFFICE SUPPLIES:
Office Basics How does a company like Office Basics, now in its 25th year, grow to have five separate locations with a full force of designers, drivers and salespeople?
"I think it's the combination of making the right decisions at the right time and investing in the business appropriately, and really focusing on hiring and maintaining good people," says John Leighton, president and CEO. In the last five years, the company has grown its offerings to clients, becoming what Leighton calls a "single source supplier."
"We've diversified into furniture, janitorial and break room supplies, packaging and mail room supplies," explains Leighton. "Five years ago, we sold coffee. But now, if you have a break room or cafeteria, we can give you the full offerings: multiple flavors, cups, stirrers, water, soda."
Office Basics serves the Delaware Valley and parts of Maryland, but in the upcoming year the company is looking to expand into Baltimore and the Washington, D.C. area.
Leighton says Office Basics' commitment to its employees remains the company's strongest asset. "Take care of the people that take care of your customers. It's a simple formula."
1 Whittendale Drive, Moorestown, 1 (800) 541-5855, OfficeBasics.com
STAFFING FIRM:
ACCU Staffing Services
A three-generation, family-owned company based in Cherry Hill, ACCU Staffing Services has offered risk-free staffing options to businesses throughout the greater Philadelphia region since 1979.
With clients ranging from small, local businesses to national, Fortune 500 companies, ACCU Staffing's services provide enormous cost savings in labor and relieve companies of many other human resources burdens such as recruitment, assessment, verification, employment taxes, benefits, handling employee relations, job training, and compliance with federal and state laws.
"We pride ourselves on our quality assurance program and immediate response time," says Elaine M. Damm, vice president of operations. "Our customer service model is designed to run 24/7 so that someone is always on call to support our client's fluctuating needs. It is very rewarding to feel valued and esteemed by the community as a regional leader in our industry and we are grateful to the readers for their vote of confidence."
911 Kings Highway N., Cherry Hill, 1 (800) 437-ACCU, ACCUStaffing.com
REAL ESTATE BROKER (COMMERCIAL):
Sidney Benstead, Prudential Fox & Roach
Sid Benstead and his associates at The Sid Benstead Team of Prudential Fox & Roach Realtors in Marlton work with clients that are purchasing office space, industrial properties, multifamily investment properties or their dream home.
"Working hard for my clients and making their real estate goals a reality is what keeps me going," Benstead, a 25-year veteran of the industry, says. "Selling properties through slow markets has been one of the biggest challenges, but thinking outside the box when it comes to marketing the property is what has helped me get through the down times of the real estate market."
By focusing on maintaining a steady client base and meeting client goals, Benstead hopes to continue to make 2013 a successful year. "I am grateful we've been selected for this year's Best of Biz," Benstead says. "It shows that myself and my team—Chris Benstead, Jason Benstead and Dom Mauro—are making an impact in this business."
701 S. Route 73, Suite 100, Marlton, (856) 810-5300, SidneyBenstead.FeaturedWebsite.com
ENVIRONMENTAL SERVICES:
TTI Environmental, Inc.
TTI Environmental, Inc. may be headquartered in Moorestown, but it provides a wide range of environmental services throughout the country. Founded in 1985, it serves business, industry and government agencies in a number of areas, including environmental consulting, industrial hygiene, construction and contracting, storage tank management, environmental health and safety, and more. The key to the firm's long-standing success is the staff's expertise and experience in all of these diverse fields.
"TTI is an industry leader due to our fully integrated and experienced staff of professionals," says President Craig Durand. "Our staff includes licensed site remediation professionals, geologists, indoor environment professionals, mechanical integrity experts, construction managers and compliance specialists."
In an industry that's always changing, TTI stresses the importance of staying educated on regulation issues and industrial complexities and understanding the need for change. "With over 50 environmental licenses and decades of experience, our professionals routinely design and implement solutions, helping clients to meet and exceed compliance standards and to better position themselves for tomorrow's markets," Durand says.
1253 N. Church St., Moorestown, (856) 840-8800, TTIEnvInc.com
ACCOUNTING:
Ianieri, Giampapa & Co., PC CPA
1202 Laurel Oak Road, Suite 205, Voorhees, (856) 346-9595, IanieriGiampapa.com
ADVERTISING AGENCY:
Masterpiece Advertising
3101 Boardwalk, Suite 13, Atlantic City, (609) 344-2400, MasterpieceAdvertising.com
ARCHITECTURE/DESIGN (COMMERCIAL):
RYEBREAD
456 High St., Mount Holly, (609) 265-2652, Ryebread.com
AUTOMOTIVE (COMMERCIAL/CORPORATE FLEETS):
Winner Ford
250 Haddonfield-Berlin Road, Cherry Hill, (856) 428-4000, WinnerFordFleet.com
BANK — BUSINESS:
TD Bank
More than 225 locations in the region, (888) 751-9000, TDBank.com
BANK — COMMERCIAL LENDER:
Susquehanna Bank
More than 250 locations in the region, (800) 311-3182, Susquehanna.net
BANK — COMMUNITY BANK:
1st Colonial Community Bank
Locations in Cinnaminson, Collingswood and Westville, (856) 885-2042, 1stColonial.com
BANK — CUSTOMER SERVICE:
Sun National Bank
More than 60 New Jersey locations, 1 (800) SUN-9066, SunNationalBank.com
BANK — FULL SERVICE:
Columbia Bank
44 locations in New Jersey, (856) 772-9300, ColumbiaBankOnline.com
BENEFITS CONSULTANT:
Benefit Concepts
304 N. Haddon Ave., Haddonfield, (856) 427-0020, BenefitConceptsOnline.com
BOOKKEEPING:
Visions in Innovative Accounting
101 Chestnut Ave., Mount Laurel, (856) 380-1347, VIAVisions.com
CLOUD COMPUTING:
Line Systems, Inc.
1020 Laurel Oak Road, Voorhees, (855) 733-1000, LineSystems.com
COMMERCIAL LANDSCAPING:
Dunn Company Landscape Contractor
Harrisonville, (856) 769-2415, DunnLandscaping.com
COMPUTER/DATA SECURITY CONSULTANT:
Praxis Data Systems
4 Foster Ave., Suite C, Gibbsboro, (856) 679-2256, PraxisNet.com
CREDIT UNION:
ABCO Federal Credit Union
10 South Jersey locations, 1 (800) 225-1859, GoABCO.org
DAYCARE:
YMCA of Burlington and Camden Counties
Locations in Burlington and Mount Laurel, (609) 543-6200 or (856) 234-6200, YMCA-BC.org
EDUCATION — EXECUTIVE MBA:
Rohrer College of Business, Rowan University
201 Mullica Hill Road, Glassboro, (856) 256-4000, Rowan.edu/Business
EDUCATION — HIGHER ED:
Fairleigh Dickinson University
Locations in Teaneck and Madison, partnerships with Burlington, Camden and Gloucester county colleges, (201) 692-7310, FDU.edu
ENGINEERING FIRM:
Jefferis Engineering Associates, LLC
801 Orchard Ave., Runnemede, (856) 933-2005, JefferisEngineering.com
EVENT PLANNING:
SPW Productions, LLC
913 Gray Fox Circle, Sewell, (856) 464-8304, SPWProductions.com
EXECUTIVE COACHING:
Diane Allen Coaching Solutions, LLC
Mount Laurel, (856) 802-9948, DianeAllenCoaching.com
EXECUTIVE SEARCH:
Emerson Personnel Group
1040 Kings Highway N., Suite 400, Cherry Hill, (856) 667-9180, EmersonPersonnel.com
FINANCIAL SERVICES:
SHM Financial Group
Locations in Collingswood, Lakehurst and Voorhees, (856) 854-2224, SHMFinancial.com
FULL-SERVICE MARKETING AGENCY:
Consumption Marketing
Merchantville, (856) 665-5513,ConsumptionMarketing.com
GOLF COURSE FOR BUSINESS:
Woodcrest Country Club
300 E. Evesham Road, Cherry Hill, (856) 429-4300, WoodcrestCountryClub.com
GRAPHIC DESIGN:
Mustard Seed Creative, LLC
2 Sheppard Road, Suite 403, Voorhees, (856) 983-0283, MSeedCreative.com
HUMAN RESOURCES CONSULTANT:
National Employee Management Resources
105 Evesboro-Medford Road, Suites F & J, Marlton, (856) 642-9500, SimplifyingHR.com
INSURANCE FIRM/BROKER:
Vertex Insurance Group
105 Evesboro-Medford Road, Suite F, Marlton, (856) 642-9500, VertexInsuranceGroup.com
INSURANCE — SUPPLEMENTAL:
Aflac – Lisa Carney
190 N. Evergreen Ave., Suite 206, Woodbury, (856) 848-2844, Lisa_Carney@us.Aflac.com
INSURANCE — WORKMAN'S COMP:
NJM Insurance
Locations in Hammonton, Parsipanny and West Trenton, 1 (888) NJM-4INS ext. 6610, NJM.com
IT SUPPORT:
CMIT Solutions
116 W. Riding Road, Cherry Hill, (856) 433-8128, CMITSolutions.com/Cherry-Hill
LAW FIRM — ELDER & DISABILITY:
Rothkoff Law Group
911 Kings Highway S., Cherry Hill, (856) 616-2923, RothkoffLaw.com
LAW FIRM — EMPLOYMENT/LABOR:
Mattioni, Ltd.
1316 Kings Highway, Swedesboro, (856) 241-9779, Mattioni.com
LAW FIRM — FAMILY:
Charny, Charny & Karpousis, P.A.
1300 Route 73, Suite 211, Mount Laurel, (856) 505-1700, CharnyLaw.com
LAW FIRM — TAX:
Parker McCay
Locations in Atlantic City, Lawrenceville and Mount Laurel, (856) 596-8900, ParkerMcCay.com
MAILING SERVICES:
PostNet Sicklerville
521 Berlin-Cross Keys Road, Sicklerville, (856) 740-0445, PostNet.com/NJ121
MEETINGS —RESTAURANT:
The ChopHouse
4 Lakeview Drive S., Gibbsboro, (856) 566-7300, TheChopHouse.us
MULTIMEDIA PRODUCTION:
GCV Productions
5 Kelly Drivers Road, Laurel Springs, (856) 504-3025, GCVisual.com
OFFICE FURNITURE SALES/RENTAL:
Bellia
1047 N. Broad St., Woodbury, (856) 845-2234, Bellia.net
PAYROLL PROVIDER:
Primepoint, LLC
2 Springside Road, Mount Holly, (800) 600-5257, Primepoint.com
PRINTER:
Burlington Press
328 High St., Burlington, (609) 387-0030, BurlingtonPress.com
PUBLIC RELATIONS:
MB and Associates
3016 Main St., Voorhees, (856) 857-1440, MBandAssociatesPR.com
REAL ESTATE DEVELOPMENT & PROPERTY MANAGEMENT (COMMERCIAL):
Bloom Organization
1300 Route 73, Suite 106, Mount Laurel, (856) 778-0300, BloomOrganization.com
SEARCH ENGINE OPTIMIZATION:
Rank Me SEO
203 Kings Highway E., Suite B, Haddonfield, (856) 520-8218, RankMeSEO.com
SIGNAGE:
Nationwide Printing & Signs
Cinnaminson, (856) 662-4545, NationwidePrintingInc.com
SOCIAL MEDIA MARKETING:
Mainspring Social Media
Galloway, (609) 626-1195, MainspringSocial.com
TEAM BUILDING SERVICE:
PlayMore Sport & Social Club
24 N. Route 73, Suite 106, Cedar Brook, (856) 809-2688, PlayMoreSJ.com
TELECOMMUNICATIONS:
Telecorp, Inc.
1535 Gateway Blvd., Woodbury, (856) 384-6000, TelecorpInc.com
TRANSPORT (FREIGHT):
McCollister's Transportation Group, Inc.
1800 Route 130 N., Burlington, (609) 386-0600, McCollisters.com
WEB DEVELOPMENT:
Miles Technologies
300 W. Route 38, Moorestown, (800) 496-8001, MilesTechnologies.com
Published (and copyrighted) in South Jersey Biz, Volume 3, Issue 8 (August, 2013).
For more info on South Jersey Biz, click here.
To subscribe to South Jersey Biz, click here.
To advertise in South Jersey Biz, click here.