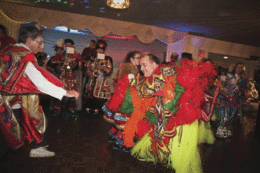 2013 Best Places to Work
These days, it's not uncommon for employees to spend more time at the office than they do at home, but we're fortunate here in South Jersey to be surrounded by employers who are doing their part to ensure the hours spent on the clock are completed by happy workers. From offering extra paid time off to extensive benefits packages, from yoga in the office to the option to work remotely, businesses aren't just trying to promote a better work-life balance—they're succeeding.
Cornerstone Bank,
Mount Laurel After many years in the banking industry, Gene D'Orazio knows it's a business where employees don't stick in one place for very long. But he's proud to say that's not the case at Cornerstone Bank, where the average employee has been with the company almost five years. "That's a long time for a pool of 70 people," says D'Orazio, the bank's president. "It's a fun place to work. We try to keep it family-oriented; everyone feels like this is their second family. That's the way we operate the bank. We try to make it fun and work hard at the same time." Cornerstone rewards that loyalty every year with its Employee Recognition Dinner, held this year at Café Aldo Lamberti. Each person who has been with the company at least five, 10 or 15 years is recognized and given a special pin and a gift certificate. There are also raffles for extra PTO days or other prizes, such as an iPad mini. The dinner might be the main event at Cornerstone, but it's far from the only one. They also have Phillies Fridays, when employees can dress in Phillies gear and ballpark treats are served; they celebrate National Pet Week and encourage employees to display pictures of their pets; and they have an annual bowling party, where employees are divided into teams and compete for a trophy. Cornerstone, which has nine locations in South Jersey, also participates in the South Jersey Fall Heart Walk every year at the urging of a former employee and makes a donation to the American Heart Association.
Cooper University Health Care, Headquartered in Camden When it comes to offering countless benefits and a compassionate work environment, Dr. Adrienne Kirby, president and CEO of Cooper University Health Care, says Cooper is committed to offering the best that is out there for its 5,788 employees. "Choosing a career in health care is very rewarding, yet very demanding," she says. "I think it's important to provide a working environment that engages the entire team and that recognizes and rewards excellent performance. It is also essential to offer our employees programs and services that help make their daily lives easier to manage." One of the more unique benefits Cooper offers is a concierge service, based at Camden's Cooper University Hospital, which provides employees assistance with errands, shopping, entertainment tickets and other tasks. Other benefits include wellness classes, reimbursement for weight loss programs and gym memberships, pet insurance, an on-site health education center, and adoption assistance benefits, along with health benefits, including prescription, vision and dental plans, and a retirement plan with matching contributions. Cooper also has a recognition program where employees can recognize and nominate their peers for their hard work, as well as a points-based recognition system where employees can earn points that can be redeemed for prizes.
Brett DiNovi and Associates, Cherry Hill This small, 50-employee agency works in an exclusive industry, providing board-certified behavioral analysis services to schools and households from Middlesex to Cape May County. With children and their families as its customer base, the agency understands how important a fair work-family ratio is. "Even though the benefits we offer are similar to those of large companies, we are still a small, family-oriented business," says CEO Brett DiNovi. "Families and kids are our highest priorities." Along with medical, dental and disability benefits, employees of the company, which has a single-digit retention rate, can enroll in an employer-matched 401(k) and receive tuition reimbursement for certification classes. Employees also receive wages above industry standards, are eligible for bonuses, and work flexible schedules. "We can bring our kids to the office if we need to, or work from home if need be, depending on schedules or illnesses. There really is a lot of flexibility," says Marlene Selfridge, director of human resources and marketing. DiNovi also meets with each of his employees weekly to keep abreast of their caseloads so he knows what's going on with each client and can answer questions if a parent or school calls regarding a specific case. He also encourages his executive team members to find a section of the industry they enjoy and focus on it. "In our company, everyone seems to find a niche they love, and we are able to carve their position around that," DiNovi says.
Adinolfi & Lieberman, P.A. Haddonfield Any law office can be a fast-paced, high-stress environment to work in. Adinolfi & Lieberman, P.A.—one of the largest firms in the state dedicated to family law—is no different, but that doesn't mean they don't know how to blow off steam. Whether it's making a group trip to a Phillies game, heading to partner Robert Adinolfi's house for a pool party, or celebrating a birthday in the office, the firm makes it a habit to bring employees together in a social setting and say "thank you" for all of their hard work. "We think it's really important to get everybody together and we do that at least a couple times a year, if not more," says firm administrator Cheryl Betten. "We'll have something at Tavistock or we'll all meet out for happy hour and the firm covers everything. We're a very busy practice and family law tends to be an emotionally charged arena. It can be stressful, and we want our employees to know that we've got their back." The firm also supports its employees with flexible scheduling. There are many single parents on staff, and if a situation such as a sick child arises, they can take a morning off or work from home. Another perk comes during the summer when employees can leave every Friday at 3 p.m. to get a jump on the weekend or get ahead of the Shore traffic. Also on Fridays, employees are allowed to wear jeans to the office—for a price. "We pick a charity every few months—right now it's the Bon Jovi Soul Foundation—and if you wear jeans on Friday, you throw a dollar in the jar," Betten says. "The firm matches whatever the employees collect, and we let the employees pick the charity. We want them to make it something they're passionate about."
Evergreens Retirement Community, Moorestown From the standard medical and dental to tuition reimbursement, free legal reference programs, and discount programs on vision, fitness and weight management, The Evergreens in Moorestown offers a range of benefits to its 231 employees. "Being named one of the Best Places to Work is very meaningful to us," says Doug Halvorsen, president and CEO of The Evergreens. "We do not offer a lot of the flashy stuff—we just try to be steady and consistent." Employee satisfaction is reflected in the community's high retention rate. Halvorsen is proud that The Evergreens' employee turnover rate remains in the single digits, with many staff members working in the continuing care retirement community for more than 25 years. "Folks love working here," says Halvorsen. "They respect each other, and they know we try to be fair." Whatever accommodations are available to The Evergreens' residents are also made available to the community's employees—allowing staff members to take advantage of its dining services, indoor pool and putting green, to name a few. Additionally, The Evergreens encourages community involvement among their employees, who participate in community events throughout the year, most recently at Moorestown Day in the beginning of June. The Evergreens also funds scholarships for employees pursuing careers in health care, holds multiple recognition ceremonies throughout the year, throws holiday parties and participates in Take Your Child to Work Day—which includes Zumba class, mini golf, movies and sundae making with parents.
Silver Diner, Cherry Hill In 25 years at this local eatery, general manager Jose Reyes has discovered the key to a successful business—happy employees lead to happy customers. That's one reason he treats his employees like family members and goes out of his way to show them his appreciation. "We do a lot of good things for our associates. It's not just about work," Reyes says. "When people get up in the morning, they don't think, 'Oh, I have to go to work.' They're happy to get up because they know they're going to get treated like family. And that's how we get the best out of them, because when you're happy, you perform better." Birthdays are a big deal at the Silver Diner, as every employee gets a party on his or her day, complete with a cake and a present. Reyes also throws summer barbecues, and at the annual Christmas party, an Associate of the Year for both the front of the house and back of the house is chosen and awarded a special prize. If that's not enough motivation, the diner has contests throughout the year and gives $100 gift certificates to employees who sell the most appetizers or desserts in a given month. The restaurant—which can be found in Maryland and Virginia as well as Cherry Hill—also has companywide contests for the highest-selling location. As for managers like Reyes, Silver Diner offers retirement and health plans and such perks as a gym membership or corporate trainer. The Silver Diner can also be a fulfilling place to work because of its efforts in the community. The restaurant provides food for many nonprofit organizations, and holds special "Run the Diner" nights when a percentage of the proceeds goes to local charities.
Wells Fargo, 150 locations in South Jersey Wells Fargo is the fourth-largest financial services company in the United States with more than 9,000 stores across the country, including about 150 in the South Jersey region. Despite that size, the leaders of the company believe they have an incredibly local feel for such a large corporation. "We believe that our size gives us the capability to do a lot, but also gives us the responsibility to be connected to our communities," says Brenda Ross-Dulan, the southern New Jersey regional president. One of the ways Wells Fargo stays connected is by encouraging its employees to volunteer or donate to charitable organizations they are passionate about. The company matches donations to a certain dollar amount, and also has an annual program in South Jersey where each store's manager is given a $1,000 check to donate to the nonprofit organization of his or her choice. "If team members are engaged and happy and we're connected to what's important to them, then certainly they'll be engaged with the company and with our customers," Ross-Dulan says. Wells Fargo shows its appreciation to its employees in other ways, such as its annual recognition for top performance. It also offers an employee assistance program, access to a health and wellness coach and tuition reimbursement. In addition, the company strongly believes in promoting from within. Wells Fargo has quarterly discussions with its employees to discuss their goals and the possibility for career advancement. "We believe in career development and advancement within Wells Fargo," Ross-Dulan says. "Our philosophy is we want you to come and we want you to stay."
Kennedy Health System, Cherry Hill/Stratford/Washington Township Kennedy Health System CEO Martin Bieber—who oversees three South Jersey hospitals as well as various other health care programs—recently received an email from a new nurse in the company. She wrote about how overwhelming her first shift at Kennedy was, but that the strength and support of her fellow employees pulled her through. She went on to list the names of every person who made an impact on her that first night. "We have a real team-oriented spirit among the people who work here," Bieber says. "That's something we're very proud of. Our folks really enjoy working with each other and working for the organization." Kennedy has many ways to recognize that commitment. One of the most unique is the Annual Recognition Dinner, in which employees who have reached certain milestones with the company, from five all the way to 45 years, get the chance to win prizes. "We buy quite a few very nice gift items, and every employee who is invited to attend gets a raffle ticket for every year of service," Bieber says. "We have about 100 different giveaways, everything from a $50 gift card for a local department store to a television set. You can put all your tickets into one gift or you can spread them around. It really goes over well; it's a well-attended event." Other benefits include discounted auto insurance, tuition reimbursement and the company pharmacy, in which employees can get medications at a preferred rate. And, perhaps most important of all, employees also get a voice in the company. Bieber often makes himself available to hear the concerns of his staff. "Not just myself, but all of senior management goes from building to building on a very frequent basis," Bieber says. "We answer every single question, everything they want to know. They have the ability to tell us anything they want and we welcome it."
Source4Teachers, Cherry Hill There are two types of employees at this educational staffing company: the full-time staff that makes up the corporate office, and the part-time personnel who are substitutes in the field. Whatever their role with the company, all 6,500 employees receive medical benefits, a 401(k) plan, and an understanding ear from President Kevin Bush. "Employees at any level in the company can walk in, sit down and have a meaningful face-to-face discussion with our president, Kevin Bush," says Jennifer Mangan, sales and marketing coordinator. The rapidly growing company, which is expected to expand into nearby states in the next few months, also recognizes outstanding staff performance through its Employee of the Month award, and encourages promotion within the company. Substitutes for Source4Teachers are afforded a flexible schedule and can work one day a week or every day of the school year. They are also entered into drawings for gift cards in the spring and around the holidays, from $50 to $500, and offered training throughout the school year so that they are aware of the latest instructional and classroom management techniques, and are prepared for the classroom setting. Source4Teachers is also active in the community, awarding scholarships to local students and participating in causes such as the One Warm Coat drive and the Kidsbridge Walk2Stop Bullying. It also donated items to those individuals, families and schools affected by Superstorm Sandy.
Law Office of Eric Shore, Cherry Hill The roughly 150 employees of disability attorney Eric Shore enjoy a fulfilling work-life balance along with a range of medical, dental and disability benefits, and a 401(k) option. Shore also offers extra PTO days to employees as holiday gifts, gym membership discounts, holiday parties and happy hours, free lunches and flexible work schedules. He also takes the firm to Phillies games. "It's a great place to work," says Alexis Wolfson, human resources manager. "We both have the same philosophy—our employees are our greatest assets. We value and respect our employees and understand a good work-life balance is important." One of the most unique perks Shore offers his employees is in-office yoga and massages once a month. The office has enough space for massage therapists to bring their chairs in and provide their services to the employees, while the yoga instructor has plenty of room to share her practice. "We have a lot of employees participate in these events each month," Wolfson says. "We alternate each month between yoga and massages, and everyone really loves it." Wolfson says Shore also supports Take Your Child to Work Day, and offers an extensive program that lasts the entire day. "We engage the children with an office tour, have them shadow their parents to see what they do, and offer a fun afternoon filled with balloons, games and face painting," she says. "At the end of the day, the children do a writing assignment on what they learned."
New Jersey Manufacturers Insurance, West Trenton/Hammonton/Parsippany New Jersey Manufacturers was started in 1913 by factory workers in the state who were seeking affordable workers' compensation insurance. Today, as the company celebrates 100 years in business, it offers personal and commercial insurance protection as well as banking services. Taking care of a wide variety of needs for their customers—especially in difficult times—is one of the prime benefits for NJM employees, who are 2,500 strong in three locations. "NJM is a service enterprise," says Communications Administrator Eric Stenson. "There can be a lot of job satisfaction knowing that you're helping people at times when they need you the most." About half of NJM's employees have been with the company for at least 10 years, due in large part to its tendency to promote from within. The 25-year club is also substantial, and employees who have reached that milestone are feted each year with a special banquet. On a day-to-day basis, employees can take advantage of free soup, coffee and peanut butter and jelly sandwiches in the cafeteria, a tradition that started during the Great Depression. And a huge perk for working parents is the inclement weather program. When schools are closed for snow in the winter, they can bring their children to work. "We solicit volunteers to help with the kids," Stenson says. "That way they can still work, their kids are nearby and they can have lunch with them, and they know they're being well-tended to. Plus, you don't have to miss work and worry about using a vacation day."
Duane Morris, Cherry Hill Duane Morris may be an internationally known law firm, but that has not stopped it from staying true to its most important asset: its employees. Offering part-time schedules for its attorneys, personalized "health advocate" programs for employees facing medical concerns, as well as standard benefits packages for spouses and domestic partners, it is easy to see that the firm takes its commitment to its employees and their families very seriously. Plus, at the corporate level, they put a special emphasis on promoting female lawyers through their Women's Initiative program, which sponsors programs geared toward women and conducts internal networking lunches and other activities for them—such as a women's retreat. "In our view, our greatest asset is our people," says Hersh Kozlov, managing partner of the Cherry Hill office and global head of the Duane Morris gaming law practice. "We really view ourselves as one large family. We engage with each other and respect each other. We understand that in our business, you can't do good business without good people, and we have the best people around." Throughout the course of the year, the Cherry Hill location, which has 22 lawyers and 20 staff members, also holds events for its employees and their families, such as the family day at the Philadelphia Zoo it hosted this June. "The zoo stays open for us, and it's a great time for the kids," says Kozlov. "We're all family [at the firm] and we want to respect the families of our family. When someone works hard, we want their families to know we appreciate the sacrifices that are made for that hard work."
Lourdes Health System, Headquartered in Camden Lourdes has a strong presence in South Jersey and is committed to its 3,200 employees and their families. From its emphasis on work-life balance through flexible work schedules and telecommuting options, to its free, on-site health screenings, it is evident Lourdes does what it can to keep its employees happy, healthy and fulfilled. "We are exceedingly proud to be honored as a Best Place to Work by South Jersey Biz magazine. At Lourdes, we believe our business is to provide the highest care through exceptional patient experiences, without exception. Our high-caliber caregivers are the key to our success," says Alexander J. Hatala, president and CEO of Lourdes Health System. Along with the standard medical and dental packages, Lourdes also offers the employees at its six locations a 403(b) retirement plan with matching contribution, a generous paid personal leave program, tuition reimbursement and discounted fitness programs through the Lourdes Wellness Center and other local gyms. Additionally, Lourdes has a strong associate recognition program, including "years of service" awards and the annual Sister Elizabeth Corry Award, which recognizes employees who exemplify its core values, as well as various other individual, team and leader awards for outstanding work.
BC Processing, Vineland This technology company, which specializes in electronic payment transactions, managed IT services and software development, encourages creativity among its 17 full-time and three part-time employees and promotes a relaxed working environment. "We have found that the work we do does not fall into the arbitrary 9-5 type culture," says Tim Chew, president of the company. The company's culture is unique to the area in that their software developers are highly encouraged to pursue their own projects along with delivering routine client work. This freedom helps maintain excitement and fresh perspectives in their industry. Staff members are often permitted to work remotely if their work allows, whether it be from home or on the road, and they are encouraged to generate ideas that may not be run-of-the-mill solutions. "As long as our employees have good ideas and are progressing, we'll support them in the organization," Chew says. "We definitely want them to be rewarded for their work." BC Processing also pays 100 percent of medical and dental benefits for eligible employees—a rarity these days—and requires that everyone in the company have a "pet" charity that the employees can support as a group. Chew notes while he appreciates that his company was nominated as a Best Place to Work, the company's success is not all because of him. "It's certainly a great feeling, but it's an accomplishment I can't take all the credit for," he says. "Our staff is very respectful of each other. It's a supportive, tight-knit group."
NEST International, Gloucester City When the economy went south several years ago, many companies scaled back on their holiday parties if not scrapping them entirely. But at NEST International—a facilities maintenance company that serves the retail, financial services and restaurant industries—the party keeps getting bigger and bigger. NEST, founded in 1994 by Bob Almond, expects its employees to be fully invested in company projects. It also believes in rewarding that investment, and the annual Christmas party is the No. 1 way it shows its appreciation. "We have a company barbecue in July, and we start to plan for the holiday party the day after that," says Jodie Argraves, director of Human Resources at NEST. "It's always the second Saturday of December and it's fabulous. It's like a wedding. Last year, the Mummers were there, Santa was there. All the employees can bring their spouses or significant others and it's always held at Auletto's in Deptford. "We give out all types of awards for performance recognition: iPads, phones, TVs, anything you can think of. It's definitely a big deal." The celebration actually starts in the morning at Breakfast with Santa, as employees are encouraged to bring their children, grandchildren or nieces and nephews. Almond also buys Christmas trees for every employee that are given out the day of the party. His generosity isn't restricted to the holiday season, however. NEST has a 401(k) program and matches up to 4 percent of an employee's contributions; the tuition reimbursement program provides up to $3,000 a year; and the Bonus Incentive Program rewards every employee with quarterly bonuses based on company profitability. "We really want to give back to the staff," Argraves says. "Obviously, they contribute a lot to the success of the company. The things that Bob does in return are endless."
Published (and copyrighted) in South Jersey Biz, Volume 3, Issue 6 (June, 2013).
For more info on South Jersey Biz, click here.
To subscribe to South Jersey Biz, click here.
To advertise in South Jersey Biz, click here.