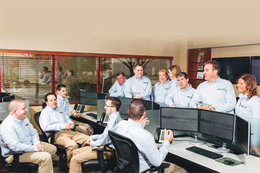 Striking a Balance
With millennials and baby boomers entering the workforce in record numbers, today's business owners are tasked with finding the right mix of incentives to attract and retain the best team. Through state-of-the-art construction projects, onsite amenities, discounted services, volunteer opportunities, performance bonuses, fun activities or a number of other perks, this year's Best Places to Work winners are finding creative ways to do just that. Here, we take a look at the variety of programs they have put in place to keep employees engaged and motivated.
Airborne Systems North America of NJ, Inc.
Airborne Systems is a trusted resource for parachute design and manufacturing. For more than 48 years, the company has been respected for its quality work and caring attitude toward both customers and employees. Over 160 employees are offered flexible benefits and programs, including flex spending accounts, tuition assistance, legal assistance, discounted auto and homeowner insurance and employee reward and recognition programs. They provide ongoing training for the betterment of employees, which is considered essential for the organization's success.
AnnieMac Home Mortgage
AnnieMac Home Mortgage has policies to enhance employees' quality of life, such as flexible work hours and a volunteer Culture Committee tasked with creating an enjoyable work environment. Team members who provide exceptional service are eligible for bonuses like tropical vacations and enjoy employee appreciation events, including picnics and a gala holiday party. However, they recognize that the highest priority for most employees is being able to support themselves and package; along with many educational opportunities for them to enhance their profitability.
ARI
Headquartered in Mount Laurel, ARI is the world's largest privately held fleet management company. Its company-wide employee engagement program, Partners In Excellence, communicates company initiatives and provides employees with the opportunity to recognize, celebrate and reward coworkers' successes through an online, social media-like platform. Other perks include the company's in-house training and development program, Holman University, day-one tuition reimbursement, an annual weeklong celebration that features team building games and events, health and wellness programs and community engagement opportunities, including paid time off to participate in the annual United Way's Days of Caring.
Campbell Soup Company
Campbell helps its employees bridge the gap between work and home. At its World Headquarters in Camden, staff enjoy onsite amenities including a fitness center, a family center with daycare, back-up care and summer camp, wellness rooms for nursing mothers, a nurse, dry cleaning services and a credit union. Additionally, the company has policies such as parental leave that provides 10 paid weeks leave for a primary caregiver and two weeks paid for a secondary caregiver, and a Dress For Your Day policy, allowing employees to determine their appropriate dress code. Its employee cafeteria also offers free Campbell's soups on Fridays.
Flaster Greenberg, PC
This full-service commercial business law firm has a strong belief that its employees should be treated as justly as its clients. Along with a full range of traditional benefits, there is a profit-sharing plan for all employees, tuition reimbursement, "Cake Day" and "Bagel Day" every month in recognition of employee birthdays and anniversaries, firm-sponsored sporting events, two complimentary electric vehicle charging stations onsite and legal service benefits available.
Flaster Greenberg also sponsors several team-building events throughout the year, such as its End of Summer Party, Thanksgiving Feast, Annual Softball Game,FG Family Fun Day and Staff Retreat Day.
GB Collects
GB Collects loves to participate in community service activities and donates to multiple charities, participating in the Women's Opportunity Center's Adopt-A-Family event and supporting many of their clients' companies' charities such as March of Dimes, Leukemia Society and The United Way. The company also promotes health and wellness in the workplace by replacing vending machines with FreshDirect, a healthy grocery delivery service that provides healthy foods and snacks every week. They also have an onsite basketball court and are conveniently located across the street from a local park. Additionally, all employees are eligible for gift cards, cash bonuses and catered meals throughout the year.
Holtec International
Holtec recently completed a new, state-of-the-art office complex along the Delaware River that will include an athletic facility and onsite café for its employees featuring companypaid barbecues for Memorial Day, Labor Day and the Fourth of July. In addition to flexible work hours, staff can take advantage of discounted services from local phone, daycare and gym providers. Holtec will also reimburse employees up to $5,000 per calendar year for pre-approved and job-relevant tuition after one year of service to ensure they continue with career growth and fulfillment.
Lockheed Martin
At Lockheed Martin, they don't just reward people with a paycheck —they offer a wide variety of wellness programs, resources and amenities to help them live flexible, healthy, fulfilling lives at and outside of work. This may include free onsite flu shots or incented physical activity programs. Additionally, Lockheed Martin provides their employees with the tools they need to make the most impact, with mentorships, networking opportunities, their families, so they also offer a competitive salary and benefits Employee Resource Groups and professional development.
Lourdes Health System
Lourdes Health System values its employees and their dedication to providing outstanding quality care to patients, offering employees medical and dental insurance with no deductibles or co-pays for employees and covered family members who utilize Lourdes services and physicians; as well as wellness incentives, such as reimbursement for fitness club memberships. Their staff is very active in the community and supporting those in need, with programs such as adopt-a-family, prom gown drives and health awareness walks and fundraisers. They also create a culture of fun, with employee cookie baking contests, pet blessings, and leaders dressed in costume during engagement surveys and celebrations.
NFI Industries
With transportation facilities, warehouses and offices across North America, NFI values and cares for its employees, providing opportunities for professional development and growth in the organization and provides employees with opportunities to volunteer and help the communities in which they work and live. NFI has been family owned and operated since 1932 with a team now of more than 8,300 employees. Perks for staff have included holiday-themed parties, Philadelphia sporting event ticket raffles and discounted services from local cell phone, gym and auto providers.
New Jersey American Water
New Jersey American Water is the largest investor-owned water utility in the state, providing water and wastewater services to more than 2.7 million people. As a subsidiary of American Water, the company offers a full spectrum of programs and services for employees including benefits, health and wellness programs, an employee stock purchase plan, tuition reimbursement and training and professional development. The company also fosters employee involvement in the communities where they live and work through employee giving campaigns. Its Healthy Numbers- Healthy Values program offers staff the chance to earn wellness credits for maintaining biometric screening results.
PCH Technologies
PCH Technologies and its employees are celebrating 20 years of providing world-class IT and cyber security services. They recognize attracting and retaining the best talent is a key part of delivering the best possible customer service. Providing a top-of-the-line and complete benefits package is important to making sure employees can provide for themselves and their families. The company provides paid training and certifications to keep them engaged and up on the most current technologies as well. PCH Technologies also strives to offer employees a work life balance with fun activities like golf tournaments and even hosted a Star Wars premiere party.
Rutgers University-Camden
Rutgers is one of the largest employers in the state of New Jersey, and Rutgers University–Camden provides students and employees alike with the power of the Rutgers brand in a close-knit, supportive community. They not only offer competitive salaries and benefits, but the chance to be part of an exciting campus environment. Rutgers–Camden's commitment to the community gives faculty and staff an opportunity to make an impact on the lives of others. Their commuter tax program allows staff to set aside pre-tax dollars for mass transit expenses. Employees of the University are also eligible for discounts for on-campus concerts, lectures and athletic events.
Sun National Bank
With strong corporate governance ideals and a philosophy of accountability, Sun National Bank rewards employees for the achievement of both organizational and individual goals. They encourage employees to provide candid input through both engagement surveys and an open-door management approach. Sun's Rewards & Recognition program provides both peer and manager-level acknowledgement and mentorship and development programs help create highly personalized career paths. Their staff enjoys free banking, tuition reimbursement and pre-paid legal services.
Tech Data
Tech Data invests in its communities and its employees are actively engaged in philanthropic activities aimed at improving lives. Staff have ample opportunities to make a difference through company- supported volunteer time, mentoring opportunities through organizations such as Big Brothers Big Sisters of America, community walks that support organizations including the American Heart Association, Make-A-Wish Foundation and American Cancer Society and two paid days off each year for all full-time employees to participate in the charitable activity of their choice. In addition, the company provides an onsite fitness center, café with atrium seating, recreation area and onsite dry cleaning services.
"WHAT MAKES YOUR WORKPLACE A GREAT PLACE TO WORK?"
My employer has team-building events outside the office that bring us closer together and make us work better with each other when we are in the office.
— Rebecca Stark, accounts receivable supervisor, Cross MediaWorks
A great place to work for me is a company whose culture is based on work-life balance and allows employees to create a schedule that works for them and their lives. For parents that means flexible hours, work-from-home opportunities and generous vacation.
— Linda Arceo, social media specialist, Wakefern Food Corp.
It is never dull, and it is different every day. Who wouldn't love that? Anything can happen (and does). Once you work at an airport, it's kind of hard to go back to a desk job. If you like to people watch, there is no better place than an airport.
— Sharon Maley, flight attendant, American Airlines
It may sound cliché but it is the people I work with that make going to work, not feel like work. From those I see on a daily basis to those who are a phone call away.
— Nancy Hibbard, food service director, Nutri-Serve Food Management, Inc.
The diversity of the area /customer base we have. Normally people think of cities as the melting pots of the country, but you can meet people of different ethnicities and cultures all around the areas surrounding big hubs. And it's great getting to hear someone else's story or learn about a culture that could be so different from your own.
— Dan Sommer, head teller, First Bank
Here at The Washington Township Branch, we have casual dress Fridays. And we are big on teamwork, reaching out to the community through scholarships, the Chamber of Commerce and the Rotary Club. That alone makes it a positive experience to work here. Our door is always open to current/past customers with any questions or concerns.
— Steven Costa, branch manager, Gateway Mortgage Group
What I love about my company is the chance to stretch beyond the job description. Holman provides a medium to give back to the community, invest in yourself and have a lot of fun, too! They provide 100 percent paid maternity, 100 percent tuition reimbursement, an on-site gym and bistro and a great work environment.
— Jessica Carleton, executive recruiter, Holman Enterprises
Working for the Food Bank of South Jersey is wonderful on many levels—there's great leadership, a strong emphasis on work/life balance and a solid benefits package, but, undoubtedly, the best part of working here is the people. I meet and speak with so many people through the function of my position, and I'm always so moved by the stories of impact that are shared among people we serve, people who volunteer with us, and the people who work here.
— Lauren Hann, senior manager of communications, Food Bank of South Jersey
From the day I was hired at Cooper, I felt a sense of belonging and after two years I feel I have grown into a family. I enjoy working with many young professionals working toward their goals—that is what encourages me to be the best version of myself. I feel constant support from all levels within the health system. They encourage learning, and for me, there is no better place to do so than here.
— Lauren Bertuola, BSN, RN, CEN, Cooper University Health Care
Hands down, the best feeling is going to work each and every day knowing I am doing my best to make a child's life a little brighter. Seeing our exceptional children learn, grow and achieve their goals ... is truly rewarding .
— Andrea Smeraski, s peech l anguage p athologist, M.A., CCC-SLP/L, Voorhees Pediatric Facility
What I love about working with adolescents and adults who struggle with mental health issues is that I am able to help support them in finding internal strengths that they didn't know they had prior to starting counseling and making long-lasting changes in their life. ... Combining my passion for helping others through counseling and starting my own private practice has truly been a dream come true.
— Sarah Goldberg Ellis, LCSW, psychotherapist in private practice
Published (and copyrighted) in South Jersey Biz, Volume 7, Issue 4 (April, 2017).
For more info on South Jersey Biz, click here.
To subscribe to South Jersey Biz, click here.
To advertise in South Jersey Biz, click here.