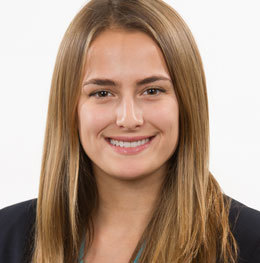 On The Move: January, 2015
Comings, goings, hirings, retirings and more in South Jersey.
Comings and Goings
Corey Norcross (pictured), an associate at Dilworth Paxson LLP, was appointed to the United Way of Greater Philadelphia and Southern New Jersey's local operating board in Camden County. She succeeds her father, Congressman Donald Norcross, who was on the board for 22 years, but left the position after being elected to the House of Representatives in November.
Following a 17-year tenure, Glassboro Council President Anthony Fiola retired from his position on the council. As president, Fiola chaired the public safety committee and was a member of the finance and public property and ordinance committees. He also served as liaison to the Board of Health.
Law firm Capehart Scatchard announced Matthew D. Wizmur, Esq. joined its commercial litigation department in its Mount Laurel office. Wizmur will focus his practice in the representation of commercial and residential landlords in eviction matters, creditors in collection and foreclosure matters, and businesses in contract disputes.
After a six-month national search, Jim Cawley has been named president and chief executive officer of United Way of Greater Philadelphia and Southern New Jersey (UWGPSNJ), effective Feb. 9. Cawley joins UWGPSNJ upon ending his term of office as the 32nd Lieutenant Governor of the Commonwealth of Pennsylvania.
George W. Matteo Jr. has joined Lauletta Birnbaum as a partner, specializing in the areas of Real Estate, Land Use, Banking and Finance, General Corporate and Commercial Transactions. Matteo has more than three decades of experience in business and law, including experience in Brownfields remediation and redevelopment and environmental development projects with the state.
Haddonfield resident Dr. Kathleen Greatrex, chair of Radiology and Nuclear Medicine at Lourdes, has been elected president of medical staff for Lourdes Medical Center of Burlington County. Also at Lourdes, Dr. Rishi Anand, endocrinologist and Moorestown resident, has joined the medical staff.
After four decades leading the South Jersey Federal Credit Union, Benjamin T. Griffith will be stepping down as president/CEO this April. He will remain with the organization in a consultant capacity as they transition to new chief executive officer Rahul Kachru, who joined SJFCU in January. Kachru was most recently the COO at Long Beach City Employees Federal Credit Union in Long Beach, Calif.
Cape Bancorp, Inc., the parent company of Cape Bank has announced the appointment of Arthur M. Birenbaum, formerly the executive vice president of The Bancorp, to lead Cape Bank's commercial lending practice.
Marlton's Nichole F. LoPresti has been named the senior vice president of government affairs and special events of the New Jersey Apartment Association. LoPresti was formerly the vice president of Tonio Burgos & Associates of New Jersey.
John E. Wallace III, a perfusionist in the Department of Surgery at Cooper University Hospital, was unanimously selected to fill a vacant seat on the Glassboro Council. The 49-year-old will take over for the outgoing Anthony Fiola, serving his one year unexpired term. Wallace is a member of the American Board of Certified Perfusionists and the American Society of Extracorporeal Technology. He is a member of the Glassboro Zoning Board, an Executive Member for the Glassboro Parent and Community Advisory Board and past Chair of the Gloucester County Child Placement Review Board.
Heather L. Demirjian joined law firm Parker McCay as an associate in the firm's environmental law practice. Demirjian concentrates her practice in all areas of state and federal environmental law.
Duly noted
Moorestown-based TTI Environmental, Inc. has acquired two New England offices of Pennoni Associates, Inc. The addition to TTI brings added capabilities in the fields of engineering, environmental consulting and surveying, and a wealth of experience in a new geographic region.
Moorestown Ecumenical Neighborhood Development (MEND) and its joint venture development partner Conifer Realty, LLC have received the Supportive Housing Association of New Jersey's (SHA) "Supportive Housing Project Award–Large Scale Developments" for their development of the Springside School Apartments in Burlington Township.
Joseph J. Hoffman Jr. , of Hoffman DiMuzio, is one of the Top 100 litigation lawyers in New Jersey according to the American Society of Legal Advocates.
Published (and copyrighted) in South Jersey Biz, Volume 5, Issue 1 (January, 2015).
For more info on South Jersey Biz, click here.
To subscribe to South Jersey Biz, click here.
To advertise in South Jersey Biz, click here.