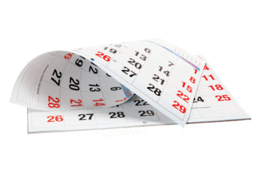 2014 Year in Review
A look back at the stories featured on the pages of South Jersey Biz in 2014.
With another year officially in the books, we thought now would be a good opportunity to take a look back at the stories we covered in 2014. Beginning with our first ever Top CFOs in January to our Executives of the Year in November, we've met and introduced our readers to a number of local business people and companies that are truly doing great things in South Jersey.
We also shared stories discussing the Economic Opportunity Act, and the state of loan access in South Jersey, as well as a story about what South Jersey can do economically to overcome North Jersey. We addressed a number of issues that affect our business community in a variety of ways, and we hope you learned as much in 2014 as we did.
We always enjoy looking back at the past year and remembering all that we've covered and noting what we should be sure to cover in the future. So without further ado, we present to you our Year in Review.
January
We started the year off with a comprehensive list of companies that could help any business in our readership area succeed. From those that specialize in advertising to those that help furnish an office, presenting our Annual Resource Directory in January helped our readers set up a successful year ahead. For the first time ever, we also featured the Top CFOs in the region, recognizing the number crunchers that are often working behind the scenes to help make a business successful. Susan Story, of American Water, was one of the CFOs we featured. The Voorhees-based American Water is the nation's largest publicly traded water and wastewater utility company, and continues to see success with the help of Story, now the company's president and CEO. In the third quarter alone, operating revenues increased 2.9 percent to more than $846 million; and the company completed four acquisitions, including the purchase of Haddonfield's water and wastewater assets.
February
The February issue focused on 25 Women to Watch, our annual list of female leaders who have earned their seat in the boardroom. Susan M. Coan was one of the women we featured, for her excellence in serving as vice president of the Atlantic City Electric region of Pepco Holdings, Inc., which serves nearly 550,000 customers in southern New Jersey. Coan, and the state of New Jersey, will soon be seeing some changes at her company, as Pepco Holdings will be merging with Exelon Corp. Approved by the Federal Regulatory Commission in November, the acquisition is expected to be complete by the second or third quarter of 2015. Our February issue also featured a story about how maintaining historical buildings is reviving towns across South Jersey, as well as a story about gender inequality, which, despite the gains women have made in the business world, is still prevalent.
March
We featured our first-ever Best of Health Care list in March, which honored the top names in medicine, research and advocacy across the region. It was one of our favorite issues, as we were introduced to the men and women, corporations and small companies working to make a difference in health care in South Jersey. We also discussed what local colleges and universities are doing to address the goal set by President Obama in 2009 to increase college degree attainment among 25- to 34-year olds to 60 percent by 2020. While New Jersey is performing better than many other states, there is still work to be done, and local institutions of higher education are doing what they can to address the issue. Take the recent partnership with Camden County College and Rutgers University-Camden, which allows a student who has completed a CCC associate degree and has satisfied program-specific requirements to gain admission to Rutgers-Camden. The partnership, which is similar to one formed by Gloucester County College and Rowan University—GCC is now Rowan University at Gloucester County—makes getting a four-year college degree that much more accessible.
April
In honor of Earth Month, we presented our fourth annual Green Awards in April, a tribute to the local companies doing their part to reduce their impact on the environment. We also discussed the Economic Opportunity Act, which was still young in April, having just been signed into law the previous September. Combining five state programs with a primary goal of helping the region attain access to grants and tax incentives, the act seems to be making the impact it intended to. Some of the larger approved projects include the Philadelphia 76ers being awarded $82 million in tax credits over 10 years to build a practice facility on Camden's waterfront; $107 million to Lockheed Martin for the two laboratories it plans to open in Camden in 2015; and $260 million to Holtec for its proposed 600,000-square-foot manufacturing and design center in Camden.
May
Our May issue featured two major stories—our annual 20 under 40 list, and our first-ever Best Attorneys in Business list. We always enjoy putting together the 20 under 40 list, as it affords us the opportunity to meet the up-and-coming business people who are doing what they can to make South Jersey great. As it is, we enjoyed putting together our Best Attorneys in Business feature just as much, as we were introduced to more than 100 attorneys in our area who provide legal guidance and protection to local businesses. One attorney we featured, Frank Lauletta, of Lauletta Birnbaum, LLC, even takes his commitment to local businesses one step further, having co-formed Incutate, a business incubator at his company's office building providing legal, business and strategic guidance to start-up and emerging growth technology-based businesses in the region.
June
We spoke with South Jersey bankers in our June issue about challenges in their industry, and what they're doing to adapt. We also featured the local businesses we think are the Best Places to Work. This year there were 15 companies on the list, companies that went beyond telecommuting and flex-time to offer their employees benefits we've never heard of before—including on-site massages, wine and cheese socials and softball tournaments. Rowan University was one of our featured companies, offering employees tuition reimbursement, professional growth opportunities and access to its on-site recreation center. In addition to being a great place to work for all that it offers its employees, Rowan also gives its employees reason to be proud to work there, by participating in community events and being a part of ground-breaking studies, such as the epilepsy study it recently took part in.
July
We took a look around South Jersey in July to find the top towns for business—the places that are making it easy for start-ups to get off the ground. While we did not name one particular town that seems to have an edge over any of the others—there are a number that are top contenders—what we did learn is that South Jersey is a great place to get your business off the ground. We also recognized 25 local leaders in health care this month with our Who's Who in Health Care feature. The men and women recognized play a variety of roles in health care—from the president of a major health care company to the dean of a local nursing school—and all of their companies continue to do great things in the health care realm. We recognized Carman Ciervo, chief physician executive for Kennedy Health System, for example, and Kennedy has received a number of awards this year, including the receipt of a "Grade A" Hospital Safety Score by the Leapfrog Group.
August
Our list of 104 of the most trustworthy names in South Jersey business anchored our August issue. From the best accounting firm to the best training provider, our Best of Biz list—which included readers' picks and editors' picks—is a way for us to recognize businesses in the area that are at the top of their game. We also discussed what South Jersey needs to economically overcome North Jersey, and we learned while there is no one factor that can put us over the edge, with a few right moves, South Jersey can certainly be in the running. An article about business incubators also graced our pages, discussing the benefits small businesses can see in the low-rent, brick and mortar office spaces. Though the article focused on the incubators at Burlington County College, Rowan University and Rutgers-Camden, an incubator in Sewell is also now looking for businesses to take up shop in its footprint. Cindy Cipriani, clarity coach, grief recovery specialist and founder of Clear Path by Cindy, was the first business to move into the incubator in November.
September
We honored 25 outstanding entrepreneurs this month, sharing how they have successfully navigated their respective fields and helped their businesses become the best they can be, despite operating in a troubled economy. We also featured how growth in freight, rail and air transportation options in South Jersey is putting the area on the map. Unfortunately, the New Jersey Transportation Trust Fund (TTF), which provides a major portion of the funding for these projects, will be broke by July 1, 2015, if a source of funding is not determined. The state previously earmarked certain taxes and other monies for the fund, but in recent years so much has been borrowed against the fund that it is now in debt. With so much relying on this fund—from the wellbeing of residents to the state's overall economy—the hope is that a solution for funding the TTF will be found before July rolls around.
October
In October, to recognize the impact of small businesses on South Jersey, we featured our first-ever Small Business Awards. We also discussed a new way to finance startups—crowdfunding—and shared how this innovative concept, as part of the Jumpstart Our Business Startups (JOBS) Act, makes raising capital for small businesses a little easier. Finally, we shared the state of loan access in South Jersey, which we learned is variable depending on the size of your business and what you can bring to the table. One institution offering loans, Susquehanna, will be seeing major changes in 2015 as Winston-Salem, N.C.-based BB&T Corp. announced in early November plans to acquire Susquehanna's 245 branches in the Philadelphia area. The $2.5 billion deal, which includes naming rights for the Susquehanna Bank Center in Camden, is expected to be complete sometime in 2015 if approved.
November
We shared our 2014 Executives of the Year list with readers this month—the presidents, partners and executive directors finding success in their fields in South Jersey. All 25 of the men and women we featured are doing great things to make their businesses—and South Jersey—be the best they can be. One of the men we featured, John Palmieri, executive director of the Casino Reinvestment Development Authority, is doing what he can to help turn Atlantic City around after several casinos closed in the city late in 2014. While Palmieri has led more than $500 million in projects to completion and instituted projects for more than $100 million in investment, there is still a lot of work to be done in the struggling city, as United Airlines announced in November it will be leaving the airport after just eight months and more casino closures are on the horizon. The good news is retail seems strong in the city, with places like Bass Pro Shop taking up residence. We also featured a story about 15 local companies doing their part to strengthen their community through their philanthropic efforts. It's stories like these two that remind us that while there are plenty of people finding success in South Jersey, there are just as many that are in need of our help, and we can all do our part to make a difference in both realms.
Here are the links to the 2014 contests and polls:
2014 Outstanding Entrepreneurs
Published (and copyrighted) in South Jersey Biz, Volume 4, Issue 12 (December, 2014).
For more info on South Jersey Biz, click here.
To subscribe to South Jersey Biz, click here.
To advertise in South Jersey Biz, click here.