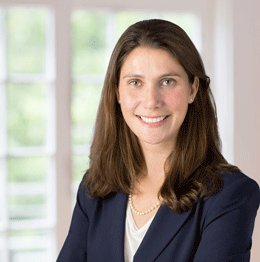 On The Move
Comings, goings, hirings, retirings and more in South Jersey.
Comings and Goings
Greenblatt, Pierce, Engle, Funt & Flores, LLC, announced that Ashley E. Shapiro (pictured) joined the firm as an associate. Her practice concentrates on the areas of white collar criminal defense and corporate investigations, as well as federal, New Jersey and Pennsylvania criminal defense matters. She will practice out of the firm's Haddonfield and Philadelphia offices.
Steven Tyson was named development officer of the United Way of Greater Philadelphia and Southern New Jersey (UWGPSNJ) in Camden County. In this role, Tyson, who has worked in the nonprofit industry for more than 20 years, will lead UWGPSNJ in Camden County's annual fundraising campaign through account management, volunteer supervision and strategic relationship building.
Rothamel Bratton Attorneys at Law announced Anne Markel-Crozier, BSW, CSW, joined the firm's Rothamel Bratton Elder Law division. In her new role, she will work closely with clients in the areas of elder law and life care planning for the firm's locations in Haddonfield, Lawrenceville and Philadelphia.
Reginald J. Blaber, M.D., FACC, Michael C. Haydinger, and Joseph M. Nardi were named to the Joseph Fund board of trustees. The Joseph Fund is a Camden-based nonprofit organization dedicated to supporting the Ministries of St. Joseph Pro-Cathedral.
Judith S. Charny, Esq., was appointed by Cherry Hill Mayor Chuck Cahn to serve as the first woman municipal court judge in township history. Her term runs through Dec. 31, 2016.
Saul Gruber, of the Gruber Firm in Mount Laurel, was named the 2nd Vice President of the New Jersey Association for Justice (NJAJ).
Lisa M. Grandner, Richard J. Nalbandian, Gregory S. Ricciardi and Whitley E. Weinlein joined the Mount Laurel headquarters of law firm Parker McCay.
Christopher J. Lukach, APR, has been named president of the Mount Laurel-based public relations firm Anne Klein Communications Group, LLC. Michael S. Gross also rejoined the firm, taking over as senior vice president and chief operating officer, the role Lukach had held for the past three years.
Kathleen Hall-Olsen, M.A., CCC, C-NDT, was named hospital administrator of Weisman Children's Rehabilitation Hospital. In this role, she will oversee all clinical and operational functions and manage the day-to-day activities of Weisman Children's Inpatient and Day Hospital, Outpatient and Medical Day Care Centers.
Duly Noted
Bancroft announced Rex Carney will be the nonprofit organization's vice president for external affairs. Previously serving as vice president for marketing and communications, in his new role, Carney will be responsible for government and community relations, helping to communicate Bancroft's goals and accomplishments to key external audiences. Bancroft also named John Huff its director of facilities management services.
The 50-acre site of the former Woodbury Country Club in Woodbury was purchased by Moorestown-based Burris Construction Company in a $3.2 million deal. The new site will be called B Well Rehabilitation and will offer medical rehabilitation facilities.
The state's largest managed Medicaid health plan, Horizon NJ Health, a Horizon Blue Cross Blue Shield of New Jersey (Horizon BCBSNJ) company, announced it will launch a Managed Long-Term Services and Supports program which will serve individuals who have disabilities and/or are over 65 years of age, who qualify for Medicaid, and are in need of nursing home level of care for certain daily activities.
National project management and consulting firm GREYHAWK was awarded a 2014 Project of the Year award from the Mid-Atlantic Chapter of the Construction Management Association of America. The firm received the award for K-12 School Projects under $20 million for the additions and renovations that were made to the Kingsway Regional High School in Woolwich Township. The existing high school building was an approximately 222,000-square-foot single-story structure. The project included approximately 37,500 square feet of additions, and the renovation of approximately 15,000 square feet of existing space.
TTI Environmental, a multi-disciplined environmental service organization, announced Senior Environmental Project Supervisor Kristin Kaeser achieved her Licensed Site Remediation Professional (LSRP) certification. This license has been created to control the facilitation and closure of contaminated sites and to stimulate redevelopment in New Jersey.
Published (and copyrighted) in South Jersey Biz, Volume 4, Issue 7 (July, 2014).
For more info on South Jersey Biz, click here.
To subscribe to South Jersey Biz, click here.
To advertise in South Jersey Biz, click here.