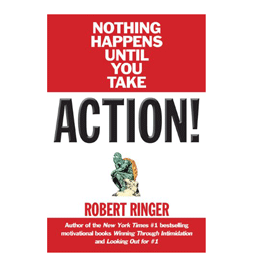 Office Space
Supplies in Demand
Making it to the top of the business world can be a challenge. This month's books help demystify the process, guiding you to find ways to step out of your comfort zone and make a name for yourself, no matter what sector of business you're in.
Action! Nothing Happens Until You Take Action!
Defying general assumption, Robert Ringer's book explains why taking action is the first necessary step toward long-term happiness and a brighter future. Skyhorse Publishing, July 2014, $14.95
Leading with Spirit, Presence, and Authenticity: A Volume in the International Leadership Association Series, Building Leadership
Kathryn Goldman Schuyler, John Eric Baugher, Karin Jironet and Lena Lid-Falkman present the reflections of leaders, social scientists and educators from around the world as they strive to develop their inner wisdom through the power of self-reflection, achieving qualities of a proper leader. Wiley Publishing, July 2014, $40
Strategic Relationships at Work: Creating Your Circle of Mentors, Sponsors, and Peers for Success in Business and Life
This book by Wendy Murphy and Kathy Kram guides 21st century managers, executives and even entrepreneurs on how to leverage and mentor relationships in the workforce using basic tools and proven strategies. McGraw-Hill Professional Publishing, July 2014, $26—Kristina Ryan
Crunching Numbers
400: Number of jobs to be created at the new Mount Laurel call center of international consulting firm Towers Watson
$475,000: Grant amount the Cooper's Ferry Partnership received from ArtPlace America, a group that supports creative placemaking across the country, to help with community improvement projects in the city
$260 Million: Amount, in tax incentives, approved by the state Economic Development Authority, for Marlton-based energy company Holtec, contingent upon it opening a new plant in Camden
3rd: Place in state history where the deal stands in regard to tax incentives; only two others were larger
¾: Amount New Jersey's first-time unemployment claims jumped in the last week of June
20,624: Number of first-time unemployment claims that were filed, compared to 12,045 the previous week
Published (and copyrighted) in South Jersey Biz, Volume 4, Issue 7 (July, 2014).
For more info on South Jersey Biz, click here.
To subscribe to South Jersey Biz, click here.
To advertise in South Jersey Biz, click here.