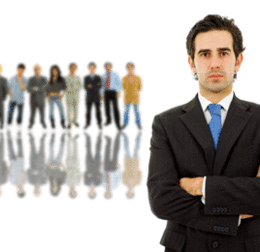 Straight to the Pros
Local business people share their stories of success—without college degrees under their belts.
Is a college degree a prerequisite for success in the business world? While societal expectations and statistics may have you believe the answer is a resounding "Yes," some local business people say otherwise.
An estimated two-thirds of graduating high school students in the U.S. last year were enrolled in colleges or universities by fall, according to an April 2014 report from the federal Bureau of Labor Statistics. Of those who did not continue their studies, nearly 75 percent were either already working or looking for employment.
For some, the choice to delay or forgo college altogether could be a result of an improving economy that seems to offer more opportunity than in previous years.
Given soaring tuition costs and a heavy load of student debt among college graduates—an average of $29,400 apiece in 2013, according to The Project on Student Debt—the willingness to avoid digging an early financial hole could also be a factor.
But for others, the decision to enter the workforce in lieu of furthering one's education represents financial freedom, a chance at self-sufficiency, or even a desire to try their hands at entrepreneurship.
Of those who enter the workforce, some may find that joining the family business is a more viable option than starting your own. For Mike DiBartolo of DiBartolo Bakery in Collingswood, a multi-generational Italian bakery, his was a journey that started with paying his dues as a young man.
"My dad started the bakery, and then he died, and it was me and my brother," DiBartolo said. "We just worked hard. We worked 20-hour days.
"I learned from some of the old-timers that were here," he says. "I worked on the bench next to them."
The experience in baking is entirely hands-on, but DiBartolo says that as he worked his way through the business, he learned a lot about ways to expand his offerings, develop and maintain customer relationships, interact with the public, and manage finances on the back end.
The all-inclusive environment gave him a basis for establishing his own ideas about how to grow the business. When it came time to add new products to the bakery, even though he didn't have a college education, DiBartolo did have an earnest streak of curiosity and an ear for what the public wanted.
"I would read up on some things, and that's how we expanded our line," he said. "I learned by listening to what the customer would say."
Although most product research is conducted online or reported in trade publications today, DiBartolo stresses that customer interaction is a skill that can't be taught in the classroom. He says he is occasionally frustrated with the seeming lack of interpersonal communication that he observes in some young people—even those who are college-educated.
"A lot of the kids today don't have that one-on-one," DiBartolo says. "They don't know how to interact with people. That's very important."
Today, the family business includes DiBartolo's nephew, Al DiBartolo Jr., and his friend Manny Agigian, neither of whom went to college. (Although Agigian had formal culinary training as a pastry chef.) Both are presently featured on season four of TLC's Next Great Baker, competing for a chance to work at Buddy "Cake Boss" Valastro's new shop in Las Vegas.
"Al just came into it and he worked up," DiBartolo says. "He's got a lot of new ideas because he's younger and he's got kids; he's pretty astute on things.
"Manny didn't go to college, but he had training in the art," he says. "That's a difference. He knows product."
For others, a computing background was all they needed to get off the ground.
Jay Levin, a music producer and professional editor who owns Turtle Studios, dropped out of the University of Pennsylvania when he realized he could parlay his technological expertise into a foothold in the IT world.
"I ended up not having much motivation to go back because I had the ability to get good jobs just by simply being focused on how I can be most valuable to my employer," Levin says. "Talent was in such demand that nobody was going to ask if I had a degree. I had documentable skills and accomplishments."
Levin notes the key for him was the opportunity to distinguish himself with his bosses "way beyond what I was hired to do at some crappy temp rate." From there, he built a consulting business at age 20 that grew into a one-man shop capable of landing five-figure contracts.
In a job market where employers are raising the minimum qualifications even for experienced staff, Levin believes that "overreliance on paper qualifications is a market inefficiency." Employability isn't necessarily contingent upon having earned a degree, he says, and finding a boss who recognizes that is likely a better job situation.
"The same people who rely on paper qualifications are going to have very rigid views on compensation, as well," he notes. "If they're not looking for value, then they're not primarily concerned with rewarding value, either."
The increase in student loan debt many students bear often can also make the entire proposition of college financially untenable, Levin says, especially "for people who are able to educate themselves in other ways and demonstrate superior value to clients or employers.
"If [college] wasn't a good investment for me in 1990, given how much more expensive it is now and the realities of the job market now, how can it possibly be a good investment 25 or 30 years after?" he asks.
Finances aren't the only factor that can keep college from being a viable proposition for some people. Cherry Hill native James Davis, founder and CEO of Hire Edge Logistics Personnel, had his dream twice-deferred for family reasons.
"In my situation, it wasn't because I didn't want to go to college," Davis says. After graduating from Cherry Hill West, Davis enlisted in the Army with the intention of attending college. Within his first semester at Rutgers, he had a child, which "changed everything."
"I put that on hold and ended up working for a trucking company," Davis says. "The money was very, very good; my intention was to work there, support my family and go back to school.
"In reality, it was another 20 years," he says.
But the background Davis developed in the field of logistics led him into a business partnership with his brother, who operated a large-volume staffing company in Boston. Today, the two have gone their separate ways, and Hire Edge Logistics Personnel is an $8 million company.
"Things are looking very good," Davis says.
When he looks around his office, most of his employees are college graduates, with the exception of himself and another high-level manager, he notes. Many of the graduates he has hired aren't working in their chosen field of study, either, which he believes is also typical of the experience. "Back in the day, I wanted to be an attorney," Davis says. "I'm far from that."
"With technology evolving at the rate that it is and social media evolving at the rate that it is, I find that folks right out of college are somewhat on the cutting edge of what happens in the workplace today, from a young person's point of view," Davis says. "I find that if I take the time to mold them, coach them, mentor them, they want to prove that the four years they spent in college was not lost."
That's not to say he believes that a college degree is a prerequisite for success, either. His brother, who dropped out of high school and completed his GED later, is a pilot who operates a $60 million company and owns two or three jets. His wife, a college professor with a doctorate, told him that the motivation that led him to become an expert in his field is something that's not taught in school.
"I always feel the dogs are right behind me if I don't drive my business forward," he says. "I have 160 employees. I owe them the right to make a living. I think at times you take your eye off what's important to the business, and I don't want to do that."
Published (and copyrighted) in South Jersey Biz, Volume 4, Issue 7 (July, 2014).
For more info on South Jersey Biz, click here.
To subscribe to South Jersey Biz, click here.
To advertise in South Jersey Biz, click here.