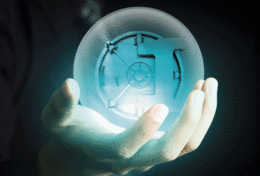 Banking on the Future
South Jersey bankers on challenges in the industry, what they're doing to adapt, and how the customer will always drive the business.
As a business owner, your financial institution can come to serve as one of your most trusted advisors. Whether you're an entrepreneur seeking start-up capital or an established company in need of convenient banking solutions to manage your cash flow, banks serve a crucial role in the day-to-day operations of their commercial clients. So when faced with obstacles such as a tight economy or ever-changing banking regulations, South Jersey's financial institutions must stem the tide to continue to serve the needs of both their consumer and commercial customers.
According to Michael Carbone, regional president, metro Philadelphia market for TD Bank, the South Jersey market remains very competitive. "Demand is still not at optimal levels, which results in more price sensitivity and aggressive underwriting," he says. The need to adjust to regulatory demands around capital requirements and Dodd-Frank, changes in debit card revenue from regulations like the Durbin Amendment, as well as a very challenging rate environment, means that the state's banks face ongoing pressure to overcome obstacles while still providing superior service and financial products to their customers.
"In the wake of the financial crisis, the scrutiny of regulatory agencies has become really intense," adds Domenick Cama, senior executive vice president and chief operating officer for Investors Bank. "It can really become a burden when you're trying to comply with all-new regulations and dealing with frequent visits and calls from these agencies, especially for smaller banks."
It's all about relationships
Many banks have found that one of the most effective ways to remain competitive is to become partners with their commercial clients and forge strong personal relationships with customers. "We make sure we stay in touch—our relationship managers are engaged with business customers on a regular basis. Banking is all about the relationship, not the transaction," Carbone says. "We're a strategic partner that provides customized solutions to meet customers' financial needs."
Another challenge for a bank of any size is finding ways to remain connected to their community—and, in turn, staying attuned to the needs of local business professionals. It may mean networking with local chambers of commerce, lawyers and accountants, or volunteering with local organizations. "As a community-based financial institution, our local involvement and community support not only keeps us up to date, but also serves as a competitive advantage that quickly alerts us to changing market conditions and emerging customer needs, wants and desires," says Mark Schott, vice president, regional branch administration officer for Columbia Bank.
Banks like Wells Fargo provide a handful of paid community service days for an organization of an employee's choosing, while others, such as Investors Bank, request their branch representatives to attend local events a few nights a week. "We believe our primary responsibility as a community bank is that we not only exist to serve our customers, but to make our community a better place to live," Cama says.
Increasing optimism
Meanwhile, South Jersey's banking executives report that the demand for commercial loan applications has resurged. According to Schott, Columbia Bank has met the demand for loans with an increased willingness to provide additional commercial financing to qualified state businesses. The bank recently completed a $7.3 million commercial real estate mortgage for 276 apartments in Burlington County, and a $2.8 million construction and permanent mortgage for an automotive dealership in Camden County. "We look at challenges as business opportunities," he says. "While New Jersey bankers were struggling with a slow economic recovery, we have used this opportunity to develop new products, enhance our business banking technologies, and further strengthen our financial position … so we could hit the ground running when the economy fully recovered."
The good news is that, in some ways, the region's local businesses have been doing the same. According to James Newson, South Jersey area president for Wells Fargo, optimism is continuing to rise among the small business segment. "Customers feel that the economy is improving, and our small businesses are reporting the same thing; optimism is the highest it has been in six years," he asserts.
It's the bank's job to then meet the increased small business activity with services to satisfy each commercial client's individual needs. "Columbia Bank remains marketplace competitive by offering commercial clients more bang for their buck in terms of service, value and banking solutions," Schott explains. For example, the bank's free small business checking provides value-added features like no minimum balance requirements, no monthly service charges, 1,000 free monthly transaction items, and cash rewards.
Cama notes a similar trend: As the economy improves, competition within the commercial banking sector increases. "Within a 50-mile radius of New York City, we have seen improvement in the economy. Banks are healthy again, and we're out there lending more money … and when the competition for loans increases, so does the competition for deposits," he says.
Of course, that doesn't mean that banks don't have to make difficult decisions when it comes to their loan transactions. According to Christopher Warren, commercial executive and senior vice president for Susquehanna Bank, one of the institution's most important activities is commercial lending, but that comes with its own set of challenges. "It's our responsibility to consider why a company might be in need of financing, especially if they are struggling," he says. "It's not always easy to determine the cause of financial challenges, but it's our job to serve as partners with our clients to help get to the bottom of the issue and, hopefully, provide the funding they need."
As the economy continues to improve, commercial customers may find themselves with an overwhelming array of options when it comes to their banking needs. "One of our biggest challenges is distinguishing ourselves from other banks," Warren says. "It's a crowded industry, and consumers and companies alike struggle to see the difference between banking with us or choosing one of the other dozen or so competitors in our market." That's where financial institutions need to know themselves and what sets them apart very well. "For Susquehanna, we know it's the fact that we're small enough to deliver personal service, but large enough to be an effective business partner," he adds.
Advancing technology, adding choices
From credit unions to local community banks to larger national institutions, every commercial client has a choice—and banks know they need to keep their finger on the pulse of their customers and continually adjust their business model and how they satisfy their needs. "One thing we've found is that both commercial and individual customers prefer choices, so we've had to adapt to how customers like to do business with us," Newson says. It's a bank's responsibility to routinely request customer feedback to know what they want from their financial institution. "Our commitment to local decision-making, and to continuing to listen to what our customers want, is what keeps us current," Carbone says.
Still, that doesn't mean that the demand for technology hasn't put additional pressure on the region's financial institutions to keep up with the most current methods of commercial banking. The banking customer's needs are always evolving, and financial institutions must continually adjust their convenience model. "TD Bank has made, and continues to make, a significant investment in enhancing our online, mobile and ATM channels, because we know our customers value these as convenient ways to bank with us," Carbone says. The bank recently launched a new mobile app for online banking—BusinessDirect—which enables business customers to securely check balances, pay bills, view account history, transfer funds or find a nearby store or ATM.
At the same time, the need to help consumer clients do all their banking from behind a computer screen also exacerbates another challenge that every bank faces: security. "Risk is a big part of our business, and protecting our customers and making sure their personal information is safe and sound is always our priority," Newson says. "Whether a customer wants to do business with us in their local branch or by phone, email, mobile apps or ATMs, we're always working to improve how we deliver that banking experience to our customer and how quickly they can get information at their fingertips … but while we always want to be cutting-edge, we also have to be careful."
Despite the popularity of mobile apps and online banking, Newson says many commercial clients still prefer to physically visit branch locations. "Customers want to be able to have a conversation about their financial needs with a real person—which is how we prefer doing business—and it's our job to provide choices to help meet those needs," he adds.
Indeed, the best news of all may be that South Jersey's bank branches are here to stay. Though Investors Bank has also made a significant investment in technology to provide their customers with virtual banking options, Cama says the institution is also continuing to build new branches—albeit locations with smaller square footage overall. Looking ahead, physical branch locations will continue to serve as the primary way for bankers to remain personally connected to their commercial clients. "Our customers are at the heart of everything we do as a bank," Carbone concludes. "We want to help our customers meet all of their financial needs and be a partner to them."
Published (and copyrighted) in South Jersey Biz, Volume 4, Issue 6 (June, 2014).
For more info on South Jersey Biz, click here.
To subscribe to South Jersey Biz, click here.
To advertise in South Jersey Biz, click here.