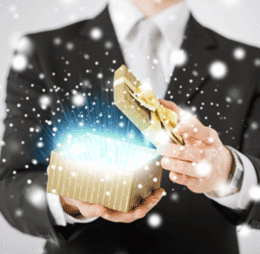 The Spirit of Giving
The holidays may be the popular time for philanthropy, but you might consider the benefits of a culture of giving all year round.
Whether it's dropping gifts in a Toys for Tots bin, ladling soup for the homeless or something grander, the holidays tend to be when everyone steps up their charity. And nowhere is the tide of giving more prevalent than in the business world. Many workers know the feeling of getting a letter from their employer each year, explaining how they can donate to United Way, or UNICEF, and the like.
"Each year, the fall leading up to the holidays is our big season inside of companies of all sizes," says Michael Moynihan, executive director of the United Way of Greater Philadelphia and Southern New Jersey in Camden County.
According to Moynihan, the United Way raises about $3 million annually through workplace campaigns—in which employees have money deducted from their paychecks—just in Camden County. Additionally, the nonprofit organizes a number of volunteer activities for workers: soup kitchens, adopting entire families to donate gifts to, and much more.
"We are very fortunate and blessed to have such a generous community," says Moynihan.
But even though workplace philanthropy may crest during the holidays, experts agree that—at the most effective companies—charity should not and does not exist in a vacuum. "Often, it's not just a one-shot deal around the holidays," Moynihan says.
"Holiday giving should not exist separate from an overall giving strategy," stresses Sidney Hargro, executive director of the Community Foundation of South Jersey, a nonprofit that advises and manages charitable funds for local businesses and individuals. "More companies are embracing philanthropy as part of their identity."
'Support the community that supports your business'
At Holman Automotive, philanthropy is a part of the company culture, says Joe Frantz, vice president of community and business development. Food drives, clothing drives, donations to the AWA and Wreaths Across America—the company does it all and more.
According to Frantz, the company's motives boil down to a simple philosophy: "Support the community that supports your business."
That entails much more than simply cutting a check, however, he explains. "The employees take great pride in getting involved in a lot of these outreach programs. That's a big part of what we do and promote. … It's not to take four or five large charities and write a check. It's to get involved in the community."
It's the same at Marlton's Conner Strong & Buckelew, which is recognized as one of the region's most generous companies—according to its website, the firm has donated nearly $2,000 per employee annually for the last several years—and has a calendar filled with charitable initiatives. Not surprisingly, it fills up during the holidays.
Marketing Director Karen Wallace says the firm has the most engagement and positive feedback when it provides employees opportunities to give back. For example, during the holidays, the company partners with another organization to provide professional family portraits to local servicemen and women serving overseas. The portraits end up on cards that can fit inside their uniforms. In some cases, the employees play an active role in selecting the charity they're going to assist, Wallace says. "That really helps the employees embrace the work we're doing."
As executive director of The Joseph Fund, a nonprofit that supports the multiple ministries of St. Joseph's Pro-Cathedral in Camden, Mark Hodges works closely with businesses looking to connect with charitable opportunities. Prior to his work with The Joseph Fund, Hodges spent 20 years at Hovnanian Enterprises, working the other side of the table. Hovnanian was very committed to giving back to the communities its employees worked in, he says. One particular initiative involved Hovnanian workers, in partnership with Habitat for Humanity, building 18 homes in one week.
For companies that can't afford huge donations and fundraising campaigns, that kind of hands-on philanthropy is an alternative. It's the kind of charity that truly inspires employees, Hodges says. "Sometimes charity is very invisible. You feel good about it, but it's not a very tangible way to give back," he says. "It's not about giving things away. It's about helping people improve their lives in a meaningful and transformative way."
Not only does that have obvious benefits for the recipients, but it fosters a team environment and an attitude among the employees that's valuable to the company. In a way, it also erases—if only temporarily—the workplace hierarchy that separates them.
"It connects people informally all up and down the chain of command," says Moynihan. "You could have a young, entry-level employee working alongside a top executive. … It facilitates interaction, a different level of communication."
Employers are always looking for opportunities for team building. Volunteerism offers a way to accomplish it by rallying employees around something more than just the company mission, Moynihan says.
Hodges explains it this way: "If I was an individual, I can afford $100 to support a charity. … But what if I teamed up with 100 people at my company? Working together, we can actually make a difference."
A better job, a better world
The nine-to-five grind can wear even the most motivated workforce down, which is why it's critical for companies to give employees something to do that isn't just about the company's bottom line.
Hargro says the Community Foundation manages funds for about 25 different entities with roughly $10 million in assets between them, and it's growing.
"Corporate philanthropy is a growing trend and companies are becoming more and more serious about their giving," he says. "I don't know whether it's being driven by the national conversation or if it's just simply the fact over time that they want to be able to say, 'What difference have we actually made?'"
Wallace explains that, for Conner Strong & Buckelew, it's about crafting an identity for the company.
"We are not a not-for-profit. We are in business to make money," she acknowledges.
"It's important for [employees] to view us as being not just in business to make money.'"
By encouraging that sort of activity and fostering its growth, it becomes self-sustaining and ingrained in the culture of the company. Frantz says it's to the point now where Holman occasionally has to maintain a waiting list for employees who want to volunteer.
"The employees raise their hands; they want to do it," he says. "They come back and they want to do it again."
There are all kinds of ways for a business to motivate its employees, but few are as effective, Hargro says, as giving them the feeling that they're a part of something bigger than what's going on inside their cubicle.
"We all generally have the idea of wanting to make the world a better place," says Hargro. "When we're able to find that in the place that we work, it transforms what could simply be a job into something greater for the world."
Published (and copyrighted) in South Jersey Biz, Volume 4, Issue 5 (May, 2014).
For more info on South Jersey Biz, click here.
To subscribe to South Jersey Biz, click here.
To advertise in South Jersey Biz, click here.