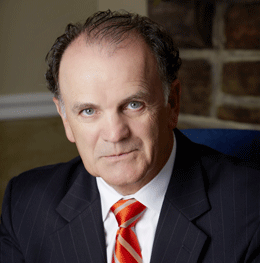 The Corner Office: Ted Massaro
Ted Massaro
President
M Financial Planning Services
Since he co-founded M Financial Planning Services in 1982, Ted Massaro (pictured) has had the pleasure of not just working with repeat clients, but second and third-generation family members who continue to come through his doors looking for financial advice. Part of that may be due to his management philosophy, which includes knowing when to delegate so he can spend more time with clients. He also strongly believes each person in his office should take part in continuing education. "As I have always said and firmly believe, no one is standing still; you are either going forward or backward."
We spoke with Massaro recently about how his upbringing sparked his interest in financial management, what he wishes more people knew about insurance, and what business owners need to know about that looming April 15 tax deadline.
What are the major challenges in your field right now?
Finding the next generation of planners to add to the firm; since our core philosophy is to develop a comprehensive planning approach when working with clients, the learning curve and development required to establish a strong relationship with the clients takes time. … Other challenges are getting individuals to appreciate the potential of living 20-30 years in retirement and the amount of investment assets required to support the current living standards.
What sparked your interest in finance?
Growing up in poverty, due to family medical issues, from the age of 12 I was in some capacity providing financial support for our family's basic needs. This made me clearly appreciate the consequences of dealing with financial crisis, along with the importance of emphasizing to all our clients the critical needs of financial planning.
Many young people don't think they need financial services. What do you say to them?
Once you have established yourself in the workforce, you and your spouse (if applicable) should early on identify goals and objectives you wish to achieve over the short, intermediate and long term. That's where financial planning can really add value; it helps in determining what is needed to make progress toward these various goals. When you are young, you have the greatest asset on your side: time.
We've heard you especially enjoy working with the self-employed. Why is that?
Being self-employed for the better part of my adult life, I feel I can relate to and understand the various challenges self-employed people need to address each day in operating their businesses. I also find it quite interesting to learn the many aspects that have enabled their businesses to achieve success. Helping family-owned businesses work through the various succession planning issues also brings great satisfaction to see a thriving business continue to grow and prosper through multiple generations.
What's your No. 1 tip for tax season for both business owners and executives?
For the 2013 year, the best one can do is to be sure they have confirmed they are taking every legal deductible expense afforded them and to be sure to maximize their retirement plan contributions. For the 2014 year, don't be waiting until 2015 to ask the question, "What should I do to reduce my 2014 taxes?" Be sure to plan and review early and often. Many tax planning strategies must be implemented during that calendar year.
What do you think is a common mistake made when filing taxes?
Not completely understanding the tax law process. Many people just submit, file and complain, instead of learning what they might be able to do to further reduce their tax liability, which can improve families' overall net worth.
What's the best business advice you ever received, or could give to others?
Never, ever stop learning. The brain is an incredible tool that can never be maxed out. It will absorb all the information you provide it; just make sure you focus on providing it information that will add value to your life or others you care about.
What do you like to do to unwind?
Be with my wife and children, have a solid workout with my trainer, play a competitive doubles match.
If you weren't in your current field, you'd be: A fighter pilot, or playing tennis.
Published (and copyrighted) in South Jersey Biz, Volume 4, Issue 2 (February, 2014).
For more info on South Jersey Biz, click here.
To subscribe to South Jersey Biz, click here.
To advertise in South Jersey Biz, click here.