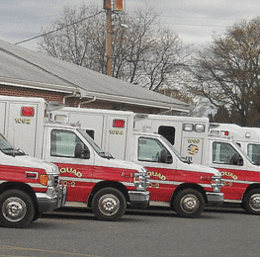 Close of Biz: Thinking outside the cube
A Helping Hand: Washington Township Ambulance and Rescue Association offers non-emergency transportation.
When asked to describe an ambulance with one word, it's more than likely most of us would choose the word "emergency." And while that is an accurate description, in Washington Township, ambulances aren't just for emergencies anymore. "As of last year, we've moved into doing transports," says Kathy Weiner, Washington Township Ambulance and Rescue administrative coordinator. That means if someone needs a ride to a doctor's office or health care facility in a non-emergency situation, the WTARA is there to help.
"We noticed the need for it in our area due to the fact that we have a lot of skilled nursing facilities here," Weiner says. "What was happening was residents were calling local transport companies so that they could get to one of these facilities and they were often being given wait times of two or three hours. They obviously needed to get to the doctors sooner than that, so they were hitting the 911 button so that we would get dispatched out to take them."
To help alleviate the problem, and bring fewer non-emergency 911 calls to the emergency line, WTARA purchased a number of trucks to add to its fleet and created a transportation division. Now, if someone needs a transport, they can call a separate number to reach WTARA and schedule the transport they need. "All calls are very important, whether they're emergent or non-emergent," Weiner says. "But this way, our 911 trucks are not tied up. The good part is the two-wheel chair vans we have for transport are staffed by skilled EMTs [emergency medical technicians], so that if they have to, they can jump on a 911 call if necessary."
The WTARA is a nonprofit organization not funded by taxes collected by the township. Similar non-emergency transport services are offered by transport companies in the area, but Weiner says there are not currently any other companies affiliated with townships, like the WTARA, that offer non-emergency transports. Weiner says there is some talk of Deptford doing some non-emergent transports, but only in their area, while WTARA will travel outside of township limits. "My trucks go to Marlton, Cherry Hill, Moorestown, even the VA hospital," she says.
The WTARA charges a small fee for the service, but Weiner says the fees are often less than what an insurance company would charge if another transport company was used. She says this is especially important for people who utilize transports regularly and are on fixed incomes. "It's sad because they're able to do some things on their own, but they do need a little bit of assistance in their independent life, and they don't want to be a burden on their families," she says. "So we offer a resident going one way to a doctor's office a lower rate and mileage than what the insurance will charge."
Published (and copyrighted) in South Jersey Biz, Volume 4, Issue 2 (February, 2014).
For more info on South Jersey Biz, click here.
To subscribe to South Jersey Biz, click here.
To advertise in South Jersey Biz, click here.