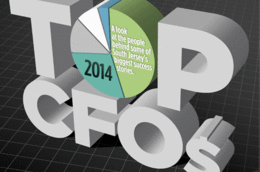 TOP CFOs
…From the pages of South Jersey Biz…
A look at the people behind some of South Jersey's biggest success stories.
Cost cutters. Number crunchers. Conservative and, dare we say, boring. These are words the following financial managers used during our interviews to describe misconceptions of their field. While part of the job might be a numbers game, it is clear their impact is felt on much more than the bottom line, as they are strategic partners responsible for guiding not just the company's growth but its vision and effect on the community. Better phrases to describe the job, according to them, might be: critical to sustainability; making every dollar count; vigilant of the company's mission; working in tandem with operations; and taking calculated risks.
We know that behind every successful South Jersey company is a finance department working behind the scenes to ensure both efficiency, consistency and dependability, yet they are roles not often recognized. That's why we decided, with the help of our readers' nominations, to kick off the new year with this: our first-ever list of Top CFOs.
Mike Gurzo
WebiMax,
Mount Laurel
As a numbers guy who has always enjoyed financial analysis, acting as CFO for WebiMax, a nationally known Internet marketing company, seems to be the perfect job for Mike Gurzo, CPA. "I've always thought there were more answers in the numbers than anywhere else," he says. Gurzo joined WebiMax in April 2013 after previously working for four years as CFO/treasurer with Dancker, Sellew & Douglas, a Steelcase office furniture dealer, and 13 years in various accounting and finance positions with United States Gypsum Company, a construction materials manufacturer. Since joining WebiMax, Gurzo says sales have been positive. "In the last quarter, from October to December, sales were up about 20 percent, so we're feeling really good going into 2014. We also think we'll be up about 30 percent in the first quarter."
One of the more memorable projects Gurzo worked on with his colleagues in 2013 was the application for a New Jersey Economic Development Authority grant, a nearly $13 million grant the company was awarded at the end of the year. "We all spent a lot of time working on that, and it is really great for the company," he says. WebiMax founder and CEO Ken Wisnefski says he appreciates what Gurzo has done for the company so far, and looks forward to what is to come. "Mike has been an asset to WebiMax from the first moment he walked in the door," he says. "With our plans for continued growth and expansion, Mike has helped set a course for continued success."
Economic outlook for South Jersey:
"Our business model is so much more national than just local. I think we feel good about South Jersey and about Jersey in general. The fact that business is picking up is a good thing."
Kathy Wingate
Robins' Nest, Inc.,
Glassboro
Kathy Wingate took a leap of faith when she joined children's services agency Robins' Nest in 1994, leaving a comfortable position with a CPA firm for a part-time job (and a pay cut) as a budget analyst for the Glassboro-based nonprofit. "I was initially concerned that there wouldn't be enough work for a part-time accountant," she says, "and now that we have grown into an agency with a $16 million operating budget, there is no question as to whether I have enough work."
It only took six months for Wingate to get bumped up to a full-time position, a job that only continued to grow in duties as the agency grew, leading to her title today as both treasurer and CFO. And that growth is still felt. Last year, their Danellie Outpatient Counseling Center, for example, grew to include performance-based services such as parent/child interactive therapy and applied behavioral health analysis. The annual operating budget increased by 10 percent in 2013 from $14.6 to $16.1 million.
CEO Dr. Anthony DiFabio points out that Wingate oversees complex budget and financial challenges that come with managing more than 40 programs, 13 properties, 94 vehicles and just under 300 staff, but she does so with ease.
"Kathy's contribution to Robins' Nest and, in particular, the agency's remarkable success and accomplishments cannot be overstated," DiFabio says. "Her unmatched professional competencies, incredible work ethic and passion for our mission make her an incredible asset."
What's your company outlook for 2014?
"Robins' Nest has had some pretty remarkable years recently, much of which was due to high demand for our services and funding directed toward our sector. However, nonprofit funding typically lags a year or two behind improvements in the private sector. Therefore, to the extent the overall economic outlook for South Jersey continues to improve, so too will area nonprofits."
Francis J. McGlynn
The Protocall Group,
Cherry Hill
Along with serving as CFO of The Protocall Group for the past 17 years, Fran McGlynn is also a member of the Executive Management Team, working closely with the 47-year-old staffing company's three owners to maintain the firm's operations and growth plan. He is considered a driving force in Protocall's commitment to automation and process improvement, and is credited with guiding the infrastructure and technology platforms needed as the foundation for the company's future growth and success.
To that end, McGlynn says a highlight of 2013 was a new software system installed that will help manage the company's growth. Revenue has increased more than 50 percent in the last two years. In 2014, he looks forward to modest growth in their Business Services and Light Industrial/Warehousing/Fulfillment divisions, along with more aggressive growth in their Healthcare and Information Technology divisions.
Company co-owner Roy Fazio stresses that along with being very strategic in aligning organizational and financial goals, McGlynn is also known for his people skills. He often partners with the sales team on meetings with customers to ensure they are educated on all pricing and cost issues.
"Fran is a great contributor to our success," Fazio says. "Fran is dynamic and brings exceptional leadership traits to The Protocall Group."
Economic outlook for South Jersey:
"I believe we will continue to see modest growth in South Jersey, although do expect some falloff due to the increase in minimum wage."
Dennis J. Noon
H.A. DeHart & Son, Inc.,
West Deptford
You could say that Dennis Noon has his hands full—he serves as president, CEO and CFO of trucking equipment company H.A. DeHart & Son—but you can't say that holds him back as a leader. The company, a dealer of Thomas Built buses, distributor of Great Dane Trailers, municipal road department equipment provider, and owner and operator of 90 school buses in Gloucester and Camden counties, saw an impressive 17 percent jump in sales in 2013. Noon points out that total profits and shareholder values increased, as well. Another 10 percent hike in sales growth is expected this year.
Noon brought several years of experience in senior financial positions to DeHart when he joined the company 28 years ago, where he then held various upper-level posts and increasing shareholder value before being named president/CEO. He is proud of the fact the company—one of the oldest operating in Gloucester County—will celebrate its 130th year in business this year, and he points to an Employee Stock Ownership Plan created in 1987 as one of the contributing factors to its success.
"Few companies survive beyond the third generation," he says. "We were able to do this by establishing an ESOP. The ESOP Trust today owns the majority of the company stock."
Noon serves as one of those trustees, as well as a member of the board of directors of DeHart.
Economic outlook for South Jersey:
"There are many factors outside of South Jersey that could have an impact on our local economy. We are cautiously optimistic."
Tom Sibson
BAYADA Home Health Care,
Moorestown
As BAYADA Home Health Care's CFO since 2005, Tom Sibson has more than just the finances of the company in mind, which is likely a major factor to the company's growth across the country. He says it is their mission—"to help people have a safe home life with comfort, independence and dignity"—that inspires him, allowing him the opportunity to make a real difference in someone else's life.
Sibson joined the BAYADA team in 2005 after serving as CFO at Quickie Manufacturing and, since then, the company's revenue has more than doubled. In the process, he helped lead the way in several acquisitions, developed an annual and quarterly budgeting process, initiated a two-year project and co-led the drafting of the BAYADA operating model of best practices.
He refers to coming to BAYADA—when his previous experience was in professional services and the consumer products industry—as the best career move he's made. "It is a continuous learning process," he says, "but working at BAYADA has been incredibly enriching and has helped me grow, both professionally and personally."
Misconception about finance:
"There is a misconception that the finance department enjoys cutting costs. I believe it is our responsibility to assure that the organization is financially sustainable and that we are excellent stewards of the organization's resources. Stewardship, along with serving our internal business leaders, are the key duties of the finance organization."
Susan Story
American Water,
Voorhees
Though Susan Story does not have a traditional CFO background, American Water President and CEO Jeff Sterba says her strong personality and character make her one of the best. "As a 'nontraditional' CFO—one who did not come with a controller or finance background—Susan brought her strategic and operating experience and a keen analytic mind to bear with gusto," he says. "She is transforming our finance group to leverage technology, build greater accountability and ensure appropriate economic tradeoff decisions while her organization provides great support and input to our business lines and strategic decision making. She has made our senior team, and company, better."
Story, who will be named CEO of American Water in May, joined the company last year, after leaving her previous employer after more than 30 years, and calls the move one of the best risks she has ever taken in her professional career. She had been serving as executive vice president of engineering and construction services for utility organization Southern Company, where she oversaw budgets, environmental projects and more. "In general, the best risks taken in my 32-year professional career have been when I have stepped out of my comfort zone and taken opportunities to do very different things," she says. "Consistent with this, the 'best' risk I have ever taken was leaving my previous employer after 31 years and coming to American Water in April of 2013. It has been a wonderful experience and I am very fortunate to be part of such a great company with outstanding employees dedicated to serving our customers."
Misconception about finance:
"Finance is not a specialty area to be left to only those in accounting and finance organizations; rather it is a critical business skill that needs to be possessed by everyone in a company or organization at varying levels based on their job requirements. We need to ensure a certain level of business acumen is a part of every employee's skill set."
Frank Cavallaro
Republic Bank,
11 locations
Frank Cavallaro, similar to many of our Top CFOs, came to be Republic's executive vice president and CFO by taking a risk. He was offered a position with one of the "Big Four" accounting firms—Ernst & Young—upon graduating from college, but after three years, he accepted a position as vice president of finance with Commerce Bank, which in 1997 had barely begun to expand beyond South Jersey. During the next 12 years, and through the transition to TD Bank, it grew more than 10 times in size. "[It] changed the way banking was done," Cavallaro says. "I gained an invaluable amount of experience over that time, which ultimately led me to my position at Republic Bank."
Known for sharing that iconic red color in their logo, the two banks also share a reputation for growth. Republic currently has 13 locations, including a new branch in Media, Pa., which opened in the last quarter of 2013. One more is slated to open in Cherry Hill later this year.
"Frank has played a critical role in changing the dynamics of the bank," says President and COO Andy Logue. "His determination and persistence has led Republic Bank to be a growing organization. As CFO, Frank has positioned the bank's capital and liquidity to where the bank has the resources needed for its future expansion."
Economic outlook for South Jersey:
"One of the primary indicators a financial institution can use to measure the health of an economy is the volume of quality loan demand. We continue to see an increase in quality loan opportunities throughout our footprint and particularly in the South Jersey market. We feel that timing of our growth plans combined with the ongoing recovery of economic conditions puts us in a perfect position to capitalize on expansion opportunities in South Jersey."
John De Santis Jr.
Surety Title,
Marlton
John De Santis Jr. has spent most of the last 30 years in the real estate industry. After spending 11 years with Clover Financial Corporation, where he worked in real state investment banking and syndication, he joined Surety Title in 1997 as their controller, and in 2004 became partner and CFO. De Santis says he was inspired to become a CFO by his parish priest, Father Ryciek, who also happened to be his high school guidance counselor. "One day during the second semester of my senior year, he found out that I was not going to college, but rather taking a factory floor job for Stroehmann Bread after high school," De Santis recalls. "He pulled me into his office and very strongly insisted that I apply to at least one college. That one college was Villanova University and the bakery job was forever set aside."
The decision De Santis made in high school paid off, and Brian Klaus, president of Surety Title, says De Santis has become an invaluable member of Surety Title. "John has provided unique and valuable insight on our business as well as being responsible for many facets of the operation," he says. "We are proud that he is included in such a prestigious group."
Company highlight of 2013:
"Our company highlights really span the past two and a half years since my partner Brian Klaus and I were joined by two great partners in Keith Langan and Michael Ryan, both of whom have enjoyed almost two decades of success in the title insurance industry. Since then, the four of us have embarked on a road of positive corporate change with tremendous momentum and vigor."
Douglas Shirley
Cooper University Health Care,
Camden
When Doug Shirley joined Cooper University Health Care in 2009, he had just left PricewaterhouseCoopers, LLC, a "Big Four" firm, where he was a consultant traveling four to five days a week. He says he made the move to Cooper with a desire to spend more time with his family during the week. Not only has he been successful in that venture, but Adrienne Kirby, president and CEO of Cooper University Health Care, says he has become "a key member of our leadership team. He not only has a strong command of the financials, but also has a strong understanding of the operations and strategic vision of our organization. Health care reimbursement and finance is a complex field. Doug is able to understand all the moving parts and communicate that information to best position Cooper for stability and growth as we continue to meet the needs of the community."
Shirley says company highlights for him in 2013 include the partnership with the MD Anderson Cancer Center, which resulted in the creation of the MD Anderson Cancer Center at Cooper and the opening of a new, four-story, 103-square-foot outpatient cancer center; as well as the creation of a co-branded insurance product with AmeriHealth NJ.
What's the best risk you ever took?
"Outside of asking a girl from Tennessee to marry me, it has to be moving my family to South Jersey and taking a position with Cooper in 2009. My wife and I are from the Southeast where most of our family resides. We moved here with very little knowledge of the area and even less friends and family. It has turned out to be a very good professional and personal decision."
Joseph Scully
Rowan University,
Glassboro
As a leader at Rowan University for the past 13 years, Joseph Scully, CFO and vice president of finance, has helped bring many positive changes to the school. Looking back on 2013, Scully says a highlight of the year for him, and the school, was the implementation of the New Jersey Medical and Health Sciences Restructuring Act. "The act made Rowan a comprehensive public research institution and, under it, the School of Osteopathic Medicine in Stratford became part of Rowan," he says. "It made us one of only two universities in the nation to offer both MD and DO medical degrees." The positive force Scully has been behind these changes is not lost on Dr. Ali Houshmand, president of Rowan. "As CFO, Joe is critical to our day-to-day operations and long-term planning," he says. "We believe that a vibrant university has a strong economic impact on its region and, through careful planning and measuring controlled risk, Joe helps us reach our goals."
Scully, who spent 13 years in the health care field before joining Rowan, is optimistic 2014 will be just as positive as last year, and says he looks forward to what the future holds for the school. "This will be a very bright year for us," he says. "We're experiencing great demand for admissions and the quality of our applicant pool is very high. Starting the year off, we partnered with Gloucester County College—now called Rowan College at Gloucester County—in an agreement that's expected to boost enrollment at both schools. It's a first of its kind partnership in New Jersey and I think it will make us even stronger."
What inspires you?
"Most of our work in finance goes on behind the scenes, but I take inspiration from the impact my job allows me to have on our students and, in turn, the region."
Published (and copyrighted) in South Jersey Biz, Volume 4, Issue 1 (January, 2014).
For more info on South Jersey Biz, click here.
To subscribe to South Jersey Biz, click here.
To advertise in South Jersey Biz, click here.