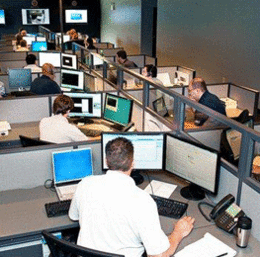 Ancero
The Next Level: Ancero welcomes new president and CFO to lead company's exponential growth.
Before being named its president and chief financial officer this past November, Yvonne D'Amelio had worked with Ancero previously at VoxMedica, Inc., a health care communications company she owned for 13 years. "In my experience with Ancero, I found it so appealing how the employees behaved so professionally and put customers at the forefront," she says. "Everyone is very talented and they really understand how to respond to customers' needs."
This customer-centric atmosphere was just one of the many factors that played into D'Amelio's decision to join Ancero in a leadership role. Mount Laurel-based Ancero is one of the largest managed service providers in the Mid-Atlantic region, designing and managing business networks for various industries, including health care. D'Amelio's diverse background is a natural fit for Ancero. During her time as principal and CFO at VoxMedica, she built brands for companies including AstraZeneca and GlaxoSmithKline, contributing to its growth from a $5 million company to a $200 million company.
Once she sold her ownership, D'Amelio moved on to the Healthcare Businesswomen's Association, where she was its COO and contributed to its vision of growth in supporting more than 6,000 members and 120 corporate partners. "I took what I knew from the corporate world and brought it to this nonprofit organization, whose mission is to advance women's careers in the health care industry," she says. "It was something meaningful for me to be able to help women grow in their careers, and it was a great experience to put my strategic planning and technology knowledge into practice in a nonprofit environment."
These professional experiences will translate into her new role at Ancero, where she will continue to build its brands and explore partnership opportunities. "We welcome Yvonne's experience and leadership to the Ancero family," says Rob Hogg, one of Ancero's executive directors, along with Fred Barilotti and Paul Boyer. "Her results-oriented approach and ability to think strategically will play a pivotal role in our future growth."
D'Amelio has several goals in mind as she's jumping in feet first. "I've been involved in technology throughout my career and that is a platform to build on at Ancero. In addition, my knowledge of finance systems is a big help in the efforts of growing a small company to the mid-size level. This includes understanding pricing models, negotiating and contracts, all things that are needed as infrastructure grows," she says. "Ancero has grown by over 118 percent in the last three years and it's happening quickly. I'm looking forward to getting Ancero to the next stage."
D'Amelio says another goal is finding partners to create alliances with. "There's always a chance that we may not sell everything the customer needs. If you're not a one-stop shop, then it's key to be able to work with other companies who do offer those select services to continue to provide the most complete solution to our customers," she says. "And hiring partners to work with is something that's already started to happen here at Ancero."
In 2014, Ancero will also be launching an aggressive marketing campaign, D'Amelio says. "Our vision is to be the first choice for network services and to really dig in and be proactive about showing how we understand the needs of businesses, especially the ways we can protect them while allowing them to continue to operate efficiently," she says.
In addition to that, D'Amelio is also planning to build tools that will show customers their return on investment. "Where I come from, everything was measured in ROI, especially in the marketing world," she says. "We want to show our customers the results from the process we truly believe in, and that's going to be another piece of the puzzle going into 2014."
In the long-term, D'Amelio wants to continue to foster that growth of Ancero's employees who made such an impression on her. She says, "The management team here is so talented, and one of the things that helped me grow in my career was having mentors. I feel it's important to make leadership development a priority and have someone who can guide you through your career path." D'Amelio hopes to institute a mentoring program at Ancero where employees would be buddied up with management.
"In a time when services are so competitive and technology is evolving so quickly, the training and knowledge of Ancero's employees separates them from the rest," she says. "We will continue to invest in the talent at Ancero, while providing best-in-class service."
Ancero
1001 Briggs Road, Suite 220
Mount Laurel
(800) 719-3484
Ancero.com
Top Executives: Yvonne D'Amelio, President/CFO; Robert Hogg, Executive Director; Paul Boyer,
Executive Director; Fred Barilotti, Executive Director
Product/Service: Managed Services Provider, Hosted Solutions, Network Services, Professional Services, Utility VoIP and Disaster Recovery Planning
No. of N.J. employees: 60
Year founded: 1996
Published (and copyrighted) in South Jersey Biz, Volume 3, Issue 12 (December, 2013).
For more info on South Jersey Biz, click here.
To subscribe to South Jersey Biz, click here.
To advertise in South Jersey Biz, click here.