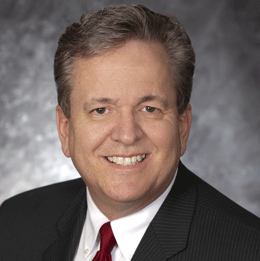 The Corner Office: Joseph W. Devine
Joseph W. Devine
President & CEO
Kennedy Health System
He may have only assumed the position of president and CEO in October, but Joe Devine is no stranger to Kennedy. Having served the health system for 27 years, most recently as senior VP of administration, he refers to the night he was named CEO as his proudest career moment to date. "It was the most overwhelming moment of my career," he says, "and to be in this leadership role for people I call my family is not only humbling, but a true honor. I love Kennedy and its people." We spoke with Devine recently about his new role and goals, as well as what he's learned over the years, what he would do if he wasn't in health care, and his connection to country music.
What was your first job out of college?
I was a staff auditor at the Philadelphia office of the international public accounting firm Laventhol & Horwath.
What do you know now that you wish you knew then?
That life goes by very fast and sometimes you can get caught up on where you are going, so appreciate the journey along the way. Every step brings something special to it.
How has the health system grown in the 27 years you've been with Kennedy?
Kennedy has grown in many ways, evolving from a relatively small hospital system to a large academic medical center with more than 4,100 dedicated employees, strong brand recognition and many top-quality programs.
You've worked under three different presidents at Kennedy. What would you say you learned from each one?
Augie Pirolli, our first president and CEO, taught me to be a humble leader by having respect and taking care of people. Dick Murray taught me about perseverance and building a solid financial base to invest in your future. And my predecessor, Marty Bieber, taught me the importance of keeping a continual focus on improving quality outcomes in clinical programs.
Even though you have a long history there, how do you ensure you bring a fresh perspective to the CEO role?
I think having the historical perspective of an organization brings a lot of value and still can mean a fresh perspective. Because of my history with Kennedy, I know our strengths and weaknesses and have seen our resiliency over the years to move forward.
What are your short- and long-term goals?
Short-term is to firm up our strategic direction, expand our physician alignment models, continue our recognition as a top-quality provider, and invest smartly in our facilities for our communities. Long-term is to be the health care provider of choice and be viewed as a progressive organization that works collaboratively with others in our South Jersey business community to have a positive impact.
What's the best advice you ever received, or could give to others?
Never forget to be yourself. … We are far from perfect, but only the real "you" has the greatest chance to succeed.
Little-known hobbies.
Some of my staff say work is my hobby; I do love to spend time at Kennedy. I like to read (actual books still, not e-books), serving on community boards and following my daughter Liv's country music career (LivDevine.com).
Favorite TV show.
The Sopranos (I watch all the re-runs). I am a New Jersey guy who grew up in South Philadelphia … what else is there to say?
Favorite South Jersey spot.
It is difficult to pick one spot, but if I have to, I'd say Luna Rossa (Lamberti's) restaurant in Washington Township. They treat me and my family like their family. Another place I love is the nature trail in Washington Lake Park; it's extremely peaceful.
What do you like to do to unwind at the end of the day?
Spending time with my wife and daughters. One of my daughters is already married; the other is getting married this summer. And walking my border collie, Colby; life is very simple to her.
If you weren't in your current field, you'd be: A motivational speaker or talk show host. I usually have a lot to say, so this could work!
Published (and copyrighted) in South Jersey Biz, Volume 3, Issue 12 (December, 2013).
For more info on South Jersey Biz, click here.
To subscribe to South Jersey Biz, click here.
To advertise in South Jersey Biz, click here.