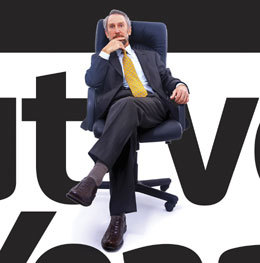 Executives of the Year
25 of the area's most respected names in business
We asked our readers to nominate the local executives who are ensuring our region remains a top destination to either start up or expand, and the result is our largest list yet of Executives of the Year. What we found is that it's an exciting time to sit at the helm of a business in South Jersey. Not only are there countless examples of perseverance during the recession, but there is no shortage of leaders who are putting South Jersey on the map as the state moves forward into prosperity.
Mike Jenkins
Owner/President
Anchor Moving & Storage
After 20 years of successful moving sales experience, Mike Jenkins channeled his entrepreneurial spirit in 2010 into becoming the new president and owner of Moorestown's Anchor Moving & Storage. Despite the economic recession and slowdown in housing sales, by 2013, Jenkins successfully grew Anchor, which was founded in 1969, to a more than $3 million per year company (it had been less than $1 million) that provides jobs for more than 40 employees.
Growing up with a father who was an officer in the Air Force, relocation became a part of Jenkins' life from a young age—and he understands that moving is more than just an address change. Upon graduating from Rowan University in 1992, Jenkins became a salesman for one of the largest van lines in the country and worked his way up to become one of the top 10 bookers in C.O.D. sales in the country. As president at Anchor Moving & Storage, Jenkins has amassed an extensive list of successful moves for organizations including: State of New Jersey Treasury Department; New Jersey Office of Legislative Services; The College of New Jersey; Rowan University; Rutgers University; ConvaTec; DYFS; Merrill Lynch; MaGrann Associates; Scottrade, and many others.
Dr. Herman J. Saatkamp Jr.
President
The Richard Stockton College of New Jersey
Since 2003, Dr. Herman J. Saatkamp Jr. has expanded The Richard Stockton College of New Jersey's geographic reach, academic reputation, and role as an economic and cultural force—a recent impact study revealed the college contributes more than $440 million in total economic benefits to the region. Under his leadership, Stockton has risen to the top tier of the nation's public colleges and universities in U.S. News & World Report, and he has cultivated growth of the college through living-learning residences for students, the Sara and Sam Schoffer Holocaust Resource Center, the Carnegie Library in Atlantic City, an affiliation with the Noyes Museum of Art and Dante Hall Theatre, and the purchase of Stockton Seaview Hotel and Golf Club. Saatkamp has worked to expand educational programs to include the creation of the schools of Business and Health Sciences, Hughes Center for Public Policy, Small Business Development Center, and the Levenson Institute of Gaming, Hospitality and Tourism. The college now serves as the lead agency in coordinating the Stockton Aviation Research and Technology Park for development and research of future aviation needs. A strong supporter of the cultural community, he is set to open a new arts and retail space, the Noyes Arts Garage of Stockton College, this fall in Atlantic City. Under Saatkamp's leadership, Stockton has increased its net assets by 57 percent, and its foundation's net assets from $3 million to $24 million.
Francis X. Manning, Esq.
Partner
Stradley Ronon Stevens & Young, LLP
Francis X. Manning is the partner-in-charge of Stradley Ronon Stevens & Young's New Jersey office in Cherry Hill, a firm he has now worked at for the past 12 years. Considered an expert in helping executives with commercial disputes and product liability matters, Manning has tried more than 30 cases to verdict or award. Before graduating from George Washington University School of Law in 1989, Manning earned his English degree from Dartmouth and worked as a high school teacher for a brief time before moving on to achieve a law degree. Since then, he has litigated a range of complex commercial, products liability and mass tort cases. He represents corporate, institutional and insurance company clients in health care disputes, employment disputes, ERISA claims and wrongful death cases. Manning has prosecuted dozens of fraud and breach-of-contract claims for banks and other financial institutions holding security interests in real property and general business assets.
Outside of work, Manning is a member of the executive committee of the board of directors of the Chamber of Commerce of Southern New Jersey, serving as the vice chairman of the government action division, and he serves on the board of the executive committee of the Covered Bridge Swim Club in Cherry Hill.
David J. Hanrahan
CEO
Capital Bank of New Jersey
David J. Hanrahan had been in the business of banking for 16 years before becoming the first employee at a new enterprise known as Capital Bank in 2006. Eventually named founding president and CEO in March 2007, Hanrahan is still at Capital Bank today, where he also serves on the bank's board of directors. Over the years, Hanrahan has helped the bank, headquartered in Vineland, expand to four other locations, and in 2010 was recognized by the New Jersey Bankers' Association as a New Leader in Banking. Recipients of the award are considered to be rising stars in the banking industry, and Hanrahan was nominated for the award by fellow bankers.
Hanrahan holds a degree in accounting from Rutgers School of Business – Camden, and in 2013, he was named a professionally accomplished alumnus by the school. He also serves as a guest professor for the annual Rutgers University Guest Professor Program and as a judge of the annual Rowan University Business Plan Competition. Additionally, he is chairman of the American Bankers Association (ABA) community and economic development committee, and a member of the ABA Community Bankers Council.
Bob Pekar
CEO
Twin Oaks Community Services
As CEO of Westampton-based Twin Oaks Community Services, Bob Pekar, a licensed clinical social worker with more than 30 years of human services experience, leads a team of more than 1,400 employees who are responsible for the continued development and integrity of 100 diverse behavioral health programs throughout New Jersey.
Pekar was formerly the CEO of Family Service of Westampton. Last year, he oversaw the merger of Family Service with Cherry Hill's Steininger Behavioral Care Services. With a combined budget of $65 million, Twin Oaks Community Services is one of the state's largest and most comprehensive human service providers, offering services such as a foster home program, food pantry, children and family services, adoption support and more.
The new nonprofit has only continued to grow since then, opening its 12,000-square-foot Pat LeBon Center in Lumberton earlier this year to aid adults with special needs.
Pekar is a former member of the board of trustees for Big Brothers Big Sisters of Burlington, Camden and Gloucester Counties, and a former officer of the New Jersey Association of Mental Health Agencies (NJAMHA).
Charlotte Holcombe
President/CEO
Moorestown Visiting Nurse Association
Charlotte Holcombe is at the forefront of the health care community in South Jersey, leading Moorestown Visiting Nurse Association in its delivery of home care, hospice, counseling and wellness services to residents of Burlington, Camden and Gloucester counties.
At the helm of the organization for nearly three decades, Holcombe oversees 200,000 home visits annually and guides the 109-year-old nonprofit agency as it touches the lives of some 100,000 local residents each year. Under her leadership, the agency has grown to employ 430 staff members, and trains and deploys 200 volunteers every year.
Holcombe began her career as a registered nurse, later acquiring a master's degree in nursing administration from the University of Pennsylvania. Since being named president and CEO, Moorestown Visiting Nurse Association has developed a variety of innovative programs, including an oncology home care program.
The program is designed to meet the agency's mission to provide home and community-based health care services that promote optimum quality of life, independence and dignity; to teach people to care for themselves and each other; and to provide skilled home care, counseling and hospice services to patients in need regardless of their ability to pay.
Ronald Kerins
Principal/Finance
GREYHAWK
Ronald Kerins has 28 years of experience representing owners as a construction consultant in the areas of project and program management, value engineering, contract administration, cost control, scheduling and construction claims. He joined GREYHAWK, a construction project management and consulting firm in Moorestown, in 2007 and serves as a principal and financial manager, overseeing business development in the Philadelphia region.
A 1984 graduate of Temple University College of Engineering, Kerins was recently inducted into Temple's "Gallery of Success," which aims to inspire current students to make an impact on their community through their careers. Community involvement is very important to Kerins, who is an adjunct professor at both Temple and Widener universities, a past-president of Temple's College of Engineering Alumni Board, and current director-at-large of the university's alumni association board. He serves as secretary to the Board of Directors for the ACE Mentor Program of Eastern Pennsylvania, and is also an instructor for the Engineers' Club of Philadelphia and the Construction Management Association of America (CMAA) Professional Review Courses.
Elba Deck
Director of Financial Planning and Analysis
New Jersey American Water
As the director of financial planning and analysis for Voorhees-based New Jersey American Water, Elba Deck has not let working in a male-dominated field intimidate her. In fact, she has learned to successfully navigate the complex worlds of both public utilities and finance and has been working for the state's largest water and wastewater utility since 2007. She started as the director of accounting at the company, but soon found herself moving up to her current position, where she is responsible for the company's five-year financial plan, and also helps to keep the annual nine-figure operating budget on target with each year's goals and projections. Over the past several years, she has also led a team of professionals to successfully improve and streamline the company's budgeting process—a task large enough even without ongoing plans to replace the company's aging pipes across New Jersey.
Anthony Perno
CEO
Cooper's Ferry Partnership
Affiliated with the Camden-based nonprofit real estate development corporation, Cooper's Ferry Partnership, since 1999, Anthony Perno has helped the corporation meet several milestones. Among them is the merger that actually created the partnership, which joined the Cooper's Ferry Development Association, Inc. and the Greater Camden Partnership in 2011. The partnership is a unified economic development platform for Camden that leverages the city's cultural, natural and institutional anchors to create transformative change throughout the neighborhoods and downtown area.
Perno has also helped to develop several major infrastructure initiatives in Camden, including the Interior Gateway Initiative, a $50 million project that helped to update and replace infrastructure in the city's downtown that also garnered more than $800 million in private and public investment, as well as the extension of the Wiggins Waterfront Promenade, the Camden Greenway, the historical rehabilitation of Johnson Park and the Camden Home Improvement Program.
Kevin H. Hickey
Executive Director
Catholic Charities, Diocese of Camden
Kevin H. Hickey has served for the past decade as executive director of Catholic Charities, Diocese of Camden, which serves more than 32,000 annually. Among its services, it has been one of the benchmarks for a successful program when it comes to veterans services for the homeless. The Ready, Vet, Go! Program, under the leadership of Hickey, has provided case management and financial assistance to approximately 500 families across South Jersey since its inception in late 2011. In October, the program was renewed for two more years by the Department of Veterans Affairs. The Diocese has also been leading the way in local disaster response and recovery efforts, setting up vital food and supply distribution locations in the immediate aftermath of Superstorm Sandy. The Diocese has now moved into the long-term recovery phase, and to this day continues working hand in hand with those who were impacted by the storm to not only re-establish some semblance of a normal life for them, but, in the Catholic Charities mission, leave them better off than before the disaster.
Sam Thevanayagam
President/CEO
Parts Life, Inc.
As founder, president and chief executive officer of Parts Life, Inc., a Cinnaminson-based provider of customized parts to support the defense, aerospace and heavy-duty industries, Sam Thevanayagam has helped the company excel in a challenging economic climate.
With a background in procurement and supply in the automotive parts industry, Thevanayagam founded his company in 2007 with the specific niche of offering parts obsolescence—life cycle sustainment and service life extension—to support mission-critical systems for our nation's military. Assets the company provides parts for include land vehicles, weapon systems, naval surface fleets and more. Thevanayagam is passionate about supporting the military, and he believes the benefits of his business not only extend the life of military equipment but also bring down the bottom dollar for taxpayers. He is equally passionate about bringing manufacturing jobs back to the United States, which is why Parts Life is spearheading a Domestic Remanufacturing Initiative.
Thevanayagam is actively involved in a number of associations such as the National Defense Industry Association, Philadelphia, as well as the South Jersey and Burlington County chambers of commerce, where he serves on the Military Relations Council for the latter.
Keith Campbell
Chairman of the Board
Mannington Mills
Keith Campbell has spent his entire career at Mannington Mills, which was founded by his great grandfather in 1915. He learned the business through experience, holding a series of positions from district manager on up. He joined Mannington's board of directors in 1983, and was appointed chairman in August of 1995; Campbell is the fourth generation of the family to serve as Mannington's chairman.
Now one of the largest flooring manufacturers in the world (it acquired California-based Burke Industries in 2008 and UK-based Amtico International last year), Mannington Mills is headquartered in Mannington, Salem County, and remains privately held. It's the only North American-based company engaged in the manufacturing and marketing of residential and commercial resilient, laminate, hardwood and porcelain tile floors, as well as commercial carpet and rubber.
Campbell was appointed to the Board of Trustees of Rowan University last year, a position he also held from 1993-2005, during which time he and his wife donated $1.5 million to Rowan's library—since renamed the Keith and Shirley Campbell Library. In addition, he serves on the board of South Jersey Industries and the Board of Directors/Advisory Committee of the Federal Reserve Bank of Philadelphia.
Dante Germano
COO/CFO
Nexus Properties
After holding positions at the Linpro Company (currently LCOR), a national real estate developer, and KPMG Peat Marwick, an international accounting firm, Dante Germano joined Nexus Properties in 1990 as the chief financial officer. Based in Lawrenceville, Nexus Properties is a diversified real estate development company that has developed office and residential properties and parking facilities in central and southern New Jersey for more than 30 years. Named chief operating officer in 2002, Germano is responsible for the day-to-day management of the company, and he is involved in all aspects of the business including development, property management, construction, finance and marketing. With more than 27 years of experience in real estate development and management, Germano is currently working with the borough of Glassboro and Rowan University on the Rowan Boulevard redevelopment project.
Kristina Fernald
Vice President of Human Resources and Public Affairs
NuStar Asphalt Refining, LLC
Kristina Fernald has earned more than 40 years of industry experience in HR and contract negotiations, and leads a department that is fundamentally focused on building an organization revolving around trust, teamwork and continuous improvement.
A member of the business leadership team, she and her team support the company's corporate office in San Antonio, Texas, regional office in West Deptford, and its refining and terminal facilities in Paulsboro and Savannah, Ga. Fernald holds a bachelor's in biology from Tufts University and a master's degree in business administration from the University of Denver.
Her prior positions include serving as director of human resources and public affairs at NuStar Energy LP, Valero Energy Corporation and Frontier Refining Company, along with various management roles in the research laboratory, product management, quality control, operations and human resources departments at Scott Paper.
Fernald is a board member of the Chamber of Commerce of Southern New Jersey and a board member and past president of the Gloucester County College Foundation. She chairs the foundation's annual gala, which raises funds for student scholarships.
Les Vail
President/CEO
Gloucester County Chamber of Commerce
Passionate about giving back to the community, Les Vail has always been involved in his communities of Glassboro and Gloucester County. In 2001, while still working in the corporate business world, he joined the Gloucester County Chamber of Commerce in its earliest beginnings and quickly became an active member of the organization. While serving on the board of directors, he helped change the direction of the organization to one that focuses not only on giving back to its members, but on giving back to the community. Vail served on the board for eight years, and in 2007, was elected chairman. His involvement in the county and region continued to grow, and when the opportunity arose, he stepped out of his corporate shoes and into the position of president/CEO of the chamber. Vail is also a member of the Entrepreneur's Forum of Southern New Jersey Board of
Directors, People for People Board of Directors, the Community Service Corps Advisory Board, and is currently appointed to the Workforce Investment Board. He also serves as a member of the Glassboro Rotary and is chairman of the Glassboro Planning Board and Glassboro Partners Group.
Dr. William F. Muhr
CEO
South Jersey Radiology Associates
Dr. William F. Muhr, an expert in MRI and diagnostic radiology, has been CEO of South Jersey Radiology Associates since 2011, serving at the helm of an imaging provider with 10 locations across South Jersey—meaning more convenient care for residents who don't have to travel across the bridge.
SJRA's more than 40 radiologists hail from prestigious medical schools including Harvard, Penn, Hahnemann, UMDNJ, Duke and Georgetown. Muhr himself is a graduate of Lehigh University and Hahnemann University Medical School. Among SJRA's advancements is its Women's Center in Voorhees, which was the first to offer 3D mammography in the state, detecting cancer at its earliest, most curable stage.
After taking on the leadership reins, Muhr oversaw the creation of a seven-member executive committee for SJRA. He has continued to perform clinical work, is affiliated with Virtua Voorhees Hospital, a sought-after international speaker on the subject of radiologic imaging, and a board member of peerVue, a health care IT solutions firm based in Florida.
Tony Mahon
President
AJM Insurance
Tony Mahon has served as president of Mount Laurel-based AJM Insurance for most of his professional career, and just as his position at the company has expanded and grown, so has AJM Insurance. In fact, when he first started at the company in the early 1990s, there were six employees. Today the company, which was established in 1944, encompasses 40 employees with offices located in Haddon Heights, Mount Laurel and Hamilton, and is considered one of the largest insurance agencies in southern New Jersey.
Dedicated to community involvement, Mahon also serves as vice chairman of the Burlington County College (BCC) Foundation and oversees its internship/mentoring program. AJM Insurance offers internships to students, while the BCC Foundation provides grants and scholarships and mentoring, internship and career development opportunities for BCC students and alumni.
Stanley H. Molotsky
President/CEO
The SHM Financial Group
Stanley H. Molotsky has built a strong reputation for himself since he started in the banking industry in 1958. In that time, he has helped found two entities—the First Colonial Bank in Collingswood, where he currently serves on the board of directors, and The SHM Financial Group, which is his own financial planning firm where he serves as president and CEO. Molotsky has helped countless clients with financial planning, wealth protection, tax minimization and pre- and post-retirement planning through the years, and with three SHM Financial locations in South Jersey—Collingswood, Voorhees and Lakehurst—his influence has been far-reaching.
Molotsky has also taught numerous financial planning adult education courses throughout South Jersey and Pennsylvania, and he created and co-hosted the first live TV show about financial planning in the Delaware Valley, entitled Managing Your Money. He also currently co-hosts The Molot$ky Money Hour, a live weekly financial radio show, with his son, Lee S. Molotsky.
Paul Braungart
Founder/President
Regional Capital Group
Working in the fields of commercial real estate acquisition, finance, underwriting and loan servicing since 1980, Braungart is the founder of Regional Capital Group (RCG) in Marlton, a nationwide real estate opportunity fund manager. During the past 25 years, he has created several successful investment funds, including private equity and hedge funds, but his primary focus on real estate has resulted in hundreds of successful investments totaling an excess of $10 billion.
Active in all aspects of real estate development and finance—including the reposition and construction of residential and commercial real estate—he recently co-founded and established the New Jersey EB-5 Regional Center. The first of its kind in South Jersey, the center provides commercial real estate developers and investors with a creative, competitive financing alternative. The New Jersey EB-5 Regional Center was founded with the goal of serving as a viable finance option in today's real estate market, as well as a socially conscious vehicle that will encourage foreign investment in enterprises that create jobs in the United States.
Mark Schott
Vice President, Regional Branch Administration Officer
Columbia Bank
Mark Schott began his Columbia Bank career as branch manager, working at the bank's Deptford, Maple Shade and Voorhees offices. He also served as a business development officer before being appointed regional vice president. Now a Columbia Bank veteran of nearly 40 years, in his current position, Schott supervises eight full-service branches across Burlington, Camden and Gloucester counties, and under his leadership, the bank's South Jersey regional deposits have grown by more than 700 percent.
Schott has also been instrumental in securing special community grants through the Columbia Bank Foundation for the People to People Foundation, Cathedral Kitchen and Robins' Nest Group Homes, and was recently named a Columbia Bank Community Service Award winner for the third time. Additionally, he serves on the board of the Gloucester County Chamber, is district finance chairman for Rotary District 7640, and is involved with the Voorhees Breakfast Rotary and Voorhees Business Association.
Bridget Phifer
Executive Director
Parkside Business Community in Partnership
Bridget Phifer has guided the vision of Parkside Business and Community in Partnership (PBCIP) for 14 years. Since the nonprofit formed in 1993, its members—which include 120 residents and stakeholders—have instituted a number of quality of life initiatives including buying and rehabbing buildings to make homeownership affordable and helping attract new business to the Camden neighborhood.
Since joining PBCIP, Phifer, who has a master's in public management from Rutgers, has grown the organization's budget tenfold. Staff has increased from one to half a dozen, and all while commercial development activity has expanded and affordable housing and homeownership education, marketing and neighborhood planning programs have been created. Her ability to form strategic partnerships with foundations, other community development organizations, corporations and government agencies has been critical to the success of PBCIP.
Currently, the organization's 22,000-square-foot RENEW building on Haddon Avenue is in development, a mixed-use commercial and retail center that will house a community resource room, the PSE&G Sustainability Center and other businesses. Under Phifer's leadership, the organization has built a reputation as a successful community developer known for creating cutting-edge, sustainable solutions for urban development.
Fred Berlinsky
President
Markeim-Chalmers, Inc.
Fred Berlinsky has been a leader in the South Jersey commercial real estate industry for more than 25 years. Throughout his career, he has represented various national firms, including Canon Financial Services, Teknion, LLC, The Rothman Institute, and many of the region's banks. A member of the Markeim-Chalmers team since 1986, Berlinsky has been an integral part of the Cherry Hill firm's growth and in his current role as president he has helped expand the firm's services with a hand-selected professional team. Strongly committed to the local real estate market, he has also invested in properties such as Cherry Hill Plaza, 20 Brace Road, and South Crossing. Additionally, earlier this year, he was named to the board of directors of the publicly held mutual fund Resource Real Estate Diversified Income Fund.
Angela Venti
Business Development Manager, Roma Bank
President, NAWBO South Jersey
Angela Venti has put her more than 20 years of extensive experience in sales and brand management to work as the business development manager for Roma Bank and its 24 South and Central New Jersey locations. When it merges later this month with North Jersey-based Investors Bank, the company will have more than 100 locations across the state.
Venti has worked in the retail and automotive industries—she helped to establish the Lexus brand in South Jersey—but it was a position with Beneficial Bank as assistant relationship manager that introduced her to banking. She was brought on to launch their new "campus concept" branch in Cherry Hill, which offered a more informative, personalized banking experience. In the summer of 2012, she made the move to Roma, where she is charged with setting the benchmark for customer service and improving business relations in South Jersey.
In addition to Roma, Venti began serving as president of the South Jersey chapter of the National Association of Women Business Owners last year.
Al Fox
Senior Vice President
Fox, Penberthy & Dehn Wealth Management
Al Fox has spent his entire 18-year career as a financial advisor with Merrill Lynch, serving as a founding member and managing partner of the Fox, Penberthy & Dehn Group in Mount Laurel. He focuses on an array of financial management services, but specifically transition management with retirees and business owners, alternative investment allocations and liability management.
Fox, whose father died of renal disease, spent 15 years serving on the board of the National Kidney Foundation of the Delaware Valley, where he helped build the endowment from $1 million to $10 million. He also helped New Jersey become the first state to require all blood tests to include screenings for early-stage renal disease. For his charitable work, he was selected by Registered Rep. magazine last year as one of 10 financial advisors nationwide for its annual "Advisors with Heart" award. After serving as the primary caretaker for his father, Fox also is known to speak on topics such as how to start eldercare planning.
In addition, Fox serves on the board of directors for Laurel Creek Country Club and on the development committee for Moorestown Friends School.
H. Daniel McCollister
President, McCollister's Transportation Group
Chairman and CEO, UniGroup
H. Daniel McCollister began working at his family's transportation company in 1967, and today he is president. He has grown McCollister's Transportation Group to be a leader in supply chain management services, including innovative technological applications and an array of logistical services and transportation solutions, both domestically and internationally, for clients' relocation needs.
Headquartered in Burlington, the company has 1,000 full-time employees throughout its 14 nationwide facilities. McCollister is also an agent and shareholder of UniGroup, the parent company of United Van Lines, Mayflower Transit, and other subsidiaries. He was elected to UniGroup's board of directors in 1982, and elected chairman/CEO in 2007. He continues to lead the efforts of this $1.6 billion privately held corporation.
Published (and copyrighted) in South Jersey Biz, Volume 3, Issue 11 (November, 2013).
For more info on South Jersey Biz, click here.
To subscribe to South Jersey Biz, click here.
To advertise in South Jersey Biz, click here.