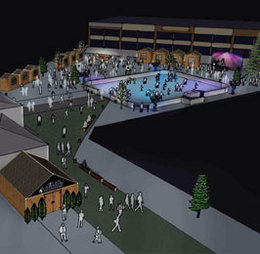 Close of Biz: Putting it on Ice
Local business owners plan to transform downtown Glassboro this winter.
If you've driven through Glassboro recently, you know a lot of changes have been made to the college town. New buildings and updated road patterns are just a few of the modifications made to the landscape, all in an effort to revitalize the town's struggling economy. It was in one of the conceptual design meetings for the revitalization that local business owner Al Bartolomeo first heard of the idea to bring a skating rink to the area. While the concept could have been left on the drawing board as just a fleeting thought, Bartolomeo had a feeling it could be something more.
"The idea really just stuck with me," he says. Bartolomeo and his wife, Kim, are the owners of Bogey's Club and Café on Pitman Road in Sewell. They also own the Academy of Performing Arts on Glassboro's East High Street, which houses an ice cream shop as well as a variety of businesses focused on the arts, including Let's Dance, a dance studio Kim Bartolomeo co-owns. "I looked at what I do for a living, both on the entertainment side and the hospitality side, and I just wanted to take those couple different platforms and create one that would be unique and never done and full of magical moments and memory making."
The 60-by-80-foot skating rink, which opened on Nov. 20, is located at 201 Rowan Blvd. at the site of the future town square. The rink was installed by Miami-based Magic Ice USA, and is actually part of a bigger concept, Winterland Park, which Bartolomeo has partnered with the town of Glassboro to open. "We are proud to partner with Al and Kim in this exciting venture that is sure to cement downtown Glassboro as a family-oriented destination regionwide," says Ed Malandro, Glassboro councilman. "The Winterland Park will be the destination for outdoor skating, music and fun this winter. It will afford families, children and adults the opportunity to experience a one-of-a-kind skating rink in a pleasant and safe environment."
In addition to the rink, a 20-by-40-foot heated changing tent, along with a 40-by-40-foot warming tent will be constructed. Inside the warming tent will be concessions, arcade games, and seating for those not interested in skating. There will also be a holiday marketplace adjacent to the rink that will be made up of eight custom mini-chalets where various vendors will sell holiday gifts and other wares.
"The park is designed to accommodate people who don't skate as well as those who do," Bartolomeo says. "The onlooker will have amenities and be able to enjoy the experience as much as the skater." A variety of functions have already been planned for the park, including a teen skate jam, where teenagers will be able to not only skate but also dance every weekend. Of course, on Nov. 30, there will also be a visitor from the North Pole, whose arrival will be timed with the official lighting of Winterland Park's Christmas tree. "No one will be excluded from the flavor or fun of the park," Bartolomeo adds. "There will also be fire pits and marshmallows for roasting."
Bartolomeo also says private parties, charity nights and fundraising opportunities will be available at the park, which is slated to stay open until Jan. 10, but could remain open longer if the demand is there. "I can keep it open for the rest of January, and into February or March if necessary," he says, noting the park will be open seven days a week with convenient early morning and late night hours for families.
"It all depends on how popular it is." Given the availability of such a unique outdoor experience, it's unlikely Bartolomeo will have a problem with attendance. The bigger problem he might run into is weather.
Published (and copyrighted) in South Jersey Biz, Volume 3, Issue 11 (November, 2013).
For more info on South Jersey Biz, click here.
To subscribe to South Jersey Biz, click here.
To advertise in South Jersey Biz, click here.